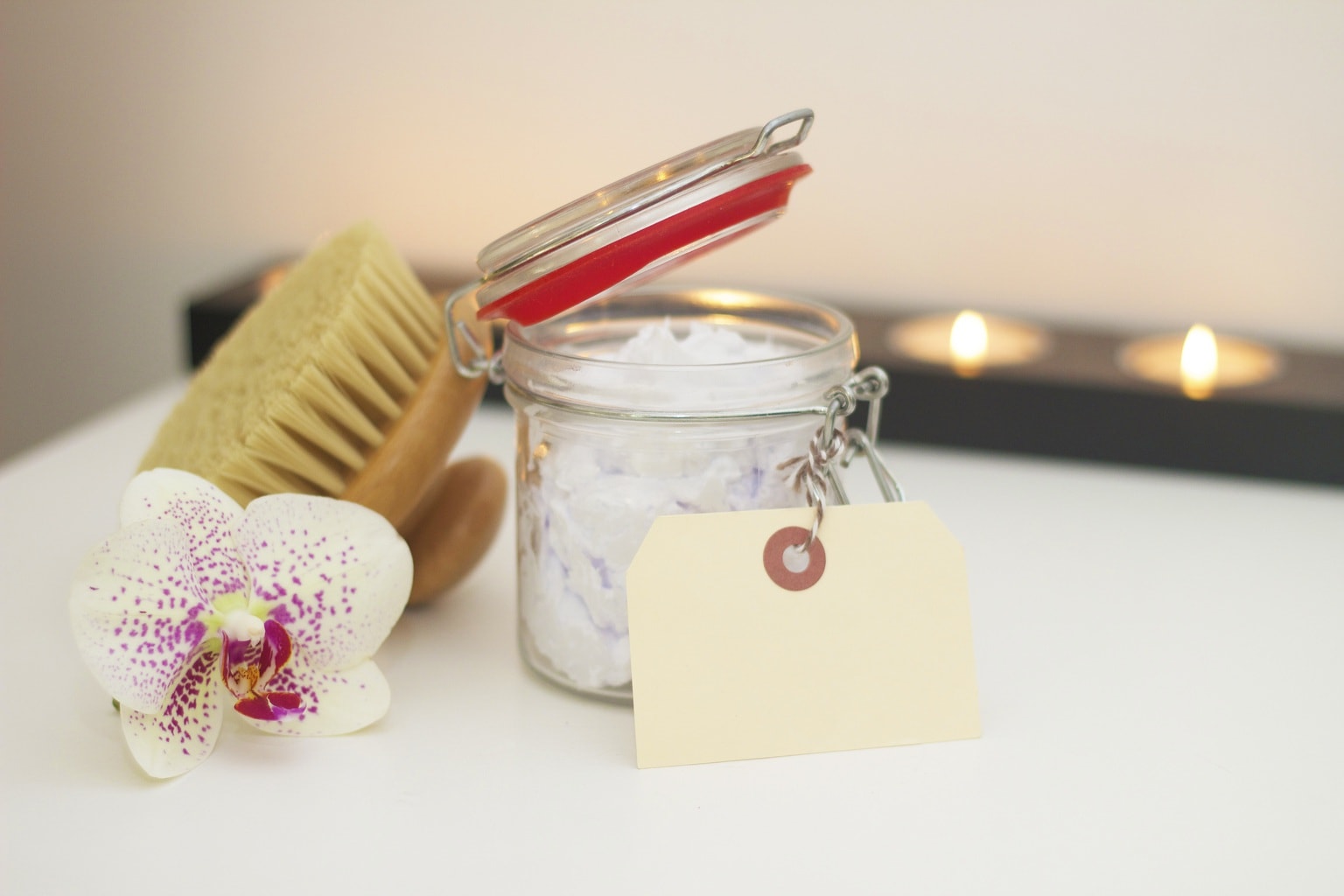 Usually, when we think of bathrooms in college, we think of grimy, crowded spaces that are often shared with roommates, or even an entire floor's worth of people. And, even if you're lucky enough to get a bathroom to yourself in college, it probably isn't what first comes to mind when you think of luxury or relaxation.
Furthermore, since many college girls are on a tight budget when it comes to "extras," a trip to a spa is usually out of the question.
That is, of course, until now.
Today I'll share my top six products to make any bathroom feel like a spa — whether it's in a college dorm, your own apartment, or at your parents' house (if you're a commuter).
Keep scrolling to see my picks.
Related reading: Our All-Time Favorite At Home Spa Essentials
1. Skyroad™ Top Quality Exfoliating Scrub Bath Mitten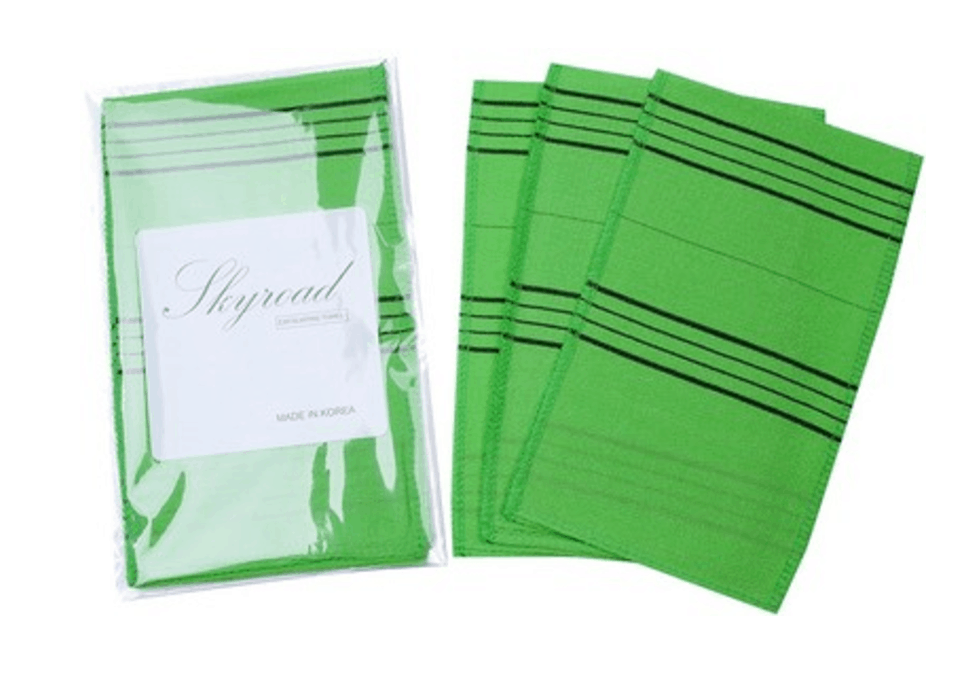 Available at Amazon
These exfoliating bath mittens are the best way to exfoliate.
Seriously — none of the scrubs, peels, or other exfoliating products that I've tried have done as good a job as these. Not to mention that a four-pack of these washable and reusable cloths is way cheaper than most exfoliating products.
To use these, you wet one after having been in the shower for a while (the product description recommends 15 minutes), and then to slip it over your hand like a mitten.
Next, scrub your body like you would with a washcloth, and watch as the cloth works its wonders to slough away dry skin you didn't even know you had!
It's best to start by scrubbing gently, and then slowly increase intensity, as these mittens are rough, and scrubbing too hard can cause skin irritation. (Because of this, I'd steer clear if you have sensitive skin.)
Finally, these are not meant to be used on your face, as the skin there is more sensitive, and therefore more likely to become irritated, or, as I learned from my own unfortunate personal experience, to break out.
2. D'Fluff Shaving Soap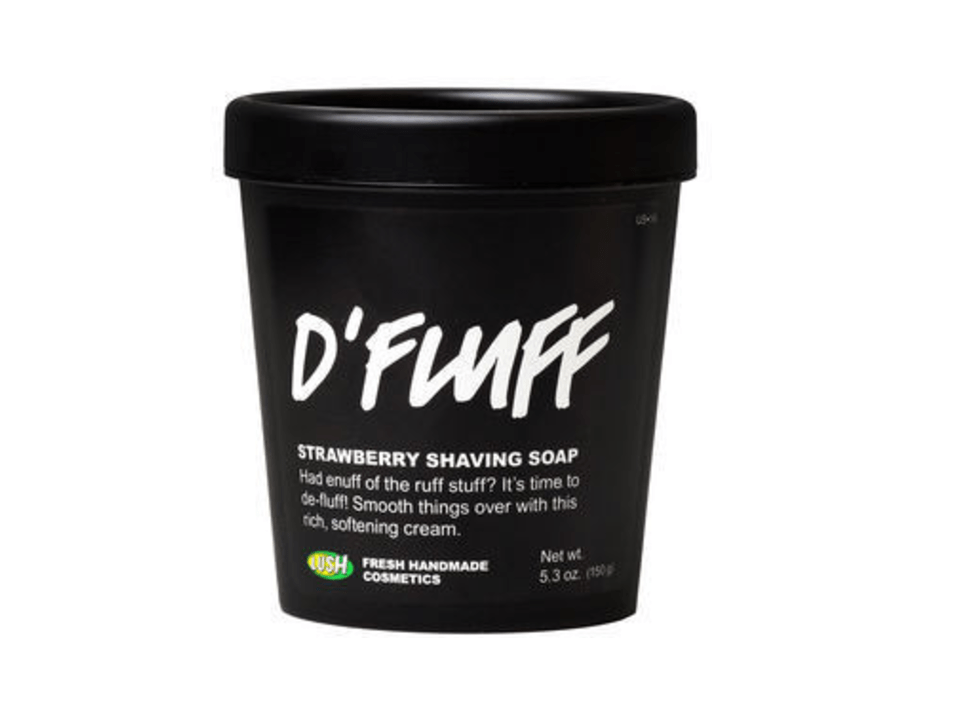 Available at Lush
Lush's D'Fluff Shaving Soap is my holy-grail shaving cream.
Seriously: My skin is always soft and irritation-free when I use it, which is more than I can say for any other shaving cream I've tried.
While Lush claims that this pink shaving soap smells like strawberries, I wouldn't really say that is the case. Yes, it does have a hint of strawberry in there, but I can't really place the overall scent, to be honest. Nevertheless, it does smell good, and not in an overwhelming way, as some Lush products do.
It also has a soft, creamy, whipped texture that smooths easily onto skin.
Overall, the only con about this product is that, like most Lush products, it is quite expensive, and I don't feel like I get enough product for what I'm paying. However, it is 100% worth it for me to not have to go through the itchiness and irritation that occurs when I go without it.
So, if you have sensitive skin that is prone to irritation while shaving, I would highly recommend trying D'Fluff!
3. Mr. Pumice Pumi Bar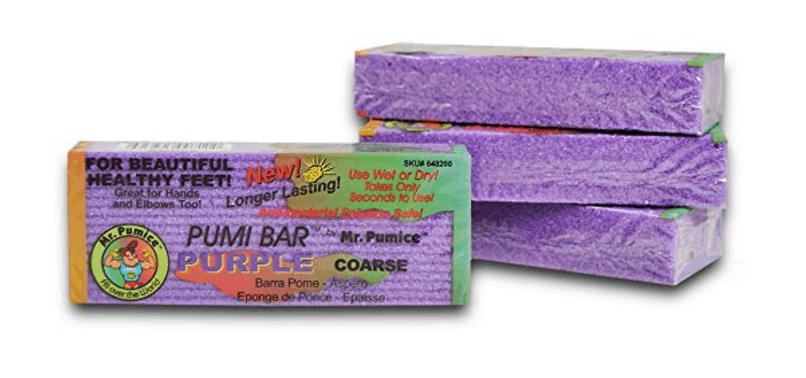 Available at Amazon in four-pack
I know what you're thinking: What's the difference between this pumice and any other one that I can find in the drugstore?  
To which I respond: Everything.
First of all, these Mr. Pumice Pumi Bars are really cheap (if you buy the four-pack, which is shown here, it works out to only $1.69 per bar).
Secondly, if you take care of them and keep them out of the water when not in use (which can cause mold to grow), they last quite a while, and won't get that gross, musty smell that can sometimes happen with pumice stones.
Finally, they actually work — so much so, in fact, that I often feel like I've just gotten a pedicure after using one of these.
Bonus tip: For extra softness, exfoliate your feet with the Skyroad mitten first, then put a small amount of exfoliating cream or gel on the pumice. (I like this one by The Face Shop, which is made for your feet, but any body scrub should work.) Next, use the pumice with the exfoliator on it to to scrub your feet using a medium amount of force. Say goodbye to rough patches!
4. Dream Cream
Available at Lush
Lush has done it again with yet another holy-grail product, this time in the form of Dream Cream, a body lotion for sensitive skin that works to calm minor skin irritation and just feels soothing in general.
I'll admit that this isn't the best-smelling product in the world, but the scent does wear off quickly. Furthermore, it is lightweight, non-greasy, and gentle, and, in my experience, works well to soothe skin that has been irritated by shaving or other products.
(Note: If you have any skin irritation/discomfort, it's best to see a doctor before using Dream Cream or any other beauty product, just to be sure.)
Like D'Fluff, this stuff is pricey for the amount that you get, but a little does go a long way.
Overall, I totally recommend trying Dream Cream if you're looking for a soothing body lotion that is good for sensitive skin.
5. Biosilk Silk Therapy Lite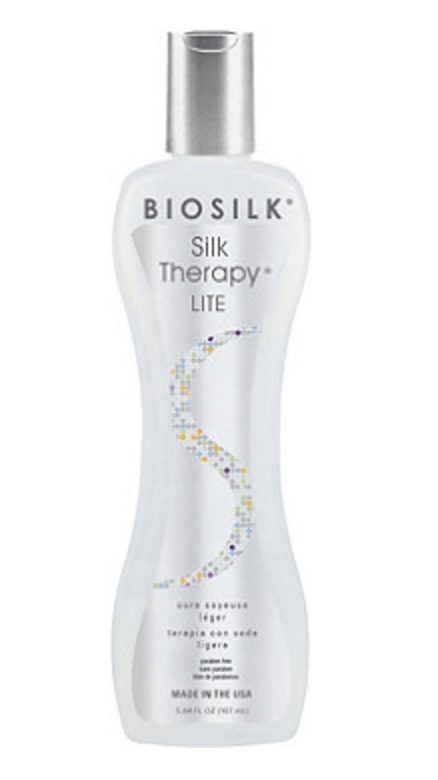 Available at Ulta
Biosilk Silk Therapy Lite is, as the name suggests, a lighter-weight version of Biosilk's original formula.
Although I am always on the hunt for new products to tame my ultra-thick, curly, and frizzy hair, I am always sure to keep a bottle of this on standby, which is really saying something, as most hair products don't work for me.
This light, mildly-scented product can be used on wet, damp, or dry hair, and works wonders when it comes to smoothing hair and taking away frizz.
Another great thing about this product is that it can be used on the body as well to soften skin — so you're getting two products in one! I have used this on red, itchy skin, and it has done an amazing job of calming it (though your results may vary – ask your doc before trying!).
Regarding the differences between Biosilk Lite and Biosilk Original, although I haven't used the Original in a while, I prefer the Lite, as it feels less heavy and greasy, and is suited to more hair/skin types as a result.
As well, a little goes a very long way with either product, but, because the Lite is, well, lighter, there's a little more room for error than there is with the Original.
6. Queen Helene Mint Julep Masque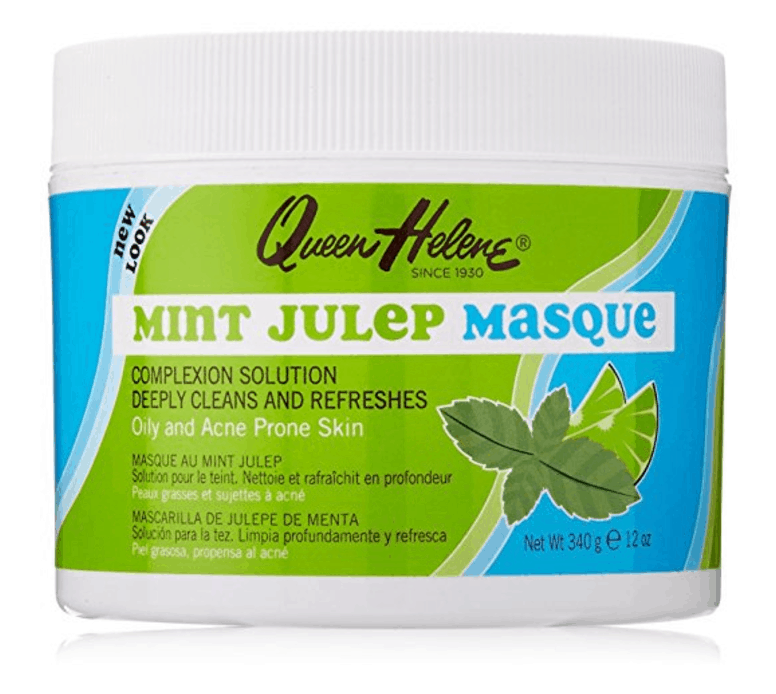 Available at Amazon
I couldn't make a list of spa-like beauty products and not include a face mask, now could I?!
There are lots of face masks that I like to use, but decided to include Queen Helene Mint Julep Masque in this list instead of the others for several reasons:
First, it's super-cheap (one container costs $7.99, while a pack of two only costs $8.04!).
Second, it helps to clear skin without being too harsh.
Lastly, it doesn't smell too strongly, unlike some other masks on the market that are unpleasant to use for that very reason.
This mask is really easy to use: Simply apply it to the face, avoiding the eye area, for five to 10 minutes, and then rinse off with warm water.
After using this mask, you will notice that acne is reduced, pores look smaller, and skin feels smoother!
Note that, as this product can be slightly drying, I wouldn't recommend it to anyone who doesn't have oily, acne-prone skin.
As well, I recommend applying a facial moisturizer after using the mask to help keep skin happy and hydrated.
And there you have it–six beauty products that'll make you feel like you're at the spa!  I hope that these recommendations have helped you, and that you always make a little time to treat yourself–after all, as a hard-working college student, you deserve it!
What do you think?
Have you tried any of these products?  If so, how do you like them, and if not, which one(s) would you like to try?  How do you like to treat yourself when it comes to beauty products?  Would you like to see more articles like this in the future?
Let me know in the comments!