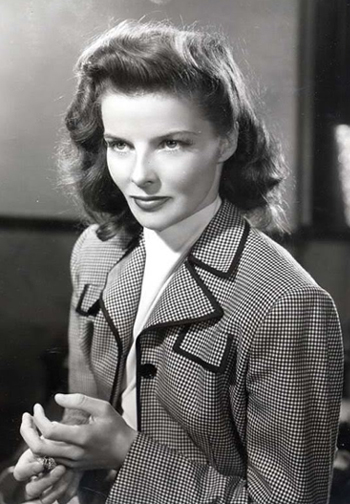 When it comes to style icons, actress Katharine Hepburn is number one in my book. In an era where demure dresses were the norm, Katharine opted to wear men's trousers, jackets and button-ups, thus breaking societal and fashion barriers. Her androgynous look has inspired the fashion world for decades, and with the resurgence of the menswear-inspired trend, her iconic style is the perfect source for fashion inspiration.
Simply scroll on down to check out four fashion-forward outfits inspired by Katharine Hepburn's one-of-a-kind look:
Outfit #1: Menswear-Inspired Chic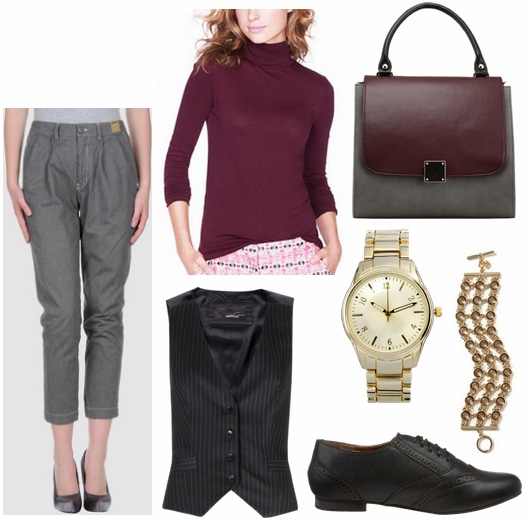 Product Info: Pants- yoox.com, Sweater- J. Crew, Bag- indressme.com, Vest- Mango, Watch- ASOS, Bracelet- Banana Republic, Shoes- amazon.com
Create a Hepburn-esque look by pairing gray trousers with a plum-colored turtleneck. A pinstriped vest and oxfords continue the menswear-inspired feel, while a two-toned handbag is a sleek addition to the outfit. Add a classic watch and matching bracelet for a stylish take on menswear.
Outfit #2: Casual & Polished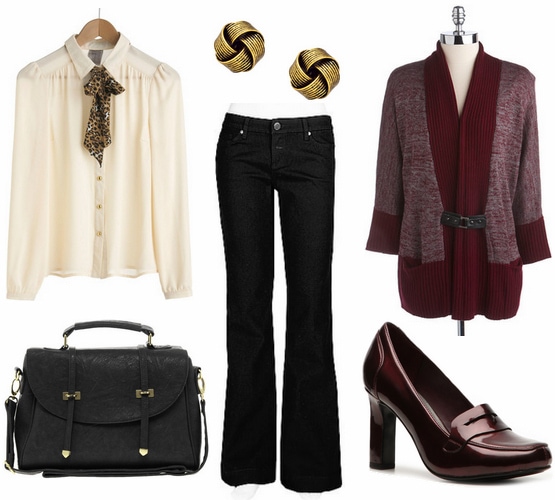 Product Info: Blouse- ModCloth, Earrings- Max & Chloe, Sweater- Lord & Taylor, Bag- ASOS, Jeans- Buckle, Shoes- DSW
Channel Katharine's style on campus this fall by pairing high-waisted trouser jeans with a tie-neck blouse. A cozy wrap sweater is perfect for colder weather, while heeled loafers add a polished vibe. Grab a structured satchel and accessorize with a pair of knotted stud earrings to complete this look.
Outfit #3: Suit Up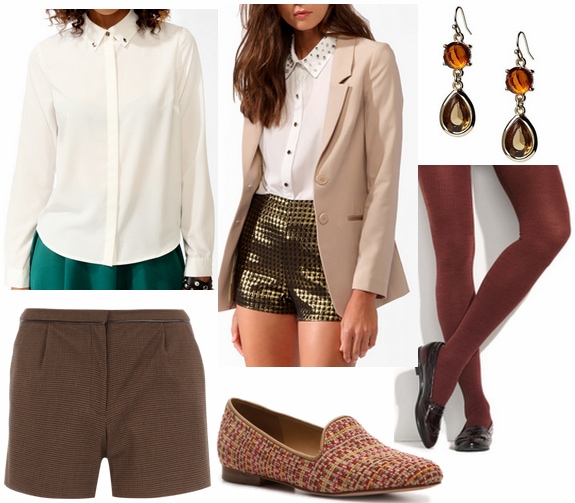 Product Info: Blouse- Forever 21, Blazer- Forever 21, Earrings- Banana Republic, Shorts- Dorothy Perkins, Shoes- DSW, Tights- Madewell
For a modern take on Katharine's iconic pantsuits, try wearing a classic white blouse with a pair of tailored shorts and a structured blazer. Colored tights add a fashion-forward touch, and they look great with trendy tweed smoking slippers. Accessorize with delicate drop earrings for an androgynous and stylish look.
Outfit #4: Classy Lady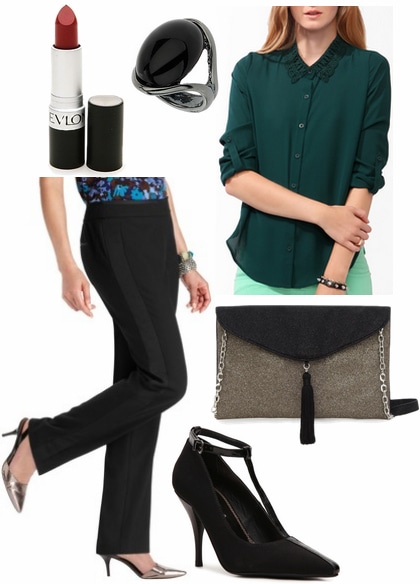 Product Info: Lipstick- Revlon's "Strawberry Suede", Ring- Dorothy Perkins, Top- Forever 21, Pants- LOFT, Bag- Mango, Shoes- DSW
The holidays are just around the corner and this final Hepburn-inspired look would work wonderfully for any seasonal soiree. Take a pair of tuxedo pants with a hunter green button-up. Add retro-glam t-strap pumps and a shimmery evening bag, and accessorize with an oversized cocktail ring. For the finishing touch, paint your lips a deep red shade.
Your thoughts?
What do you think of Katharine Hepburn's style? Would you wear any of these outfits? Which one is your fave? Are you a fan of the menswear-inspired look? Remember to tell me what you think by leaving a comment below!