When I started writing the Geek Chic column over four years ago, the very first article I published was about 2009's Star Trek reboot and featured outfits inspired by Kirk, Spock, Uhura, and the Enterprise. I'd been planning on covering the other members of the crew next month in a post about Star Trek Beyond, but decided to write it now instead as what I suppose is a kind of tribute to the late Anton Yelchin, who played Pavel Chekov in the new Star Trek movies.
Celebrity deaths are a strange thing: it feels odd and almost invasive to publicly mourn someone that I never actually knew. But I was devastated to hear about Anton Yelchin's death.
My loss is nothing compared to that of those who knew and loved him. I didn't know Anton the person, just Pavel-Chekov-as-played-by-Anton. But the latter made a huge impact on me: I went from having never seen anything Trek-related in my life to watching the film seven times in theaters, obsessively watching all of the original Star Trek series, and earning the nickname "Star Trek Girl" from my freshman dorm floor. Star Trek changed the way I viewed geekiness and fandom and later inspired me to apply to write for College Fashion.
And I really freakin' loved Pavel Chekov. He was smart and earnest and sweet and just such an all-around awesome character. (I mean, I wrote fanfiction about the guy. He made me try to not hate physics so much. His name is in my passwords. Don't steal my passwords, please.) So while I of course mourn for Anton Yelchin, who had so much life still to live, who was so, so talented and who was by all accounts a wonderful son and friend, I guess what it boils down to is that I thought there was a lifetime of Chekov to look forward to and I will really, really miss him.
Outfits Inspired by the U.S.S. Enterprise Crew
Pavel Chekov
"I can do that! I can do that!"
Ensign Pavel Chekov, played by Yelchin, is a Russian prodigy who serves as the navigator for the USS Enterprise. Although he's only "sewenteen," his quick mind (and quick running) help get Kirk and the crew out of trouble on more than one occasion.
Channel Chekov's youthful energy with a casual outfit that'll work both for running errands or running down the halls of the Enterprise. Pair a yellow pullover with black jeans for a look reminiscent of Chekov's uniform. A compass necklace references his role onboard while a Russian nesting doll bracelet alludes to his heritage. Finally, slip on a pair of out-of-this-world galaxy-print sneakers that'll have you feeling ready to take on space, the final frontier.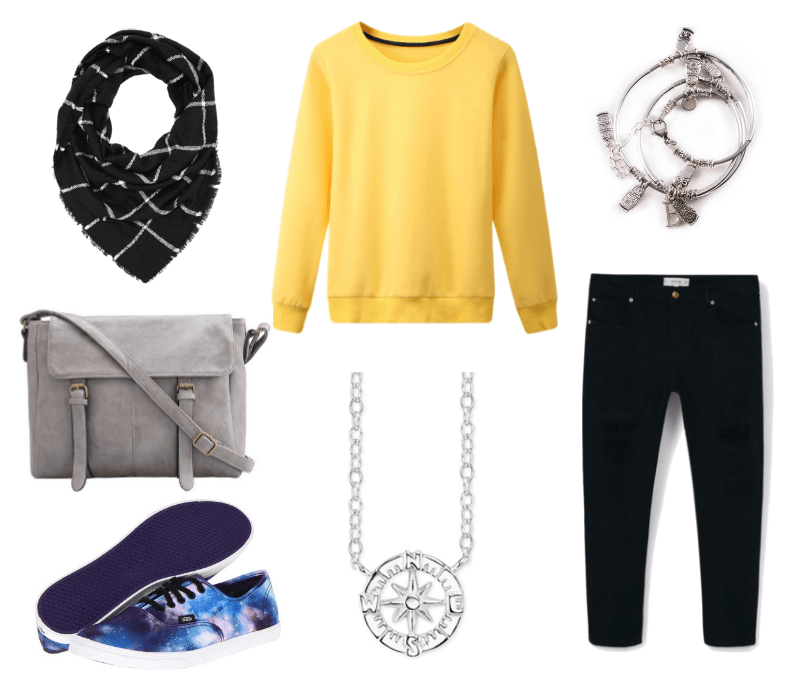 Products: Sweater, Jeans, Shoes, Messenger Bag, Scarf, Necklace, Bracelet
Leonard "Bones" McCoy
"Dammit Jim, I'm a doctor, not a _____!"
Dr. Leonard "Bones" McCoy, played by Karl Urban, is the cantankerous Chief Medical Officer of the Enterprise. When he's not saving lives or hating space, he's busy rolling his eyes at either Kirk or Spock.
Try out the "grumpy country doc who's now in Starfleet" look by pairing a classic shirtdress with a blazer in science blue. Accessorize with a doctor bag and earrings that allude to McCoy's nickname. Complete the outfit with some green nail polish inspired by McCoy's favorite drink, the mint julep. (According to the Original Series, that is.)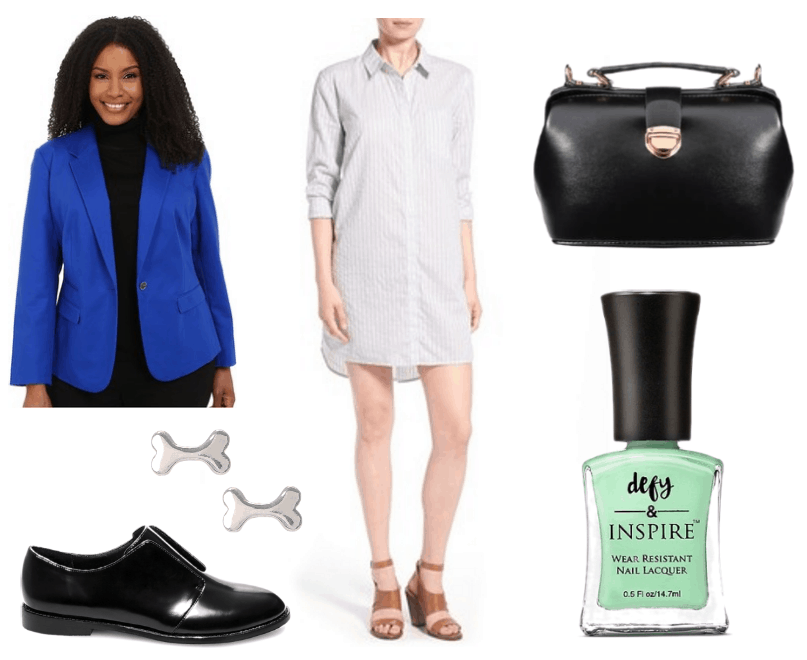 Products: Blazer, Dress, Shoes, Earrings, Bag, Nail Polish
Hikaru Sulu
"So what kind of combat training do you have?"

"Fencing."
Lieutenant Hikaru Sulu, played by John Cho, is helmsman of the Enterprise, but proves to be surprisingly adept at hand-to-hand combat. Despite his affable nature, he can be quite intimidating when his friends are in danger.
In the Original Series, Spock notes that Sulu is "at heart a swashbuckler out of the 18th century." Fulfill this dashing description by slipping on a high-neck dress in command gold, slouchy booties, and a sword necklace. A kimono-inspired cardigan references Sulu's Asian-American heritage while a vine ring alludes to Sulu's interest in botany.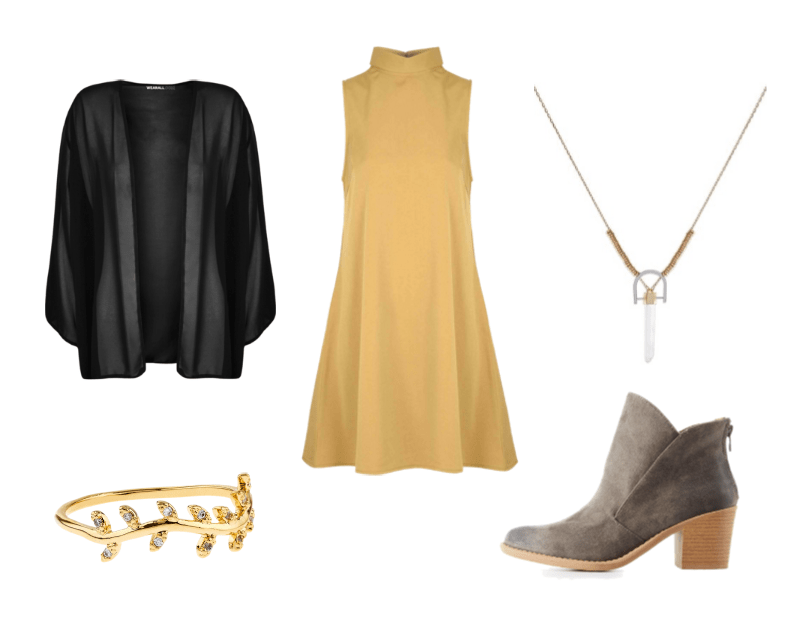 Products: Cardigan, Dress, Boots, Necklace, Ring 
What did you think?
Would you wear these outfits? Are you planning on seeing Star Trek Beyond? What are your thoughts on mourning celebrities? Let me know in the comments.