From the costumes to the set, from the words of the script to the movements of the actors, everything on stage tells a story. Stage-Inspired Fashion explores ways to add a little dramatic flair to your style.
I'm so excited for this post: It's Stage-Inspired Fashion's first live television musical! Grease: Live premiered live on FOX back on January 31st. If you missed it, you can watch it on FOX Now or Hulu. Now for some Grease: Live fashion!
Behind the Scenes
Fox's production of Grease: Live toes the line between a stage musical and a television show. Filmed live across several sound stages, it features actors from Broadway and Hollywood, a live audience, and some really impressive camera work. It incorporates elements from the original 1971 musical and the 1978 movie, as well as some new material.
The show centers around the relationship of good girl Sandy Young, played by Julianne Hough, and bad boy Danny Zuko, played by Aaron Tveit, and their friends at Rydell High School, the Pink Ladies and the T-Birds. Those two groups really steal the show with their sharp outfits and sharper one-liners.
Although Grease pokes fun at our nostalgic view of the 1950s, this production has a funny sense of nostalgia around it. So many of us grew up watching John Travolta and Olivia Newton-John sing and dance in the movie, and despite its odd message and off-color jokes, it holds a special place in our hearts. In my opinion, the spectacle of this production definitely matches the fun of the movie, and it sets the bar high for future live TV musicals.
Below, I've created four outfits based on the four Pink Ladies. (You may notice the Pink Ladies' pink silk jacket is missing–check out my last post to find one!) Keep reading to see all four outfits!
Rizzo
But to cry in front of you,
That's the worst thing I could do.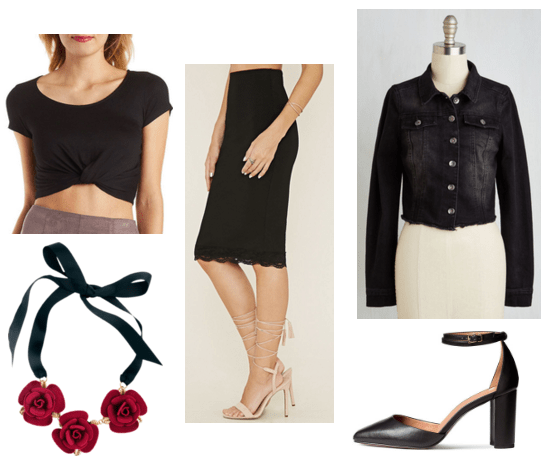 Products: Top, Skirt, Jacket, Heels, Necklace
Vanessa Hudgens plays Betty Rizzo in a more subdued way than Stockard Channing did, but the anger and the attitude are still there. A black crop top and black pencil skirt with a lacy hem represent Rizzo's more delicate side, while chunky heels and a black denim jacket allude to her tough exterior. For her signature pop of red, put on a statement necklace with red fabric roses.
Marty
Freddy, my love, I miss you more than words can say.
Freddy, my love, please keep in touch while you're away.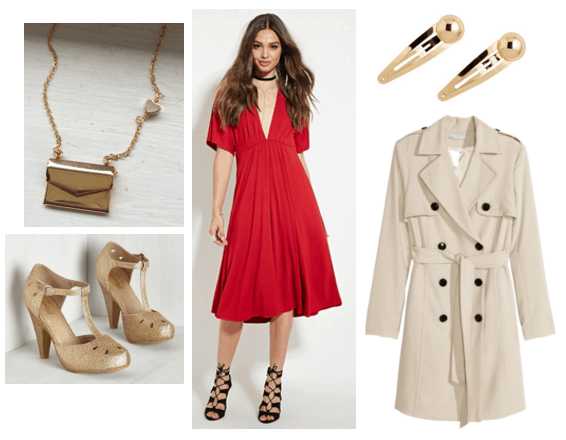 Products: Dress, Coat, Heels, Necklace, Hair Clips
Marty's standout moment is her solo song "Freddy My Love," in which we were transported to the USO show of her dreams. For a date night outfit inspired by her beautiful costume, start with a flowing red dress and add gold accessories. Pin your hair back with decorated clips, and add a bit of sparkle with glittery t-strap heels. This envelope necklace actually opens to reveal a customized letter! If you get cold while you're out on the town, put on a classic trench coat.
Frenchy
I don't look at it as dropping out! I look at it as a very strategic career move.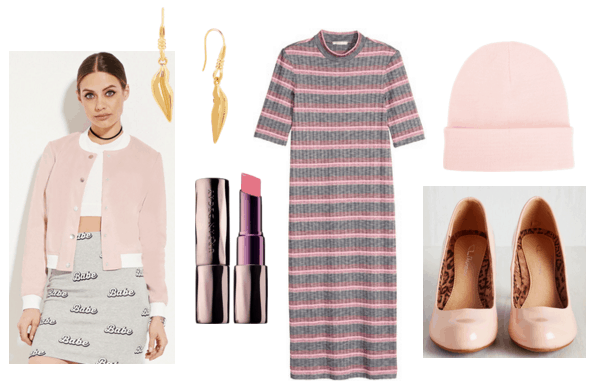 Products: Dress, Jacket, Heels, Beanie, Earrings, Lipstick
If you really want to look like Frenchy, you have to go all pink. Start with a pink and gray ribbed dress, and throw on a pink suede bomber jacket and pink patent leather heels. To represent her dreams of beauty school, wear quirky gold earrings in the shape of lips and put on baby pink lipstick. Finally, a cute pink beanie stands in for Frenchy's infamous pink bob.
Jan
It says right here it's a dessert wine!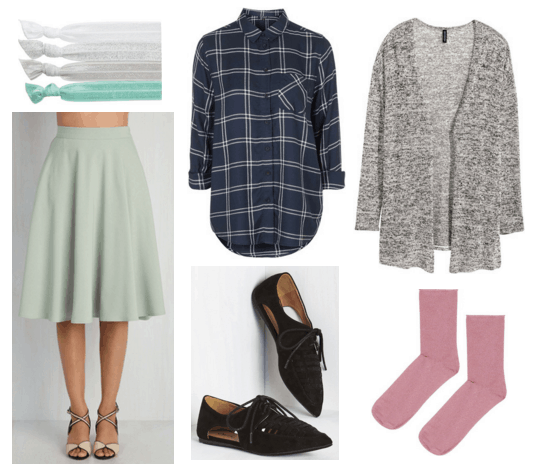 Products: Flannel, Skirt, Sweater, Socks, Flats, Hair Ties
Jan wears some wonderful circle skirts and colorful plaids throughout the show. Update her look with this sea-green midi skirt and dark blue flannel, and layer a gray cardigan on top. For a burst of color that shows her playfulness, wear glittery pink socks and black lace-up brogues. To put your hair up in pigtails like Jan's, use these pretty elastics.
Epilogue
Grease: Live got me excited about 1950s fashion again (for more, see our post on '50s girl gang style). It was a fun return to a silly show, and it explored a new way to mix stage and screen performances.
Your Thoughts?
What did you think of Grease: Live? Which performers stood out to you? Are there any plays or musicals you would love to see covered in this column? Let us know what you think in the comments below!