FASHION FOUNDATION is a list of items that allow you to create the base of any look or trend. Example: There can be no athleisure without the joggers.
When February rolls around, I have the extreme urge to start dressing as if I either am in an Old Hollywood romance film or in a 1950s biker girl gang. This February girl gang is ruling all my Valentine's Day outfit ideas.
Below, I'll show you three outfit pairings to get the '50s girl gang look using items you already have in your closet.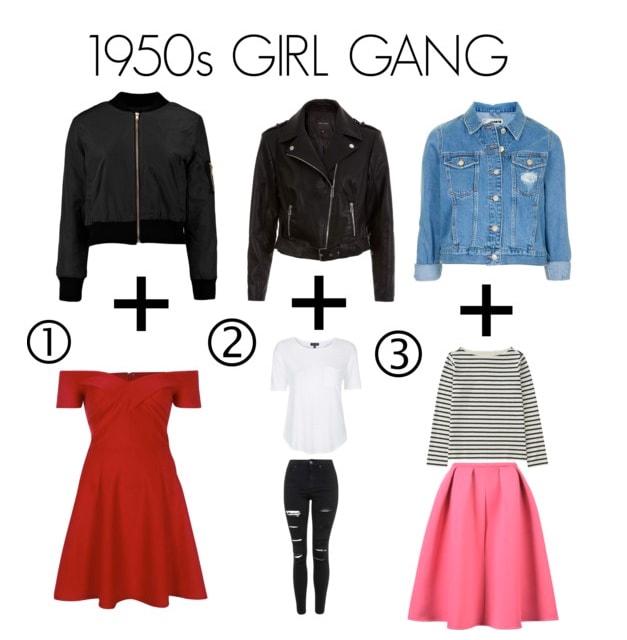 1. Jacket, Dress; 2. Jacket, Shirt, Jeans; 3. Jacket, Shirt, Skirt
THE JACKET: Think leather, denim, and bomber. You want a jacket that is more on the edgy side and looks tough. And if you find one that you can add all your sassy pins and patches to? You're golden.
THE TOP: My favorite part about girl gang style is how it's edgy and feminine at the same time. You can go with the classic striped shirt, white t-shirt, and heathered tee. Or you can add in a peter pan collar top to have that feminine element.
BOTTOMS UP: When I think of girl gangs, I automatically think of the leather jacket and the flared skirts and ripped jeans. Because the jackets are so edgy and tough you can finish the outfit off with the most flared skirt you can find. I love skirts in bright colors for this. Girl gangs are bold. Then there are the high-waisted jeans (or shorts) for more casual days. And of course the vixen red skater dress.
What do you think?
Would you and your friends dress up as a girl gang for Valentine's Day? Or are you more partial to minimalist trends? Or the classic floral dresses?