This post may contain affiliate links, which means we may receive a commission if you purchase through our links. Please
read our full disclosure here
.
From the costumes to the set, from the words of the script to the movements of the actors, everything on stage tells a story. Stage-Inspired Fashion explores ways to add a little dramatic flair to your style.
[title of show] describes itself as "a musical about two guys writing a musical about two guys writing a musical." It's like musical-ception.
Behind the Scenes
Composer Jeff Bowen and writer Hunter Bell developed [title of show] as an entry for the first New York Musical Theatre Festival in 2004, and it follows the experience of writing and producing a musical for the first New York Musical Theatre Festival. Essentially, the show is about its own creation.
The cast of characters includes Jeff and Hunter, their friends, actors Susan Blackwell and Heidi Blickenstaff, and their orchestrator and music director, Larry Pressgrove. All of them play themselves — and in the versions of them in the musical, they are aware that they are in a musical.
Jeff and Hunter use the show to ask some interesting questions about the purpose of art and the meaning of success, but they don't take themselves too seriously. The show is silly, self-aware, and extremely entertaining.
I've created three outfits based on three of the songs from [title of show]. Keep reading to see them all!
Two Nobodies In New York
Are we writing for art?
And is art a springboard for fame?
And will fame get us a sitcom?
And will a sitcom get us on Ellen?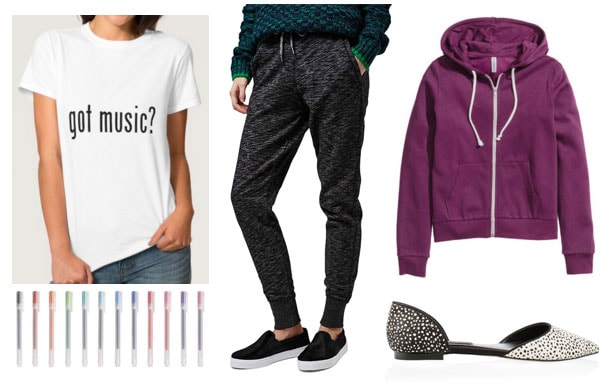 Products: T-Shirt, Pants, Sweatshirt, Flats, Pens
Got a lot of writing to do? Try this look inspired by the beginning of Hunter and Jeff's writing process. A t-shirt printed with the words "got music?" reference their idea of setting their dialogue to music. To stay comfortable while you work, put on stylish joggers and a bright purple sweatshirt. Dress the outfit up with cool d'orsay flats, and put your ideas to paper with a set of colorful gel pens.
Secondary Characters
The secondary characters are singing a song
While the stars are snacking off-stage.
It was their idea to bring us along
And now we're hijacking this page.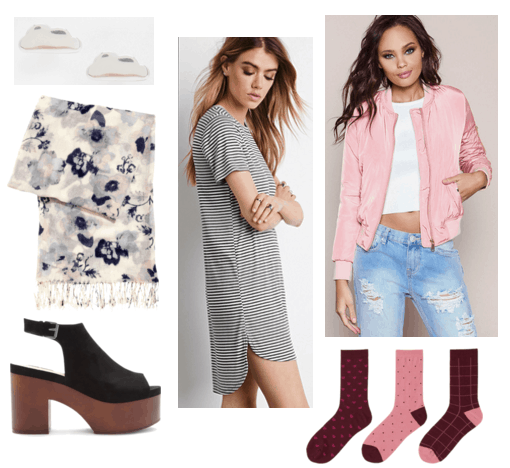 Products: Dress, Jacket, Scarf, Socks, Platforms, Earrings
Heidi and Susan's duet starts out slow but builds to ridiculous heights. For this outfit, start with something basic, like this striped t-shirt dress, and add bold pieces, like this pink satin bomber. Accessorize with cloud-shaped earrings, a reference to the "Dream On" part of the song, and a light floral-print scarf. For a final funky touch, layer bright crew socks under chunky suede platforms.
Nine People's Favorite Thing
I'd rather be nine people's favorite thing
Than a hundred people's ninth favorite thing.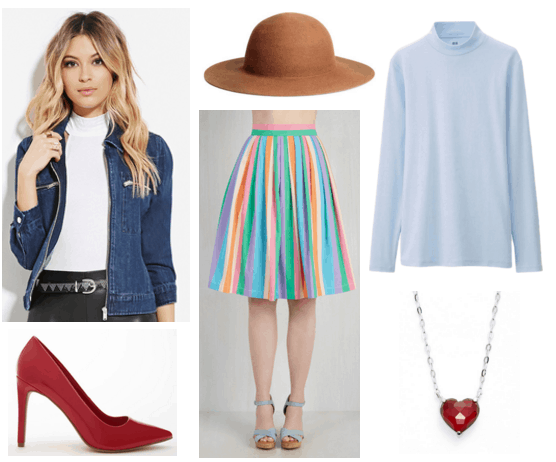 Products: Turtleneck, Skirt, Jacket, Heels, Necklace, Hat
At the end of the show, the four decide that the quality of their show is more important than commercial success. They're going to do what they love without worrying about how people will respond.
Let this song inspire you to wear pieces that may not be to everyone's taste. Put on a baby blue turtleneck and a rainbow-striped skirt, and layer on a cropped denim jacket. For even more color, add red patent leather heels and a red heart necklace that symbolizes the nine hypothetical people that will enjoy the show. Finish it off with a wide-brimmed brown wool hat.
Epilogue
Let's take [title of show] to heart as spring semester starts: we'll do some cool work, but we won't take ourselves too seriously.
Your Thoughts?
Have you seen a production of [title of show] or listened to the cast recording? Do you enjoy any other pieces of art about making pieces of art? Are there any plays or musicals you would love to see covered in this column? Let us know what you think in the comments below!