From the costumes to the set, from the words of the script to the movements of the actors, everything on stage tells a story. Stage-Inspired Fashion explores ways to add a little dramatic flair to your style.

Ancient Greek fashion is making a comeback this summer. With this in mind, I thought I would cover a classic play today. Though its subject matter is dark and dramatic, this must-see play can offer inspiration for lighthearted, summer-appropriate outfits.
Behind the Scenes
Antigone is the third of Sophocles' Theban plays; although written first, it comes after Oedipus Rex and Oedipus Coloneus chronologically. It concludes the story of Oedipus' family.
After Antigone's two brothers choose different sides of a battle and end up killing each other, Creon, Antigone's uncle and the king of Thebes, declares that the brother who switched sides cannot be buried. Antigone, unable to let her brother die without the proper rites, buries him anyway. As punishment for disobeying him, Creon sentences her to death. Different characters try to sway him from his path, but he will not be moved. In the end, Creon's stubbornness and pride brings tragedy upon his family.
Antigone asks questions about justice, duty, and obedience–concepts that were very important to Sophocles' contemporaries and are still important to us now. Antigone has been translated into many different languages and performed in theaters around the world. Something about it still connects with translators, directors, actors, and audiences.
I've created three outfits based on the characters in Antigone. Keep reading to see them all!
Antigone
But leave me to my own absurdity, leave me
to suffer this–dreadful thing. I will suffer
nothing as great as death without glory.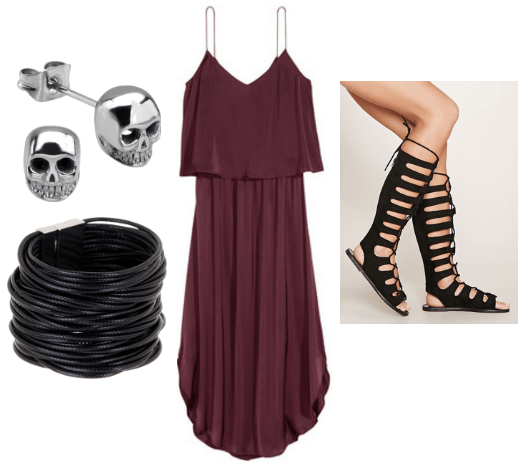 Products: Dress, Sandals, Earrings, Bracelet
Antigone, brave as her brothers and stubborn as her uncle, has a flair for the dramatic. For a modern take on her look, layer a plum satin midi dress over knee-high gladiator sandals. A black cord bracelet represents her ties to her family, and stainless steel skull earrings show her commitment to honoring the dead.
Creon
Believe me, the stiffest stubborn wills
fall the hardest.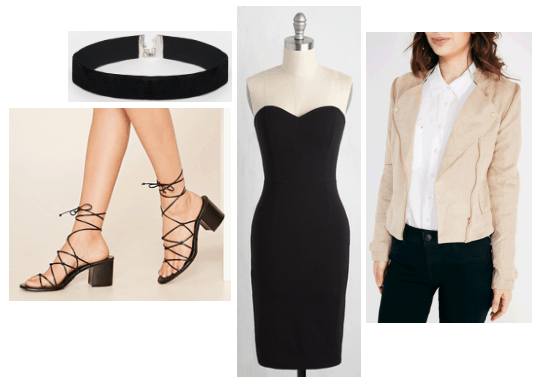 Products: Dress, Sandals, Jacket, Choker
Creon's outfit is about structure and elegance. This sleek, strapless LBD is the opposite of Antigone's flowing dress. A tan suede moto jacket and black lace-up heels add textural interest and orderly lines. Finish the look with a black velvet choker that symbolizes the pressures of being king.
The Chorus
Terrible wonders walk the world but none the match for man–
that great wonder crossing the heaving gray sea…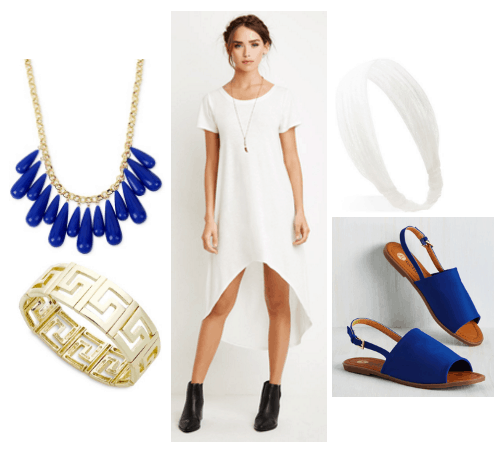 Products: Dress, Sandals, Necklace, Bracelet, Headwrap
The Chorus consists of Creon's advisors and respected citizens of Thebes. For a look that represents the architecture of Greece itself, start with a flowing white shirt-dress and add royal blue accessories, such as these slingback sandals and statement necklace. Add a bracelet featuring the Greek key motif and tie your hair up in a Grecian style with a white headwrap.
Epilogue
Although an ancient Greek tragedy about killing and burying one's family members may not seem like an obvious source of fashion inspiration, Antigone shows us how to explore the ideas that are important to us through the arts.
Your Thoughts?
Have you seen a production of Antigone or read it for class? Do you have a favorite translation? (I'm a fan of the Fagles translation, which I used in this article.) Are there any plays or musicals you would love to see covered in this column? Let us know what you think in the comments below!