From the costumes to the set, from the words of the script to the movements of the actors, everything on stage tells a story. Stage-Inspired Fashion adds a little drama to everyday style.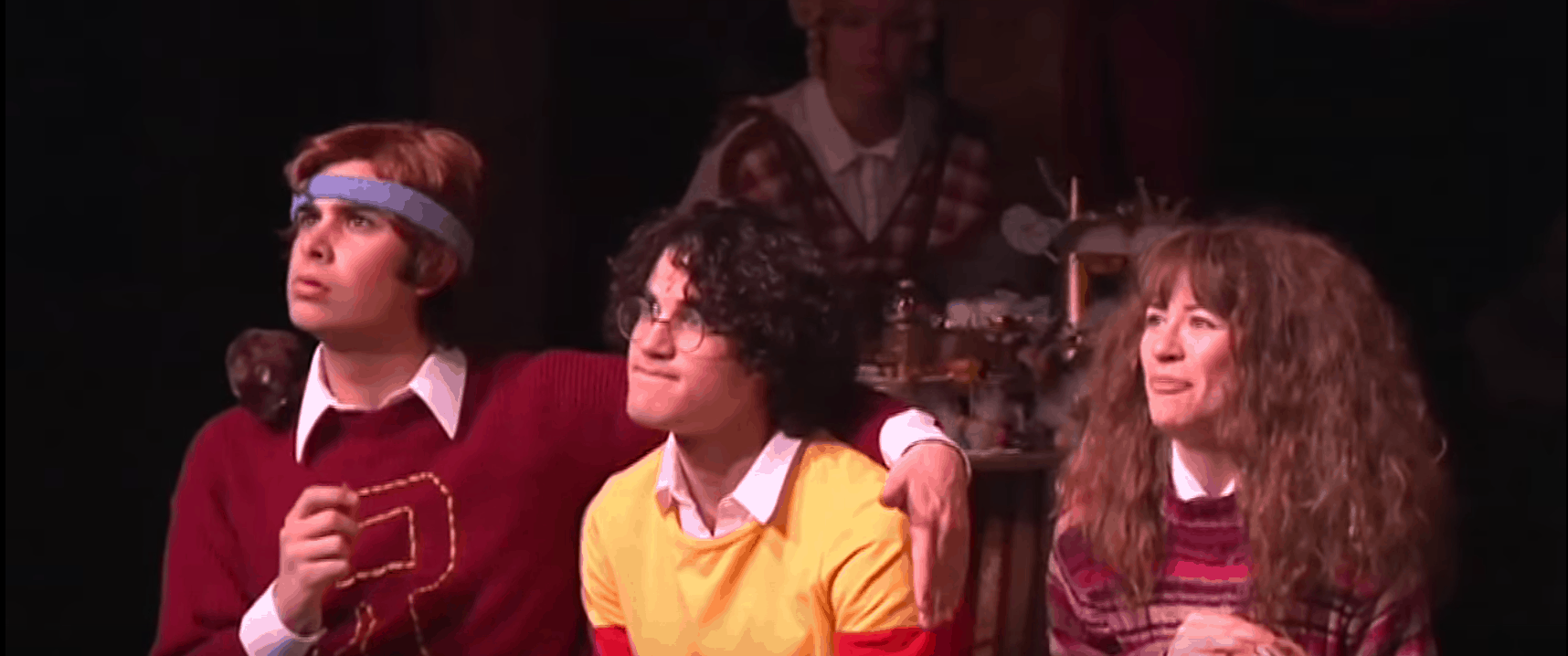 You asked for more Very Potter outfits — so here they are!
Behind the Scenes
A Very Potter Sequel is StarKid's second Harry Potter parody musical. With music and lyrics by Darren Criss and book by Nick Lang, Matt Lang, and Brian Holden, it builds on the ridiculous jokes of the previous show and introduces hilarious new characters.
Harry and his friends may have defeated Voldemort, but Lucius Malfoy and the Death Eaters are not giving up yet. Using a Time Turner, they travel back in time to stop Harry before he even learns that Voldemort is a threat. This year at Hogwarts, Draco struggles to use a toilet, Hermione can't draw, and Snape never knows what the devil is going on. As with all StarKid musicals, you can watch it on YouTube for free!
I've created three outfits based on three of the characters introduced in A Very Potter Sequel. Keep reading to see them all!
Lucius Malfoy
You danced! I finally taught you something.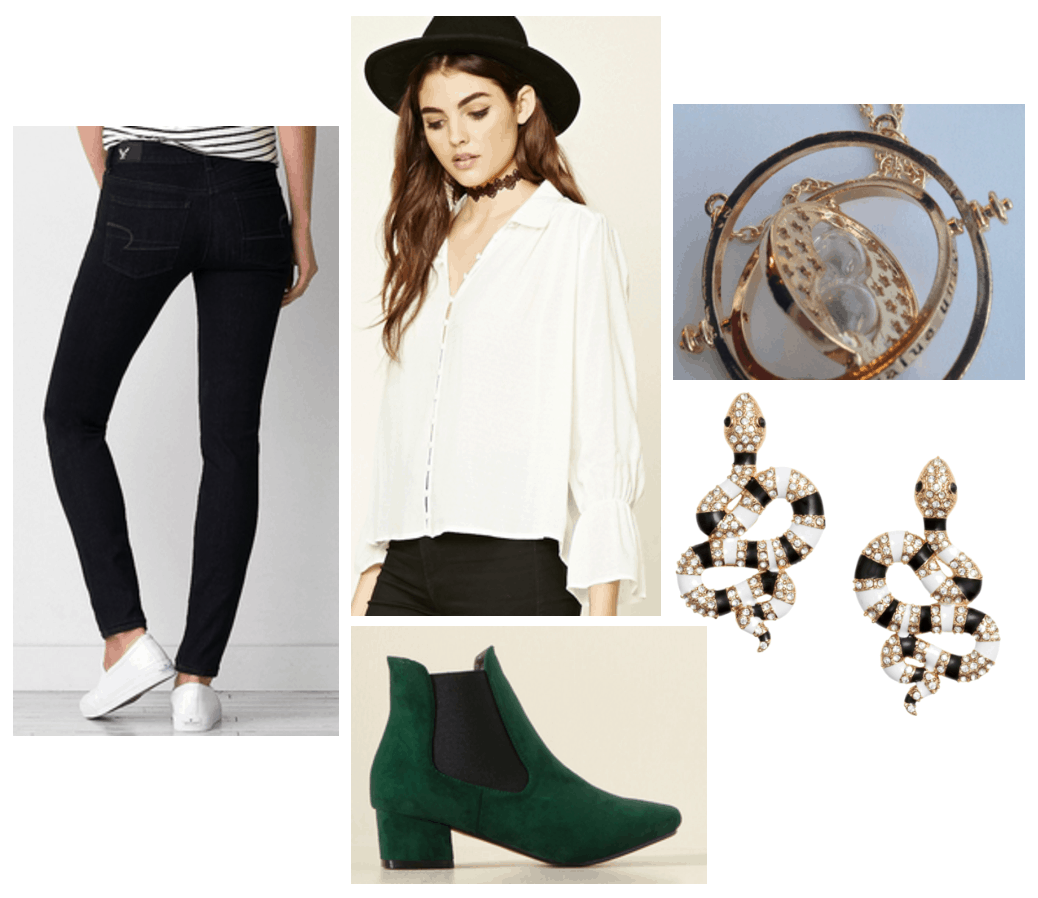 Products: Blouse, Jeans, Vest, Boots, Earrings, Time Turner
Just like his master, Lucius is a formidable dancer. Get his sinister style with a balloon sleeve blouse, black jeans, and a longline black vest. Add a pair of bejeweled snake earrings, a Time Turner necklace, and Slytherin-green suede booties (to highlight your fancy feet).
Remus Lupin
Alright, gang, I'll ignore that some of you are late…if you ignore that I'm the latest.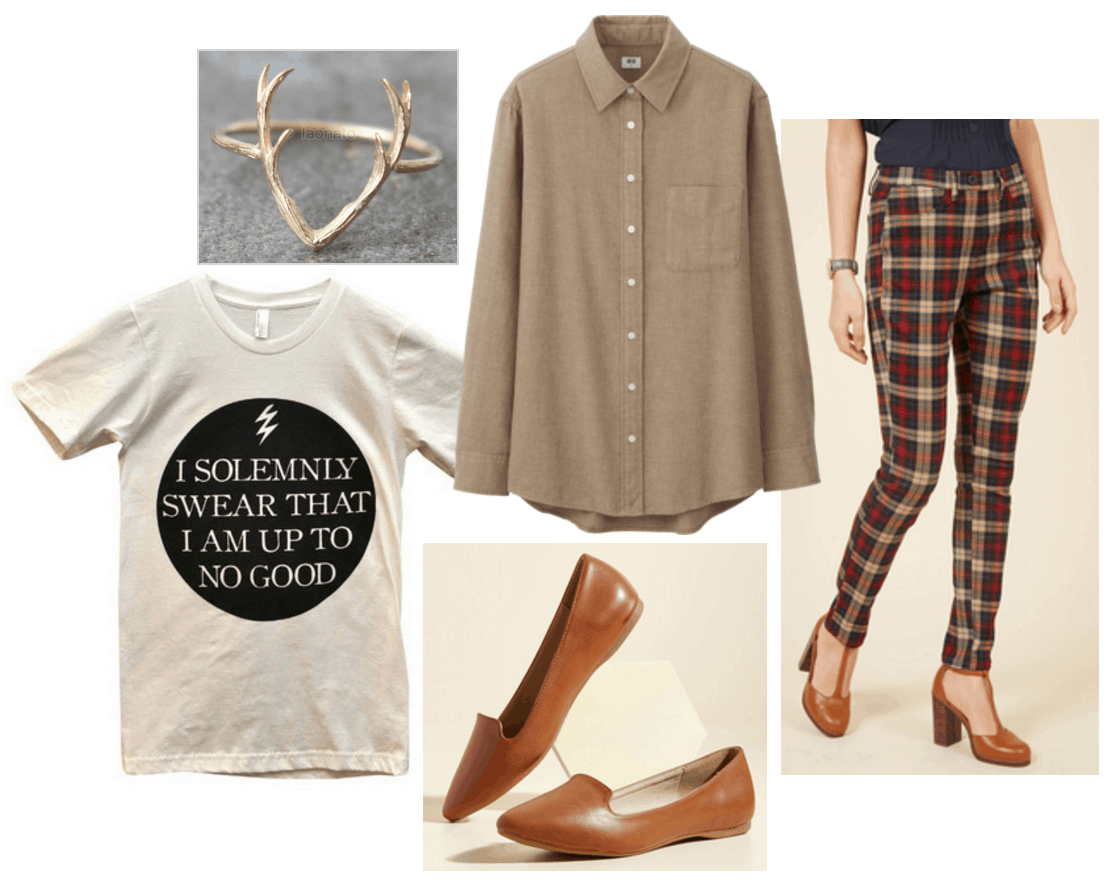 Products: Shirt, Flannel, Pants, Flats, Ring
Lupin has two costumes: 1) a professorial outfit complete with a vest and a bowtie, and 2) a pair of underwear and a lot of fake blood. We're going with the more professional option here.
For a Lupin-inspired look, tuck a Marauder's Map t-shirt into preppy plaid pants, and throw a fawn-colored flannel shirt on top. Put on tan flats and — is that a deer ring on your finger? Where did that come from?
Dolores Umbridge
From now on, we're gonna be doing things around here my way. We're gonna be doing things around here THE UMBRIDGE WAY!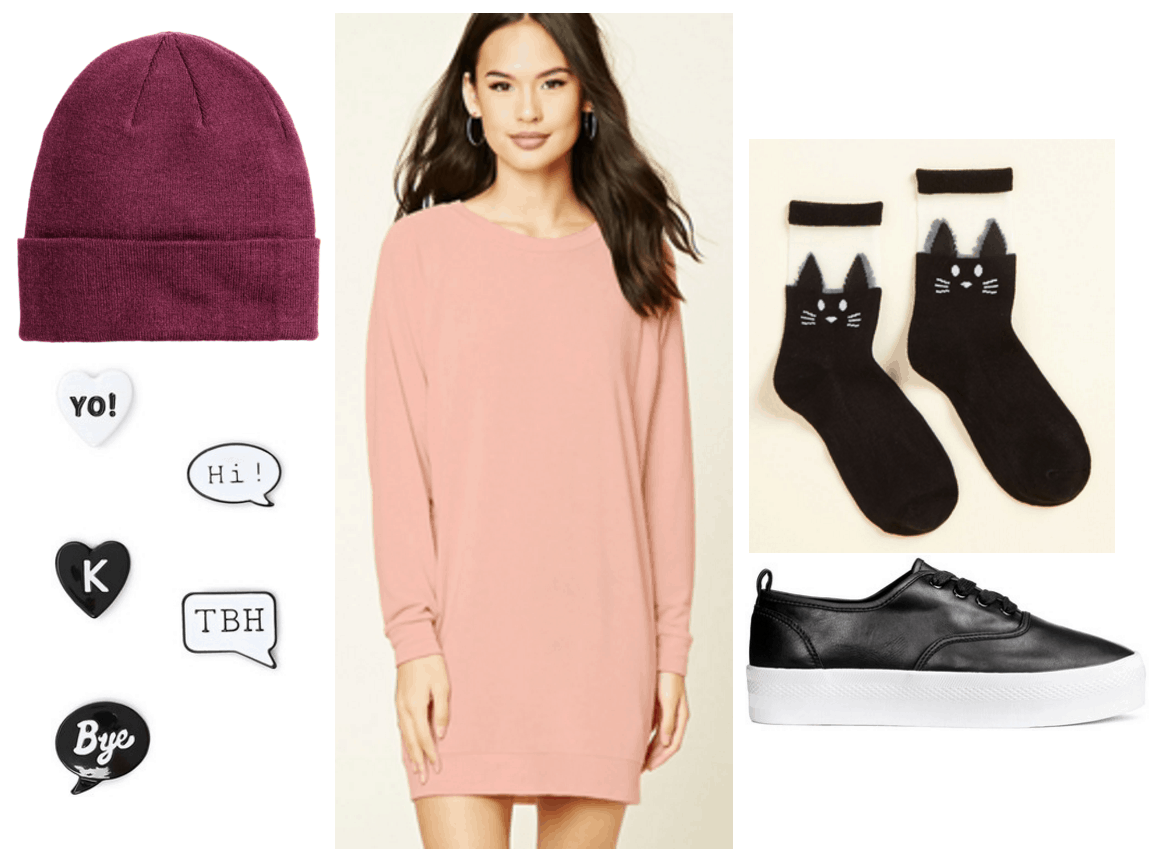 Products: Dress, Socks, Sneakers, Beanie, Pins
This Umbridge is very different from the book and movie Umbridges, but she still loves pink and she's still terrifying. Get ready to UMBRIDGE SMASH in trendy athleisure: a baby pink sweatshirt dress, a magenta beanie, and platform leather sneakers. Accessorize with cat socks and a set of pins that show Umbridge's texting expertise.
Epilogue
Don't let the end-of-semester stress get you down. Take a little time to enjoy something funny, and treat yourself to some Red Vines. (What the hell can't they do?)
Your Thoughts?
Which Very Potter musical is your favorite? Do you have any Harry Potter clothing pieces? Are there any plays or musicals you would love to see covered in this column? Let us know what you think in the comments below!