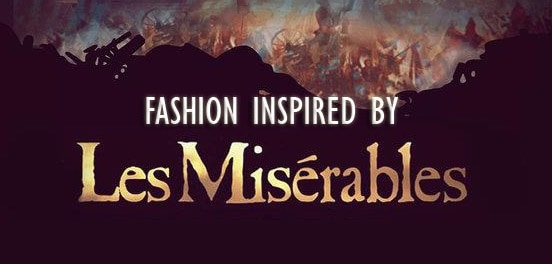 Hello again, friends. For the next installment of our stage fashion inspiration series (see the first post on fashion inspired by Wicked), we're tackling the mega-musical Les Mis.
Les Miserables is probably one of the most important shows you'll learn about in any Broadway 101 class. (My college actually offered one and it was probably the most fun class I've ever taken.) Based on the novel by Victor Hugo and known as one of the most influential musicals ever written, Les Mis is the third longest running show on Broadway, and the London West End production is the longest running show in the world!
Whether you're a fan of operas or prefer more modern-sounding musical numbers, the soundtrack for Les Mis will BLOW. YOUR. MIND. Seriously. The songs are moving, powerful, and of course, feature some wicked harmonies. If you're new to the music of Les Miserables, check out versions by Susan Boyle, Lea Michelle or Nick Jonas, who got his start playing Gavroche on Broadway and now stars as Marius in the LA revival.
As much as I love the music from Les Mis, I love the costumes as well. Think wearable outfits can't be adapted from costumes based around the French Revolution? Read on!
Do You Hear The People Sing?
Les Miserables follows a group of people who search for redemption, love, and prosperity during the French Revolution. The plot is a little too complicated to justly explain in a few sentences, so if you're interested, click here for the full synopsis.
Homeless chic style has understandably caused tons of controversy in the past, so musicals like Les Miserables and Oliver! are more ethical sources of inspiration if you're attracted to gritty style. The characters in Les Mis experience periods of extreme wealth and poverty, creating outfits that exemplify "high-low" fashion in its purest form.
Expensive coats and trousers from the characters' pasts have grown old and tattered, but they still wear them with pride, giving each character an eclectic look. Characters also layer a myriad of different textures, patterns, and fabrics to protect themselves from harsh French winters. They combine formal vests with utilitarian coats, and wear tough boots and warm hats out of necessity. Add accessories like scarves, fingerless gloves, or a leather belt to complete your look.
Friends of the Abaisse
The Friends of the Abaisse (also known as the Friends of the ABC) are a group of revolutionary students dedicated to uplifting the poor, building a democracy, and fighting for justice. As college students, many of them come from well-to-do families and used to live comfortable lives before the war hit.
Even in the 1800s, stripes were a staple of French ensembles, so start your look with a striped top. Add a tweed pair of trousers, a scarf, beret, lace up oxford shoes, and an old fashion military-esque coat to complete the look.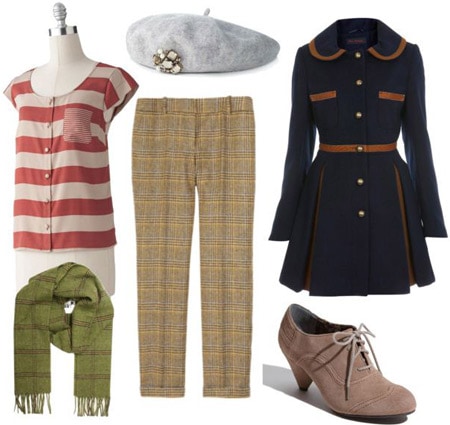 Shirt, Trousers, Scarf, Beret, Shoes, Coat
Enjolras
Enjolras is the passionate leader of the Friends of Abaisse. He gets to sing many of the powerful anthems and most recognizable songs in the musical, including One Day More, Look Down, Red and Black, and Do You Hear The People Sing? 
Enjolras's costume is perhaps the most iconic look to come from Les Miserables. To mimic it without looking costume-y, lose the puffy blouse and cummerbund and replace them with red skinnies, a navy button-down shirt, and of course, his signature vest.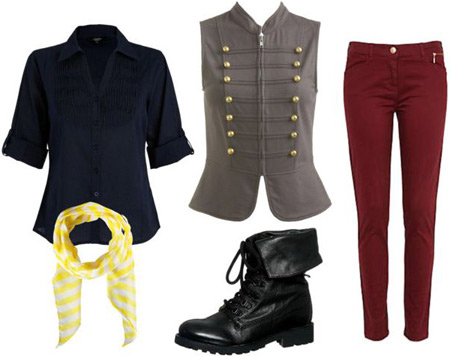 Shirt, Scarf, Vest, Pants, Boots
Eponine
Eponine is one of the most coveted roles on Broadway (our girl Lea Michelle from Glee even snagged it once). Once a pampered child, Eponine's family was hit hard by tough economic times and she was reduced to living on the streets.
Snag her look in a modern way by pairing a peasant blouse with a maxi skirt. Add a belt, trench coat, necklace, and her signature hat to complete the look.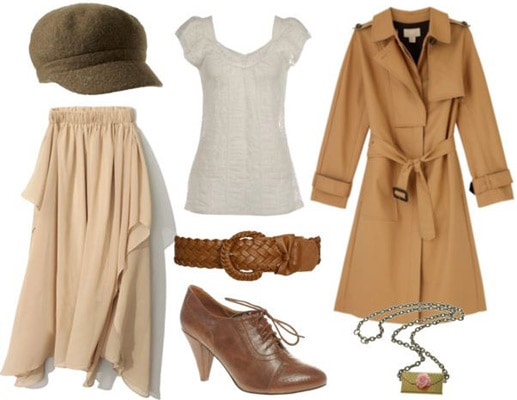 Hat, Skirt, Blouse, Coat, Belt, Shoes, Necklace
Gavroche
Gavroche, Eponine's brother and a brave street urchin, doesn't let his young age or small stature keep him from helping start the revolution.
Get his style by pairing a blouse with tweed shorts. (Layer tights underneath for extra style and warmth.) Finish the look with a vest, a newsboy cap, a messenger bag, and tough-looking military boots.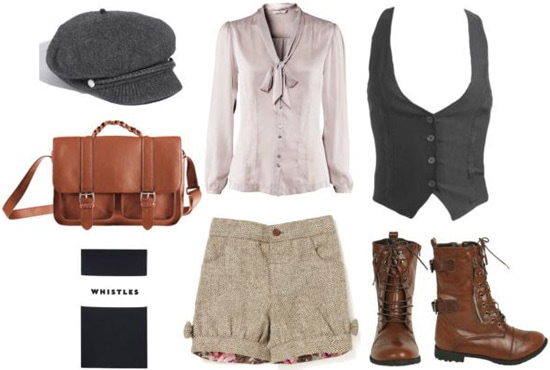 Hat, Messenger Bag, Tights, Shorts, Blouse, Vest, Boots
Thoughts?
Have you seen Les Miserables? What did you think of it? What are your favorite parts? What is your favorite song? Did you find the costumes inspiring? Leave us a comment and tell us what you think!
And don't forget to let us know what musical or play you would like to see us cover in the future — you just might see your request next week! =)