This post may contain affiliate links, which means we may receive a commission if you purchase through our links. Please
read our full disclosure here
.
You ask and CF delivers! Thanks to the response to our post on fashion inspired by Rent, for the next few weeks, we'll be exploring the costumes from some of your favorite Broadway musicals. I'll pause for a moment and let my fellow thespians let out a collective scream of joy.
To kick off this series, I picked everyone's favorite shower and road trip sing-along soundtrack, Wicked. I had the pleasure of seeing this production live two years ago, and I'm not ashamed to admit that I cried like a baby throughout the entire second act.
Wicked is a prequel to the Wizard of Oz, explaining the origins of the Wicked Witch of the West, Glinda the Good Witch, the Scarecrow, Tin Man, Cowardly Lion, and more. Don't expect a sunny fairy tale, though; this musical (adapted from a novel by Gregory Maguire) explores themes such as bullying, acceptance, integrity, love, friendship, and the fine line between good and evil. If you ever have the opportunity to catch a live production, I highly recommend it — you will leave the theater touched, and might even shed a tear or two yourself 🙂
Alright, enough of my emotional blabbering — lets get the the good part, the fashion!
Dear Old Shiz
I'll try my best to get through this post without giving away too many of the story's surprises — but for those of you who haven't see it yet, the parallels between Wicked and the Wizard of Oz will astound you!
The tale begins at Shiz University, the college that Galinda (the Good Witch, before she changed her name), Elphaba (the future Wicked Witch of the West), and Elphaba's crippled younger sister Nessarose (the future Wicked Witch of the East) all attended before becoming professional witches. (I giggled at that statement, too.)
In the musical, Shiz students dress very preppy, sporting items such as blazers, oxford shirts, loafers, and hats. Elphaba and Galinda are both known to rock monochromatic outfits in their signature colors as well. Read on to steal a little bit of Elphie, Nessa, and Galinda's school-girl style.
Elphaba
Idina Menzel originated the role of Elphaba, a compassionate, intelligent, and good-intentioned student who is bullied for having green skin. She has felt like an outcast her entire life and compensates by wearing very plain outfits in hopes of blending in.
Wearing head-to-toe navy blue like Elphaba is an option, of course, but below, I adapted her outfit to work a little better in everyday life. Be sure to rock some emerald green jewelry to pay homage to Elphaba's unique complexion.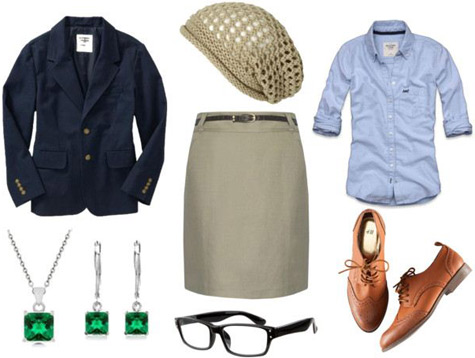 Blazer, Skirt, Beanie, Shirt, Shoes, Glasses, Jewelry
Galinda
Kristin Chenoweth originated the role of Galinda, a perky, well-liked, and sometimes self-centered student who is the polar opposite of Elphaba. Despite their differences, the two students develop a strong bond and Galinda even gives Elphaba a makeover in an attempt to make her "Popular."
Galinda's style is very girly — she is known to wear lots of pink, full skirts, and rhinestones and glitter galore. To get her look, pair classic pieces together and give the look a ladylike flair with a white beanie, floral scarf, and sparkly earrings.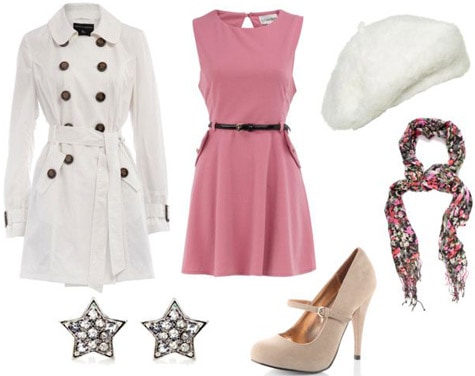 Coat, Dress, Beret, Scarf, Shoes, Earrings
Nessarose
Nessarose, like Elphaba, feels like an outcast, but she is desperate to have a fresh start at Shiz University.
Nessa's style is more colorful than Elphie's, but she is not as glamorous as Galinda, who helps find her a date to the Oz Dust Ball. To steal some of Nessa's style, pair preppy basics with quirky accents, like a bow headband and her signature silver shoes (which become a very important plot point later in the story).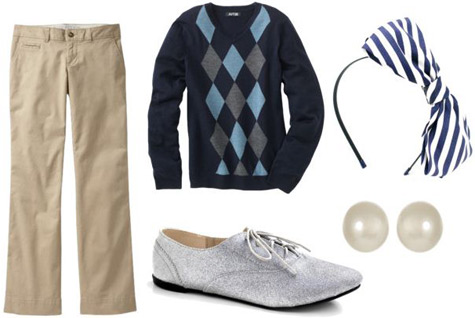 Khaki Pants, Argyle Sweater, Shoes, Headband, Earrings
Defying Gravity
Elphaba slips into her well-known witch ensemble towards the end of the first act and sings the iconic song, "Defying Gravity."
Although it would be fun to go out in a pointed black hat, you might get a few strange looks. Save the classic witch items for Halloween, but snag some of Elphie's style by layering drapey, gothic-inspired black pieces together with green accessories and a lion ring for a unique look that's certain to make you feel bold, powerful, and flyin' free.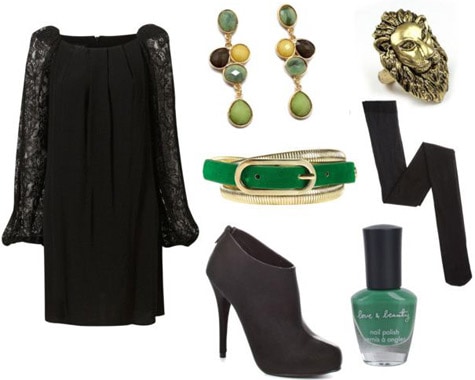 Dress, Belt, Shoes, Earrings, Ring, Nail Polish, Tights
For Good
Glinda (who has now dropped the "a" in her name) helps the Wizard reign over Oz in the second act and certainly looks the part of the powerful ruler she has become.
Get Glinda's royal look by pairing a princess party dress with loads of crystal jewelry, a hot air balloon necklace that references the Wizard and Dorothy's escape from Oz, and a tiara if you feel really daring!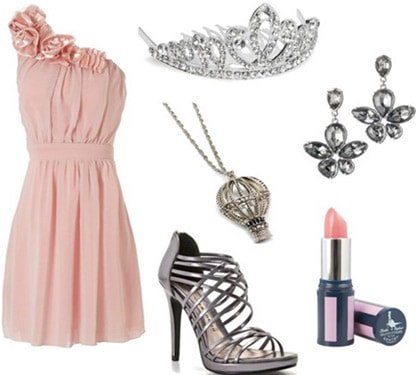 Dress, Tiara, Shoes, Necklace, Earrings, Lipstick
What Do You Think?
Have you seen Wicked? What did you think of it? Do you and your girlfriends LOVE the soundtrack as well? What other musicals or plays to you love? Leave a comment and tell us what you think of this post.
Also, make sure to let me know what other musicals or plays you'd like to see covered next – you may see your favorite here soon!