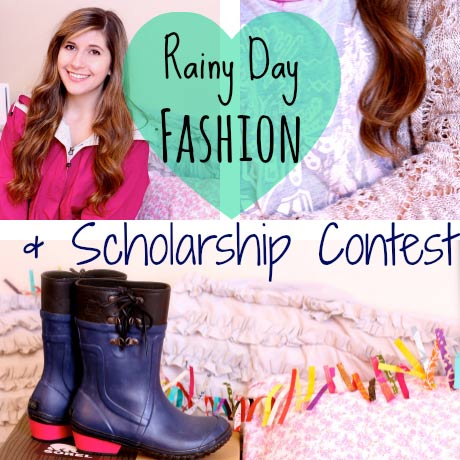 Recently, I've fallen in love with rainy days thanks to these boots, sent to me by SOREL. Can we just take a moment to appreciate the pink heels?
Did you wait a moment? If not, keep admiring. So pretty! So pink!
Some rain boots literally feel like you're sticking your foot in a rubber rectangle. They're heavy, hard to climb up stairs in, and not made for human feet. These SOREL boots actually fit the shape of my feet, without making me feel like Iron Foot. SOREL sent these to me for free, however, my opinions are 100% my own.
The purpose of all of this? SOREL has an amazing scholarship contest going that you will all want to enter. The details on that are at the bottom of the post.
But first, the fashion! Here are some outfits for spring and rainy days (to add to Shannon's rainy day fashion post from earlier this week), incorporating my new favorite pair of rain boots. (Note: All outfits assume that you will wear a waterproof/rain jacket on top if it is still raining outside.)
1. Rainy Day Happy Day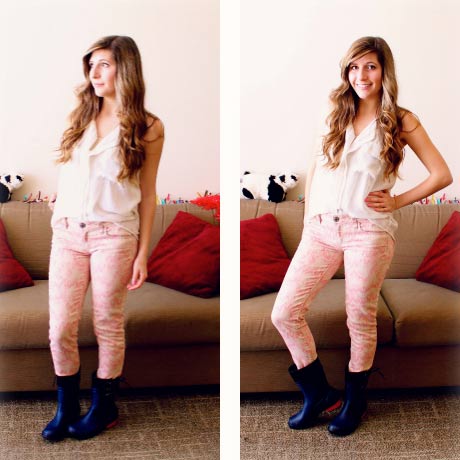 April showers bring May flowers. Here in Georgia, it's more like April campus flooding brings pollen clouds. This is my first ever photo where I'm not smiling and looking directly at you, which looks completely ridiculous. (Nailed it). I still don't understand how fashion bloggers pull that off.
Outfit Details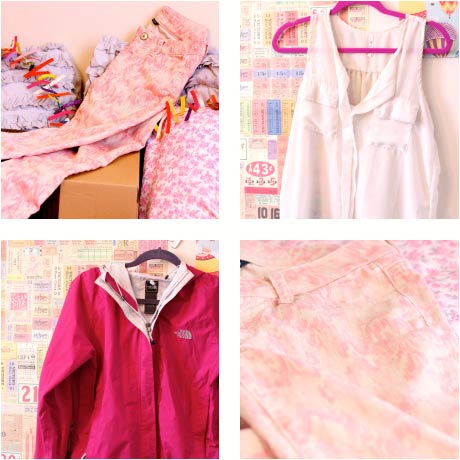 These pink and tan patterned pants are some of my favorites. Patterned pants are perfect for chilly spring days, when it's too cold for shorts. If you buy a pair of "stretch" pants like these, I highly suggest going down a size. These are the kind of pants that stretch out after you wear them once, AKA the bane of my existence.
My white flouncy blouse goes with everything. I'm actually shocked I haven't ruined this top, because I can't eat without spilling food. My boyfriend has actually dubbed me "Lil Spill" because I spill a little bit every time I go out to eat with him. It's equal parts disgusting and embarrassing.
To keep you from any white-top-see-through moments, I present this magenta rain jacket. I once left this beauty in one of the lecture halls. Don't worry, though – I rescued it without spilling anything.
2. Rainy Day Fancy Day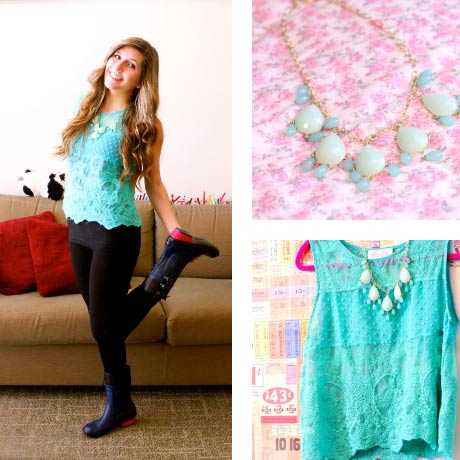 When you're in college and it's raining, it's tempting to put on leggings. RESIST. Be strong. Repeat after me: leggings are for fashion pagans. Jeggings are slightly more socially acceptable.
This teal top dresses anything up. It has a scalloped bottom, lace details, and textured polka dots. I dressed this tank up even more with this minty chunky necklace.
Stretchy on the bottom, fancy on the top. Remove the rain jacket (above) and it's perfect for days that were once rainy and now sunny.
3. Rainy Day Casual Day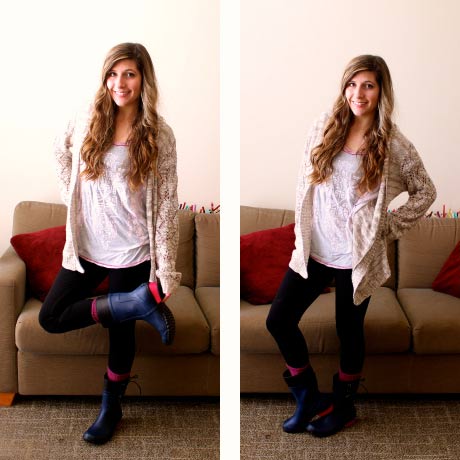 7:30 AM. The rain is pouring. The bed is calling. I drown my sorrows in coffee and try to look cute while being comfy as possible.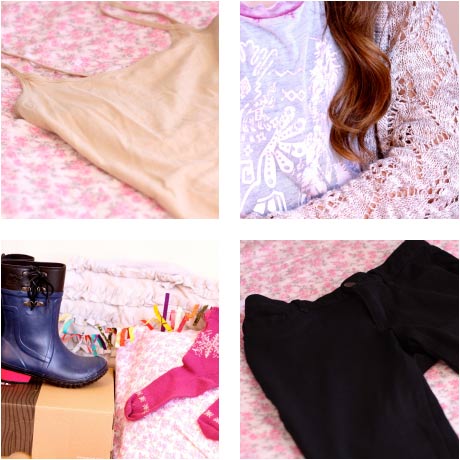 This faded pink patterned top is so loose and comfy it makes my pajama top jealous. My cardigan is ultra cozy, and if you don't own a neutral cardigan, how have you made it this far in life? I wear this blanket-like layer at least once a week.
I love accessorizing boots with colorful socks. SOREL boots run slightly large, which makes them a perfect fit with thick socks.
And now, the news you've all been waiting for!
#SORELstyleME Contest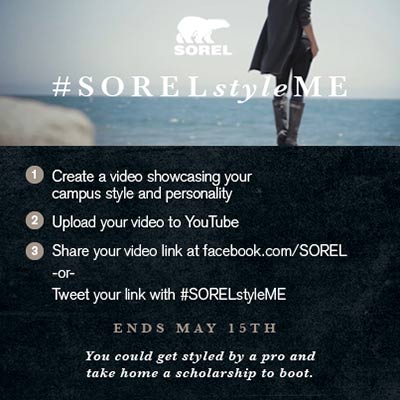 SOREL is offering a $2,500 scholarship and a chance to be styled by a professional stylist. (Even if you don't win that, you can win a pair of boots just for entering!) Use the hashtag #SORELstyleME and create a short video talking about style and fashion. Put in on Twitter or link it to the SOREL Facebook page. I can't wait to watch your videos.
This contest ends May 15. Here are the official rules. To sum it up, keep it short and don't use copyrighted music.
Comments? Questions?
Let me know down below which of these outfits is your favorite. What do you want to see next?
Disclosure: This post was sponsored by SOREL and the SOREL boots were provided for free. The opinions, as always, are our own. For more information, please see our Disclosure page.