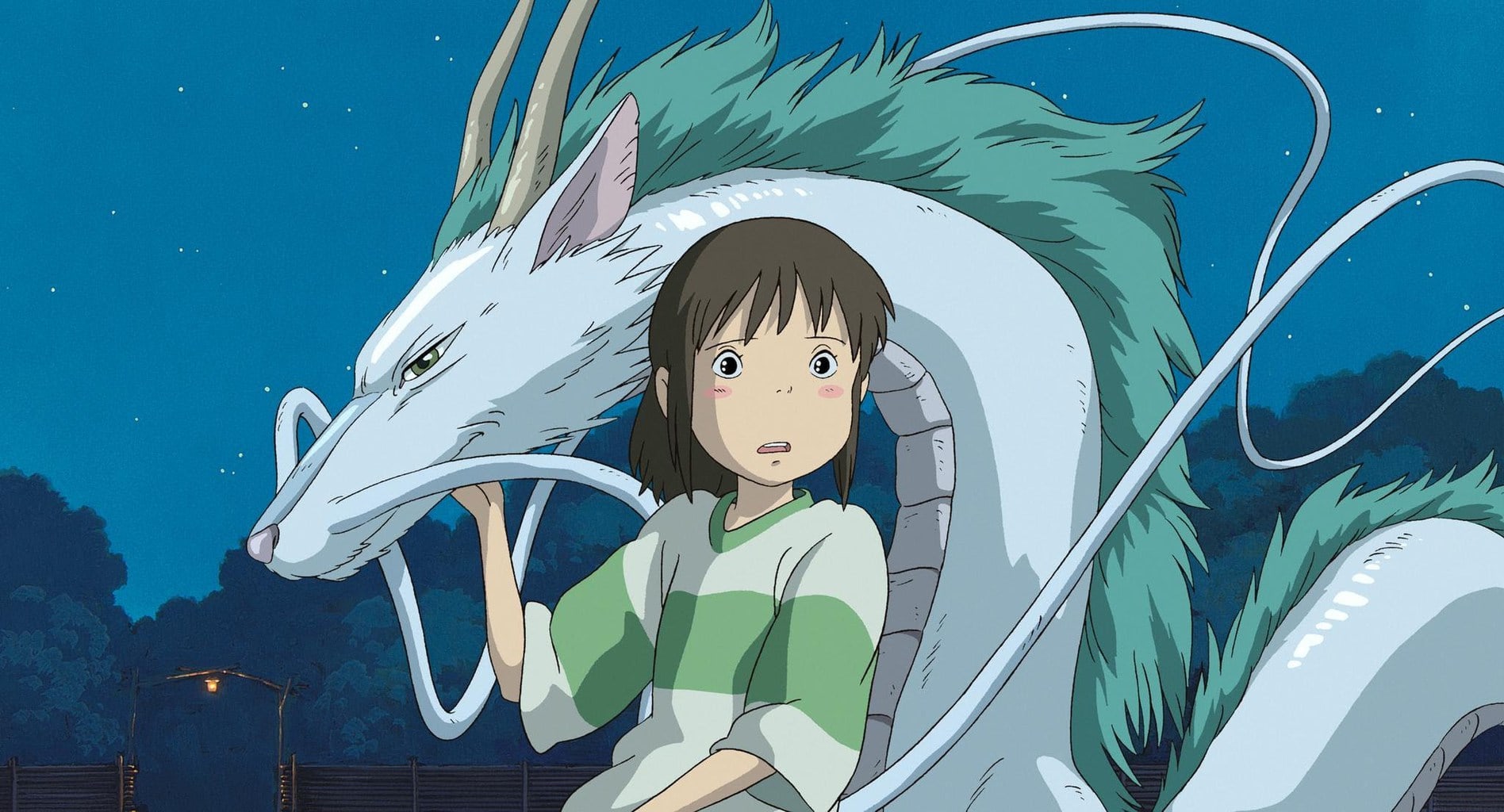 Spirited Away is an Oscar-winning, 2001 Japanese anime fantasy film written and directed by Hayao Miyazaki and produced by Studio Ghibli. From its emotional soundtrack to its charming characters and fantastical art, Spirited Away is brimming with inspiration. Watching this movie has always given me a feeling of bittersweet nostalgia, and I'm excited to share its beautiful story with CF readers!
At its core, Spirited Away is a little bit like a Japanese version of Disney's Alice in Wonderland: A young girl, Chihiro, gets separated from her parents and accidentally discovers a magical spirit world, undergoing many hurdles to get back to her regular way of life. But it's really so much more! Like many of Miyazaki's past anime films (Howl's Moving Castle, for instance), it's also a story about tenacity, discipline, staying true to yourself, and most importantly (and my favorite part!), true love.
You can watch the Japanese trailer here and the English trailer here.
Spirited Away Fashion Inspiration
Chihiro Ogino (also known as "Sen")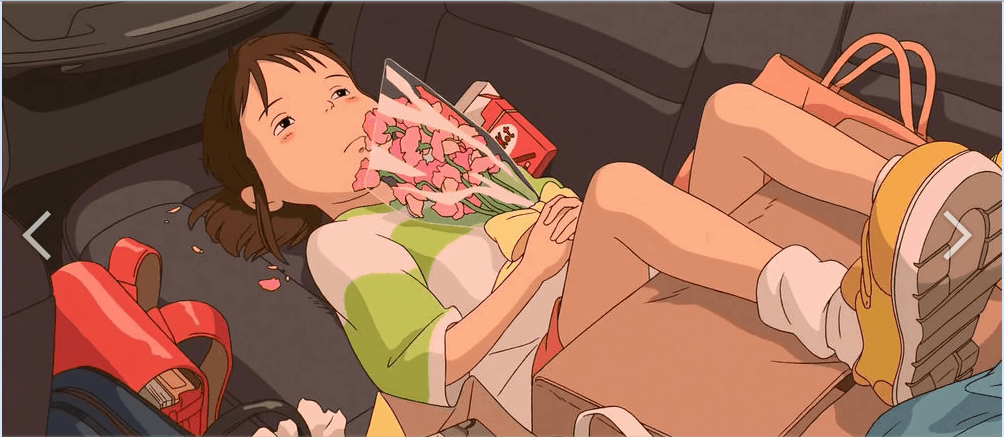 At the beginning of Spirited Away, Chihiro starts off as a sullen and angsty ten-year-old girl who, while moving into a new neighborhood, enters the spirit world! After her parents are transformed into pigs by the witch Yubaba, Chihiro takes a job working in Yubaba's bathhouse in order to free herself and her parents and return to the human world.
As the main heroine, Chihiro's character transformation into a capable individual is a core factor to the movement of Spirited Away's plot. During her adventure in the spirit world, she matures from a timid, skittish girl with a childlike personality to a hardworking, responsible, and brave individual who has learned to put her fears aside for those she loves.
To protect her friends and rescue her parents, Chihiro sheds her former easily-scared and whiny personality and adapts to her environment to become a courageous, quick-witted, and reliable girl.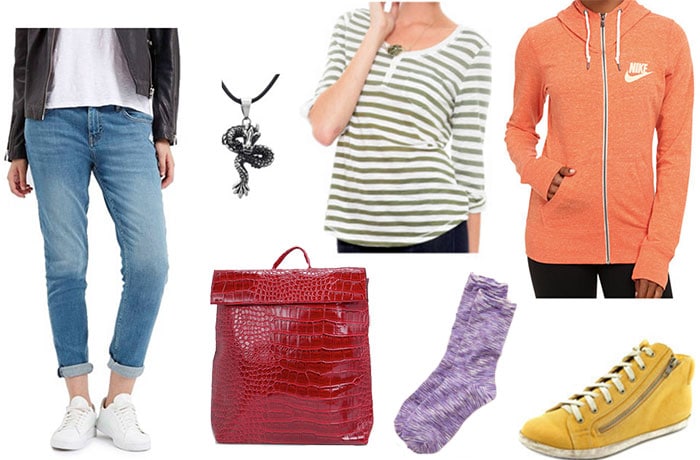 Products: Boyfriend Jeans, Necklace, Striped Top, Sweatshirt, Backpack, Socks, Sneakers
For this look, I wanted to recreate Chihiro's childlike, yet bold personality without going over-the-top, so I chose to incorporate one of fashion's simplest statement trends, color-blocking.
To get this look, layer a sporty orange hoodie over an olive and white striped top and slouchy boyfriend jeans. This look has a bit of an oversized feel to mimic Chihiro's attire. Throughout the movie, all of the clothes our main protagonist wears always seem way too big for her, but by the end, she really "grows into her own skin," so to speak.
I added a splash of complimentary colors by using these pastel purple socks. Nearing the film's climax, Chihiro and her group construct a beautiful purple hair tie as a symbol of their friendship, which is what these socks represent. Fold them over and pair them with these adorable tomboy yellow sneakers to add more interest to this color-blocked look.
It's time to finish the look. Grab a chic red backpack for a grown-up take the knapsack in the above screengrab. And of course, no Chihiro is complete without a certain dragon tied to her heart! I found this unique dragon necklace to complete Chihiro's connection with Haku.
Haku (human form)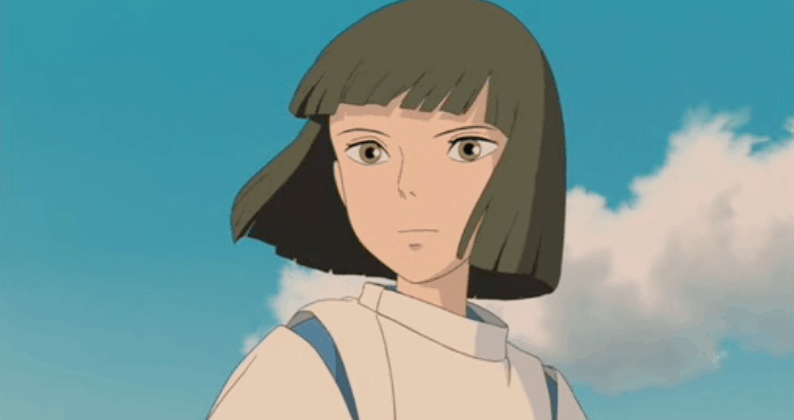 Haku is Yubaba's apprentice and second-in-command at the bathhouse. He wears a white kimono with puffy, light blue Japanese trousers known as monpe, along with a purple sash around his waist. As a (spoiler alert!) River Spirit, he has the ability to transform into a beautiful silver dragon. He can fly and has the ability to interchange between human and dragon forms at will. In the film, it is apparent that he and Chihiro share a deep connection and their love is what helps them overcome many trials against them.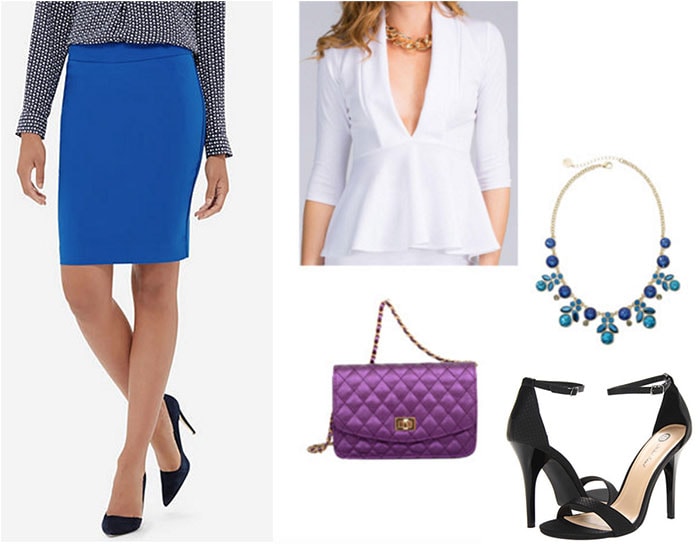 Products: Peplum Top, Pencil Skirt, Necklace, Purse, Heels
For this look, I imitated Haku's bathhouse uniform to create a night out look that is as polished and streamlined as he is.
Haku's persona is intimidating but beautiful, which is why I chose structured pieces with just a hint of risqué. I combined a sexy but structured white peplum top with a clean-cut blue pencil skirt and found a quilted bag that matches his sash color perfectly (also the pattern kind of looks like dragon scales!).
Finish the look off with on-trend strappy heels and a blue and teal statement necklace. You can personify Haku for a date, dinner with the girls, or even (with a layering tank underneath and closed-toe shoes if required) at the office!
Haku (dragon form)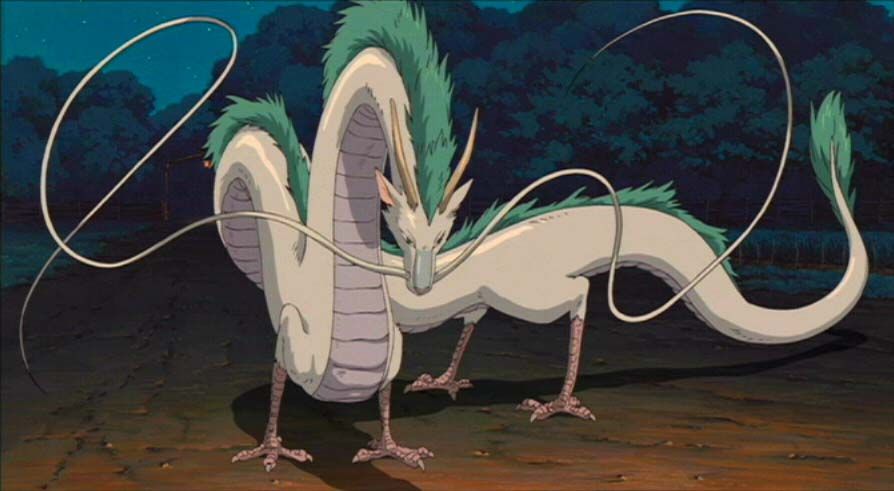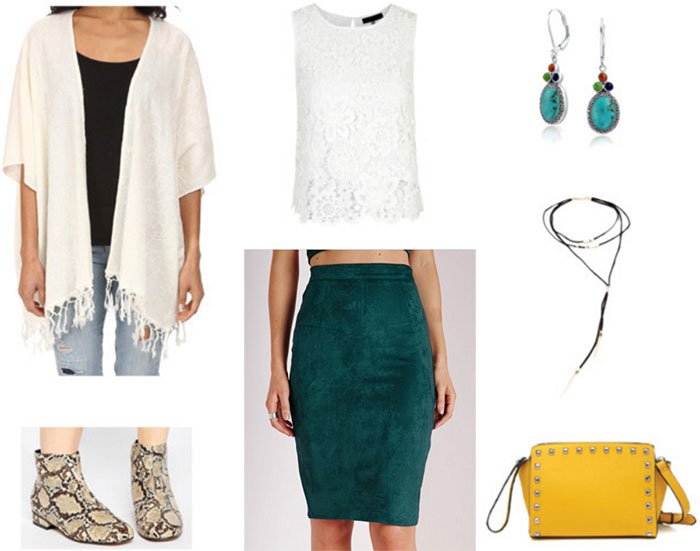 Products: Cardigan, Boots, Crochet Tank, Pencil Skirt, Earrings, Necklace, Purse
For Haku's dragon form, I wanted to imitate his look by combining many textures to create something elegant and tasteful. I paired a frayed cardigan over a romantic crocheted white tank and found this interesting teal suede skirt. I also added snakeskin (fake, of course!) boots and layered mythical jewelry to frame the look with natural accents. Just as Chihiro had a dragon pendant in her outfit, I felt the urge add in a yellow cross-body bag as a nod to Chihiro's yellow shoe that fell in the Kohaku river.
The studs in this purse and the snakeskin printed boots create a contradicting, robust aesthetic that contrasts against the more feminine aspects of this look, like the crochet top and suede skirt. Adding something hard to something soft is one easy way to appear cutting edge and put-together, which is a style that mirrors Haku's dragon form perfectly!
Yubaba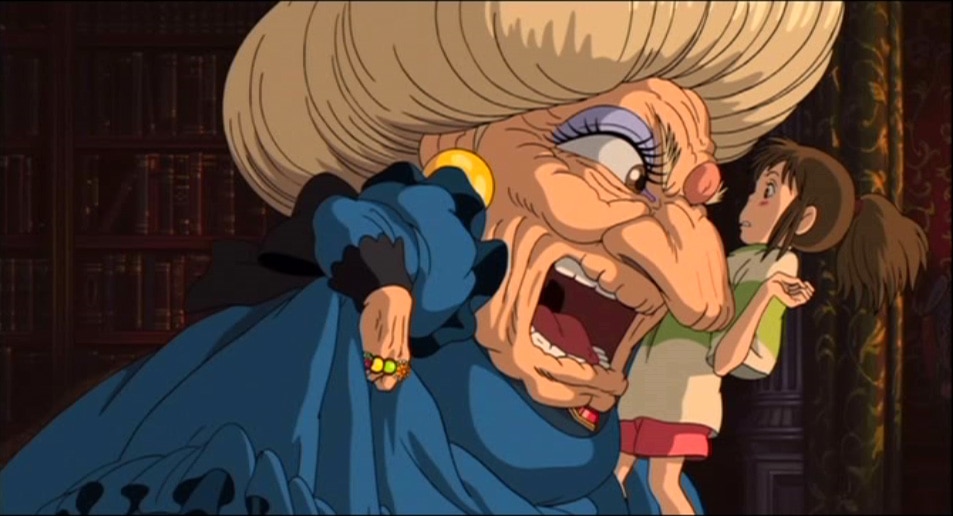 Yubaba is the proprietor of the bathhouse, the master of Haku, and the main antagonist of Spirited Away. Supposedly an "evil" witch, Yubaba obsesses over gold and is shown to be the opposite of her nice twin sister, Zeniba. However, she does show instances of motherly care for her son, Boh.
Her magical capabilities have allowed her to "steal" the names of her workers, binding them in a contract to her bathhouse forever unless they manage to miraculously recall their full names. She is also able to spit fire when angered.
While she is incredibly antagonistic in the film, Yubaba, on occasion, displays some redeeming qualities, such as her willingness to praise Chihiro after her excellent work with helping the Unnamed River Spirit and motherly softness for her son, Boh. In the end, she simply places gold over most things, causing others to disagree with her due to their varying mindsets.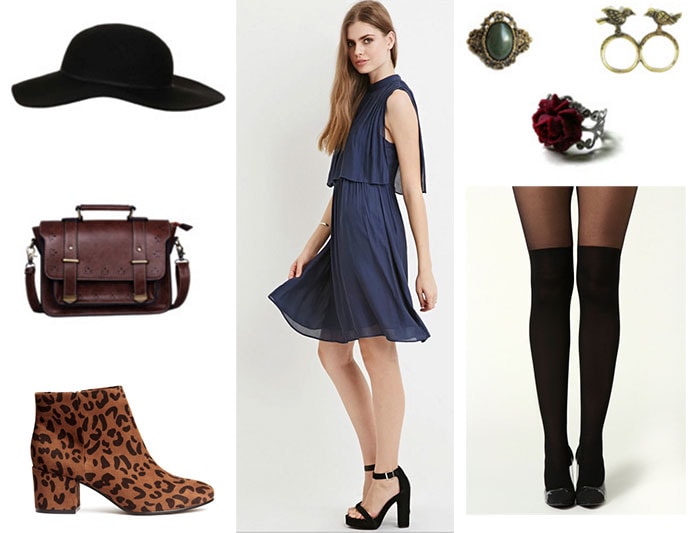 Products: Hat, Messenger Bag, Dress, Tights, Green Ring, Double Bird Ring, Rose Ring, Boots
Despite her overbearing and intimidating personality, Yubaba's attire is contrastingly feminine and reminds me a bit of the Victorian era.
To recreate this, I found a layered blue cape dress that channels Yubaba's look in a modern way. Next, I added a messenger bag for a vintage look. The floppy hat is a nod to Yubaba being an "evil" witch, and I added tights and leopard print boots to mix things up and keep the look contemporary. Borrow some antique jewelry from your grandmother's closet and you're set — I added the bird ring to reference her bird servant!
No Face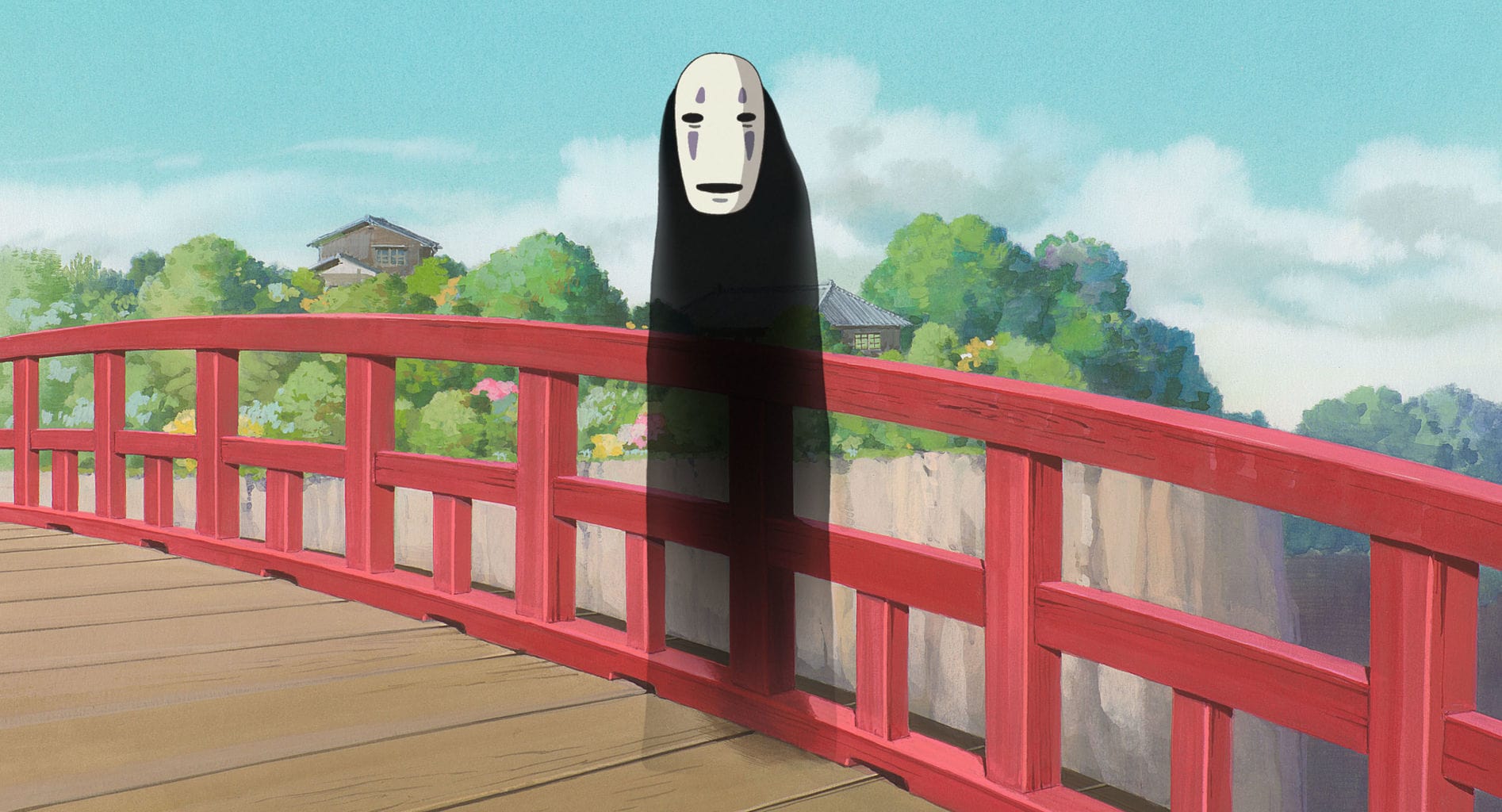 No Face is a lonely spirit who follows Chihiro after she saves him from greed. His vocabulary consists of grunts as opposed to coherent words, unless he eats someone and speaks using their voice.
Exposed to the corruptive thoughts and greed of the bathhouse workers, he quickly grew to encompass their personalities, hoping that his endeavor would eventually grant him Chihiro's affection. While this ultimately brought the opposite effect, Chihiro was always honest and true to herself around No Face.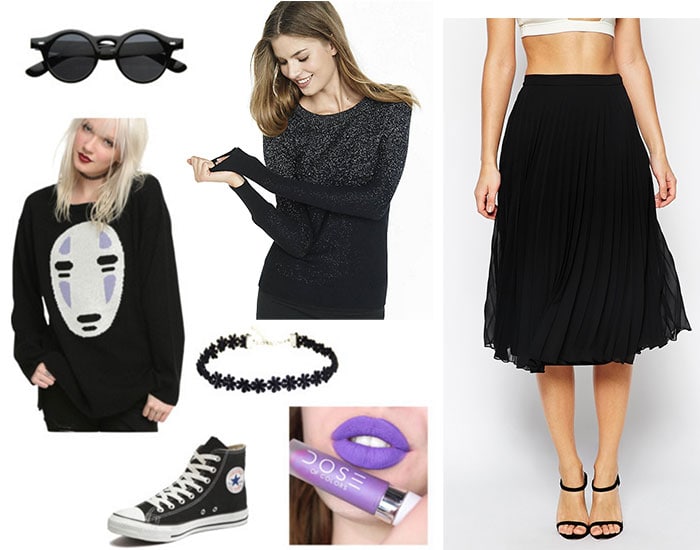 Products: Sunglasses, No Face Sweater, Ombre Sweater, Skirt, Lipstick, Choker, Converse
For this look, I went for a covered-up look by layering a midi skirt underneath a sweater. I found this adorable No Face sweater from Hot Topic as a nod to the movie, but just in case it seemed too costumey, I also included a regular black sweater with a slight ombré effect that mirrors No Face's in reverse.
I enhanced this look with cool '90s accessories such as Converses, a choker, and round sunglasses, which recreate No Face's poker face mask. To top it off, I found a matte purple lipstick that will pop against all the black.
Final Thoughts
I hope you enjoyed my post, and if you haven't seen the film yet, I hope this encourages you to watch it! Feel free to comment below on favorite looks or additional thoughts. Even if it's just about the movie, I'd love to to nerd out with fellow Hayao Miyazaki fans. Thanks for reading!