It's been four months since the series finale of Pretty Little Liars, including the big reveal of who AD is. (SPOILERS in the link, obviously!)
And boy do we miss this show already! While we're excited for the PLL spinoff that's in the works now, we're still reminiscing about the amazing final season.
The Liars have had great personal styles throughout the whole series and their styles have evolved over the years. Today, I will be rounding up some of the most iconic Pretty Little Liars season 7 fashion moments (featuring the original four, excluding Mona and Allison) and how you can wear them on campus ASAP.
PLL Season 7 Fashion – Outfit #1: Aria's Ballroom Look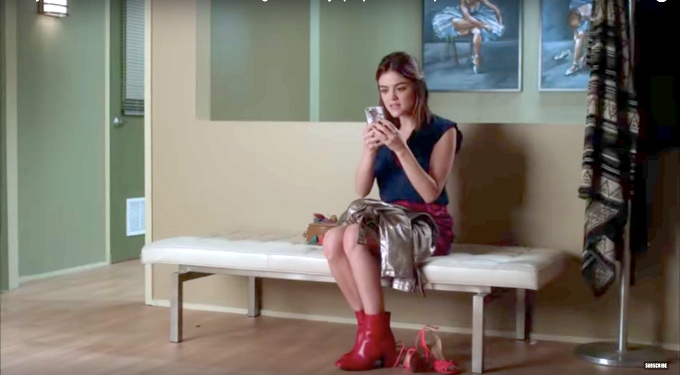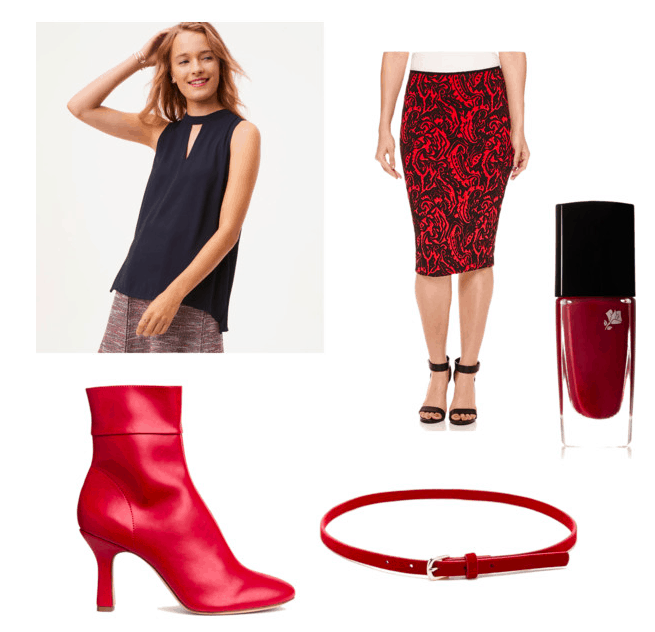 Products: Blouse – LOFT, Pencil Skirt – JCPenney, Nail Polish – Lancome, Ankle Boots – H&M, Belt – Forever 21
Aria is seen wearing the above outfit while at ballroom classes with Ezra. My first thought: How she could really dance in this outfit? My second: Wait, this is a perfect dressy look.
I love how different shades of red permeate Aria's entire outfit. To get her vibe, a red patterned pencil skirt and red leather boots are key to this look. Then it's time to add on extras — a bold red belt and red nail polish finish the ensemble.
PLL Season 7 Fashion – Outfit #2: Emily's Bartender Look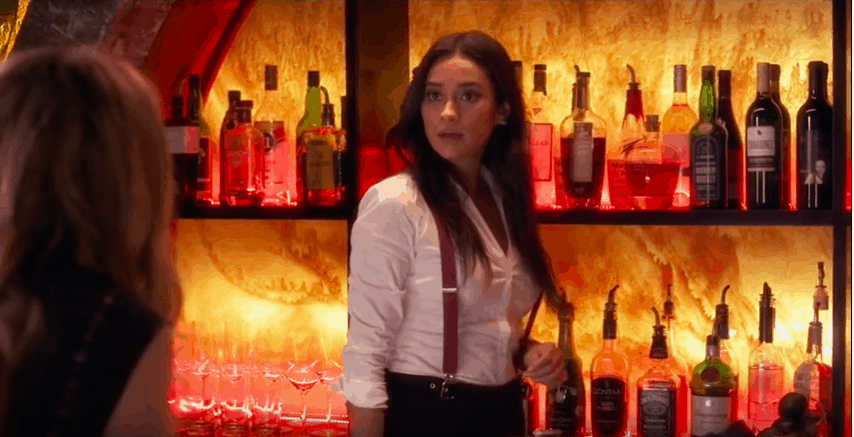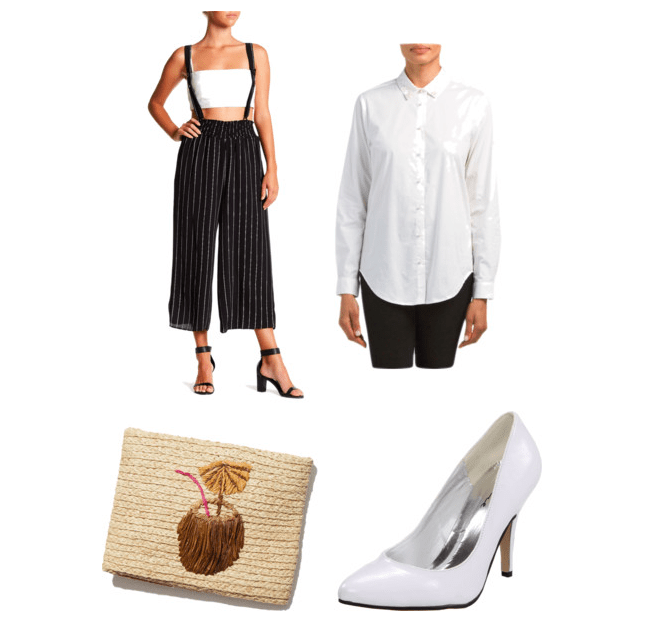 Products: Overalls – Nordstrom, Tunic Shirt – TJ Maxx, Heels – Amazon, Clutch – Goop
We saw Emily transform from shy teenager to empowered mother during this season. She also got to work behind the bar at The Radley, showing off one of my favorite looks. Seriously, how chic is this work uniform?
To copy Emily's work outfit, begin with a fitted white shirt and some laid-back striped overalls. Add fun touches (I see you wearing this to play, not work) like bold white pumps and a clutch featuring a tasty drink graphic.
PLL Season 7 Fashion – Outfit #3: Hannah's Bomber Jacket
https://www.youtube.com/watch?v=0bFxxbp-Azo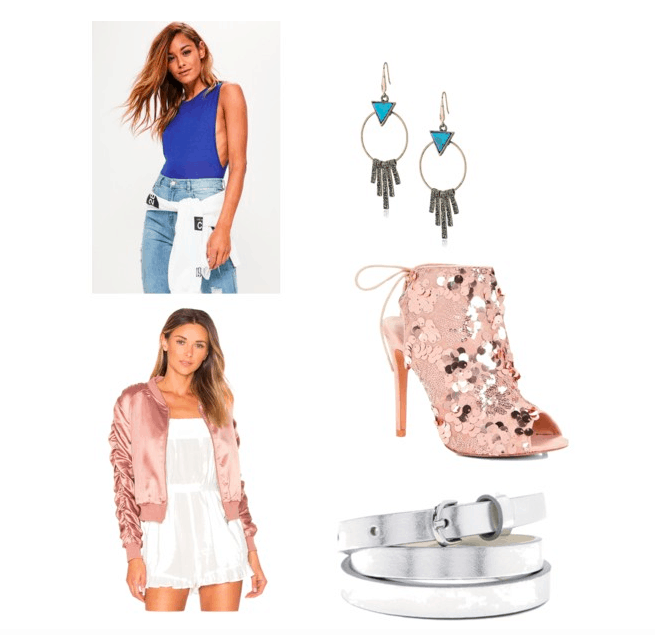 Products: Bodysuit – Missguided, Boyfriend Jeans – Missguided, Drop Earrings – Amazon, Shoe Boot – Boohoo, Belt – Forever 21, Jacket – Revolve
In this video, notice Hannah's glittery bomber jacket — it's a perfect nod to Hannah's budding career as a major fashion designer.
Hannah's signature glam looks always start with a great pair of heels. These pink glitter booties are so Hannah and pair perfectly with the bright blue tank and boyfriend jeans. And hey – why not add more glam with a beaded varsity jacket, statement earrings, and a silver belt?
PLL Season 7 Fashion – Outfit #4: Spencer's Polished and Sophisticated Look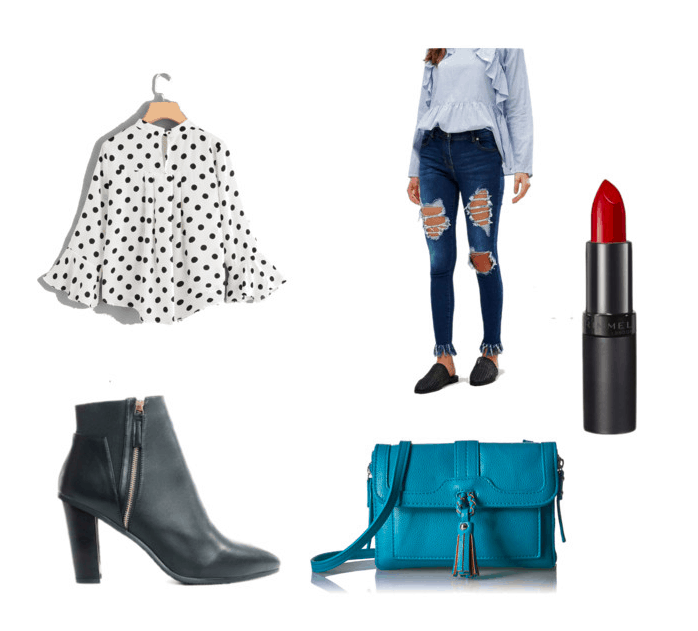 Products: Blouse – Amazon, Ripped Jeans – ASOS, Bag – Amazon, Booties – Amazon, Lipstick – Rimmel
In this video, Spencer is seen wearing a patterned chevron top while she runs into Toby. Spencer's style is influenced by her conservative family, so she's always fairly buttoned-up. That said, she also isn't afraid to have fun.
You can get a bit of Spencer's classic style with a structured polka dot blouse and black boots. Some ripped jeans make this look more casual. And don't forget to pull it all together with a red lip!
What Do You Think?
Who had the best personal style on PLL? Which PLL season 7 fashion moment is your favorite? Do you miss the show already? Were you shocked in the ending? Leave a comment below!