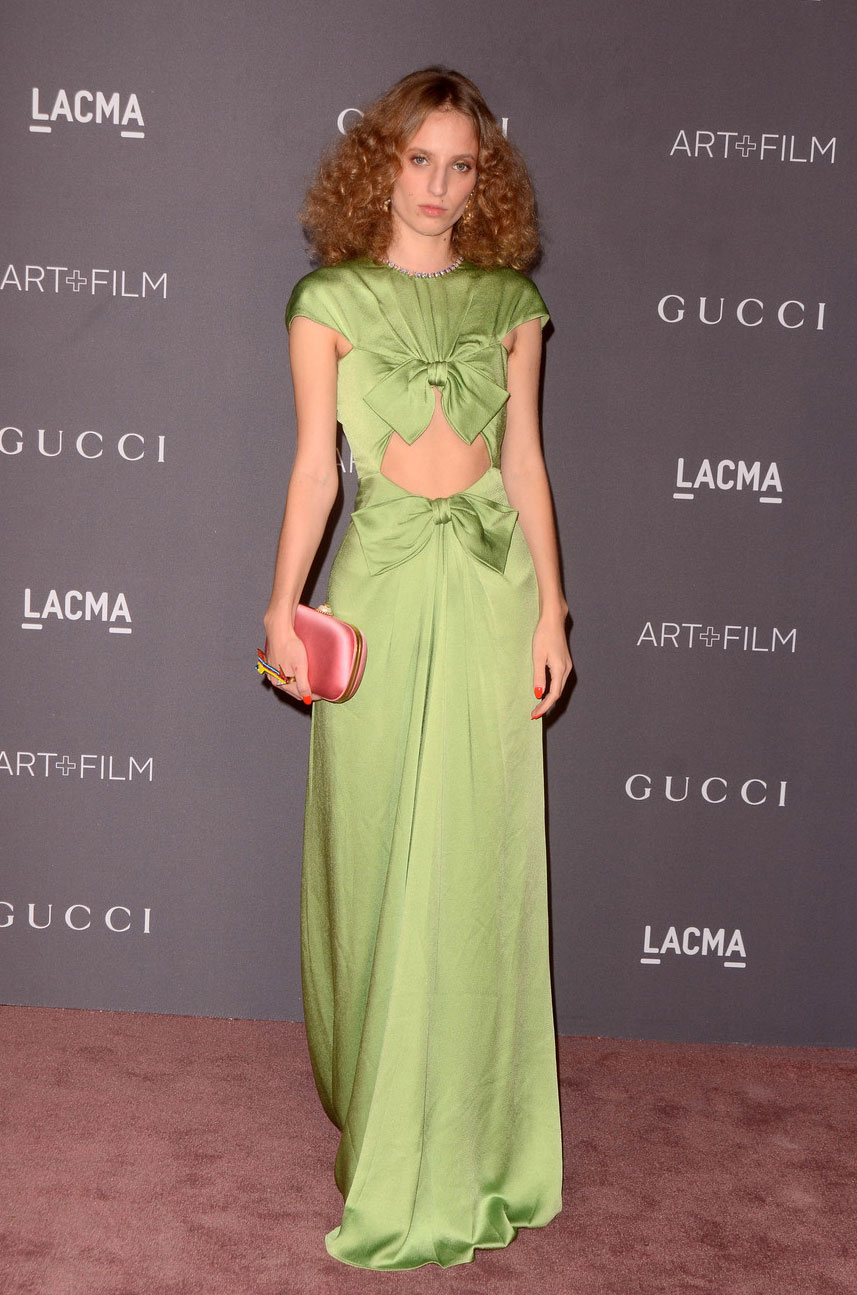 Hello everyone! Can you believe that this is the last month of the semester? Finals are upon us, so I hope you are all doing well and surviving. To brighten up what may be an intense and otherwise stressful time, I figured this would be a great opportunity to bring up a muse like Petra Collins.
I've been attracted to Petra's work and style ever since I was a pre-teen following Tavi Gevinson's blog TheStyleRookie.com. (Remember those days?)
Petra's art (and her aesthetic) is all about those ethereal, hazy vibes that evoke memories of teenage angst and wonder. Imagine the film the Virgin Suicides and you'll understand her aesthetic. Petra's photography and creative vision exemplify that style.
In case you aren't familiar with Petra from late-aughts blog browsing, here's a brief overview of who she is:
Petra started out as a photographer, but these days, she directs short films. Remember the video for Fetish by Selena Gomez? Yeah, guess who directed that.
Fun fact: she is Canadian!
Another fun fact: she is a proud feminist!
Besides being a great photographer (who is normally the person searching for a muse), Petra has become a muse for others on her own. She now goes to fashion weeks around the world, and IMO has become the physical embodiment of Gucci's latest aesthetic.
Now that we have established who Petra is and how great her sense of style is, let's get to talking about it!
Petra Collins Style: Clothing
This is the first look I thought we could decode together.
I know what you guys are thinking – Sarah, this look is not winter-appropriate nor super elaborate.
I hear you, but hear me out for a second.
Most photographers/writers/creatives have some sort of signature stamp that they innately put on everything they do. This is 100% the case for Petra. After observing Petra and her work for a few years, I can now see how her photographic style has seeped into how she dresses. The photo above represents that blending of styles.
Anything flowy, dramatic, somewhat bohemian and edgy but in a dazed kind of way – that is Petra's style. It's a little bit '70s queen who goes to the disco on Thursday nights but it also brings a touch of something haunting. (The haunting touches are not necessary at all to capture the look, though.)
Floral prints are key. Contrasts are also a thing. Sneakers that are dirty and worn paired with long floral dresses – à la Fetish-era Selena Gomez – are something she would go for any day. If you wear fleece lined tights and layer a jacket on top and a hat, this look can work for winter.
For look two, I thought we could talk about prints. Now I know you might be thinking two things. 1. Prints can be daunting. 2. Plenty of people wear prints in abundance, so is it really noteworthy?
In fact, Petra's manner of wearing prints makes them the opposite of daunting, and it's pretty unique. She uses jewel tones and chooses retro-influenced pieces that go well together. Her entire wardrobe just seems so curated – in a good way! She clearly knows what she likes and sticks to it.
In the look above, Petra pairs a vintage inspired dot print pussy-bow blouse with navy blue plaid trousers that in theory should scare us off but instead look so darn cute and '70s chic. I like that this look is polished yet different from your usual combo of a blouse and trousers for work. Anything vintage-inspired and in interesting colors will get the look.
A capsule wardrobe inspired by Petra might look like this: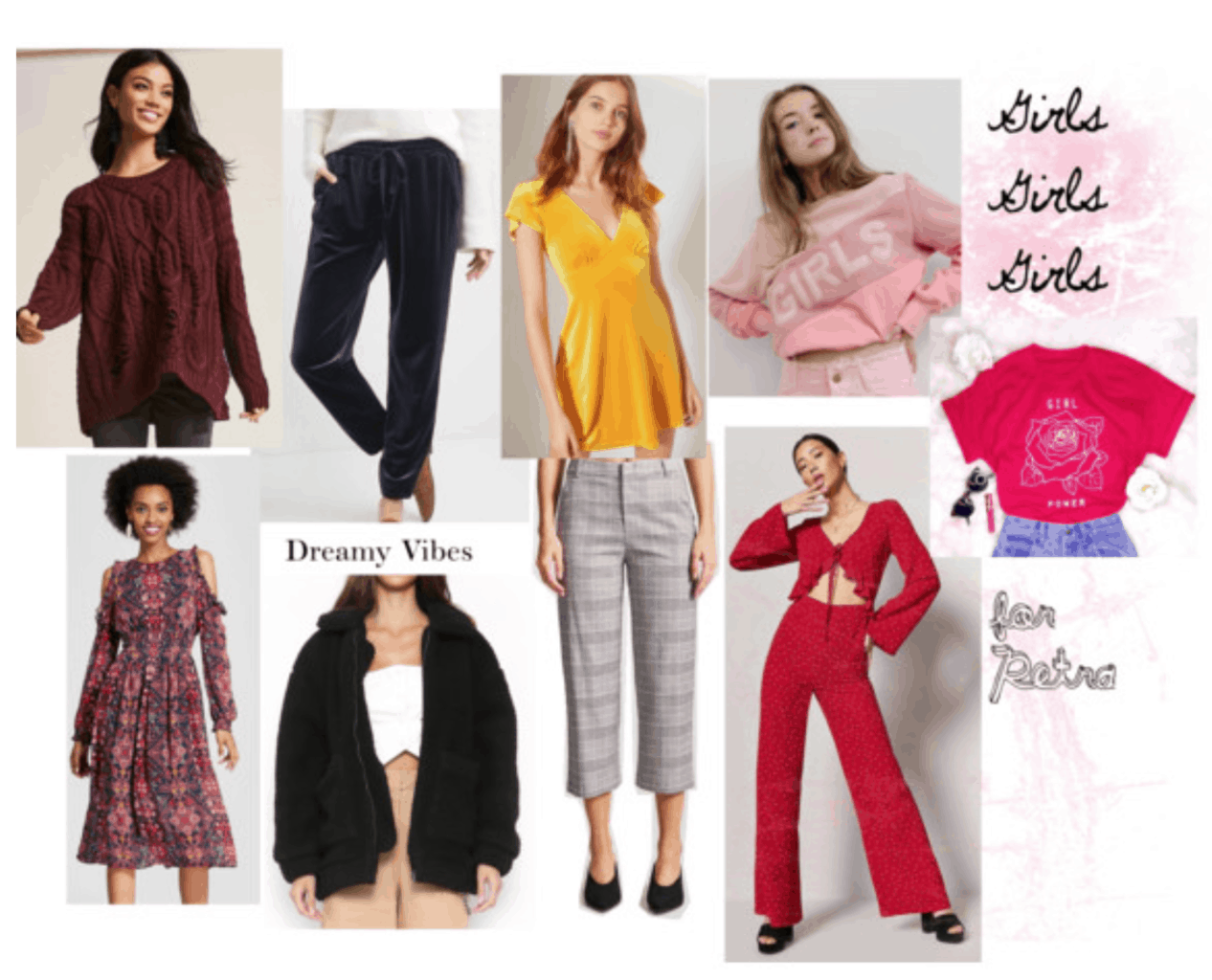 Products: Fisherman Sweater – F21, Floral Midi Dress – Target, Teddy Coat – I am Gia, Velvet Joggers – Gap, Yellow dress – UO, Plaid Trousers – F21, Jumpsuit – F21, Girls Sweater – Style Club, Girl Power Shirt – Etsy.
Petra Collins Style: Accessories and Shoes
Here we see Petra chilling with some serious necklace action going on.
In terms of jewelry, there are few consistent patterns for Petra. But I know that she is open to hoops and anything borderline gaudy, and has seventies/sixties vibes all the time. I also suggest you grab a few necklaces with pendants on them, like the simple one from UO that I linked below in the capsule.
Now for look two, let's talk about the Gucci vibes that I keep mentioning! Anything that appears vintage, like cameo necklaces or pearls, and that has tassels and chains galore, will work here. Think of these images.
That leads me to the shoe action that Petra offers, which includes a great variety of styles ranging from Gucci loafers (she wears a lot of Gucci, guys) to Converse. That look Selena Gomez has on in the Fetish video echoes the mysterious and nostalgic vibes of Petra's photography. So take inspiration from that look with the Converse (great for campus walks!), or wear funky loafers to become a manifestation of Petra's dreamlike photography.
Lastly, I wanted to offer a bit of festive wear here. (Tis the season!) So I left you guys some heels that are wrapped like satin presents.
In addition, some of these accessories would be great gift ideas: Think a turban because you don't want hat hair crushing your curls, mesh socks to peek out from your heels or loafers (very Gucci, very chic) and a little pin so everyone remembers that you're a feminist.
A capsule for winter accessories and shoes for Petra might look like this: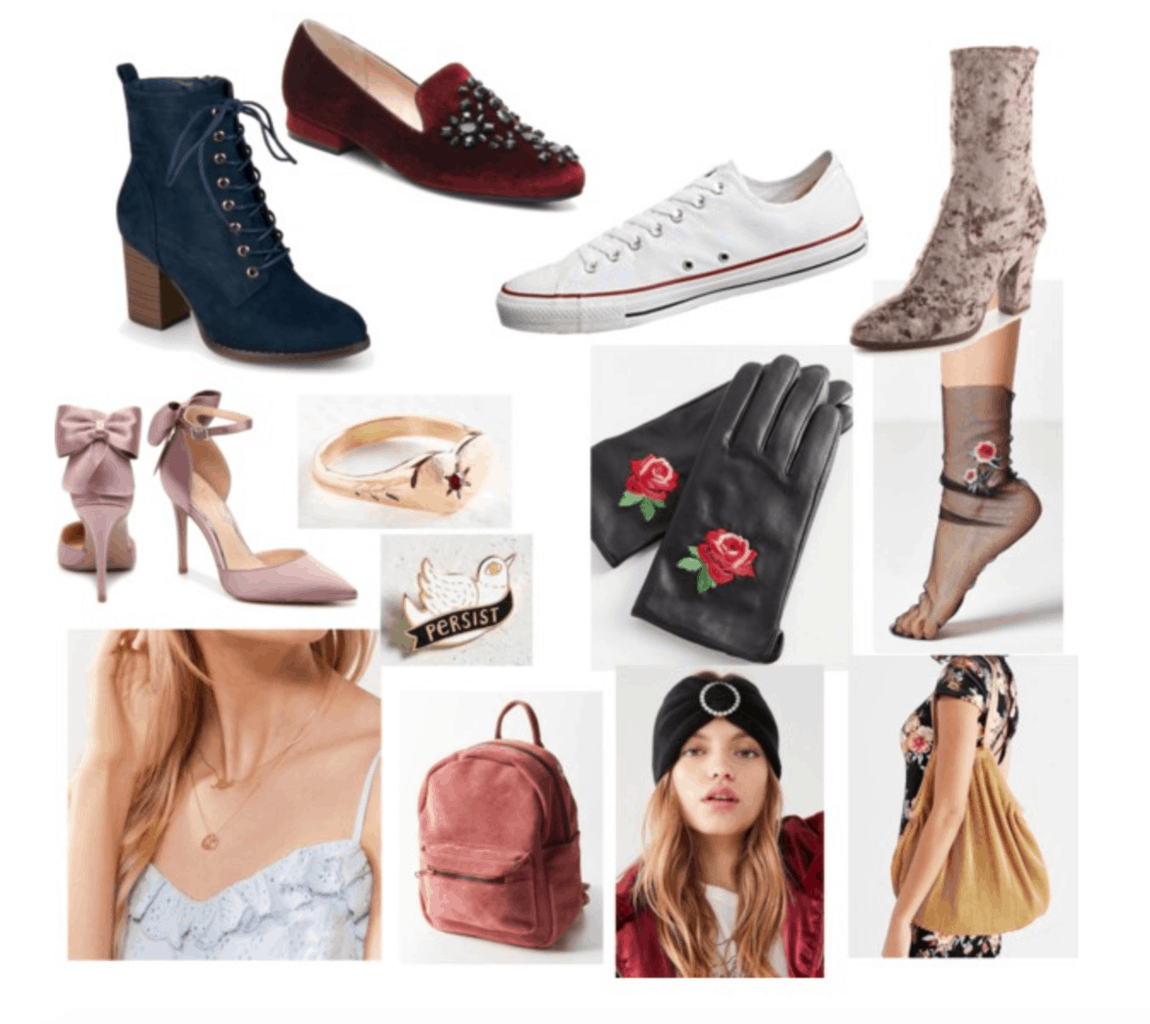 Products: Booties – Target, Loafers – DSW, Converse – Amazon, Velvet Bootie – DSW, Heels – DSW, Ring – UO, Pin – UO, Gloves – UO, Socks – UO, Necklaces – UO, Backpack – UO, Turban – UO, Bag – UO.
Petra Collins Style: Beauty and Hair Routine
Last but not least, let's discuss Petra's hair and beauty!
I searched long and hard for this photo. It's a great shot of Petra's face and hair that's not too airbrushed or produced. I wanted to use her natural look as the inspiration here.
As she said in an article for IntoTheGloss,
"I want the real-world version of what they look like [girls in general]; I wish that they wouldn't feel the need to change themselves."
For the most part, Petra usually appears barefaced, and at most might wear concealer or bb cream. She looks like she has dewy skin all the time, and it really takes center stage when you look at her face.
As for her hair, her hair is naturally curly and she lets it roam wild, although for curly hair I strongly recommend getting a good conditioner that is light yet hydrating to keep your curls bouncy like hers. It's truly a genius routine in that it is so minimal. More time to be creative, I suppose.
You don't need much for Petra's look. Here are the essentials to get her vibe: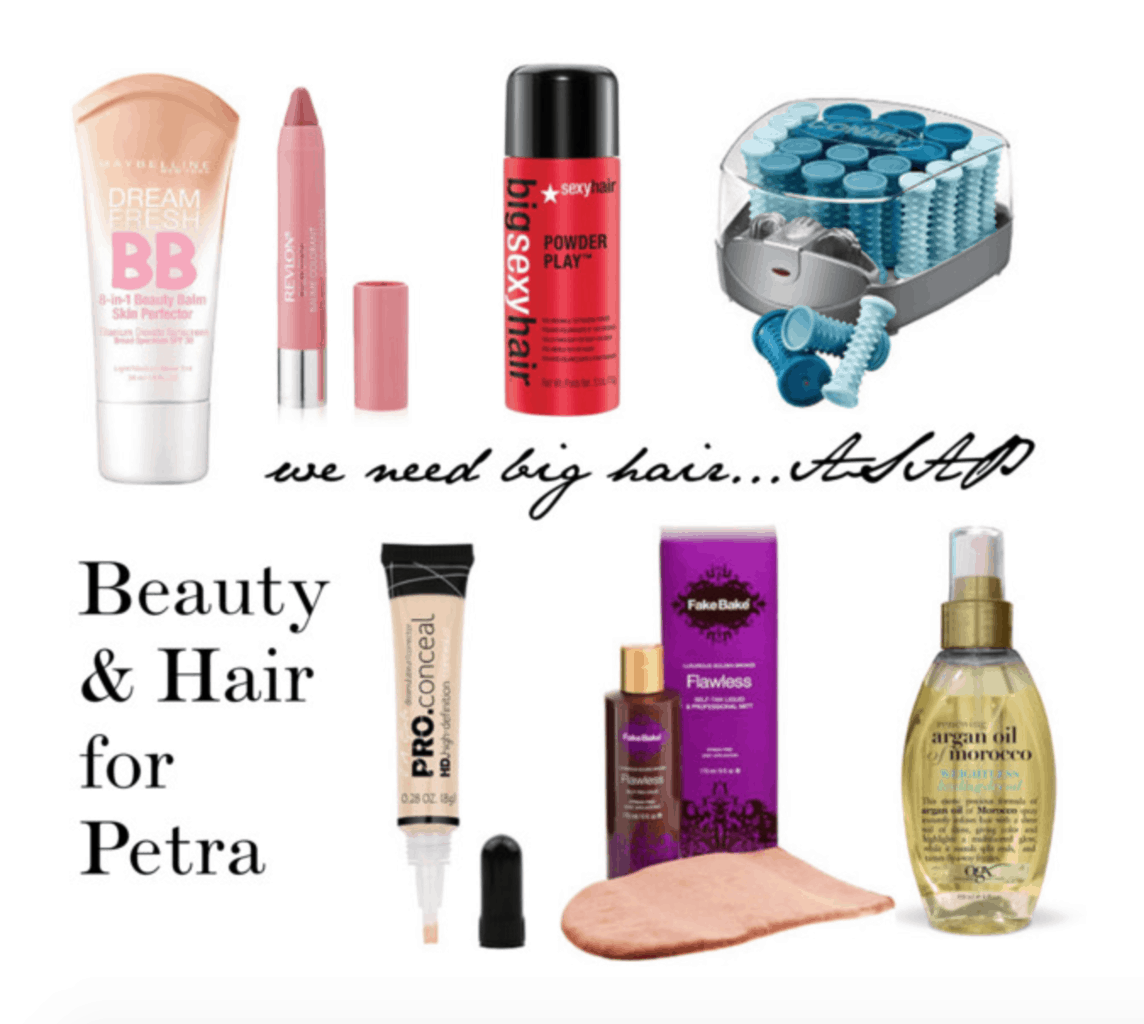 Products: BB cream – Ulta, Lip stain – Amazon, Big Sexy Hair Texturizer – Ulta, Hot Rollers – Ulta, Argan Oil – Ulta, Fake Bake – Ulta, Pro Concealer – Ulta.
For the look I recommend keeping your locks natural, focusing a little more on skin than having a loud makeup look, and finishing with rosy lips. I threw some rollers in there in case you want to go to an event and want a more polished curl. I also linked a self tanner, since in the summers Petra has sported a glow occasionally. That's all you need!
Petra Collins Style 101
So, let's recap. Remember – the look is Gucci, it is seventies, it is nostalgia, it is girly, it is sensible. It looks vintage, it feels fun, and is not overdone. Pick coordinating over clashing prints, and remember to let your inner artist shine through. If you have a photographer or artist you look up to, you can always use this same post as a template and adapt it to fit the artwork or artist you are trying to emulate.
I hope you enjoyed this post, and I hope you find some inspiration in Petra Collins' style!