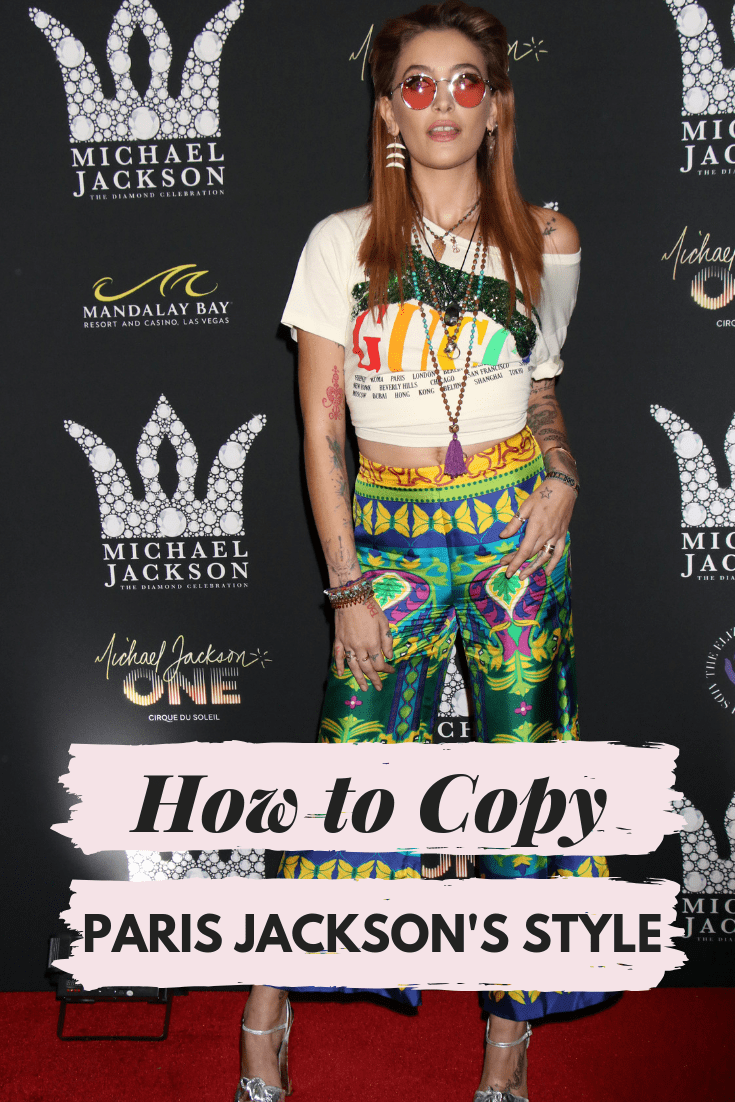 A while back, we listed our favorite celebrity fashion icons, and over the next few months, we'll be breaking down each celebrity's style in depth and showing you how to get her style for yourself. Today, we're showing you how to get Paris Jackson's style.
With a clearly distant and unique childhood, Paris Jackson has been stepping into her own lifestyle, embracing natural and earthy roots. With an Instagram bio that says: "Traveler. Lightworker. Treehugger. Activist. Give peace a chance. ☮", Paris' personal style fits this description well – hippie, punk, bohemian, youthful!
Read on to learn more about Paris Jackson's life and personal style, as well as some outfits inspired by her look.
Early Life
Paris Jackson was born in 1998 in Beverly Hills, and was the only daughter of Michael Jackson. After her parents divorced when she was two, Paris was under the care of her father until he passed in 2009.
With a controversial childhood, Paris was homeschooled and under the care of the nannies and caretakers her father provided for her and her brothers Blanket and Prince.
Daddy Issues
With a life in Hollywood and a high-profile family, Paris' childhood was secluded from the public eye until the tragic death of her father. Being homeschooled and given free-reign, Paris began making public appearances after this, and became a media star in regard to the controversial death.
With much speculation about the relations between her father and mother, Paris is very sure of one thing –  her love for her father. She is tired of addressing the issue, and says in an interview,
"He is my father. He will always be my father. He never wasn't, and he never will not be. People that knew him really well say they see him in me, that it's almost scary. I consider myself black, would look me in the eyes and he'd point his finger at me and he'd be like, 'You're black. Be proud of your roots.' And I'd be like, 'OK, he's my dad, why would he lie to me?' So I just believe what he told me. 'Cause, to my knowledge, he's never lied to me."
Living in Neverland
Paris' relationship with Michael Jackson changed the way she lives today, and she still remembers many details of her childhood/upbringing, such as living in the family complex called "Neverland", a ranch with a private amusement park, two locomotives, a Ferris wheel, roller coaster, bumper cars, and petting zoo. Paris explains:
"We couldn't just go on the rides whenever we wanted to. We actually had a pretty normal life. Like, we had school every single day, and we had to be good. And if we were good, every other weekend or so, we could choose whether we were gonna go to the movie theater or see the animals or whatever. But if you were on bad behavior, then you wouldn't get to go do all those things."
How to Dress Like Paris Jackson
Paris' fashion sense has been described as eclectic, and many different trends pass in and out of Jackson's closet, each worn with confidence and boldness. Whether she's in a ripped pair of jeans or a flowing boho floral dress, Jackson's style is adaptable, yet true to her bohemian roots.
Punk Chic
Paris makes her outfits unique by adding lots of custom jewelry, and drapes a dozen or so necklaces, stacks of bracelets, and numerous rings to make it her own.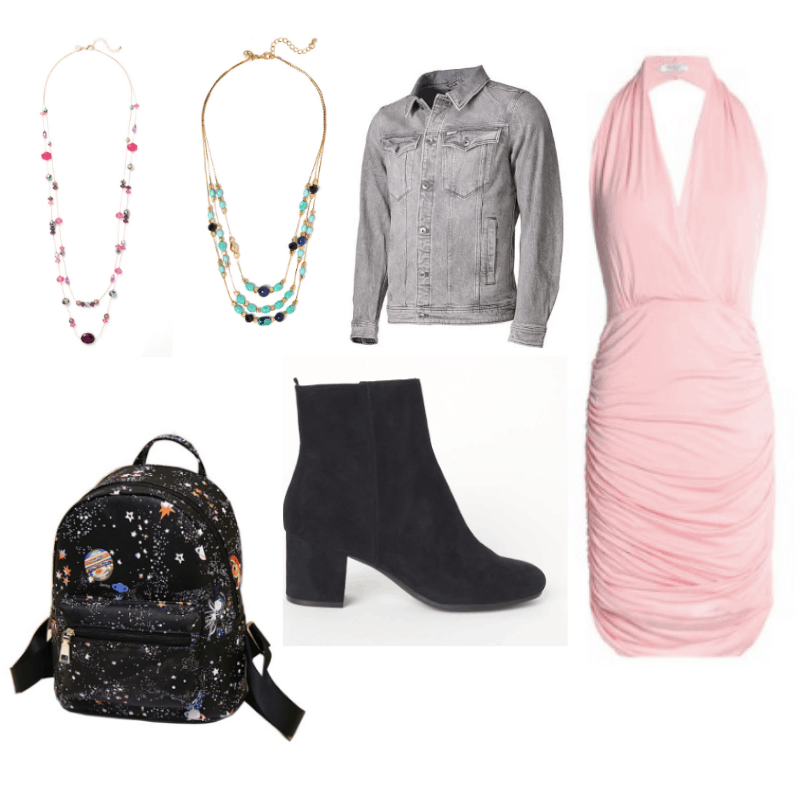 Products: Backpack- (Fashion Star), Boots- (H&M), Dress- (The Outnet), Necklaces- (Charming Charlie), Jacket- (Romwe)
This look is perfect and flexible, and can be altered for any occasion. The pink dress worn alone is elegant and classy, but combined with heeled boots and a denim jacket, becomes more laid-back and chic. Paris' printed backpack adds a distinctive twist, and of course, playing with jewelry gives this look the true Paris Jackson vibe.
Wicked Bohemian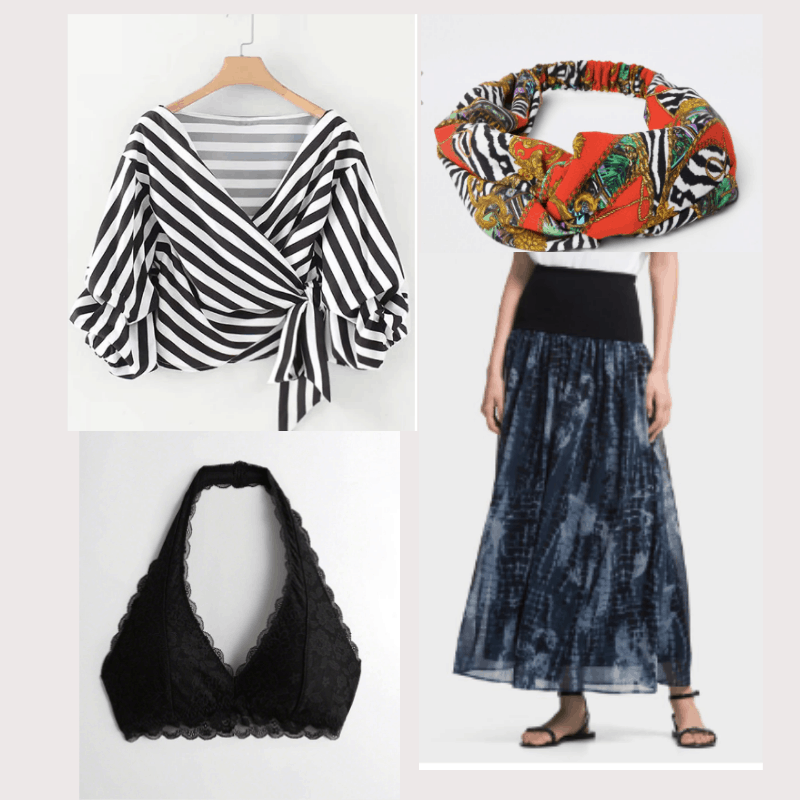 Products: Blouse- (Shein), Bra- (Hollister), Skirt- (Donna Karan), Headband- (River Island)
Starting from the top down, finding a vibrant, uniquely patterned headband or head wrap makes this look stand out, and I love the pops of color this one from River Island adds. Next, layer a lace bralette or tank with an open-front blouse, and play around with the way you tie it up.
Lastly, the high-waisted skirt can make or break the look, and one with a dark and flowing pattern fits this wicked bohemian vibe perfectly. For shoes, go with classic black sandals, or maybe even go barefoot (like a true bohemian queen!).
Classroom Style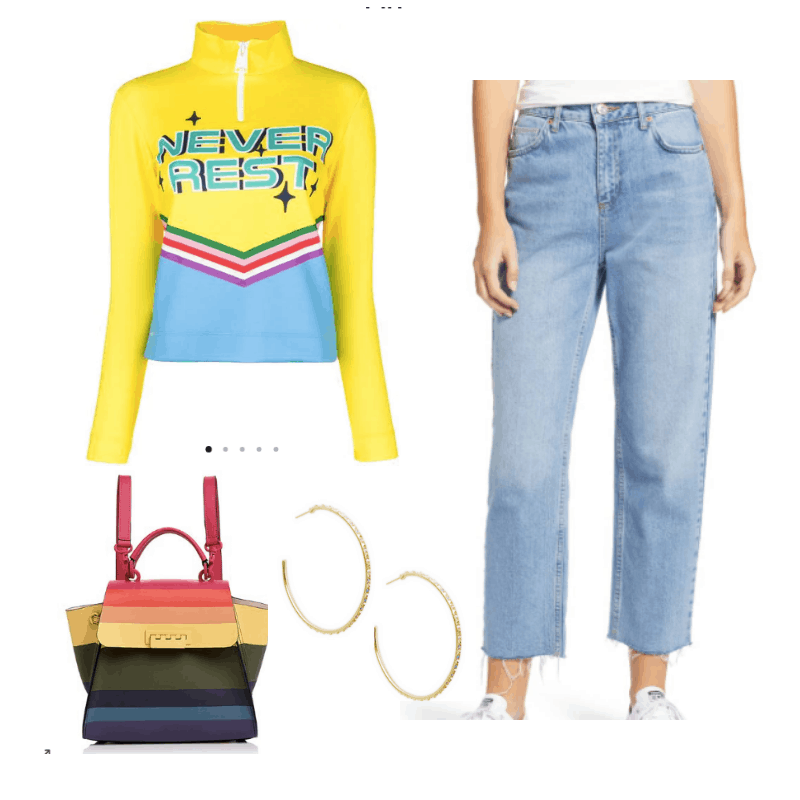 Products: Bag – (ZAC), Earrings- (Kendra Scott), Jeans- (Nordstrom), Jacket- (Far Fetch)
Although Paris never got to experience a true high school setting, I imagine this is what the 20-year-old would have looked like if she had attended.
Start with a patterned or printed yellow top I love the true red and sunflower yellow combination, as well as the light denim. Choosing a pair of jeans that are ankle cropped emphasizes the youthful school-girl look. Gold hoops and light jewelry complement the look, as does this amazing rainbow bag.
What do you think?
Paris Jackson is one of the most unique post-millennials in the industry, and her style is one of a kind. What do you think of her vibe? What looks would you recreate? Comment below, and check back in next week as we continue the series.