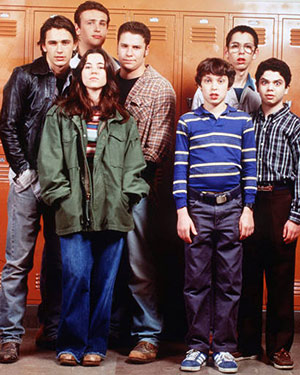 Judd Apatow's teenage period dramedy, Freaks andGeeks,hardly needs a long introduction.
In case you haven't heard of it, the show's accolades alone should pique your interest: Time voted it the third best comedy of the 2000's, and Entertainment Weekly calls it the 13th best television series of the past 25 years. (If you haven't caught it on DVD or on Netflix yet, you're missing out!)
Finally, due to popular reader request, this show is our latest Old School TV Style focus. Read on to learn about the series and the fashionable characters.
About Freaks & Geeks
Freaks and Geeks centers around Lindsay Weir, a once-nerdy high school girl who tries to discover herself by hanging out with a pack of unmotivated burnouts –also known as the "freaks." Meanwhile, her dorky younger brother Sam and his "geeky" best friends also battle a tough high school crowd.
This show helped launch the careers of huge stars like Jason Segel, James Franco, Seth Rogan, Busy Philipps, and Rashida Jones, and huge names like Ben Stiller and Jason Schwartzman even had cameo roles!
Despite the show's promising premise and amazing cast, it only lasted one season. This and the show's context prompted many comparisons to the legendary drama My So-Called Life, further solidifying Freaks and Geeks' cult status.
Although its tenure was brief, Freaks and Geeks' legacy lives on–and we're here to break down some of the style choices featured in the show. Want to steal some freaky and geeky fashion from the early '80s? Read on, friends!
Lindsay Weir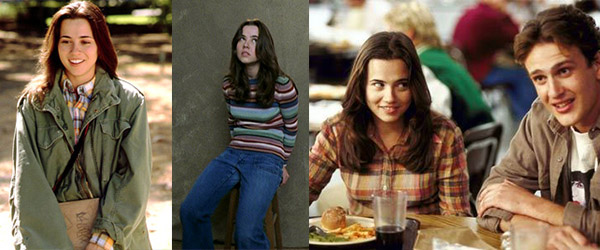 Linda Cardellini played Lindsay Weir, the show's protagonist. Considerate and intelligent, Lindsay goes through a personal awakening after her grandmother's death, and decides to back away from her longtime friends in the Mathletes to join a group of music-loving, weed-smoking burnouts instead. Despite her questionable company, Lindsay, for the most part, stays true to herself and brings out the best in her new set of friends. She sometimes gets frustrated with her parents, younger brother, and old friends, but in general, she is a kind, inquisitive, independent, and very typical teenager.
Lindsay's style is a unique mix of her normal nerdy style mashed up with newer pieces that reflect her new, rebellious social group. She's often seen wearing knit sweaters, blouses, and striped tops, but covers them up with her signature utility parka. Lindsay's style is anything but girly: Her pants are baggy, and she wears sneakers almost every day. Her "anti-fashion" approach to style creates an interesting, casual, grungy look.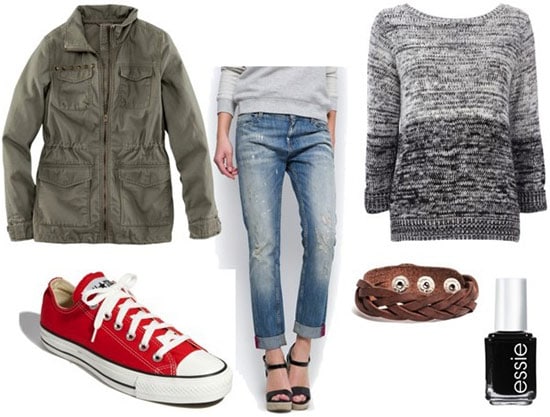 Jacket, Sweater, Jeans, Bracelet, Nail Polish, Shoes
An edgy sweater and loose-cut jeans make a perfect base to this outfit inspired by Lindsay Weir. Converse All Stars and a braided leather bracelet add interest without making the outfit look too frilly or deliberate. Undone dark nails would be an awesome "Lindsay" touch to add as well! Finish the look with Lindsay's signature army jacket.
Nick Andopolios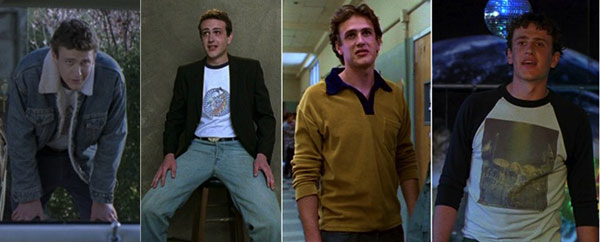 I have the biggest crush on Jason Segel, and I'm not afraid who knows it! Before he was the lovable Marshall on How I Met Your Mother, Jason melted girls' hearts as Nick Andopolis, Lindsay's love interest during part of the show's run. Nick is a music enthusiast and very kind to his fellow students. He is thoughtful, overly affectionate, and, well, the "geek" within the group of "freaks."
Nick's style is a blend of rock-inspired attire mixed with clothes that his mother probably purchased for him. His clothes are always just a little bit nerdy, but also carefree at the same time. Nick is often seen in stone-washed jeans, concert tees, baseball shirts, henleys, and his signature denim jacket. Nick is too obsessed with drumming and Lindsay to pay much attention to his image, but his style still works in a boyish, relaxed way.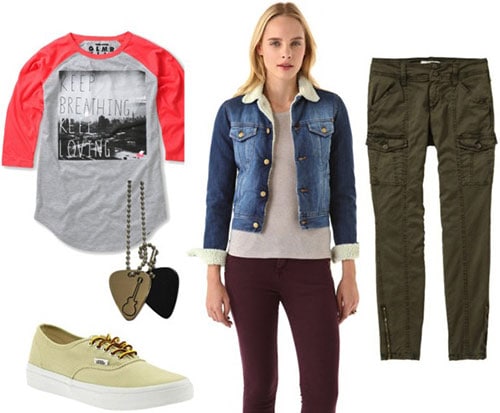 Shirt, Jacket, Pants, Necklace, Shoes
To steal Nick's look, combine two of his go-to items by rocking a graphic baseball tee and a denim coat with warm Sherpa lining. Keep the grungy vibe going with skinny cargo pants. Finish with a pair of Vans and a guitar pick necklace.
Daniel Desario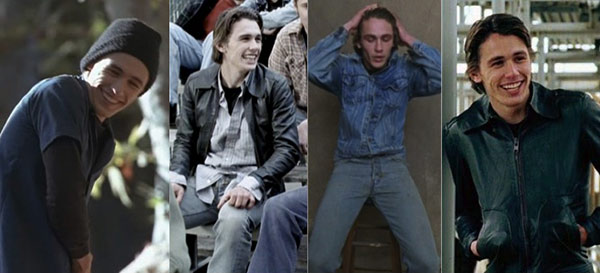 The oh-so dreamy James Franco played Daniel Desario, the leader of the "freaks" and Lindsay's crush for part of the show's only season. He is careless and irresponsible, but charming enough that most people let him get away with what he wants. While "studying" for a math test, Daniel successfully manipulates Lindsay into believing that he has a severe learning disability. Despite his acting gifts, Daniel is actually self-conscious about his struggle with academics. He's also a loyal friend and a confident leader of the group.
Daniel's bad-boy style is an interesting mix of '50s greaser vibes mashed up with elements of '70s fashion. His signature leather jacket is part of almost every one of his outfits. Daniel is frequently seen wearing Dickie's work shirts, flannel button-downs, track jackets, ragged jeans, and grungy beanies.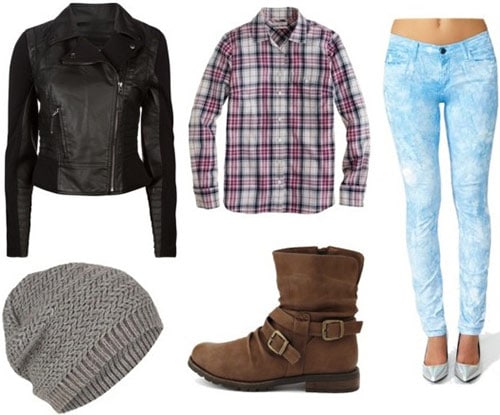 Jacket, Shirt, Pants, Hat, Shoes
This show might be based in the early eighties, but a look like this would be at home in any modern day fashion publication! Wear your trusty flannel shirt with a leather jacket, and keep the rebellious vibe going with a slouchy beanie. Finish the look with light-wash jeans and motorcycle boots.
Sam Weir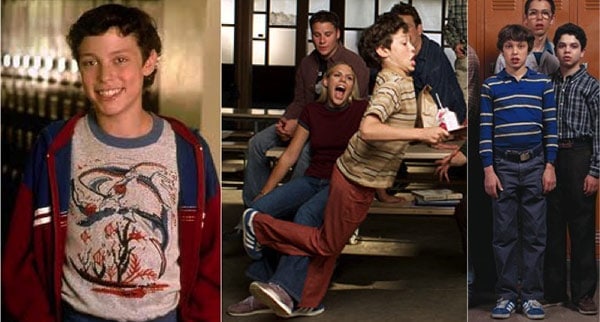 Sam Weir (played by John Francis Daley) is Lindsay's younger brother and the leader of the "geeks." Sam is small, incredibly smart, and into science fiction and comedy. Despite being picked on in school, Sam is relatively comfortable with his social status. Sam has a strong moral compass, and once replaced a keg at the house party his sister was throwing with one full of non-alcoholic beer. Sam is the perfect counter to Lindsay and her friends because of his sweet nature and strong regard for morality and rules.
Sam's clothes are similar to those that stereotypical "geeks" might wear today. Stripes, sweaters, hoodies, and straight leg pants are his closet staples. He is also seen wearing graphic tees, buttoning his collar a little bit too high, and hemming his pants a little too short.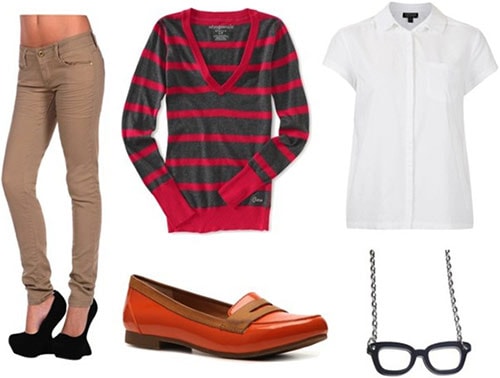 Pants, Sweater, Shirt, Shoes, Necklace
Unleash your inner geek by rocking this nerdy-chic ensemble. A striped v-neck sweater paired with a peter pan collared blouse will look smart and not frumpy, as long as the sweater is fitted and you tuck in the shirt. Rock the look with khaki pants and loafers, and salute Sam's nerdy BFFs, Neal and Bill, with this cute necklace.
What Do You Think?
Have you ever seen Freaks and Geeks? (PS: If not, you need to catch it on Netflix!) Which character's style is your favorite? Are you a fan of Judd Apatow projects? What other TV shows would you like to see CF cover? Leave a comment and tell us your thoughts!