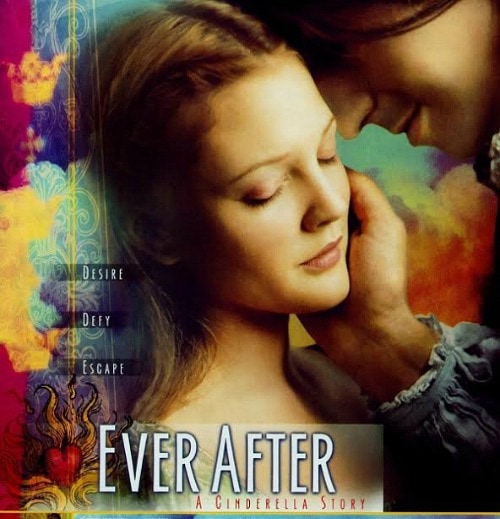 You know how there are some movies that you can watch over and over and you'll never get sick of 'em? The ones you watch on rainy days or lazy Saturdays when you should really go outside or at the very least browse Netflix for something new to watch? Personally, I've got three of these "default movies": Matilda, Legally Blonde, and Ever After. (I could no sooner choose a favorite star in the heavens than pick a fave out of these three!)
While I did really enjoy the new Cinderella movie (that blue ballgown is the stuff of dreams), I couldn't help but draw comparisons with Ever After, a Cinderella story set in Renaissance era-France. Not to go all Kanye at the VMA's, but Danielle de Barbarac is the best Cinderella of all time. (Close second goes to Ella of Ella Enchanted.)
About Ever After
Ever After (1998) stars Drew Barrymore, Dougray Scott, Anjelica Huston, and Melanie Lynskey.
It's a historical fiction re-imagining of the classic story, with Drew Barrymore playing the spunky Danielle, who just wants to read all the books in the world and get her beloved family estate out of the debt that her conniving, worldly stepmother has accrued.
Prince Henry is unwilling to accept the responsibilities of his future throne and apathetic about his royal duties. When he encounters Danielle (in the guise of a noblewoman), he's taken aback and inspired by her eloquence and conviction in her beliefs. Henry falls in love with Danielle for her mind, not her beauty.
However, Henry is unaware of Danielle's true name and social station, since she was pretending to be a courtier when they met. Will he still feel the same way when he discovers that she's not really the "Comtesse Nicole de Lancret", but a simple servant girl?
If that's not enough to make you want to watch this movie, let me put this out there: the role of Danielle's "fairy godmother" is fulfilled by none other than Leonardo da Vinci.
Outfits Inspired by Ever After
Poor Little Country Girl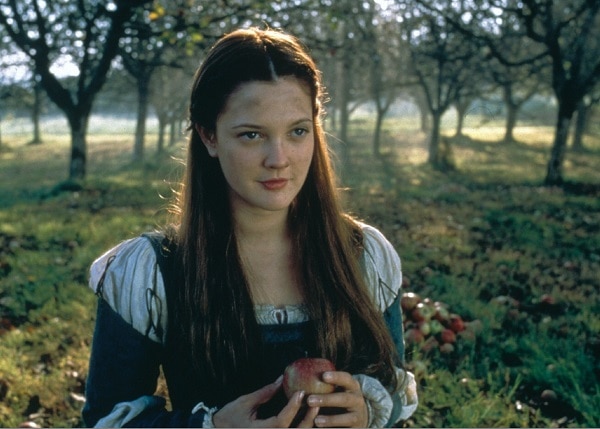 Our protagonists don't exactly have a picture-perfect meet-cute. When Danielle spots someone stealing her father's horse, she lobs the would-be horse thief in the face with an apple to stop him. Unfortunately, the thief turns out to be Prince Henry, heir to the throne.
Danielle's servant attire is a simple blue dress over a white chemise. For a look that's as free-spirited as Danielle, pair a flowy peasant blouse over a pair of weathered blue jeans. Slip on neutral flats and a bandanna scarf, then add some apple-shaped earrings as a reference to Danielle's excellent aim.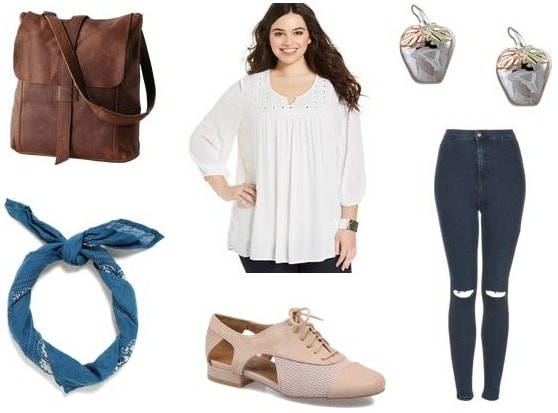 Product Information: Top, Jeans, Shoes, Bag, Earrings, Scarf
Whatever You Can Carry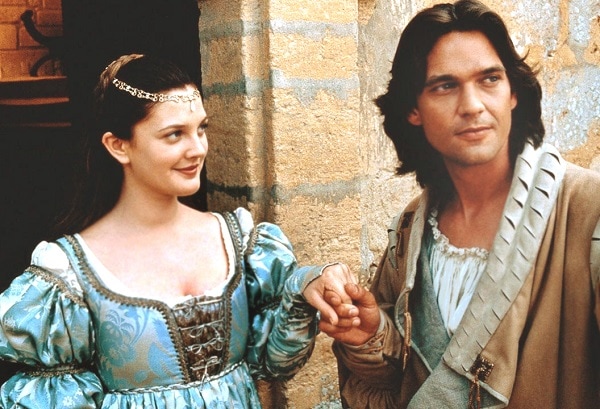 Knowing her love of books, Henry takes "Nicole" to the vast library of a nearby monastery. On their way home, they're attacked by a band of gypsies. Despite her fancy attire, our heroine fearlessly fights back and not only secures their freedom, but also gains the trust and respect of their attackers.
For a regal ensemble inspired by Danielle's blue brocade dress, try a silky blue jacket paired with crisp trousers. Luxurious-looking accessories, like gilded shoes and a pearl-encrusted headband, complete the look.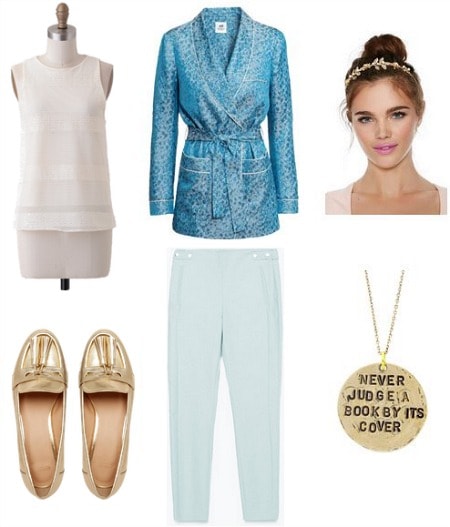 Product Information: Jacket, Top, Trousers, Shoes, Necklace, Headband
Just Breathe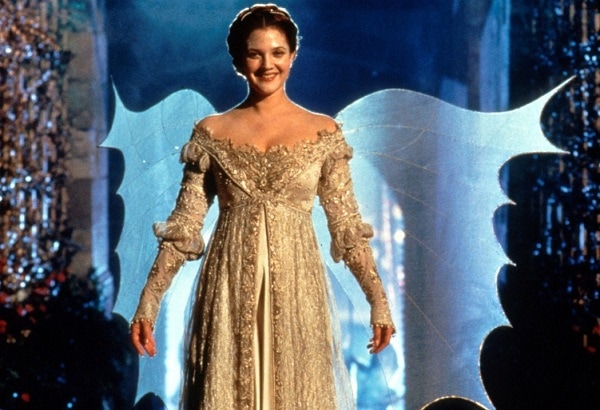 No Cinderella story is complete without the jaw-dropping transformation at the ball. Decked out in her mother's dress and a pair of gossamer wings, Danielle is a breathtaking vision at the masquerade.
For your own belle of the ball moment, glam it up with a beaded tulle dress. A gauzy pashmina shawl will keep your shoulders warm while a pair of bejeweled earrings reference Danielle's accessory of choice. For makeup, go for an ethereal dusting of champagne glitter. Last but not least, don't forget the crystal slippers!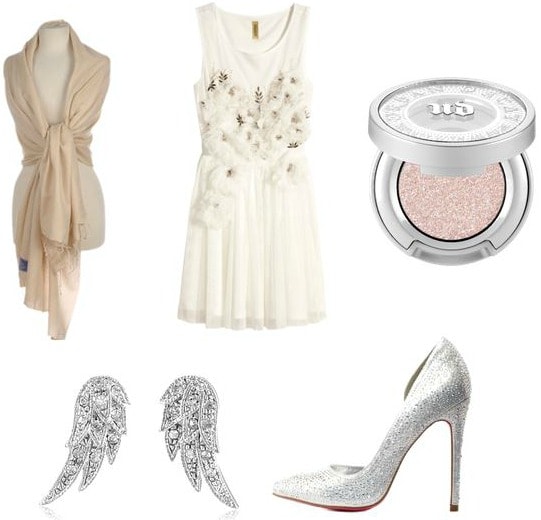 Product Information: Dress, Heels, Shawl, Earrings, Eyeshadow
What did you think?
Would you wear these outfits? Have you seen Ever After? Do you love it as much as I do? How do you think it stacked up against the new Cinderella movie? What other movie inspirations would you like to see? Let us know in the comments!