Fashion inspiration can be found anywhere, and books are incredible sources for style innovation. Book-Inspired Fashion explores these treasure troves, and brings them them to you in looks inspired by vibrant characters, far away lands, brilliantly woven plotlines, and more.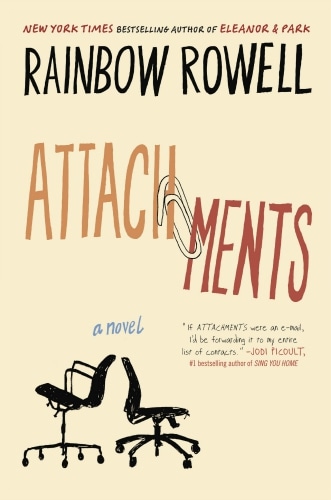 In my last post, which covered another one of my other childhood favorites, I left a hint that this novel would be about obedience – and a lot of you guessed correctly!
Ella Enchanted is one of my favorite books of all time (and no, I don't say that very often – I just like choosing these books to write about!). It's compulsively re-readable and you don't know just how excited I am to be covering a book that I have been obsessed with since the first time I got my hands on it.
Reading Between the Lines
Ella Enchanted was written by Gail Carson Levine and published in 1997. It was a Newbery Honor Book (a finalist for the Newbery Medal that Holes won the following year) in 1998 and has set the bar for all fairy tale retellings, not just because of its widespread popularity, but because of the pure magic with which Levine crafts the story.
Eponymous heroine Ella of Frell is born into a world of fairies, ogres, and so much more – but that's not why she has an unusual start to life. The fairy Lucinda bestows upon Ella a "gift," which turns out to be the curse of obedience, in which Ella can never disobey a direct command. This fascinating twist on the traditional Cinderella narrative, combined with the cast of diverse but (mostly) lovable characters results in a tale that is both classic and refreshingly original.
Mandy, Ella's family's cook, protects Ella as best as she can, especially in light of Ella's mother's death and her father's failure to see her troubles. Ella's stepsisters Hattie and Olive cause most of Ella's trouble during her time in finishing school – as a child, I thought that there could never be a character I hated more than Hattie! Prince Char rounds off the main cast, and it is Ella's love for him that ultimately allows her to break the curse. It really is a heartwarming romance, despite the many twists and turns.
Ella is an extremely strong, lovable protagonist who has so much heart and spirit, and while it's troubling to see people like Hattie order her around, it's the moments of triumph that really have you cheering for Ella.
Ella Enchanted is an adventure, a romance, a comedy, and a fantasy, and although many of you may have seen the well-publicized 2004 movie adaptation, the book embodies so much more than a movie ever could – could the movie show birds speaking Gnomic, Elfian, Ogrese, and Abdegi convincingly? Perhaps, but it doesn't, so I urge you to pick up the book and compare the two versions yourself. (I personally couldn't watch more than 10 minutes of the film.)
Now, let's get to the outfits inspired by this book!
1. The First Lesson of Obedience
Bertha, our head maid, had sewn a special gown for me. "Blue as midnight with a white sash. You were small for your age even then, and you looked like a china doll, with a white ribbon in your black hair and your cheeks red from excitement." (Levine 4).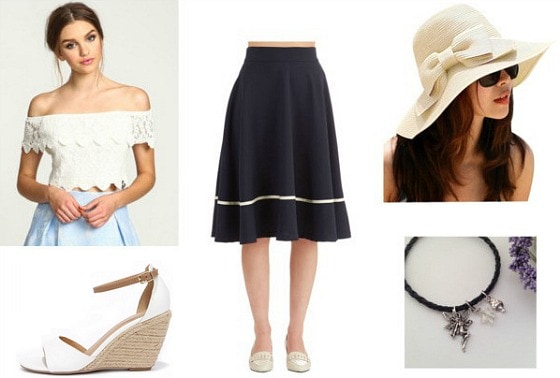 Product Info: Top – Love Culture, Skirt – Modcloth, Shoes – Lulu's, Hat – Amazon, Bracelet – Etsy
This scene reveals Ella's first memory of the repercussions of her curse of obedience, and takes place on her fifth birthday, when Mandy bakes her a stunning, 6-layer cake and Bertha dresses Ella up in a new gown. Mandy unwittingly commands Ella to "eat," and Ella is forced to keep eating until her mother realizes what has happened and commands her to stop. It's a sobering thought that anyone could order Ella to obey their commands, and I chose this scene because it really does set the stage for the magnitude of the repercussions of the curse if anyone were to find out.
I chose the white lace top and navy midi skirt because they are both in fashion at the moment, plus Ella was able to dress in beautiful, stylish dresses as a child, even if she didn't want to wear them! There is still a classic feel to his look, and I added the sun hat because of the cute bow and because of my undying love for floppy sun hats.
The fairy bracelet finishes off the outfit by paying homage to the tiny bit of fairy blood that flows through Ella's veins.
2. We're Off to See the Ogres!
In a few minutes, my carpetbag was packed with a few essentials: Tonic, my magic book, my dictionary, a shawl, and little else… My first landmark would be the elves' Forest. After the Forest I would come to another fork. The road to the left, which I was not to take, led to the Fens, where the ogres lived. (Levine 86-88).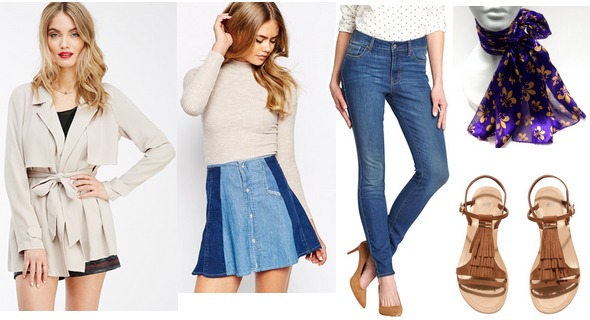 Product Info: Top – ASOS, Jacket – Forever 21, Jeans – Old Navy, Sandals – H&M, Scarf – Amazon
When Ella decides to escape from finishing school and head to a giants' farm where a wedding was going to be held, she brings only her most prized possessions with her in order to travel light. She does, however, get captured by ogres on her way, and this becomes a significant scene. She attempts to break her curse more than ever before, in order to disobey their commands for her to not run away, but fails miserably and realizes that even in a life and death situation, she cannot break her obedience.
In the end, it is her cleverness and skill with languages that helps her escape, and Char arrives just as she realizes how hopelessly far away she is from her destination. The ogres are successfully tied up and they depart, with Ella managing to arrive at the giants' wedding right on time.
I tried replicating the shawl Ella took with her by using the beautiful purple cloak she wears on the book cover as inspiration for this fleur-de-lis print scarf. Other than this piece, the outfit is much more practical than anything she would have worn in finishing school. I loved the fringe detailing on the sandals, so I had to include those, and the rest of the look is made up of neutral-colored basics. Because Ella starts off the journey on foot, I made sure to include a jacket to go with the jeans and turtleneck; it adds a bit of protection against the elements.
3. For Char
Spoiler Warning: Stop reading here if you don't want the ending to be spoiled, in great detail!
Then I lost sense of all of it. I went on rocking and crying, but my though burrowed within, concentrated in a point deep in my chest, where there was room for only one truth: I must save Char. For a moment, I rested inside myself, safe, secure, certain, gaining strength. In that moment I found a power beyond any I'd had before, a will and a determination I would never have needed if not for Lucinda, a fortitude I hadn't been able to find or a lesser cause. And I found my voice. (Levine 226).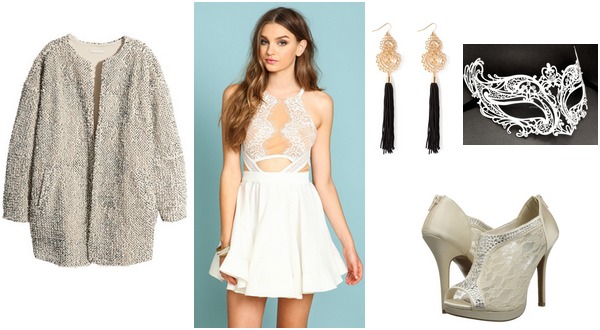 Product Info: Dress – Love Culture, Jacket – H&M, Heels – Zappos, Earrings – Forever 21, Mask – Etsy
After months of correspondence with Char, Ella forces herself to break Char's heart and cut contact with him because she knows that she would endanger the kingdom if she were to become a forever-obedient queen. Having been reduced to a maid who follows Hattie and Olga's every order, Ella manages to attend three royal balls in order to meet Char, and pretends to be "Lady Lela" under the mask she wears.
After Hattie snatches away her mask and her identity is revealed, Char chases after her. Ella is then confronted with both his "Marry me" and Hattie's order to not do so, and is able to reach deep inside of herself and break the curse because of her love for Char. It's an extremely powerful, emotional scene; she is sacrificing her happiness for Char's when attempting to refuse his marriage proposal, and this breakthrough is what shatters the curse's hold on her.
This look is definitely formal because the magic of the royal balls contrasts greatly the rags Ella had to deal with while working at home. However, it retains its simplicity, and I found a gorgeous dress that is white and "edged in lace," just like Ella's favorite gown that she wore to the last dance. The sequined jacket, on the other hand, has more of a masculine, almost shapeless feel to it, because Ella glories in doing "boyish" things more than super-feminine ones.
The accessories are similarly not too busy – the earrings are fancy but not ostentatious, and the mask is a delicate silver design. The transparent lace design of the heels pay homage, of course, to both Cinderella and Ella Enchanted.
Final Words
The whole book is a whirlwind of adventure, journey, self-discovery, and love, but these last few pages are so rapturously gripping that I can read them over and over again, without tiring of the emotion and the love between Ella and Char. The ending is not one that is very open to interpretation – it's genuinely happy, which is honestly what I needed from this book after all the heartbreak and toil Ella had to go through to break the curse and lose all who were dear to her.
If you haven't already read the book (in which case, I hope you heeded the spoiler warning!), I urge you all to do so. In addition to all the accolades given to this book, Ella Enchanted was a ALA Quick Pick for Reluctant Young Adult Readers book, so give it a try and you won't regret it.
This book introduced me to my love of everything fantasy, romance, and adventure, and to this day I still find myself rereading it instead of picking up another book from my to-read pile! There's so much more than just fashion inspiration to be gleaned from this book, and I hope you discover those other things.
Next time, I'm featuring a book that is very currently relevant, not only because of the disease it highlights, but because it was recently adapted into a critically acclaimed movie. I tend to write about my favorite novels in this column, but I also wanted to incorporate books that are currently trending.
Hint: Alzheimer's.
Your thoughts?
Have you ever read Ella Enchanted, or watched the movie? What do you think of these looks? Which one is your favorite? Let us know in the comments below!