This post may contain affiliate links, which means we may receive a commission if you purchase through our links. Please
read our full disclosure here
.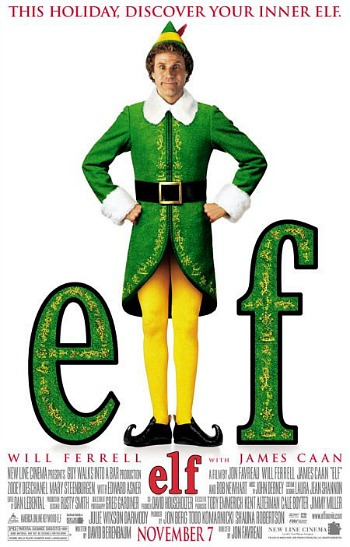 Official Movie Poster
It's currently the height of the holiday season and one film that bring the holiday spirit and tons of laughter is Elf. Even though it was only released about ten years ago, it instantly became a holiday classic for many. Centered around the character Buddy (Will Ferrell), a human raised by elves in the North Pole, the film depicts Buddy's journey of leaving the North Pole for New York City to find his real father.
This post will be focusing on Buddy and his love interest Jovie, played by Zooey Deschanel. The outfits below take inspiration from both the holiday ensembles worn by Buddy and Jovie, as well as a more wearable look in the film. Scroll down to see all four outfits:

Buddy the Elf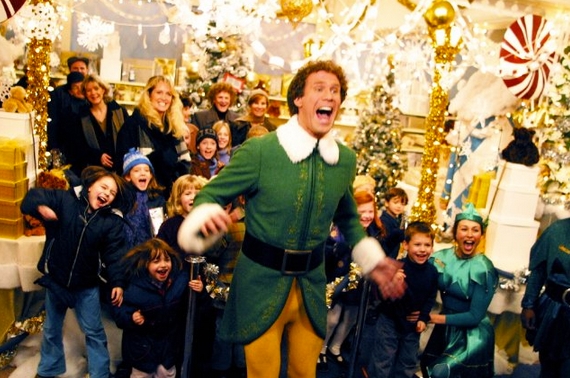 Official Promotional Image
This first outfit is inspired by the always optimistic Buddy the Elf. While many people may not look to Buddy as a fashion icon, the colors in his elf ensemble serve as fab inspiration for holiday outfits. Using this seasonal green hue will have you channeling Buddy's getup without making you look like one of Santa's helpers.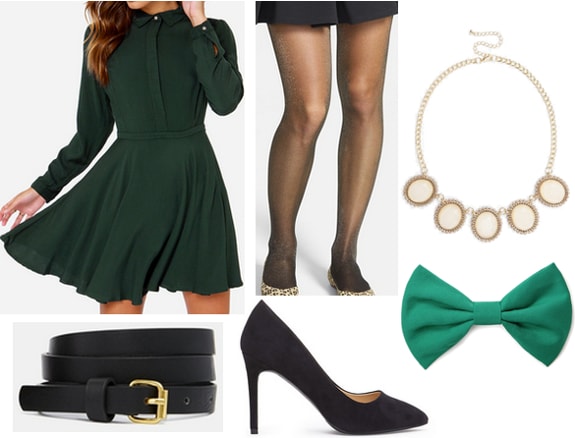 Dress, Belt, Tights, Heels, Necklace, Hair Bow
To get Buddy's look, start with a long-sleeved dress in a dark green hue. This collared one truly channels his outfit. Instead of mustard yellow tights, rock a pair of seasonal gold-and-black glitter tights.
A black belt defines the waist, while black pumps (or flats) replicate Buddy's pointy shoes. Mimic the touches of white in his getup with this statement necklace, then replace Buddy's green elf hat with an adorable hair bow.
Jovie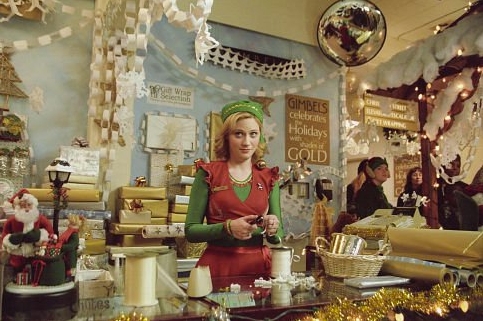 Official Promotional Image
This next ensemble is based on Jovie's very festive work outfit. Like Buddy's ensemble, this look may not seem very wearable, but it still serves as inspiration to create a cute outfit for the holidays.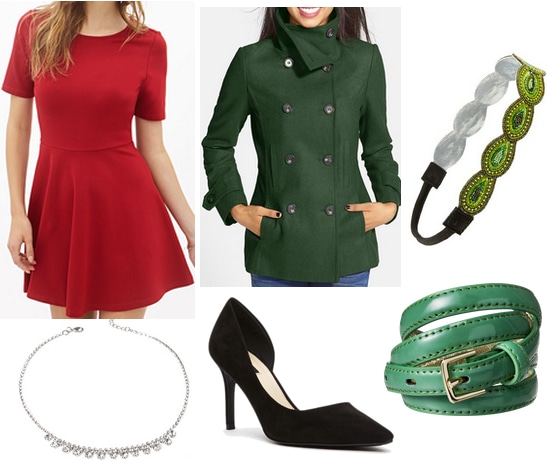 Dress, Necklace, Jacket, Heels, Headband, Belt
For a similar look, opt for a holiday-appropriate red skater dress. Instead of wearing a green top underneath like Jovie did, go ahead an wear a green pea coat on top. Continue the touches of green with a belt that cinches at the waist, as well as a headband to replicate Jovie's hat. Accessorize with a delicate silver necklace, then finish the look with your favorite black shoes.
On a Date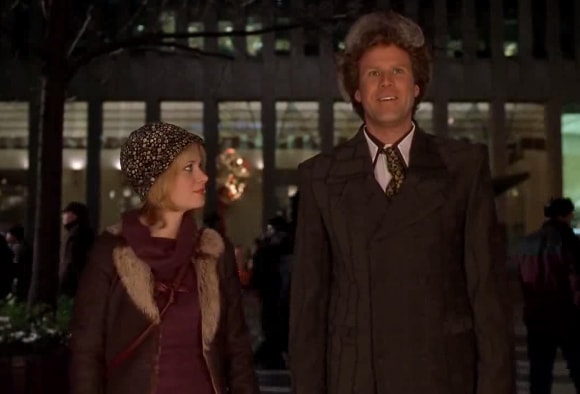 Official Promotional Image
Rather than focusing on just the elf outfits in the film, this next look takes inspiration from what Jovie wore on a date with Buddy. This automatically looks a lot more wearable than the last two outfits, and depending on where you wear it, can be dressed up or down for the occasion.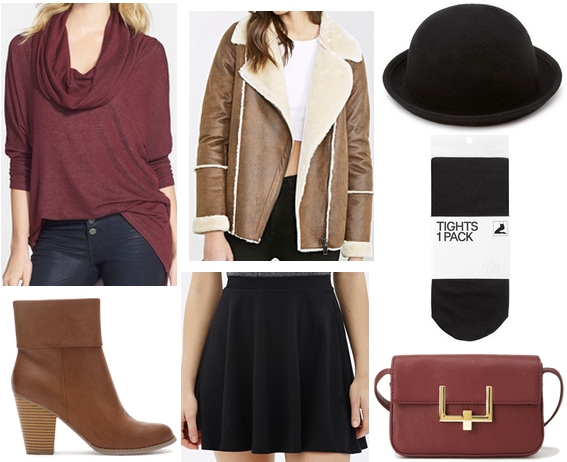 Top, Booties, Coat, Skirt, Hat, Tights, Bag
To recreate this ensemble, start by tucking a maroon-colored cowl neck sweater into a black skirt. For extra warmth, add a cozy brown coat with faux-fur trim, as well as black tights and brown booties. For a trendy flair, adorn your head with a black bowler hat or fedora. Lastly, grab a maroon crossbody bag that complements the sweater.
Jovie in Pink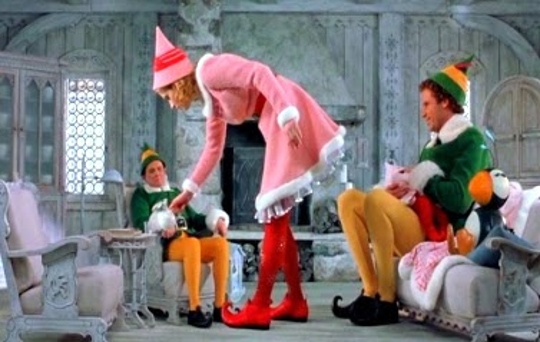 Official Promotional Image
This last ensemble features Jovie's adorable pink elf outfit from the final scene in the film. Unlike the green elf-inspired outfits, this one features plenty of pink, which makes for a much softer look. Most holiday outfits feature red or green, so we love the idea of a seasonal look based on pink!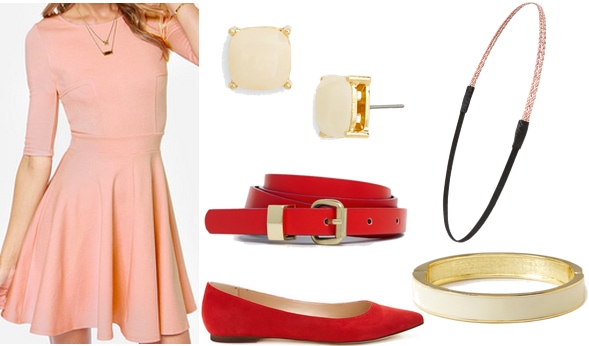 Dress, Earrings, Belt, Flats, Headband, Bracelet
Snag a fashion-forward version of this ensemble by pairing together a pink skater dress with a red belt cinched at the waist. Add more red into the outfit without overdoing it with these pointy-toe flats. Replace Jovie's hat with a pink headband, then finish the look with chic jewelry, like these stud earrings and a matching bangle.
What are your thoughts?
Have you seen Elf? What did you think of the film and the inspired outfits above? What movies would you like to see in future Movie Inspiration posts? Please leave us a comment with your thoughts below!