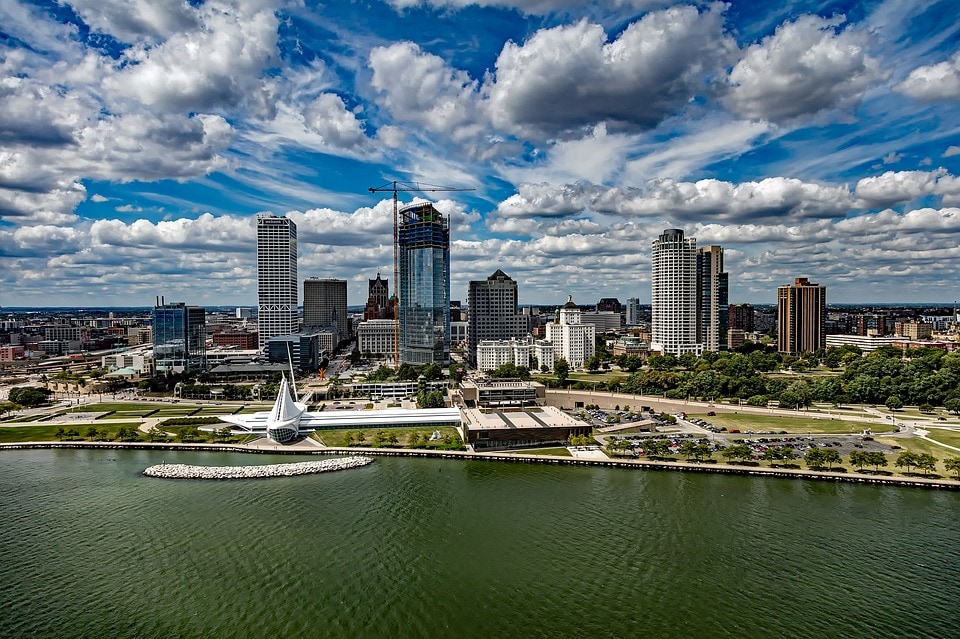 Let's give a shout out to Courtney for suggesting in the comments of Regional Style Guide: Santa Fe, New Mexico that this week's guide should cover Milwaukee fashion. We love it when our readers comment and give us feedback, so thank you Courtney!
Milwaukee is Wisconsin's largest city and the second most densely populated metropolitan area in the Midwest. It's located off the coast of Lake Michigan and is at the intersection of three rivers.
Milwaukee has diverse roots with a history of Native American tribes first settling the land and then French-Canadian fur traders and missionaries arranging trading posts off its bay. By the mid-1800s, European immigrants from Germany, Britain, Ireland, Italy, and Poland settled Milwaukee with a late addition of African-Americans, Hispanic, and Asian immigrants moving into the area. Today, Milwaukee is a richly diverse community made up of just about every culture.
This city is known as the City of Festivals for a reason. Milwaukee hosts over 40 festivals in any given year! Most are cultural festivals such as Irish Fest, India Fest, Festa Italiana, German Fest, Pride Fest, and many more. Milwaukee is also the location for the world's largest music festival, SummerFest!
If the promise of a festival at any time isn't enough, Milwaukee also has a great foodie scene. Although it's tradition to eat cheese curds and bratwurst and drink beer, you can find any cuisine you can imagine there. So why is Milwaukee known as Brew City? In the mid-1800s, one-third of Milwaukee's population was made up of Germans (who love their beer). During that time, these German immigrants created over two dozen breweries in Milwaukee alone!
Today, Milwaukee has continued this tradition and is home to beer giant and powerhouse Miller-Coors. In addition, Bon Appetit magazine has named Milwaukee the greatest bar town in America! So to all those who are over 21, remember to "Drink Wisconsinbly".
Now that I've barely scraped the surface of what makes Milwaukee unique, we can discuss the region's fashion. As always, I've found local fashion Instagrammers and will use them to help us dissect the local trends and style habits.
Let's get started!
Layers are Life
Milwaukee is one of the coldest cities in the U.S. with the first snowfall arriving in November and the last snowfall occurring in April. So for 5 months out of the year, expect sporadic cold weather and snow.
Ashley Zielinski, a fashion blogger local to Milwaukee, shows us the importance of wearing an abundance of layers to stay warm. You can add and subtract layers throughout the day as the weather changes and as you're going in and out of buildings.
On Ashley's blog, she emphasizes the importance of investing in good quality waterproof snow boots:
"Like any other investment, winter boots can be pretty pricey… but if you live anywhere where there's the possibility of a brutal winter, the investment is worth it. I bought these waterproof Sorel boots last year… they're durable and keep my feet completely warm and dry… They're less bulky compared to other styles which are a huge plus for me." – Ashley Zielinski
A style tip to take from Ashley's look is to mix knit textures to create a more interesting feel. Ashley pairs her chunky oversized sweater with two finely knit fringe scarves.
Get Inspired by Ashley!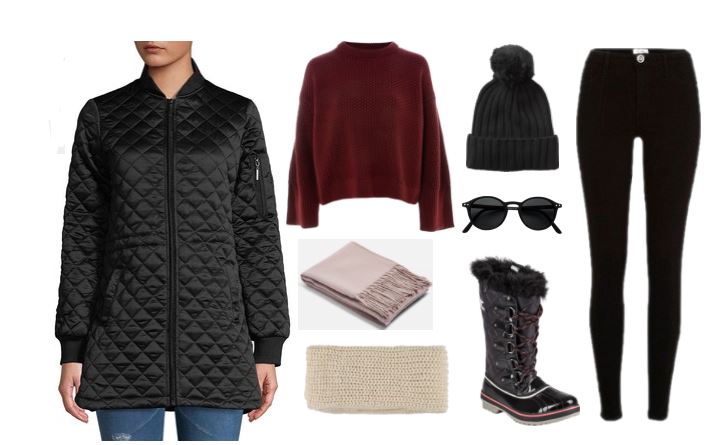 Products: Jacket – Lord and Taylor; Sweater – Topshop; Beanie – Athleta; Jeggings – Hollister; Sun Glasses – Popmap; Fringe Scarf – Topshop; Chunky Scarf – Forever 21; Boots – Zappos
Just because you have to cover up for the weather, that doesn't mean you have to sacrifice style and glamour. The look above shows that you can find luxury cold weather items for less, especially since we're past the official Winter season. With end-of-season sales happening, winter staples are cut by half to a third of the price, making this the perfect opportunity to get prepared for next year's cold weather.
'90s Revival
Instagram and Blog TwoStyleGirls follows Venezuelan twin sisters Marian and Michelle in their city of Milwaukee. They show that they can have fun with fashion anywhere, from the state fair to the gym and even at Madame Tussauds Wax Museum, as shown above.
Since this is a fashion duo, you get double the inspiration by following them. These ladies love the '90s and they show this through their flair for the retro.
In this look, Marian opts for a floral sundress paired with a cotton tee shirt underneath. Throw on some classic low-top Converse sneakers and a choker and you might be mistaken for an extra on the Netflix original-series, Everything Sucks.
Michelle was inspired by '90s trends like plaid skirts and combat boots. Here, she pairs her skirt and boots with an ultra cozy white sweater and dainty long beaded necklace.
Get Inspired by Marian!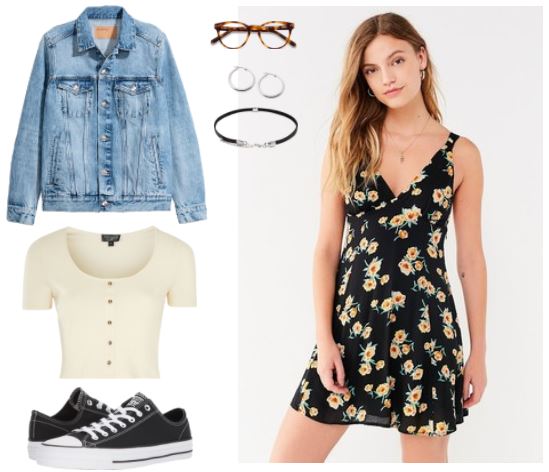 Products: Denim Jacket – H&M; Shirt – Topshop; Shoes – Zappos; Dress – Urban Outfitters; Choker – Forever 21; Earrings – Macy's; Glasses – Zenni Optical
Since Milwaukee currently has cold weather, I figured these outfits could use some outerwear to protect you from the elements. Add a light wash denim jacket to continue the look's '90s vibe.
Get Inspired by Michelle!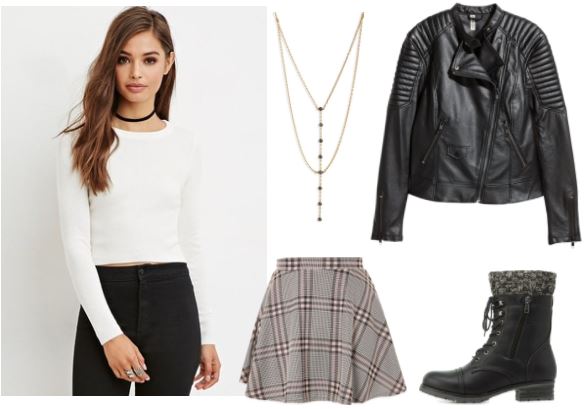 Products: Sweater – Forever 21; Necklace – Nordstrom; Skirt – Topshop; Jacket – H&M; Boots – Charlotte Russe
For Michelle's outfit, I added a biker jacket to complete this look. With this addition, the outfit reminds me Cher from Clueless… if she had a rebellious side.
Casual Chic
Milwaukee fashion blogger Carly loves to dress casual chic by pairing classic dressy elements with more relaxed elements. This vibe is exemplified in the outfit above, with Carly wearing a pretty floral blouse with black ripped skinny jeans.
Ladies of Milwaukee love their boots and Carly is no exception! She is pictured wearing tan suede ankle booties that are perfect for transitioning into Spring.
If you scroll through Carly's Instagram, you will see that her personal style is made up of feminine pieces and mixed patterns. In the Fall, she prefers neutrals and jewel tones and accessorizes with plaid blanket scarves that wouldn't look out of place in the English countryside. In the Spring, she likes to combine ruffles, dresses, and skirts with long boots or ankle booties for a unique look.
Get Inspired by Carly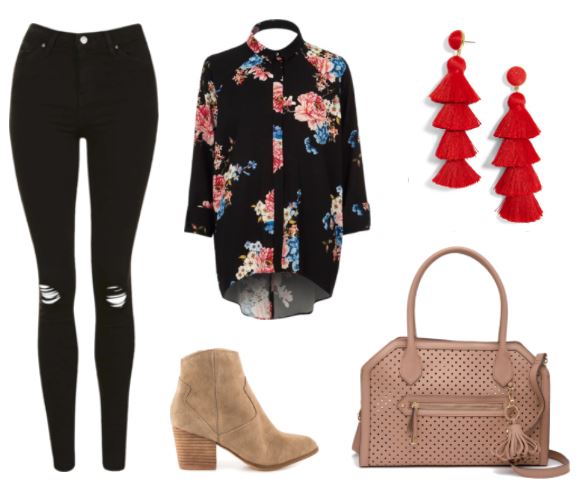 Products: Jeans – Hollister; Blouse – River Island; Boots – Amazon; Purse – Nordstrom Rack; Earrings – Bauble Bar
This look was heavily inspired by Carly, but I added bright red earrings for a pop of color that complemented the floral tones in the flowy blouse.
What Do You Think?
Thanks again to those who commented on the last Regional Style Guides! I'm thrilled to hear that you love this series and my goal is to focus on the regions people suggest in the comments below. Let us know what you think of Milwaukee style and don't forget to tell us what region you want us to cover next!