Welcome to the latest edition of Looks from Books, which aims to prove that you can look smart, while still being book-smart, too. Fashion inspiration can be found between the pages of your favorite stories, on well-designed book covers, and in your favorite characters… if you read closely enough.
This week, we're getting inspired by the upcoming release of the big screen version of one of our favorite musicals and bringing you looks inspired by Fairy Tales from the Brothers Grimm!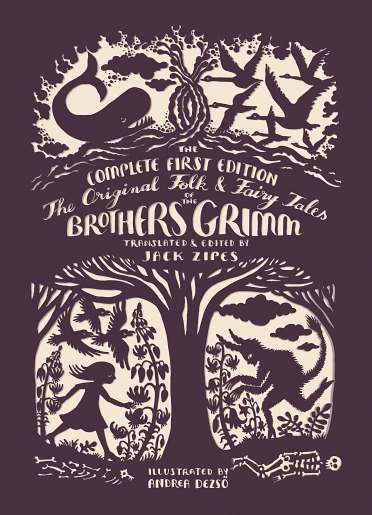 Cover photo via Amazon
Inside Cover
The Brothers Grimm were cultural researchers and authors who collected and published folk and fairy tales during the 19th century in Germany.
They are among the best-known storytellers of folk tales around the globe, and some of the most famous stories they documented include "Cinderella" ("Aschenputtel"), "The Frog Prince" ("Der Froschkonig"), "Rumpelstiltskin," "Hansel und Gretel," and many more.
Their stories are known worldwide for the matching of morals with the magic of the folklore, as the stories were heavily influenced by both the strict religious and moral coding of the time, as well as the rise of romanticism during that time period. With the objective of documenting fairy tales as they were told in communities across their country, the stories are rife with important cultural and historical cues to what was valued at that time, and also demonstrate significant use of colloquial language in their tellings (albeit a little more sanitized, in terms of violence and sexuality).
A Fashionable Literacy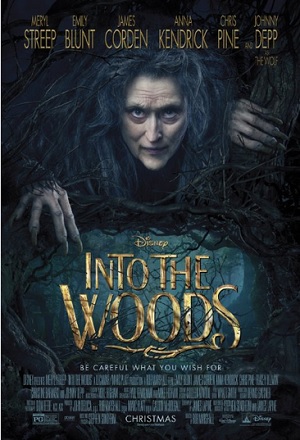 Promotional Poster for Into the Woods || Photo via IMDB
The works of the Brothers Grimm are among some of the most adapted stories told worldwide, with popular movies, music and more taking inspiration from their classic tales. Some adaptations you might have seen lighting up your television screen include NBC's Grimmand ABC's Once Upon a Time, which both subvert classic elements of some of folk and fairy tales' best creatures and characters to create wondrous worlds where reality and magic combine on a regular basis.
However, the adaptation I'm most excited about is the upcoming movie release ofInto the Woods, a big screen version of the classic Sondheim musical, which stars Meryl Streep as the Witch, Emily Blunt as the Baker's Wife, Chris Pine as the Prince, Anna Kendrick as Cinderella, and Johnny Depp as the Wolf. Sondheim himself has been working closely with the production, so even though changes will undoubtedly be made – this is Disney taking on a pretty bleak tale, after all – it will surely possess all the whimsy and woe of the original. The film is due in theaters December 25th.
How to Add the Brothers Grimm to Your Wardrobe
By integrating key elements from some of the Brothers' most classic tales into your own looks, you, too, can find a look perfect for fulfilling some wishes of your own (whatever their outcome might be!).
Little Red Riding Hood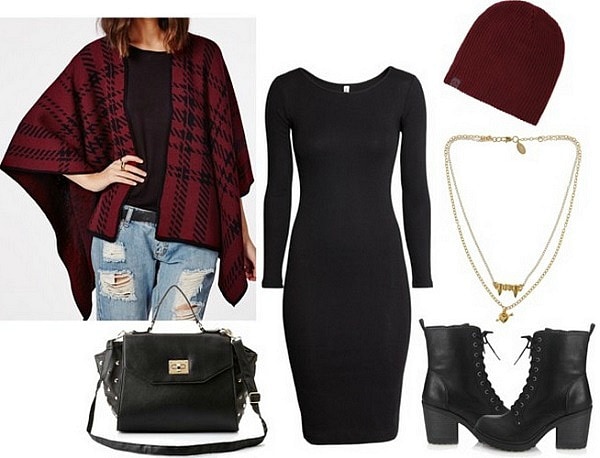 Product Information: Cardigan – MissGuided, Dress – H&M, Beanie – PacSun, Necklace – Max & Chloe, Shoes – Forever21, Bag – Charlotte Russe.
For most tellers, the real story of "Little Red Riding Hood" ends somewhere after the line, "The better to eat you with!" In reality, the story still finds its happy ending, but only after both Red and her grandmother get eaten, and are then cut out of the sleeping wolf's belly with a pair of scissors by a passing huntsman. Needless to say, the next time Red walks through the forest to Grammy's, she pays a lot more attention to any sketchy wolves trying to talk her off her path.
Integrate both the predator and the prey into one look with callbacks to Red's signature accessories, as well as the stealthiness of the what was stalking her through the woods. While wearing a red cape on campus might be overdoing it, a red plaid blanket cardigan and a maroon beanie stand in well. The wolf gets his due in a slinky black jersey dress that's built for both function and fashion, while a fang necklace harkens back to the hallmark of the iconic forest hunter. Black combat booties and a hardware-heavy purse emphasize the sturdiness of our heroine… I mean, she made it out of the wolf's stomach, after all!
Snow White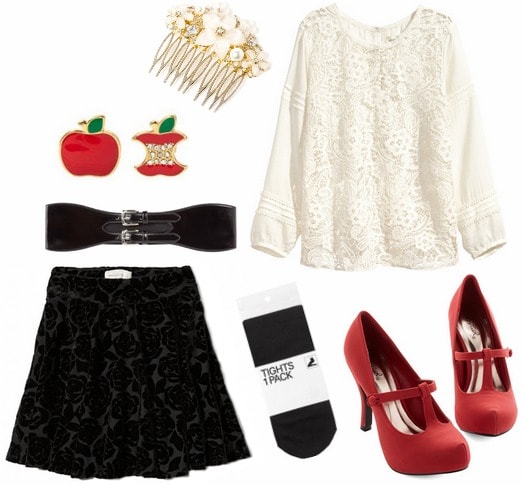 Product Information: Comb – Claire's, Blouse – H&M, Shoes – Modcloth, Tights – H&M, Skirt – Abercrombie and Fitch, Belt – Express, Earrings – Marc Jacobs.
Disney has a pretty good handle on this classic tale, but they do leave out a couple of things; for instance, the fact that the evil queen tries to kill Snow White not once, but three times! While the red poisoned apple is pretty iconic, the queen had already made two previous attempts on the life of her rival for the title of "Fairest in the Land" by trying to constrict her breathing with corset laces and poisoning her with a death-tipped hair comb.
Channel the famous princess into your own look by creating an outfit that capitalizes on the royal's famed beauty, particularly by utilizing her signature hues – "white as snow," "red as blood," and "black as ebony" – as well as the tools the queen created to take her out! A white lace blouse adds on to the luxury of a black velvet skater skirt, while black tights provide a stark background for cranberry red t-strap heels. A white pearl hair comb, a patent black corset belt, and graphic apple earrings provide a reminder of just what Snow's gone through.
Rapunzel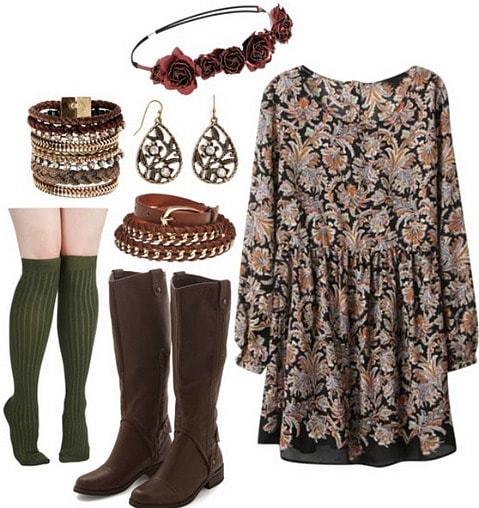 Product Information: Headband – Forever21, Dress – BlackFive, Belt- Wet Seal, Boots – Modcloth, Socks – Modcloth, Earrings – J.C.Penney, Bracelet – Asos.
Rapunzel is one of the Grimm Bros' tales that is a lot more dark than you'd have heard of in its common telling… no small feat, since it starts off with what is essentially a newborn getting kidnapped by a witch. Still, she finds her beginnings in a love of nature: her mother's pregnancy cravings for rapunzel, the plant, provide the inspiration for her name, as well as the reasoning behind her abduction (her father agreed to relinquish the child in exchange for his life after being caught for stealing from the witch's garden).
Her eventual freedom from her iconic tower comes with a lot of pain, but her endurance throughout these trials makes her happy ending – complete with a prince and two children – all the more rewarding. And yes, there are healing tears involved, just like the movie.
Create a look based off of the girl with the golden hair by matching the nature of her beginnings with earth tones and florals, as well as intricate detailing and luxurious accessories for a happily ever after. A dark brocade-print dress and brown riding boots bring out the luxe, while hunter green socks, a floral headband, and ornate floral earrings emphasize her ties to nature. A braided gold belt and braided stack bracelet harken back to Punzie's own famous braids.
What Do You Think?
Have you read any of the works of the Brothers Grimm? Do you know their stories from other adaptations? Are you excited for the upcoming release of Into the Woods? What do you think of the outfits and styling tips? Let me know in the comments below!