Welcome to the latest edition of Looks from Books, which aims to prove that you can look smart, while still being book-smart, too. Fashion inspiration can be found between the pages of your favorite stories, on well-designed book covers, and in your favorite characters… if you read closely enough.
CF readers, you asked, and we answered! In the comments section for our last post — for the novel The Bell Jar— we heard the call for an article based on S. E. Hinton's high-school classic, The Outsiders, so we quickly raided our bookshelves for the title, and found an enthralling depiction of mid-20th-century class clashes, and a legacy of fearless and edgy fashion to go along! Read on to learn more: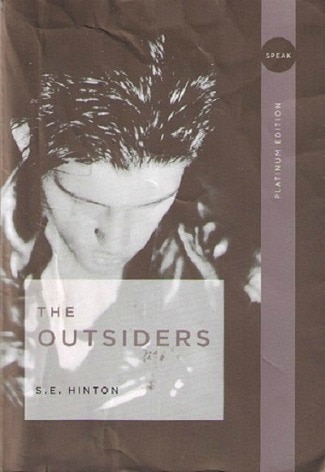 The Outsiders book cover via Amazon
Inside Cover: A Little Bit of Background
The Outsiders is an iconic 1967 novel written by then-sixteen-year-old S. E. Hinton. The story follows the tumultuous life of a kid named Ponyboy growing up in a small Midwestern town, dealing with class relations, warring gangs, and one tragic night that turns his whole world upside down.
The conflict in The Outsiders is driven by the tense relations between Ponyboy's crowd, the "greasers" (a.k.a the kids from the lower social strata of their small Midwestern town) and the "Socs" (pronounced "SOSH-es," an abbreviations of "socials") described by Ponyboy as the "jet set, the West-side rich kids." Ultimately, tensions come to a head and the two groups engage in gang warfare, with winners determined by who can wreak the most damage.
However, this wasn't just a topic of fiction for the young author; it was her reality. She later admitted that writing the novel was her way of dealing with problems that she couldn't immediately face or change during that time. Just as S. E. Hinton found writing The Outsiders therapeutic, so, too have the millions of teenage readers who found sympathy and solace in her story.
A Fashionable Literacy
A film adaptation ofThe Outsiders was released in 1983. Directed by Francis Ford Coppola, it served as a vehicle for stars like Matt Dillon, Ralph Macchio, Patrick Swayze, Rob Lowe, Emilio Estevez, and Tom Cruise. The film is also credited with helping to create the "Brat Pack" movie genre of the '80s. Fun fact: the movie actually came into fruition because a classroom full of middle school students from Fresno, California, asked their teacher to write to Coppola and convince him to make the movie.
The "greaser" culture present in the movie is in line with typical media depictions of the style: think greasy, stylized haircuts and a wardrobe of denim, leather jackets, knit tees, motorcycle boots,and Converse Chuck Taylors (à la Fonzie from Happy Days). The greaser movement was deliberately anti-fashion, eschewing popular trends of the '60s. However, that doesn't mean that the look hasn't influenced legions of similarly-minded teens (and fashion designers) over the years – after all, worn-in jeans, motorcycle boots, tee-shirts, and Converse sneakers have never really gone out of style.
How to Add Ponyboy to Your Wardrobe
By integrating key motifs and symbols from the plot of The Outsiders into your own daily look, you, too, can play the part of a downtrodden teenage rebel, without undergoing the struggles that Ponyboy and his friends had to endure.
What is "Tough"?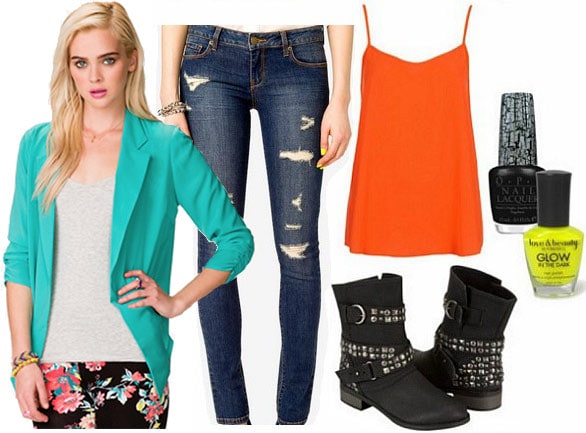 Product Information: Blazer – Forever 21, Distressed Jeans – Forever 21, Chiffon Top – Topshop, Studded Boots – Tilly's, OPI Shatter Nail Polish – Drugstore.com, Love & Beauty Nail Polish – Forever 21.
In the novel, Ponyboy frequently uses the word "tough"; however, he is quick to note the sharp differences in the meaning of the word in his everyday life: "tuff" can mean "cool" or "sleek," like when referencing an awesome car or music record, while "tough" has the typical definition. He makes sure to point out, though, that in his neighborhood and social group, both "tuff" and "tough" are compliments. In his world, being hardened and edgy is as much a measure of success as buying a cool car.
Balance the definitions of "tough" in your own look by mixing distressed, and studded pieces with those that are sleek and modern. For instance, distressed jeans, studded biker boots, and black "shatter" and neon nail polishes all denote a similar edginess, while a streamlined blue blazer and orange chiffon top are both trendy and refined.
Light Vs. Dark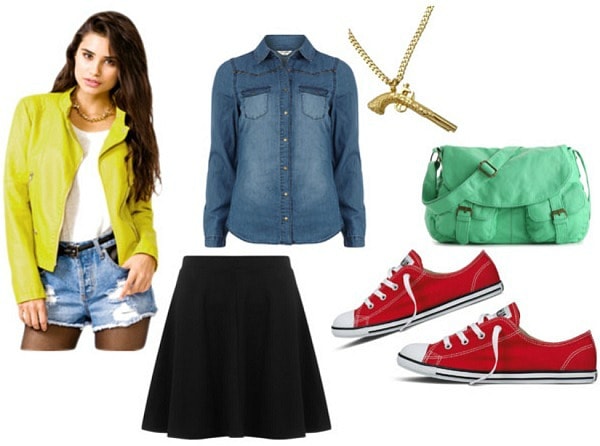 Product Information: Leather Jacket – Forever 21, Skater Skirt – Dorothy Perkins, Denim Shirt – Dorothy Perkins, Gun Necklace – Wildfox Couture via the Trend Boutique, Converse Chucks – Macy's , Messenger Bag – DSW.
In the novel, the Socs are frequently described as wearing bright primary colors and lightweight fabrics, like a blue cotton madras shirt or a maroon sweater layered over a yellow button-down. The greasers, however, are said to be plainly dressed, in dark colors like black and navy, and heavy fabrics like denim and leather. This slight irony in the physical appearances of the characters — the protagonists are dark, and the antagonists, colorful — highlights the differences between what defines the two groups, both socioeconomically and materially.
Reference this "reassigning" of color schematics by doing a little reassignment yourself: Rock greaser "good guys" basics in bright colors, and Soc "bad kids" staples in darker tones… all at once. For instance, a preppy button-down looks a little undone in a studded denim fabric, and a '60s circle skirt gets a little edgier in black. On the other side, a lemon-yellow leather jacket is a brighter take on a biker staple, while bright red Converse sneakers and a mint green messenger bag are colorful alternatives to Ponyboy's sneakers and schoolbag. A gun necklace is an obvious reference to the tension between classes, while also nodding to a key line in the novel, involving the color gold.
The Rodeo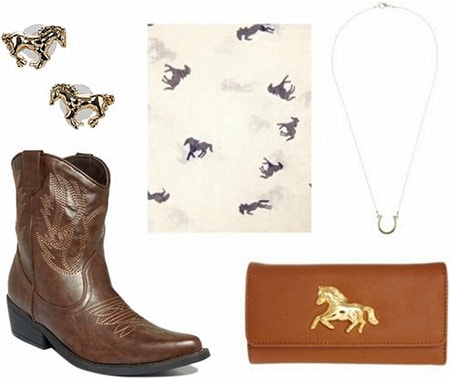 Product Information: Cowboy Boots – Macy's, Horse Earrings – FarFetch, Horse Scarf – Asos, Equestrian Clutch – Asos, Horseshoe Necklace – Marc Jacobs.
Living in a small Midwestern town in the '60s, Ponyboy's surroundings and social relations revolve, in some respects, around the rodeo. His older brother Sodapop loves horses, and once trained his own horse, Mickey Mouse, at a stable where he used to work. Two young ladies that Ponyboy meets at the movies, Cherry Valance and her friend Marcia, are both involved with the rodeo, and recognize Ponyboy from the time he and his brothers spent there. The rodeo isn't just something to which the boys aspire, but it is also something that all classes — both Soc and greaser — can share in.
Draw a little inspiration from the rodeo by integrating a bit of the equestrian into your everyday look. Cowboy boots lend a bit of the beaten and worn, while the gold horse-embellished clutch, pony-shaped earrings, and printed scarf elevate the status of the rodeo with clean silhouettes and clear lines. An upside-down horseshoe is supposed to be bad luck, and this necklace alludes to the bad things to come in the novel, as the boys face adversity in their own hometown.
What Do You Think?
Have you ever read The Outsiders? Were you assigned it for a middle or high school English class? What do you think of the novel, and its depictions of warring youth? Have you seen the movie? What did you think of the outfits and styling tips? Let me know, in the comments below!