Welcome to the latest edition of Looks from Books, which aims to prove that you can look smart, while still being book-smart, too. Fashion inspiration can be found between the pages of your favorite stories, on well-designed book covers, and in your favorite characters… if you read closely enough.
This week, we're tackling yet another Young Adult futuristic novel with a recent media adaptation. However, this time, we're trading in the ruins of a ravaged civilization for the renewal of an Earth-gone-green in Kass Morgan's The 100!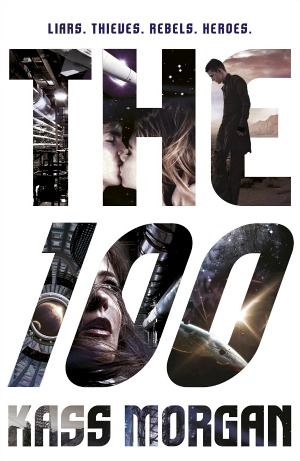 Book Cover via Amazon
Inside Cover
The 100 is a young adult science fiction novel, published by Kass Morgan in September 2013.
The novel is set in a distant future, where Earth's inhabitants fled to a space station after their planet was overwhelmed by radiation and the onset of a nuclear winter. Their new home, divided into the socioeconomic levels of Phoenix, Walden, and Arcadia, is heavily regulated, and those who break the rules are quickly incarcerated and eliminated. Underage rule-breakers are placed in Confinement… until a new experiment, to test whether the toxic atmosphere of Earth is capable of sustaining life, is planned, utilizing 100 of the delinquents as guinea pigs.
What Clarke, Wells and Bellamy uncover on Earth overturns everything they've learned before, and proves that the reasons they were sent back to the planet may be more complex than they thought.
A Fashionable Literacy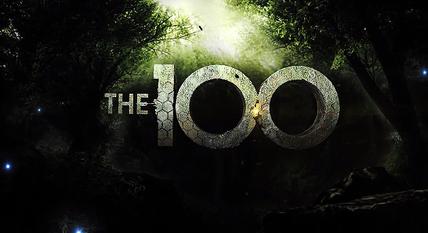 The Title Card for The CW's The 100 || Photo via Wikipedia
The television rights to The 100 were quickly acquired by teen-television juggernaut The CW, who have experienced previous success translating suspenseful YA reads to the small screen with The Vampire Diaries, which is based on a book series originally conceived and written by L. J. Smith.
The television adaptation involves significant deviations from the novel, adding additional characters and taking some out, but maintains the core principles of the plot line.
The 100 premiered to an estimated 2.7 million American viewers, and despite its newer status as a network show, is considered to be the highest rated show in its time slot on the network since 2010's Life Unexpected. Critics have given it generally mixed reviews, but it's worth noting that now-popular CW shows, like Arrow and The Vampire Diaries, also started out with lower reviews and less-instant viewer popularity.
How to Add The 100 to Your Wardrobe
By integrating elements of some of the book's main characters into your own outfits, you, too, can have a wardrobe as edgy and futuristic as the 100!
Clarke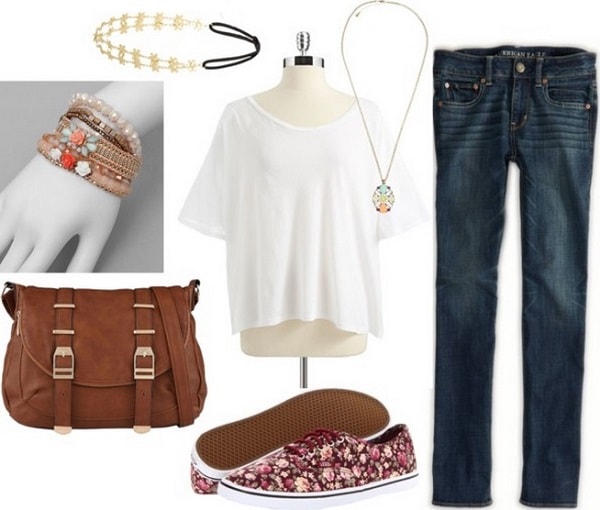 Product Information: Headband – Forever 21, Bangles – Buckle, Bag – J.C. Penney, Tee – Lord and Taylor, Sneakers – Zappos, Necklace – Accessorize, Jeans – American Eagle.
Clarke is the daughter of two of Phoenix's most important scientists, until the exposure of their experimentation of radiation on human children gets them executed, and leaves Clarke in Confinement for treason. Her life as an assistant to the station's leading surgeon is traded in for endless days in solitary confinement, waiting until her 18th birthday, at which point she will be tried as an adult and executed. A trip back to Earth is something she's always dreamed about, but not as a test subject, and certainly not alongside Wells, who is also a member of the 100.
Channel Clarke's simplistic, low-maintenance style and passion for Earth's history, with basics that riff on her usual attire. Replace her surgical scrubs with an oversized tee and straight-leg jeans, while the medical supplies she carries on Earth could easily be contained in this faux leather satchel. Floral sneakers and a gold floral headband feature her love for flora and fauna, while the gilded bangles and ornate necklace are decked out in the colors of the sunset, her favorite thing on Earth.
Wells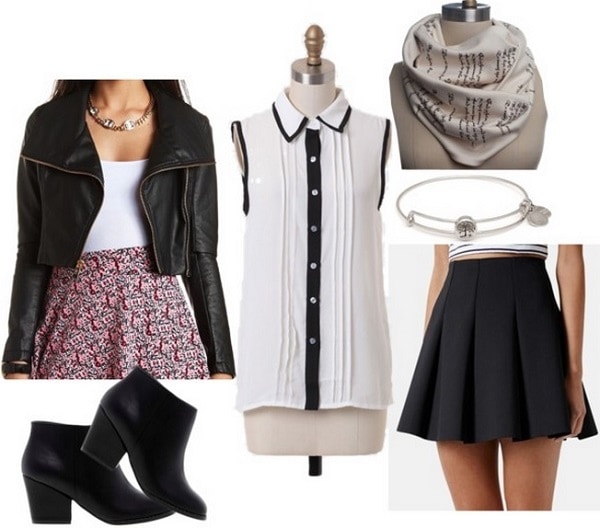 Product Information: Cropped Jacket – Charlotte Russe, Boots – Asos, Blouse – Ruche, Scarf – Etsy, Bracelet – Alex and Ani, Skirt – Nordstrom.
Wells is the well-to-do son of the Chancellor, and has been a sought-after bachelor all his life, but there's only ever been one girl to hold his interest: Clarke. After a well-meaning move results in the deaths of her parents and her own Confinement, Wells will do anything to redeem himself to the one person he cares about, including risking everything he stands for… which leads to him making the trip back to Earth. He has worn the mantle of leadership for his whole life, but when grouped with a bunch of underage thugs, thieves, and traitors, how long can he stay in power?
Integrate Wells' sophisticated upbringing and edgy risk-taking into your own look with pieces that mix the classy and cool, like bold separates and black-and-white color-blocking. A pleated white blouse and structured skirt throw back to Wells' politician days, while a cropped leather jacket and ankle booties mix up the preppy look with his edgy side. A scarf – printed with the story of Romeo and Juliet – reminisces on days spent in the station's library with Clarke, while a bracelet imprinted with the image of a tree is a spoiler only those who've read the book will understand.
Bellamy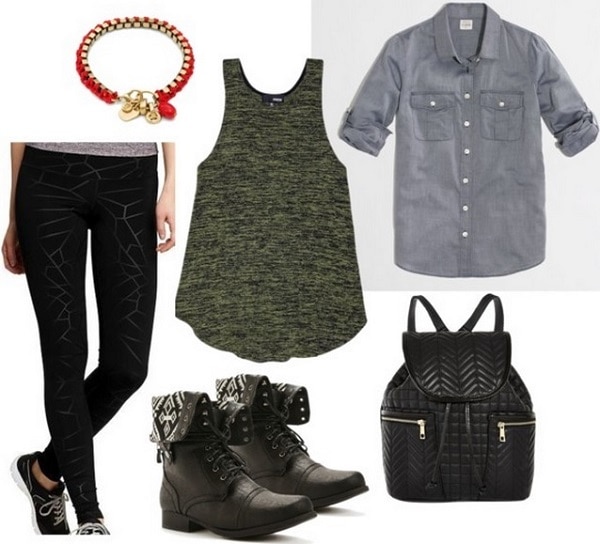 Product Information: Bracelet – Brooks Brothers, Athletic Pants – Old Navy, Tank – Aritzia, Boots – Windsor Store, Shirt – J.Crew, Backpack – River Island.
Bellamy is a lower-class orphan who risks everything to join his sister, Octavia, on the ship headed for Earth, even though he's too old to be Confined himself… and holding the Chancellor at gunpoint does the trick. After preparing for the voyage in the weeks beforehand by studying survival manuals from the old version of Earth, Bellamy is the first person to master how to hunt, and one of the first to break the rules. But on a planet devoid of all adults, who makes the rules around here, anyways? Besides, maybe Clarke's into bad boys…
Channel Bellamy's futuristic-hunter status with athletic basics and geometric lines, as well as pieces that riff on Bellamy's past. Black patterned athletic pants and a quilted rucksack make a bold impression, while combat boots, a hunter green tank, and a denim shirt tackle some rough-and-ready basics. A red bracelet stands in for the red ribbon he gave to his sister Octavia, which she always wears in her hair.
What Do You Think?
Have you ever read The 100, or any other recent works of YA science fiction? Have you seen the new CW television show? What do you think of their job of translating the novel to television? What did you think of the outfits and styling tips? Let me know, in the comments below!