Halloween is Saturday, friends, and if you're like me…you still don't know what you're going to wear. If your costume situation stressing you out, don't sweat it; chances are, you have everything you need for a costume in your closet right now.
I may be biased, because I obviously love cartoons, but I find cartoon characters are excellent inspo for last-minute Halloween costumes because cartoon characters often wear solid colors or simple patterns and familiar silhouettes – you know, the stuff you already have in your closet! Plus, the drunk folks at all those parties you'll be going to will, y'know, actually know who you are.
If you're still in need of a clever, easy, and fashionable costume idea for Halloween, read on!
Flyin' Solo: Spinelli from Recess Costume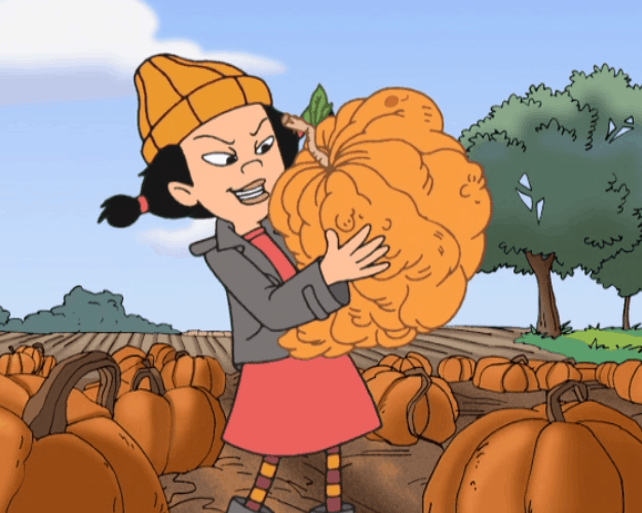 TJ Detwiler's right-hand lady on Recess was always tomboyish and outspoken, and her stylish outfit reflected her tough and bold personality. Worn with a pair of pigtails and your best raspy voice, no one who spent their childhood plunked in front of the TV on Saturday mornings will be asking who you are.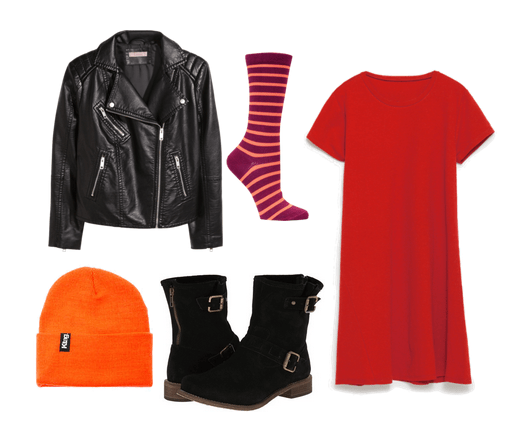 Products: Jacket, socks, dress, hat, boots
To make a Spinelli costume, you'll need a trusty pair of black moto boots and your fave leather jacket – the tougher the details, the better. A red dress of any kind will do, but a long tee dress would be ideal. (A bright red tee shirt and a pair of burgundy pants would work, too, in a pinch.) Finish your costume with a dusty pink lip and a beanie.
You + Your Fave Lady: Tina and Louise Belcher from Bob's Burgers Costumes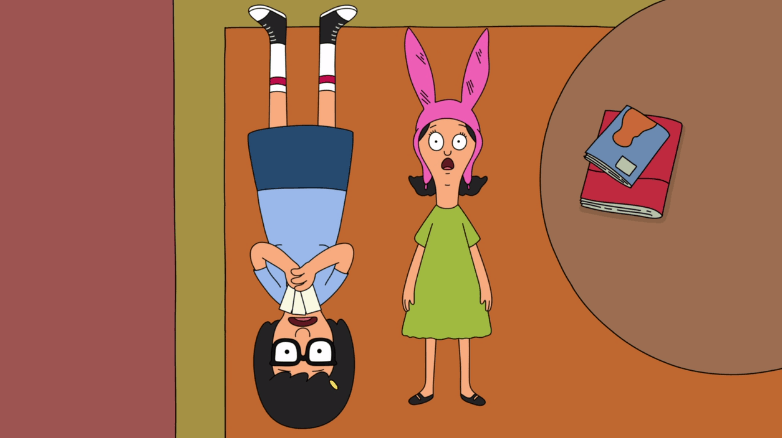 If you haven't hopped on the Bob's Burger's bandwagon, get on that. While each member of the Belcher family is hysterical in their own right, no characters steal a scene quite like awkward-yet-confident butt-obsessed Tina or her clever, scheming, and neurotic younger sister Louise. This iconic pair makes for a perfect quick-fix costume for you and your bestie, your fave sister, or your funniest roommate.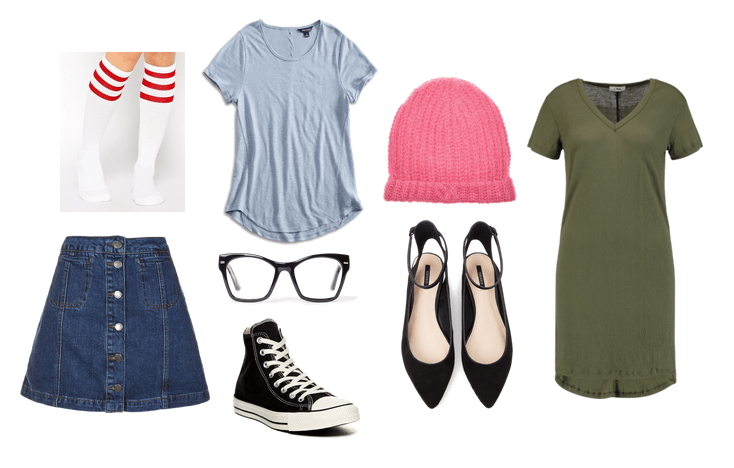 Products: Tina: Socks, tee, skirt, frames, sneakers | Louise: Beanie, dress, flats
For a Tina costume, put that trendy denim skirt you bought this summer to good use and pair it with a blue tee shirt, a pair of black oversized frames, knee-high white socks, and a pair of converse. Bonus points if you can score a bobbed wig for the big night, but a simple gold or yellow hair clip should be all you need.
A Louise costume is even simpler: a pair of black flats, a green dress (a tee dress would work best here, but that army-inspired dress from a few seasons back would work well, too) and a pink beanie are all you need – just be sure to clip some bunny ears to that pink beanie!
You + Your Fave Dude: Fry and Leela from Futurama Costumes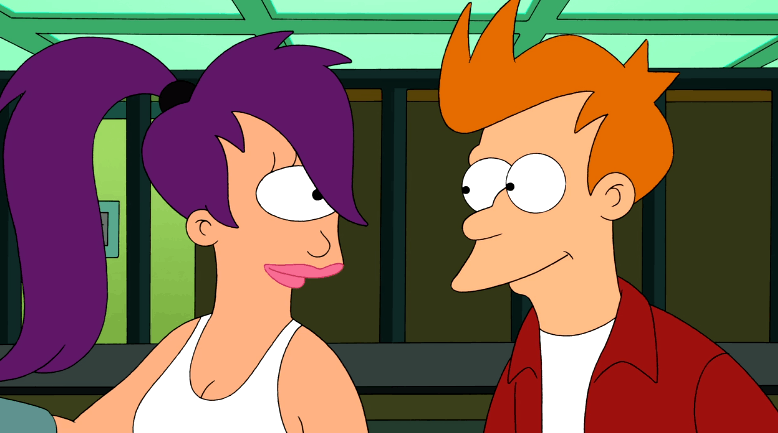 We're huge fans of this geeky cult classic here at CF, and no animated on-again, off-again couple tugs at our heartstrings quite like the lovable but clueless Fry and the sassy, independent Leela. Bonus: their basics-but-better outfits make these costumes a breeze to put together for both you and the resident dude in your life.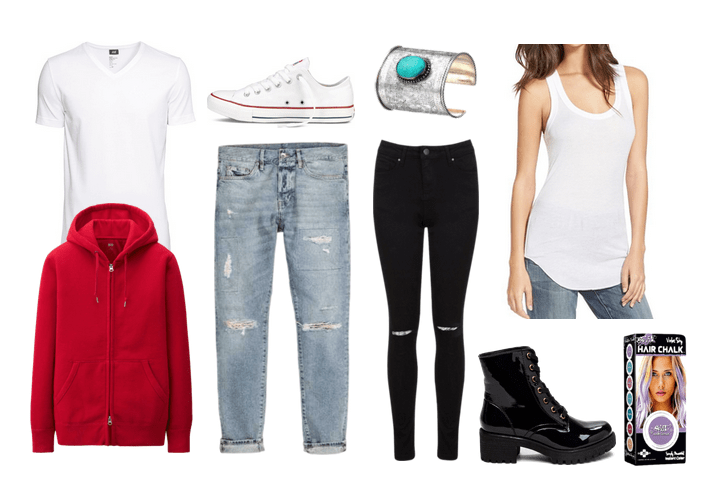 Products: Fry: Tee, hoodie, jeans, sneakers | Leela: Cuff, jeans, tank, boots, hair chalk
For a Fry costume, all you'll need is a pair of sneakers and jeans paired with a red zip-up hoodie and a white tee shirt. If you can spring for orange hair spray or a wig on the night of, that will certainly help, but the costume should work on its own with a little creative hair gel (and maybe a can of slurm).
For a Leela costume, you'll need a white tank and a pair of black jeans or pants, plus a big, badass pair of combat boots. Pull your hair up in a high ponytail and either spray on some purple hair spray or chalk your hair to get Leela's signature hue. One-eye-patch not needed!
What do you think?
What are your go-to last-minute costume ideas? Are you a planner or a scrambler? Who is your fave cartoon character to dress up as for Halloween? Let us know in the comments below!