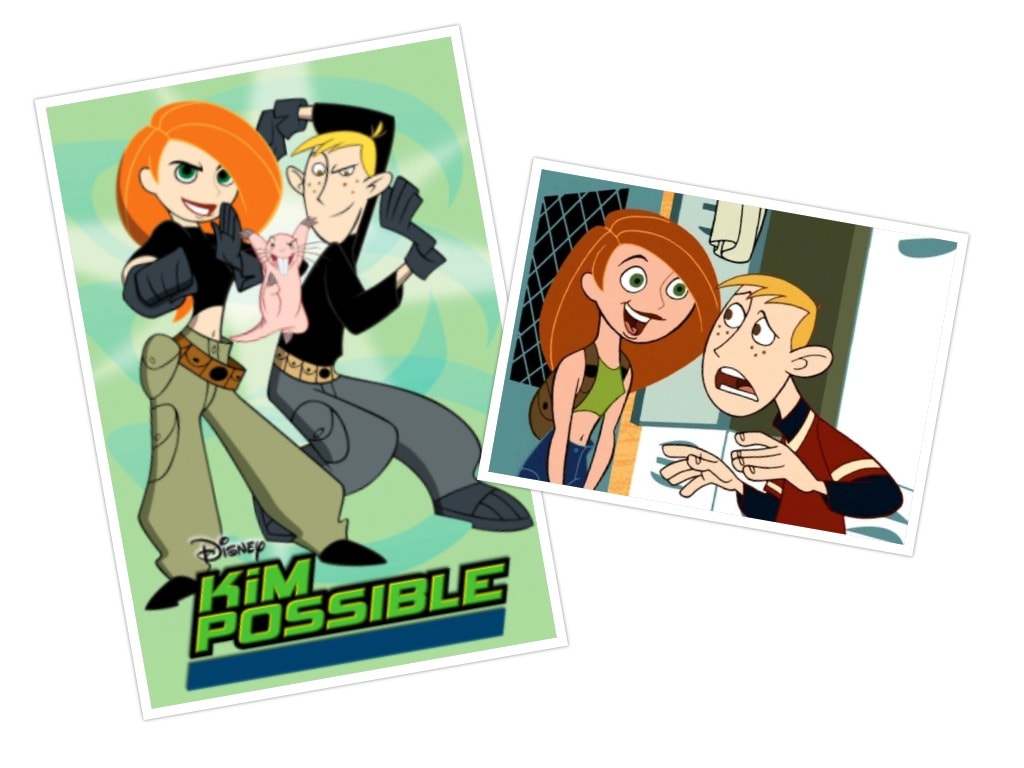 We're back with Sunday Morning Cartoons! Welcome to a trip down nostalgia lane as we draw fashion inspiration from an unlikely source – our favorite old school cartoons.
Our first installment covered Totally Spies. This time, we're covering another beloved spy themed cartoon: Kim Possible. This beloved adventurous comedy-action cartoon was created by Bob Schooley and Mark McCorkle. The American series originally aired on Disney Channel from 2002-2007. (Haven't seen it? You can buy the episodes on Amazon!)
The two main characters, Kim Possible and Ron Stoppable, are childhood best friends going through the trials of high school and vigilante work.
Kim is an accomplished and confident teenager. She excels at gymnastics, martial arts, taking down bad guys, academics, and being humble. Her quirky family of a rocket scientist father, brain surgeon mom, and twin terrors play a large role in the show – a rare trait in cartoons – and even assist on a few missions.
Ron, on the other hand, is more of the awkward teenager. He's loyal, reliable, and can pull out some resourceful moves in a pinch. He adores nachos and Rufus, his pet naked mole-rat. Rufus hangs out in Ron's pocket during school and sometimes saves everybody's neck.
Even with the seemingly large gap between Kim and Ron, the show equalizes out the field. Kim has her moments of self-doubt when it comes to normal teenage things. Her perfectionism is stressed as a flaw when she's hurting herself or others. Ron grows over the course of the series into a more confident and competent person and spy. Plus, he's an amazing cook.
Outfits Inspired by Kim Possible
Get ready to say "Booyah!" and "No big" with these outfits.
Kim Possible Inspired Outfit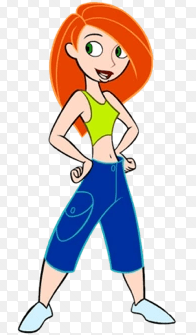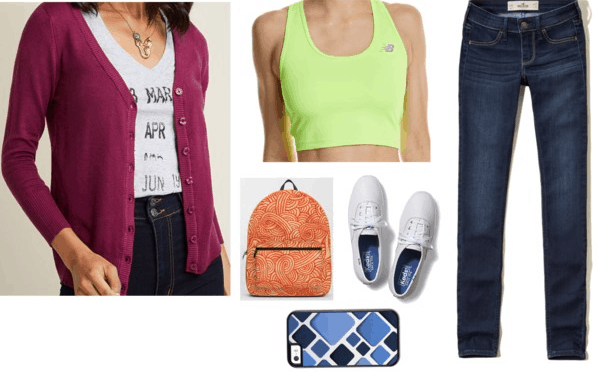 Products: Tank – Rue La La, Cardigan – Modcloth, Jeans – Hollister, Sneakers – Keds, Backpack – Society6, Phone Case – Snapmade
Kim is "so not the drama" about her clothes. She sticks to simple and athletic pieces. Crop top, stretchy jeggings, white sneakers? Done. Her trusty Kimmunicator is always by her side – just like a smartphone. What's the sitch?
When she's not moonlighting as a crime stopper, she's brushing up on her cheerleading skills (which proved helpful during her first ever mission!) and making straight A's. Kim can rep Middleton High School's colors with a purple cardigan, a classic schoolyard fashion item, and throw her impeccable planner into a cheerful orange backpack.
Ron Stoppable Inspired Outfit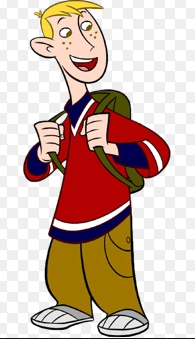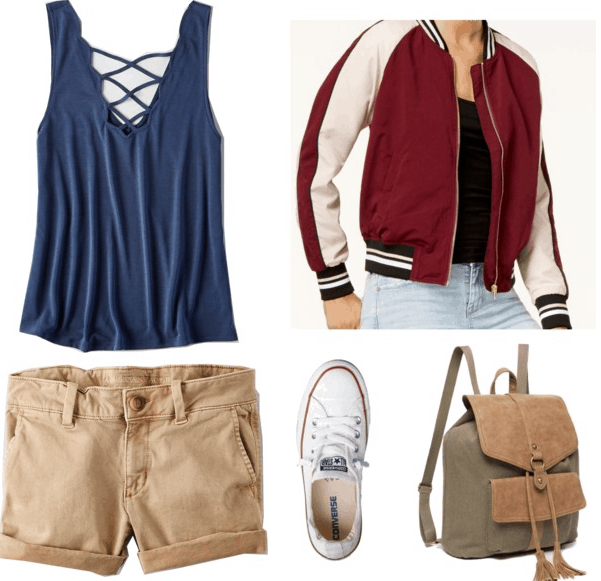 Products: Tank – American Eagle, Jacket – Macy's, Shorts – American Eagle, Shoes – Converse, Backpack – Belk
Ron is a big fan of slouchy, prep-influenced clothes. Take a cue from this Master Layerer by using a comfy blue top as a base. Ron proves he's not just the sidekick with a bold red varsity jacket – another classic schoolyard fashion item – on top. To be thoughtful like Ron, throw on some khaki bottoms and grab an olive backpack with enough pockets for Rufus to ride in style.
Like Kim, Ron shares a love for white sneakers. #BFFstylegoals.
Impossible Unstoppable Inspired Outfit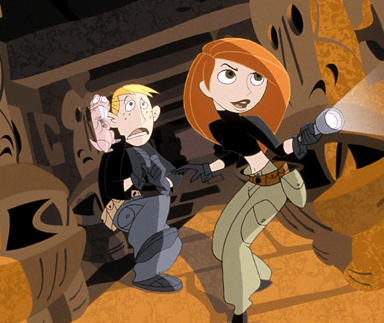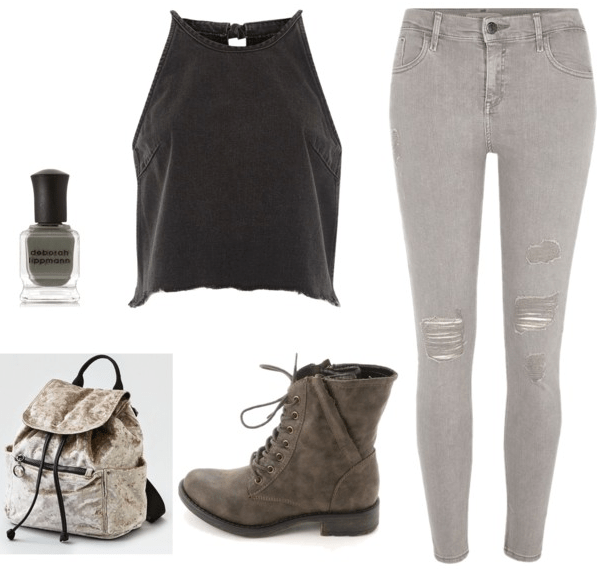 Products: Tank – River Island, Jeans – River Island, Boots – American Rag, Backpack – American Eagle, Nail Polish – Amazon
The best friends are often getting into all sorts of shenanigans, whether it be during a mission or just hanging out at Bueno Nacho. Be prepared for anything with a loose black high-neck tank top. Stretchy gray jeans will help you sneak into lairs and run away as fast as possible. Meanwhile, some lace-up green boots will help you perfectly land a few backflips.
A gold metallic backpack takes the place of utility belts and cargo pockets. After all, going to school requires just as much preparation as saving the world. Grey nail polish might not be as functional as gloves – but, hey, Wade the Boy Genius could totally design polish-turned-combat-gloves.
Bonus: Rufus Inspired Outfit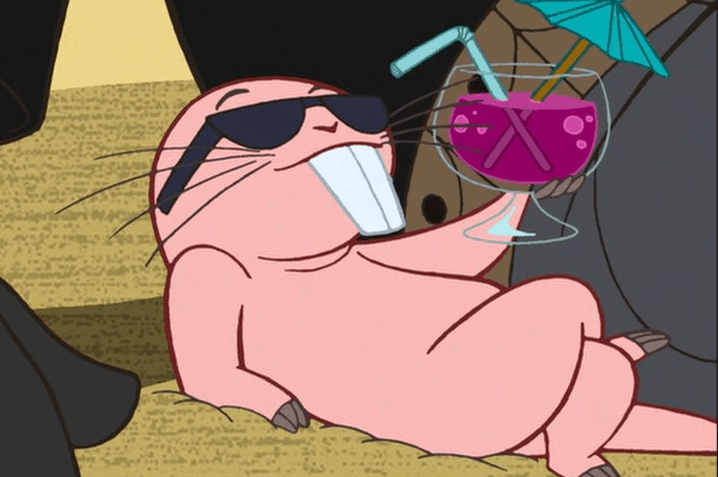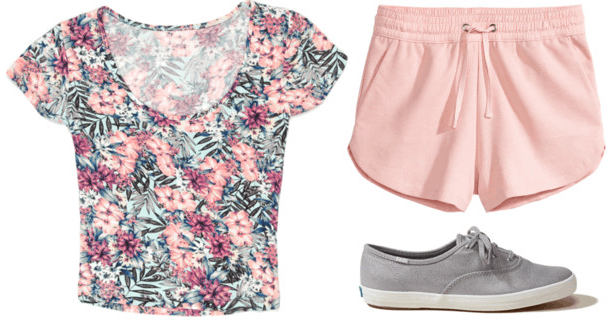 Products: Top – Grayson, Shorts – H&M, Sneakers – Hollister
Rufus is the most chill naked mole-rat. Channel that calm with super soft pink shorts. Take a sip from your tropical drink (don't forget the umbrella) while wearing a tropical pink flower print t-shirt. Be as agile as Rufus with lightweight gray sneakers.
What do you think?
Got any #BFFstylegoals? How much did you ship Kim/Ron? Ugh Bonnie, amirite? What is a cartoon you suggest we cover for this column? Also, your thoughts on a Part 2 with Wade/Shego/Dr.Drakken/Monique?