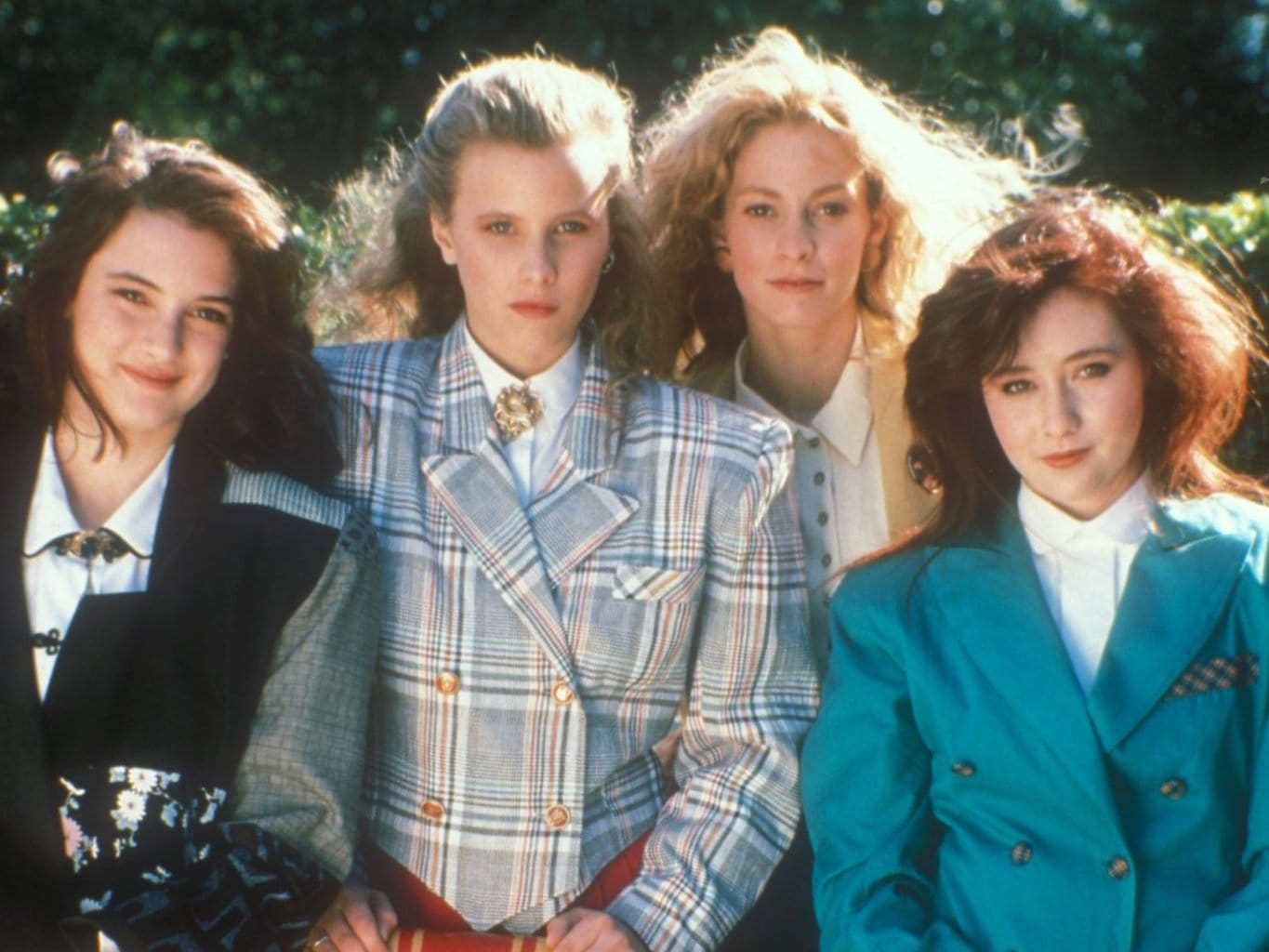 For this week's installment of 10 More Movies for Fashion Inspiration, we will be looking at the 1988 black comedy Heathers.
In the film, Veronica (Winona Ryder) is the newest member of the popular clique in high school, run by three girls who are each named Heather. The Heathers run the school through manipulation and cruelty, and Veronica isn't sure if she wants to be part of this group anymore — especially after meeting bad boy J.D. (Christian Slater). Together, J.D. and Veronica find a new way to overthrow the popular crowd.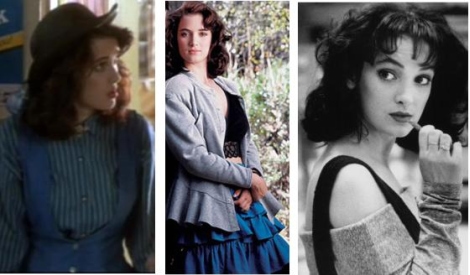 Heathers is full of trendy schoolgirl pieces from the 1980s, including lots of preppy plaid, structured blazers, pleated skirts, and colored tights. The costume design also heavily features signature colors — each of the main characters has one color that is featured predominately in every outfit. They also know how to mix different shades of the same color in each outfit. For example, Veronica is always wearing at least one item in a shade of blue.
If you want to add some '80s prep to your wardrobe, check out these four outfits inspired by the film. Each outfit is based on one of the four main characters and features their signature color.
Veronica Sawyer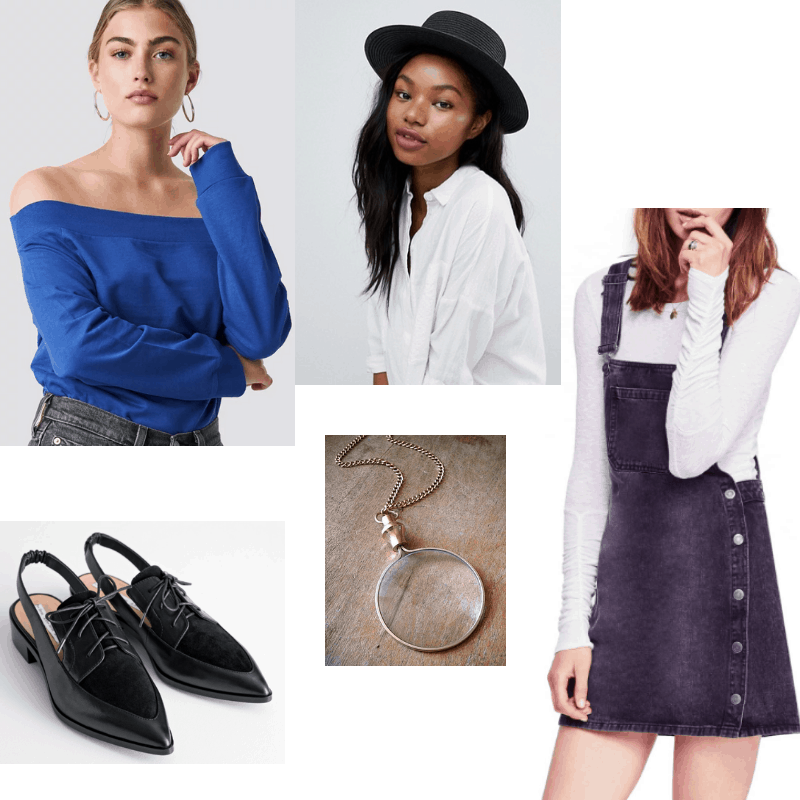 Products: Top – NA-KD, Dress – Free People, Shoes – & Other Stories, Hat – ASOS, Necklace – Etsy
Veronica has the most eclectic style in the film, and the outfit above reflects her unique aesthetic. An off-the-shoulder sweatshirt layered under a denim pinafore looks like it was swiped right out of Veronica's closet.
The slingback oxfords make a statement on their own, but for another pop of blue, you could totally add these opaque tights. (And if you're color-shy, go for a neutral pair or skip them entirely.)
Throw on an '80s-inspired hat and a monocle necklace like Veronica is always wearing, and you'll channel her style perfectly.
Heather Chandler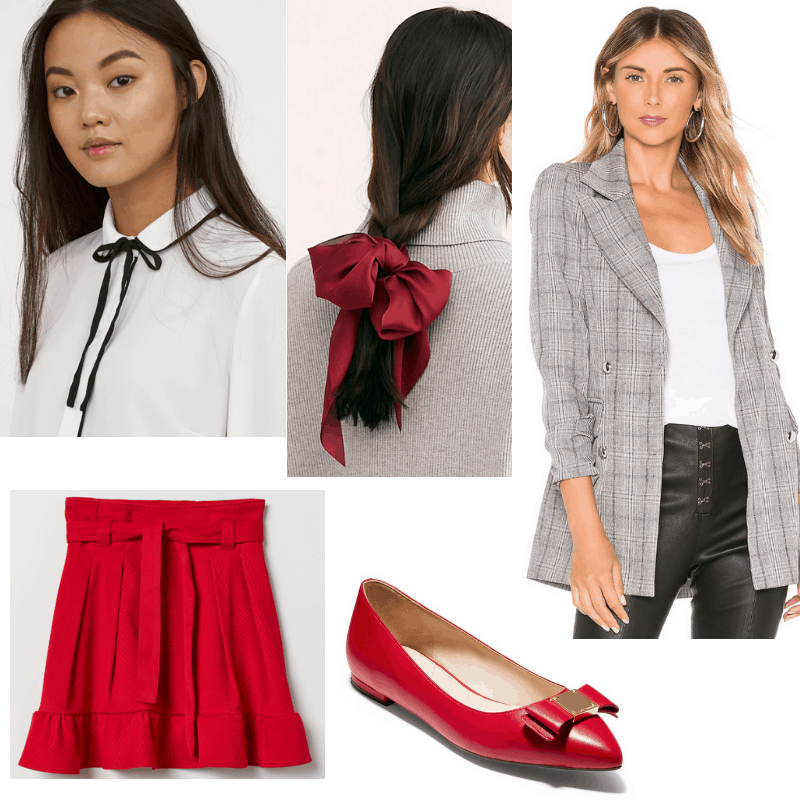 Products: Blouse – H&M, Skirt – H&M, Blazer – Revolve, Shoes – Nordstrom Rack, Scrunchie – Free People
Heather Chandler is the ringleader of the Heathers and her style is ultra preppy and polished. Her signature color, red, is heavily featured in this outfit.
A pleated red skirt, tie-neck blouse, and plaid blazer have a schoolgirl vibe, while bow-topped flats are a classic, preppy touch. Throughout the film, Heather wears a red scrunchie, which acts as a symbol of power at her high school. Funny enough, scrunchies are once again trending, so grab one to complete the look.
Heather McNamara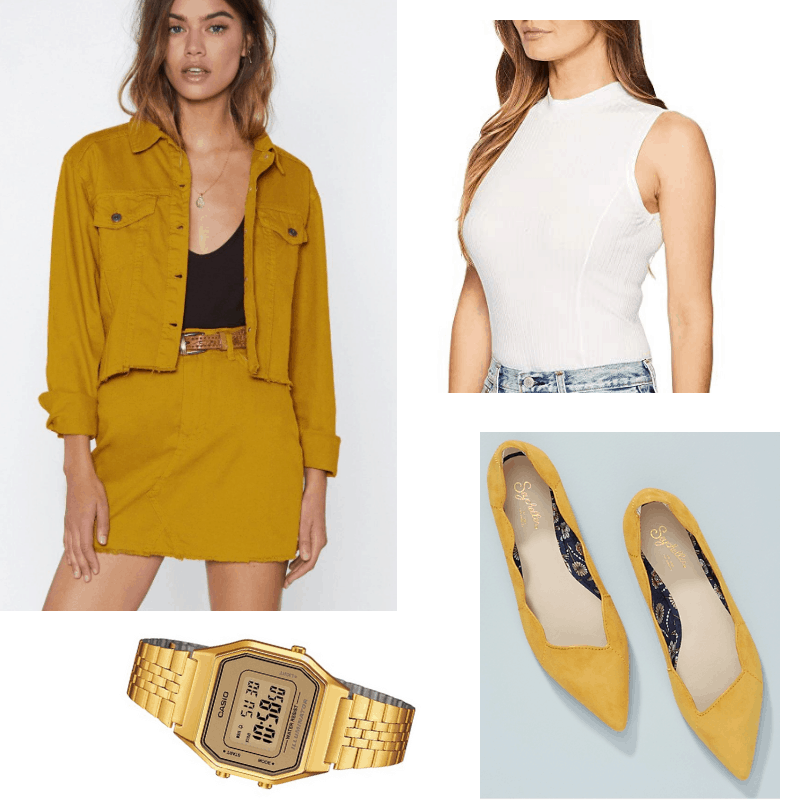 Products: Jacket/Skirt Set – Nasty Gal, Bodysuit – Kohl's, Shoes – Anthropologie, Watch – Macy's
Heather McNamara is the head cheerleader at Westerburg High and her style features a lot of trendy pieces in her signature shade of yellow.
First things first, grab a fitted bodysuit; its athletic silhouette is similar to Heather M.'s cheerleader uniform. Next, bring on the yellow. This matching skirt and jacket set makes getting dressed super easy, while pointy-toe flats incorporate that prepster vibe the Heathers wear so well.
For the finishing touch, accessorize with an '80s-style digital watch in a bright, golden hue.
Heather Duke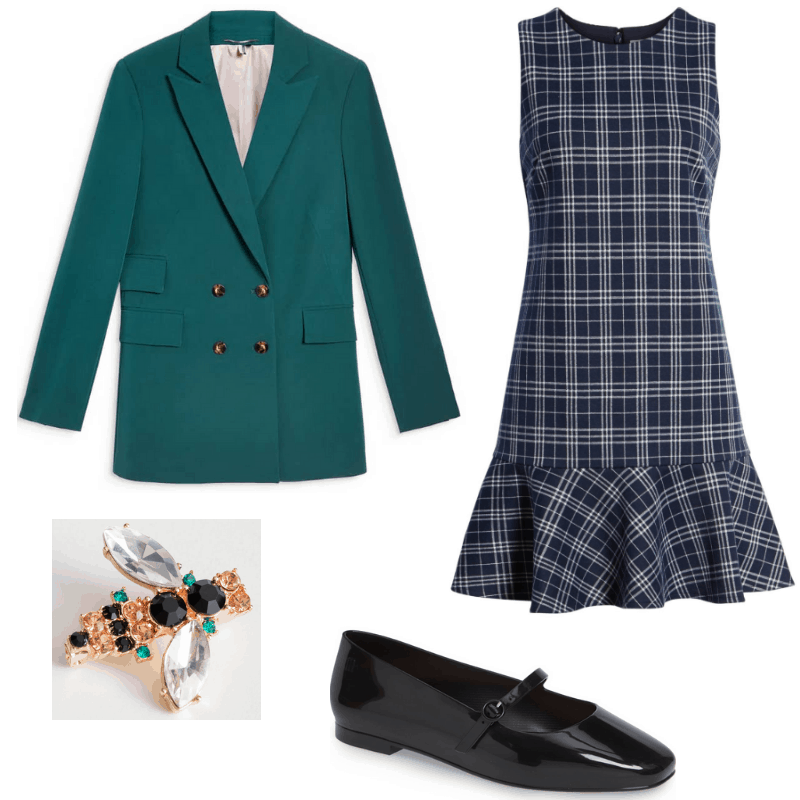 Products: Blazer – Topshop, Dress – Nordstrom Rack, Shoes – Nordstrom, Brooch – & Other Stories
She desperately tries to please Heather Chandler, so Heather Duke's style is very similar to her leader's, but with pops of a signature green. (Yes, the color represents her envy.)
A plaid shift dress and dark green double-breasted blazer are very schoolgirl with an '80s twist. Heather D. wears patent Mary-Jane's with ruffled socks, but if you aren't brave enough to rock the shoes with socks look, try sheer tights instead. Pin on a sparkling brooch with a few emerald-colored stones to complete the outfit.
Feeling inspired?
What do you think of these 1980s-inspired fashions? Do you wear a signature color? Have you ever seen Heathers? Do you think these outfits capture the look and feel of the film? Leave a comment and let us know!
Editor's note: This post was originally published in 2010; it was completely updated and revamped in 2018 with new photos, outfit sets, and information.