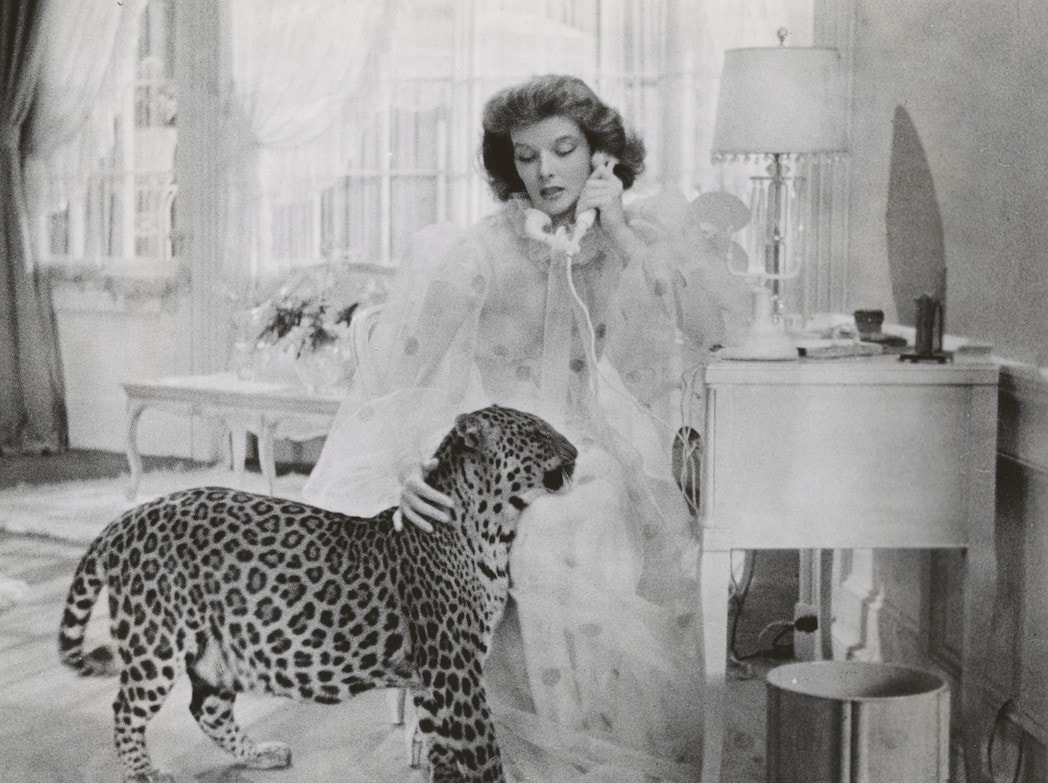 For the next installment of our series on 10 More Movies for Fashion Inspiration, today we'll talk fashion inspiration from the film Bringing Up Baby. This screwball comedy, released in 1938, follows the crazy adventure of a paleontologist (Cary Grant) who meets a bold, free-spirited, and somewhat absent-minded woman (Katharine Hepburn). The two end up in various predicaments, including taking care of a leopard named Baby.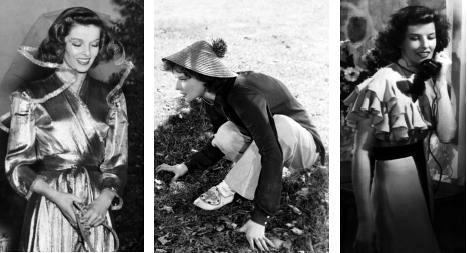 Katharine Hepburn's style in Bringing Up Baby can best be described as glamorous and elegant — very Old Hollywood. Every outfit had some kind of interesting detail, whether it was a bold sash, a ruffled collar, or an oversized bow. The film even incorporated some menswear-inspired outfits that Ms. Hepburn was famous for wearing.
Want to capture that glam Old Hollywood look in a contemporary way? Here are three modern outfits inspired by Katherine Hepburn's style in the film:
Outfit #1: Effortless and Chic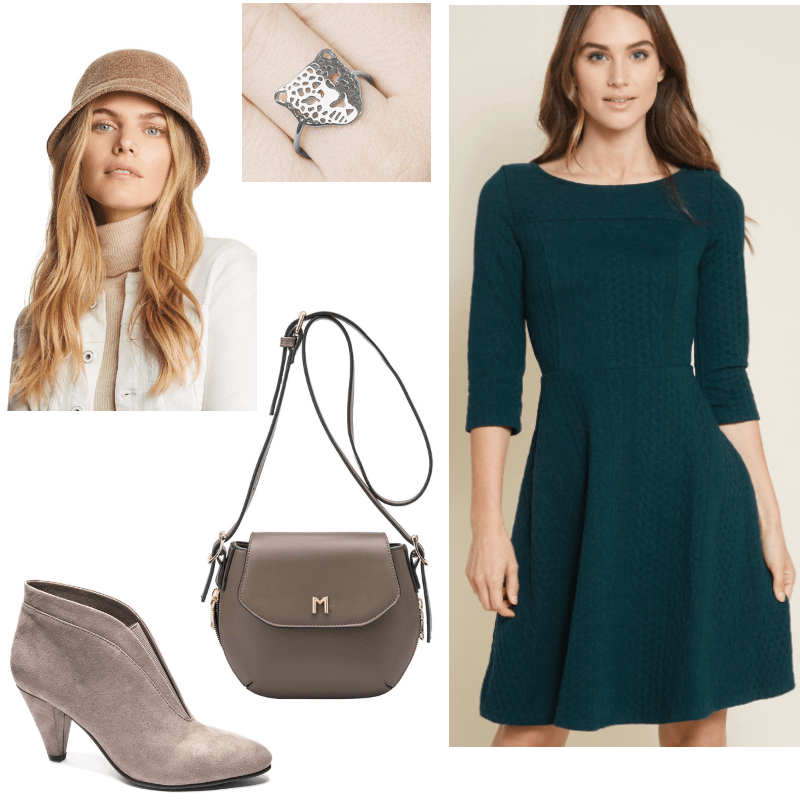 Products: Dress – Modcloth, Hat – Bloomingdale's, Ring – MonRoma via Etsy, Shoes – Francesca's, Bag – Nordstrom Rack
This outfit gives off a very 1930s vibe. The knit dress is conservative yet stylish and the deep teal color is on-trend for autumn. The cloche hat is similar to one Hepburn wears in the film and a practical choice for cold weather.
These booties have an elegant, vintage feel, while a sturdy crossbody bag is perfect for everyday use. Finally, as a nod to Baby, wear a chic leopard ring.
Outfit #2: Menswear Inspired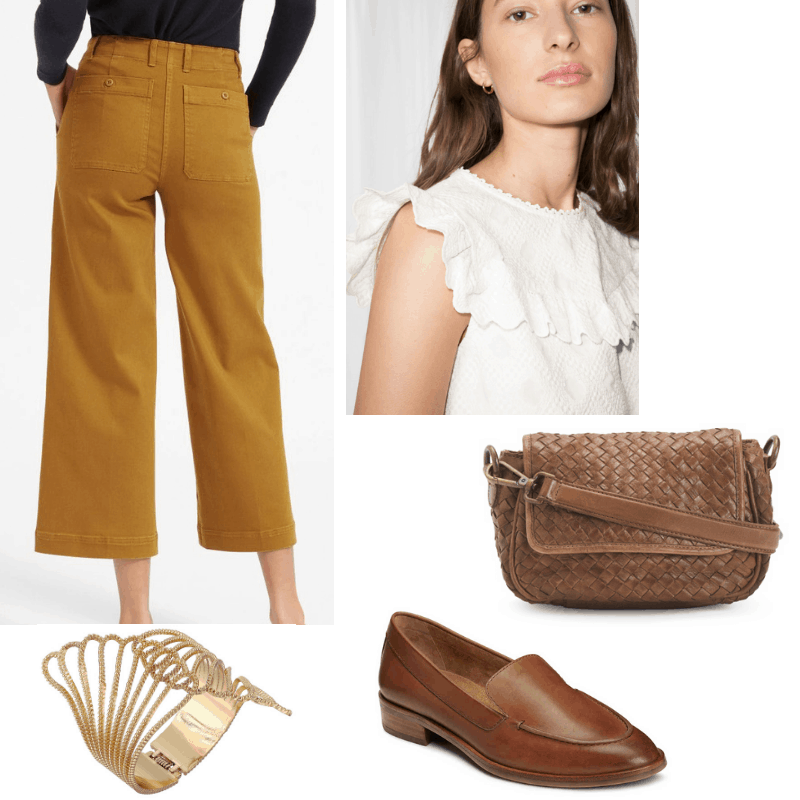 Products: Blouse – & Other Stories, Pants – Everlane, Shoes – DSW, Bag – TJMaxx, Bracelet – GUESS
As we mentioned before, Katharine Hepburn was famous for wearing menswear. At the time, the idea of women wearing pants in a film was very uncommon, but it was rumored that Hepburn used an *ahem* unconventional method to convince the studio to allow her to wear trousers on camera.
This outfit utilizes menswear-inspired pieces that are still tailored for a woman. We love the unconventional neutral hue of these wide-leg trousers. Also, they're high-waisted, so feel free to tuck a ruffled blouse into them for a polished look.
Play up the menswear vibe with a pair of classic loafers and an intricately detailed woven purse. For a touch of '30s glamour, accessorize with a sparkly, fan-shaped cuff bracelet.
Outfit #3: Glamazon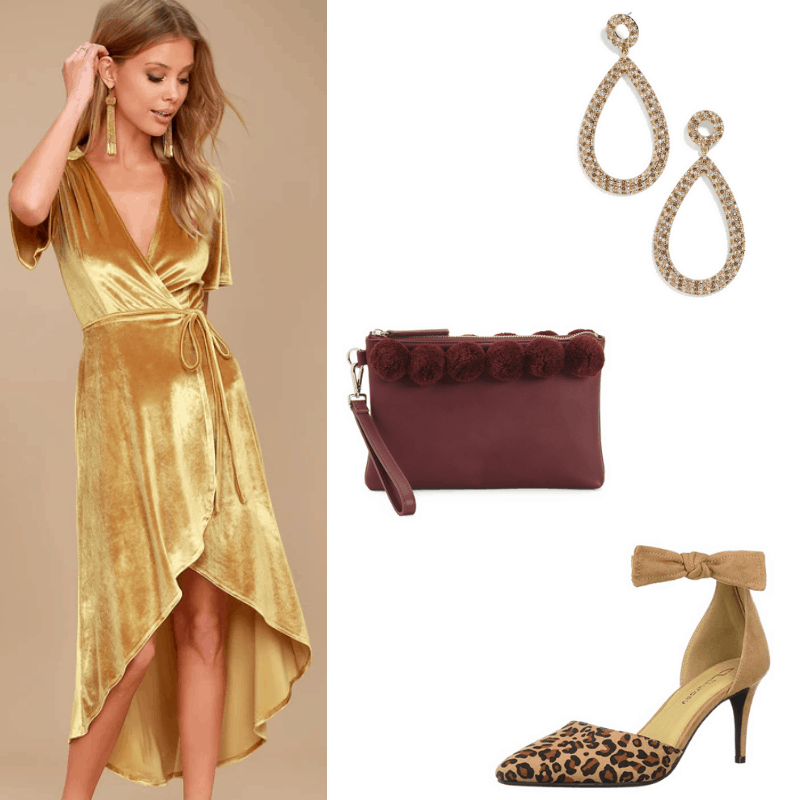 Products: Dress – Lulu's, Shoes – CL by Laundry, Bag – TJMaxx, Earrings – Baublebar
In an iconic scene, Katharine Hepburn's character, Susan, wears a gorgeous floor-length gold lamé gown. For a modern take on that look, we chose this golden velvet wrap dress. It's right-now trendy yet still has a vintage vibe. Plus, it's a perfect pick for any upcoming holiday parties!
A contrasting burgundy clutch and elegant drop earrings continue the glam yet classic look. Leopard print pumps are a fun touch and, again, pay tribute to Baby.
Are you feeling inspired?
Have you ever seen Bringing Up Baby? What do you think of 1930s fashion? Do these outfits capture the essence of the film? Would you wear any of these looks? Leave a comment and let us know!
Editor's note: This post was originally published in 2010; it was completely updated and revamped in 2018 with new photos, outfit sets, and information.