For fans of the show Castle, smart and savvy detective Kate Beckett needs no introduction. For those of you not familiar with the show, here's a little background on this week's style muse:
Kate is a 30-something murder detective from NYC, played by the beautiful Stana Katic. Although she planned to be a lawyer, she switched careers when her mother was murdered in order to track down the killer. Years later, she captured the interest of mystery writerRichard Castle, and became the inspiration for his new heroine, Detective Nikki Heat. Castle has been her crime-solving partner for six seasons now, and much to viewers' delight, they have finally acted on their love for each other. The two (*spoiler alert*) tied the knot this season.
Beckett's style is simply sexy. Her go-to look is a blouse or button-down, jeans or trousers, and an outfit-making coat or jacket. Minimalist chic, she can often be seen in menswear and neutrals, but her favorite color is purple and major stilettos are her signature – even with the most unexpected outfits.
For college girls, KBecks provides awesome inspo for workwear at your next internship, as well as simple yet edgy looks for the weekend. I've put together replicas of three of her staple outfits here, but if you want insider tips on her look, follow Castle costume guru Luke Reichle on Twitter, check out the Castle page on the amazing blog Worn on TV, and turn to CF's Geek Chic column on the show.
Outfit #1: Sleek Bomber Jacket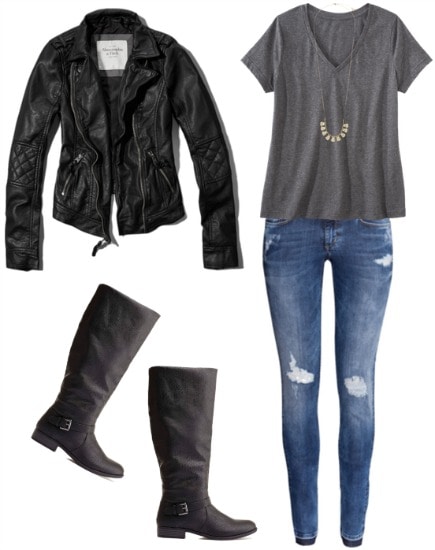 Product Info:  Jacket–Abercrombie, Tee–Target, Jeans–H&M, Boots–Charlotte Russe, Necklace–Accessorize.
Kate's signature look is a cool leather jacket (as a vegan dresser myself, I encourage you to go for a faux option – check out some suggestions here). For a day chasing bad guys or hanging with her hubby, she'll pair it with great-fitting skinnies, a body-skimming tee, and her favorite boots (the look works just as well for chasing an "A" in psych or hanging with friends).
Beckett wears her mother's engagement ring on a string around her neck every day, but unless she's dressing up she's not one for much other jewelry. I think some basic stud earrings or a delicate pendant necklace finish off this outfit nicely.
While the look may not be complicated, and is actually rather familiar, what it makes it a standout for Beckett is how well the pieces fit and how effortless it all seems. Take some time hunting down jeans and a tee that fit so well they go from casual to date-worthy. And if you're an accessory-phile like me, dare to go minimal once in a while with just one simple piece of jewelry – the only accessory you really need with this look is confidence. Of course, Beckett's impossibly perfect waves never hurt.
Outfit #2: Statement Coat and Blouse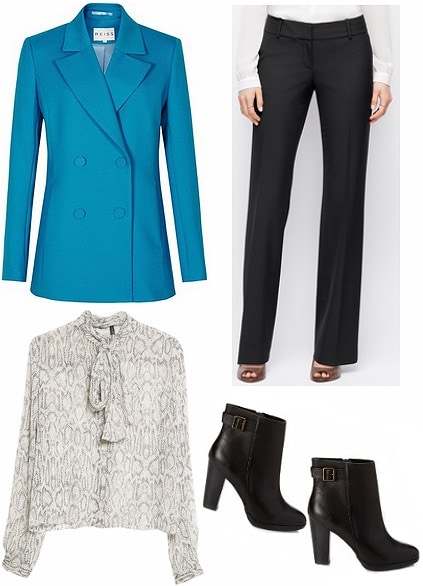 Product Info:  Coat–Reiss, Top–Mango, Pants–Ann Taylor, Booties–Forever 21.
The other staple that takes Beckett's sharp looks to the next level? A statement coat (this one is on super sale right now and is by one of Beckett's fave brands). It's a surefire way to wake up a dreary winter day and a conservative work look.
I love when Beckett rocks a cool printed blouse, and she loves a python print. The high, tie neck on this blouse gives it a feminine and polished twist. Anchored with black pants and booties, it's a super flattering look. Beckett loves sleek, thick-heeled booties like these – they'll leave you feeling ready to take on the world.
Once again, fit is important, so it may take some time to find the perfect black pants. I've had luck at Target, Ann Taylor, Old Navy, and Joe Fresh. Although Beckett loves a classic trouser, a slightly skinnier or straight leg version is a modern twist for teens and twenty-somethings – or for when you want to take the look from work to a party.
Outfit #3: Jean Jacket and Killer Heels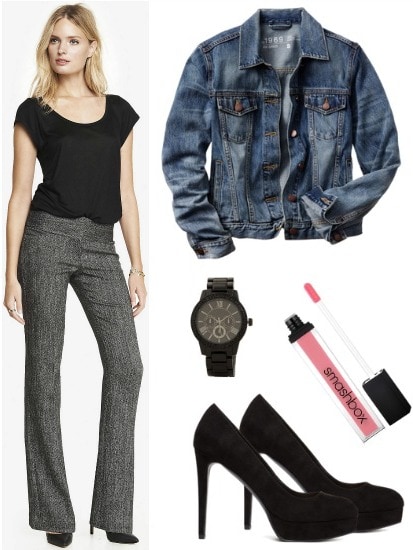 Product Info: Jacket–Gap, Pants–Express, Pumps–Forever 21, Watch–Aldo, Lip Gloss–Sephora.
A cool styling trick I've noticed on Beckett this season is wearing a jean jacket buttoned up all the way, like a top (though I'd recommend a tee or a tank underneath to be comfy). It looks awesomely unexpected with tailored trousers (again, a skinnier cropped pant would be awesome as well).
Beckett would finish off this look with her father's watch, which she wears every day, and some killer heels. The perfect, go-everywhere pumps generally have a little bit of a platform and, depending on your heel height preference/walking abilities, should be about 3-5 inches tall.
These are the Editor pants from Express, which I think should be a go-to destination for anyone looking to replicate Beckett's style for less. They have both chic workwear and sexy going-out dresses that our favorite detective would love, and a great selection of all her staples. Other than their pants, their silky, flattering Portofino button-down comes in all kinds of colors and prints, and their (minus the) leather line boasts the best pleather jackets anywhere (I have three).
What do you think?
Are you Castle fan?  What do you think of KBecks' style? Would you rock any of these looks? How would you put your own twist on them? What's your favorite outfit you've seen Beckett wear? Fangirl with me in the comments.