This post may contain affiliate links, which means we may receive a commission if you purchase through our links. Please
read our full disclosure here
.
A "vegetarian" handbag from animal-friendly designer Stella McCartney | ELLE
For the past five years, I have been a vegetarian shopper and dresser. That means I don't wear fur, leather, or silk, because they come from animals. Many vegan dressers don't wear wool, but I sometimes do so because animals are not killed during its production (Although, as with shopping for any animal product, it is always good to be an informed consumer and consider how the animals were treated.)
When I tell them my decision to shop vegetarian, many people think it's difficult to do so, but I'm here to tell you it's easier than you think – AND it in no way means you are limited to the somewhat frumpy options presented on many vegan shoe websites.
Whether you're looking to reduce the amount of animal products you buy or want to dress totally veg, I've created a guide to finding clothes, bags, and shoes that don't come from animals but are straight-up fabulous.
First Things First: Label-Reading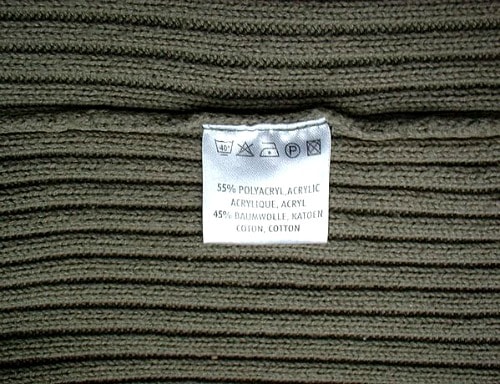 Photo: Wikimedia Commons
I cannot stress enough the importance of reading labels when trying to shop veggie-style. Even if I'm pretty sure something is made of man-made materials, I ALWAYS read the label to make sure.
Here's what to look for:
Jackets (and Other Leather-Look Clothing)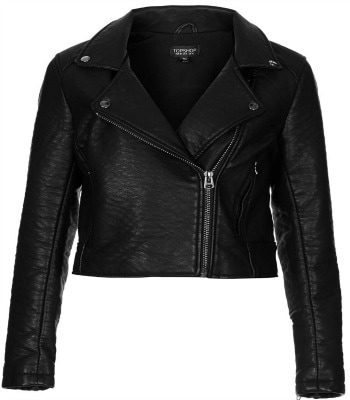 Jacket: Topshop
If you're like me, you absolutely love moto jackets. I'll admit it: there's nothing like a leather-look jacket tossed over a floral dress for class, a party, a date, anything. And, there are awesome, high-quality options out there that are faux.
Here are some brands and stores to find leather-look pieces: (You'll notice that many brands are not always 100% vegetarian friendly – that will be a theme in this post and brings us back to the importance of label reading.)
Shoes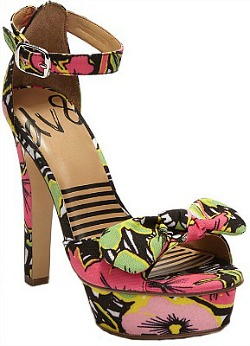 Shoes: DV8 Dolce Vita
Now we get to the extra-fun part: SHOES! I know you love shoes – who doesn't? There are a ton of great shoe options out there that are both vegetarian and fashionista-friendly.
As with jackets, some brands are not exclusively vegetarian, so always check the label (have I mentioned you should check the label?!). This list below only scratches the surface since you can find vegetarian options at almost any reasonably priced boutique or shoe site. You'll also notice that many of these brands are diffusion, or lower-priced, versions of favorite shoe brands.
Here's a list of some of my favorite brands and stores forvegetarian shoes:
Bags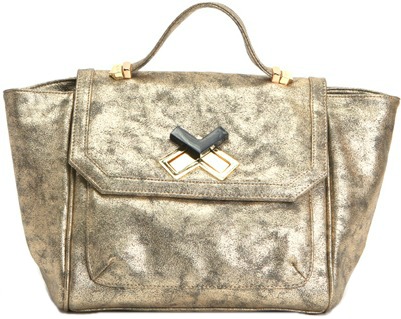 Bag: Deux Lux
Personally, I find that I have even more options when it comes to bags than shoes. A lot of brands that don't make many vegetarian-friendly shoes make all vegetarian-friendly bags, such as Aldo (a personal fave), Steve Madden, and Nine West.
In addition, there are some amazing and affordable vegan bag lines that I drool over constantly. In descending order of price range, my top four stylish vegan bag lines are:
Some other great places to look for vegetarian handbags include:
Silk Alternatives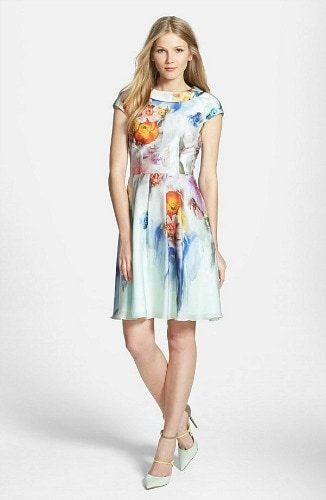 Dress: Ted Baker
Many people who understand that I don't wear leather or fur are surprised when I tell them I don't wear silk either. Most people don't know that silkworms are often boiled alive to make the luxurious fabric. Now, there are other, more humane ways to harvest silk, but frustratingly, it is almost impossible to know what methods a particular brand or designer uses.
For that reason, I avoid buying silk itemsunless they're from a brand I know has a commitment to being eco- and animal-friendly, like Stella McCartney. Luckily, at most college girls' fave shopping destinations, like Forever 21, silk isn't really present because the prices are low (although check the labels at H&M – I've found some silk pieces there), but when you're looking for a special occasion dress, it can become an issue.
Some brands I recommend are Sandro, a really fantastic French label that almost always uses polyester instead of silk, Ted Baker, which does the same, and BCBG, which does have some silk gowns but also many dresses made from other materials. A lot of mid-price prom dress brands use synthetic materials, too.
And what about when you want to splurge on a high-quality piece of casual wear? Just because a brand uses mostly silk in their designs,never give up! Although almost every piece in Equipment and Rebecca Taylor's collections is made of silk, I have a couple pieces in my closet from each that I have found in cotton or acetate. Look for pieces that require a bit more weight or structure, like starched shirts, pants, and a-line skirts, since the designer may have opted for a different fabric.
Designers and Higher-End Brands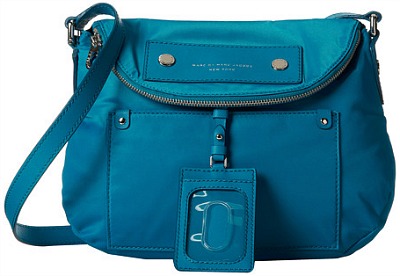 Marc by Marc Jacobs bag: Zappos
Of course, if you're like me, what you really want to splurge on are bags and shoes. Don't think for a second that you can't get amazing designer accessories when shopping vegetarian:
Beauty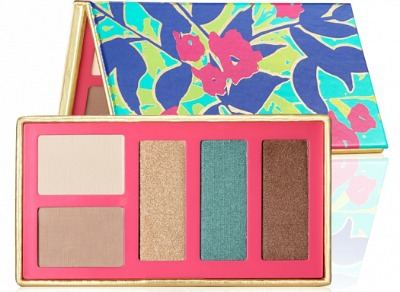 Eyeshadow Palette: Tarte
While tips about finding cosmetics that don't test on animals could fill a whole other post, I feel this article would be incomplete without telling you about my favorite site for learning about which products are and aren't cruelty free. Check out Caring Consumer, where you can look up all kinds of brands and specific products, as well as find lists of companies that do and don't test on animal subjects.
What do you think?
Do you have any remaining questions about shopping vegan/vegetarian? I would love love love to answer them. Anything else you wish I had covered in this post? Want to know where to learn more? Are you interested in looking for clothes and accessories that don't include animal products? Let me know in the comments!