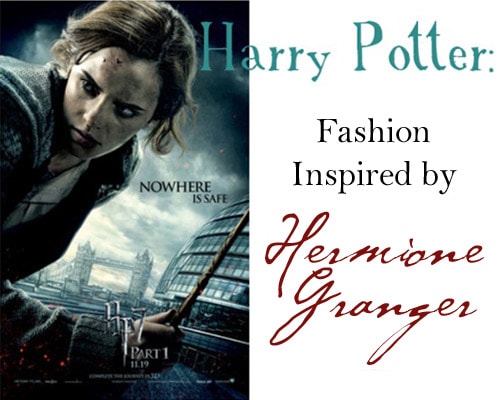 Last weekend, part one of the seventh and final installment of the Harry Potter series hit movie theaters everywhere. Fans lined up for hours to see the latest adventures of Harry Potter and his friends Ron Weasley and Hermione Granger brought to life on the big screen. Now that the trio have left Hogwarts in search of Voldemort's horcruxes, they have shed their wizarding robes and are able to express their style more fully.
With her classic, sensible look, Hermione Granger (played by Emma Watson) proves that fighting evil while camping in the woods is no excuse for sacrificing style. In this post, I've compiled Hermione's fashion from the movie into three looks so you can easily snag her style!
Outfit 1: Classic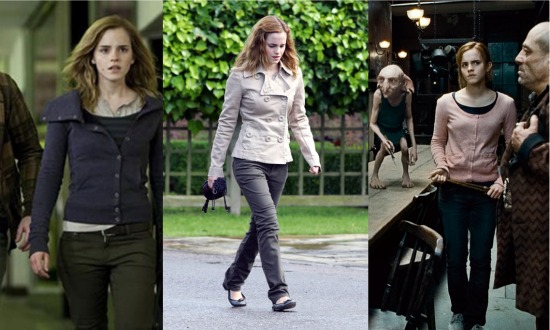 The most important element of Hermione's style is her choice of classic, tailored pieces with a preppy edge. She loves to layer T-shirts, cardigans, and button-downs for an interesting look that will also keep her warm in chilly England. For this outfit, start with a classic pair of pants and black flats and start layering! Then add simple accessories like a brown belt and simple bobby pins for your hair.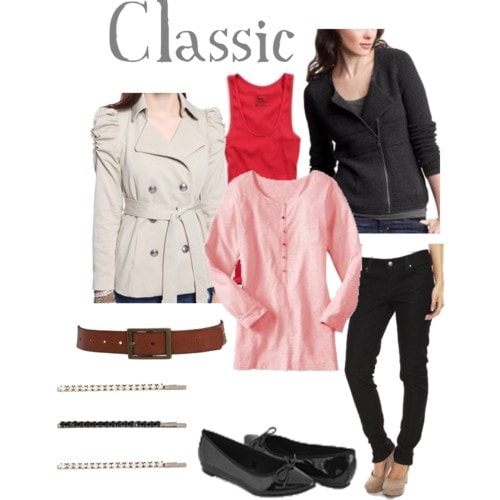 Product Information: Bobby Pins- Forever 21, Belt- Zappos, Trench- Forever 21, Tank- American Eagle, Sweater- Gap, Shirt- Old Navy, Pants- Forever 21, Flats- Forever 21.
Outfit 2: Camping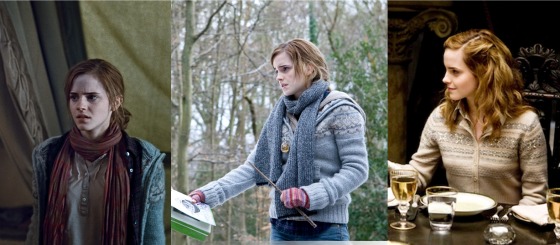 While watching the film, I loved how the characters' outfits changed to correspond with the mood and colors of each scene. While the gang is camping in the woods, Hermione sports many chunky-knit fair isle sweaters and big, comfy scarves. She breaks up the shades of gray and blue in her outfit with rainbow-striped scarves and mittens.
For a similar look, start with an oversize sweater and add winter extras like a knit scarf, gloves, flannel shirt, and tough boots. Don't forget the jewelry – I found this necklace that resembles the horcrux Hermione, Harry, and Ron have to take turns wearing.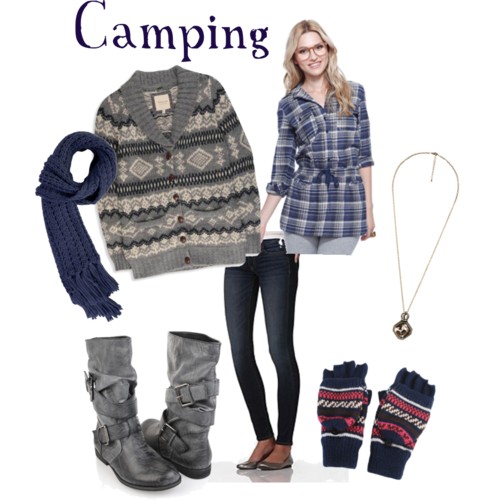 Product Information: Scarf- Forever 21, Boots- Forever 21, Sweater- Forever 21, Jeans- American Eagle, Plaid Shirt- Forever 21, Necklace- Forever 21, Gloves- Forever 21.
Outfit 3: Cozy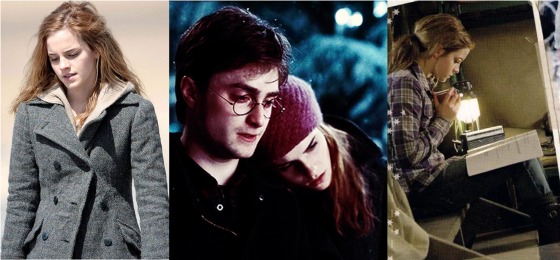 The final element of Hermione's style is the effortless way she throws items together. With a closet (or unending bag) full of basics, Hermione can easily mix and match pieces to create many different looks. Try pairing blue jeans with a tee, sweater, peacoat, beret, and converse for a go-anywhere outfit perfect for a fall day.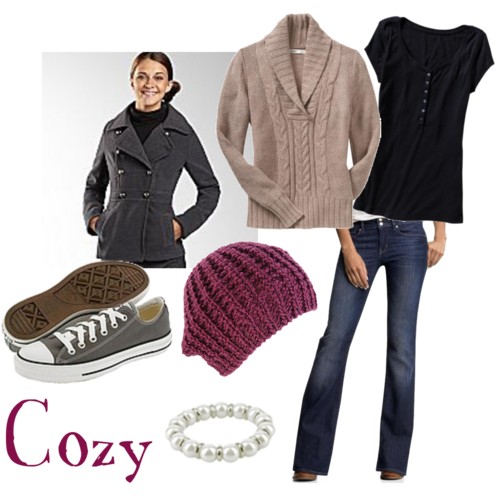 Product Information: Sneakers- Zappos, Coat- JC Penney, Sweater- Old Navy, Shirt- Old Navy, Jeans- Gap, Beret- Forever 21, Bracelet- Forever 21.
Hermione's Beauty and Hair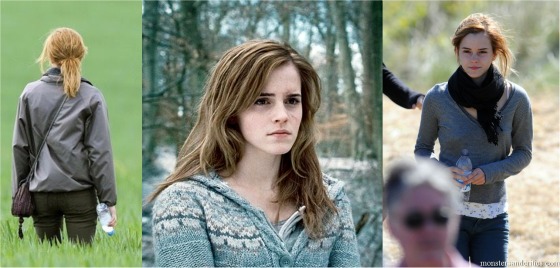 Hermione has a naturally pretty makeup look and embraces the natural texture of her hair. And this makes sense because, let's face it – this girl has way too much going on in her life to worry about applying mascara or curling her hair!
To look put together but still carefree, try a sheer foundation with a neutral eyeshadow. Add a bit of color with a tinted lipbalm, and play up the natural texture of your hair with a curl-sculpting cream. When that's not enough to tame your locks, pull it all back into a messy bun or wavy ponytail with wispy layers framing your face.
Hermione even remembers to bring her perfume while camping (she almost gives their position away because of the scent), so try a light, fruity fragrance like Burberry Brit Sheer, made by the fashion house Emma Watson represented this past year.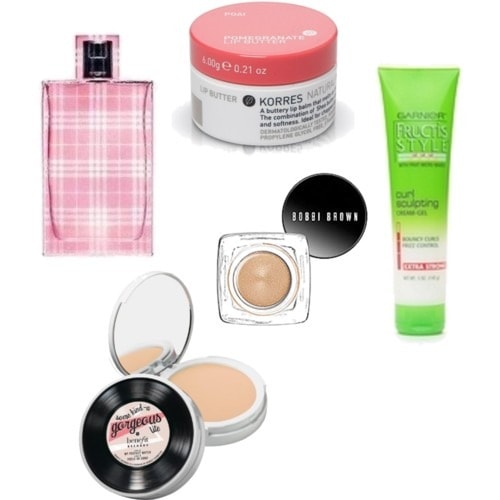 Product Information: Perfume- Amazon, Lip Balm- Asos, Hair Gel- Drugstore.com, Eyeshadow- Sephora, Foundation- Benefit Cosmetics.
Bonus Outfit!: Couture
For Bill and Fleur's wedding, Hermione abandons her wardrobe of neutrals and gets glammed up in a frilly red dress and heels. The actress herself is fearless when it comes to fashion – her chic new pixie cut looked fierce paired with a lacy, feathered dress at the premiere of Harry Potter and the Deathly Hallows.
Get Hermione/Emma's glam look by pairing a red dress with a lacy shawl and floral chiffon accessories, like these clips that can be placed in your hair or used to glam up a plain dress.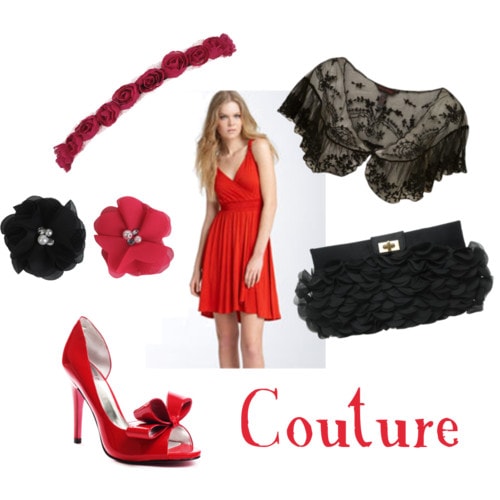 Product Information: Headband- Forever 21, Flower Clips- Forever 21, Heels- Heels.com, Dress- Nordstrom, Shawl- Miss Selfridge, Clutch- Asos.
What do you think?
Are you a Harry Potter fan? Did you see the new movie? What do you think of Hermione/Emma Watson's fashion choices? Let me know in the comments!