The past few weeks, I've been working my way through our original Gossip Girl fashion series to create updated breakdowns of each character's style from Seasons 3 and 4. And while each character has evolved since Seasons 1 and 2, I think it's safe to say that little Jenny Humphrey has had the most dramatic style evolution.
In the first season of Gossip Girl, Taylor Momsen's character was just trying to fit in with the Upper East Side girls she went to school with. Without the funds to wear designer pieces like Blair and Serena, Jenny made her own clothing and did her best to emulate Blair's style on a budget.
In season 2, Jenny transformed her look with some new style choices. The youngest cast member adopted a rocker chic aesthetic, with dark makeup and a choppy hair style – a transformation that marked the start of Jenny's love affair with controversial styles.
Jenny's New Style
These days, the character Jenny Humphrey's style is a slightly toned-down version of Taylor Momsen's real-life style. Little J pushes the envelope with super-short dresses, knee-high boots, fishnet stockings and dramatic makeup. All though some of her choices may be a little too over-the-top for an everyday outfit, her style is definitely inspiring.
Jenny's New Fashion Essentials
Over the past few seasons, Jenny's style has definitely changed, and so have her closet staples. Gone are the days of school uniforms and plaid. In Jenny's wardrobe, bright colors are now practically nonexistent. These days, instead of trying the emulate the affluent community that she went to school with, she uses fashion to rebel against them.
Oversized Sweaters
One of Jenny's favorite go-to pieces is an oversized sweater – usually in a shade of gray or black. A loose sweater is a super versatile piece – wear it with jeans, leggings, tucked into a skirt – the options are endless! Lately Jenny has been a fan of long sweaters worn with fishnet tights and boots (a little scandalous, but sure to garner you some attention).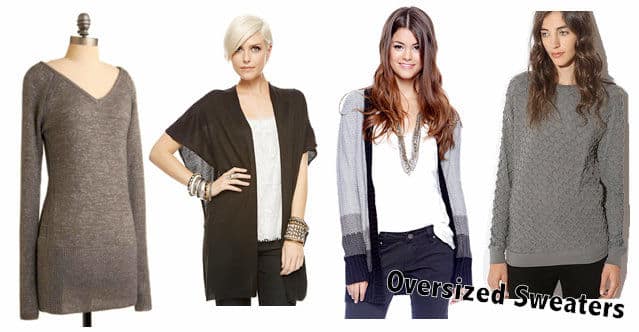 Product Information: ModCloth, Forever 21, Forever 21, Urban Outfitters
Rock n' Roll Touches
A major element of Jenny's style is the rocker accessories and fabrics that she weaves into every outfit. Whether she's rocking zebra print, a tight leather skirt or a biker jacket, her looks always have attitude. These fitted pieces also work perfectly to balance out her oversized cardigans and sweaters.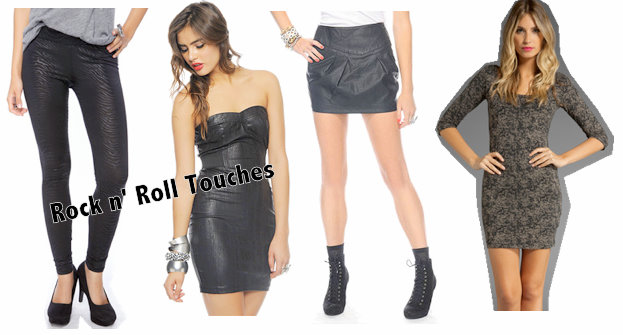 Product Information: Forever 21, Forever 21, Forever 21, Revolve Clothing
Finishing Touches
Accessories are perhaps the most important element of Jenny's scandalous look. She wears dark, subdued clothing – so she uses these "finishing touches" to really attract attention. Jenny's most important accessories are tights, boots and dramatic makeup. She loves to show off her legs with detailed stockings and unique heeled boots, and rocks plenty of black eyeliner at all times. When she isn't dressed up, she is also a fan of flat combat-style boots which really epitomize the rocker look.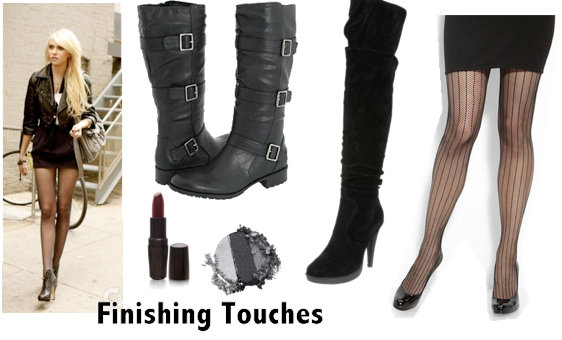 Product Information: Zappos, Endless, Nordstrom
Jenny's New Beauty Routine
Since Season 2, Jenny's hair has undergone a major transformation – from choppy layers to long and straight (and platinum blonde!). Her hair is almost always down with messy waves or crimps towards the ends. Unlike the other Gossip Girls, Jenny doesn't try to look perfect and put-together.
As for her makeup routine, Jenny tends toward the extreme. Below, I've tracked down some great how-to videos to help you get her dramatic look!
Tying it All Together
Jenny Humphrey has gone through a significant style evolution over the last four seasons, as most high school students do! Although her look has become a little scandalous, there's no arguing that she is confident enough to know herself and her style. She's a great inspiration just for her risk-taking attitude alone.
Your thoughts?
What do you think of Jenny's new and old styles? Would you wear the outfits that she's been wearing so far this season? Do you think they're appropriate? Jenny is one the the most controversial stars on the show – I want to hear what you guys think! Be sure to leave a comment.