While it's a truth universally acknowledged that sequels, remakes, and adaptations always run the risk of failure to live up to their predecessors, I rarely feel such conviction in the superiority of the original to flat out refuse to see later productions. (The live-action Avatar: The Last Airbender movie may be the only exception.)
Maybe that's why I was pretty surprised by all of the Internet controversy stirred up by the female re-casting of the Ghostbusters movie. Or perhaps it's just that I'm not a die-hard Ghostbusters fan: I've only seen the original once and while I liked it, I (gasp!) didn't really think it was all that remarkable.
Whatever the reason, I do know that I really enjoyed the new Ghostbusters. (Plus, the spooky opening scene was filmed at the BU Castle, right down the street from where I lived junior year!) Read on for Ghostbusters remake fashion inspiration:
Know Your Geek: Ghostbusters
The movie stars Leslie Jones, Melissa McCarthy, Kate McKinnon, and Kristin Wiig and was directed by Paul Feig. It's a remake of the 1984 movie that starred Dan Aykroyd, Ernie Hudson, Bill Murray, Harold Ramis, Rick Moranis, and Sigourney Weaver.
The plot's pretty simple: a group of 4 paranormal investigators in New York start a business exterminating ghosts. They are known as…..the Ghostbusters.
In New York's darkest hour, the city calls upon the Ghostbusters to save the day. Along the way, they must face terrifying phantoms, incompetent secretaries, critics who believe them to be hoaxes, and unsatisfying soup:wonton ratios.
Outfits Inspired by Ghostbusters
Holtzmann
While all of the cast is hilarious, Kate McKinnon definitely stole the show as the wonderfully bizarre Jillian Holtzmann, a brilliant inventor who supplies the Ghostbusters with their proton packs and other equipment. Her wardrobe is just as eclectic as she is, so don't be afraid to try out some crazy clothing combinations!
Layer a pair of overalls over a striped shirt, then add a slouchy motorcycle jacket. Tie on a paisley scarf and slip on a pair of sneakers or oxfords Don't forget a pair of yellow-tinted sunglasses as an homage to her sold-out spectacles!
Products: Jacket, Top, Overalls, Sunglasses, Sneakers, Earrings, Scarf
The Power of Patty
I also loved Leslie Jones (who's killing it in Rio) as Patty Tolan! Her vibrant personality is well-matched by her wardrobe, which features lots of bright, graphic prints.
Snag Patty's style for yourself by pairing a Ghostbusters tee with a trendy printed bomber jacket. Temper the bold jacket with neutral jeans and fun sneakers. Add a monogram necklace to pay homage to Patty's "Patty" necklace, as well as a pair of hearse-shaped studs to reference the Ghostbusters vehicle.
Products: Jacket, Top, Jeans, Sneakers, Necklace, Earrings
I Ain't Afraid of No Ghosts
It's a pretty exciting moment when we finally see all four Ghostbusters suit up in their gear. While you probably won't be able to get ahold of a proton pack (or an MTA uniform, for that matter), you can channel the team with a fun, casual outfit. Start with a tan shirtdress, then add a pair of sturdy ankle boots and a gray jacket.
Venture into the paranormal with spooky accessories like a skeletal orange clutch and a ghost-emblazoned scarf. Finally, add a pair of ectoplasmic neon-green earrings. Time to bust some ghosts!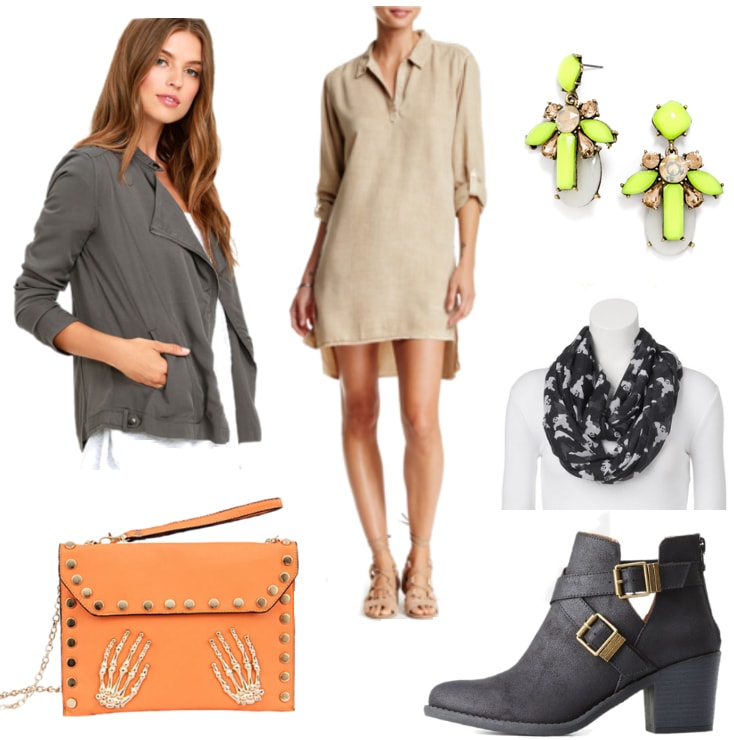 Products: Jacket, Dress, Boots, Earrings, Purse, Scarf
What did you think?
Would you wear these outfits? Did you see Ghostbusters? What other geeky inspirations should we cover next? Let us know in the comments!