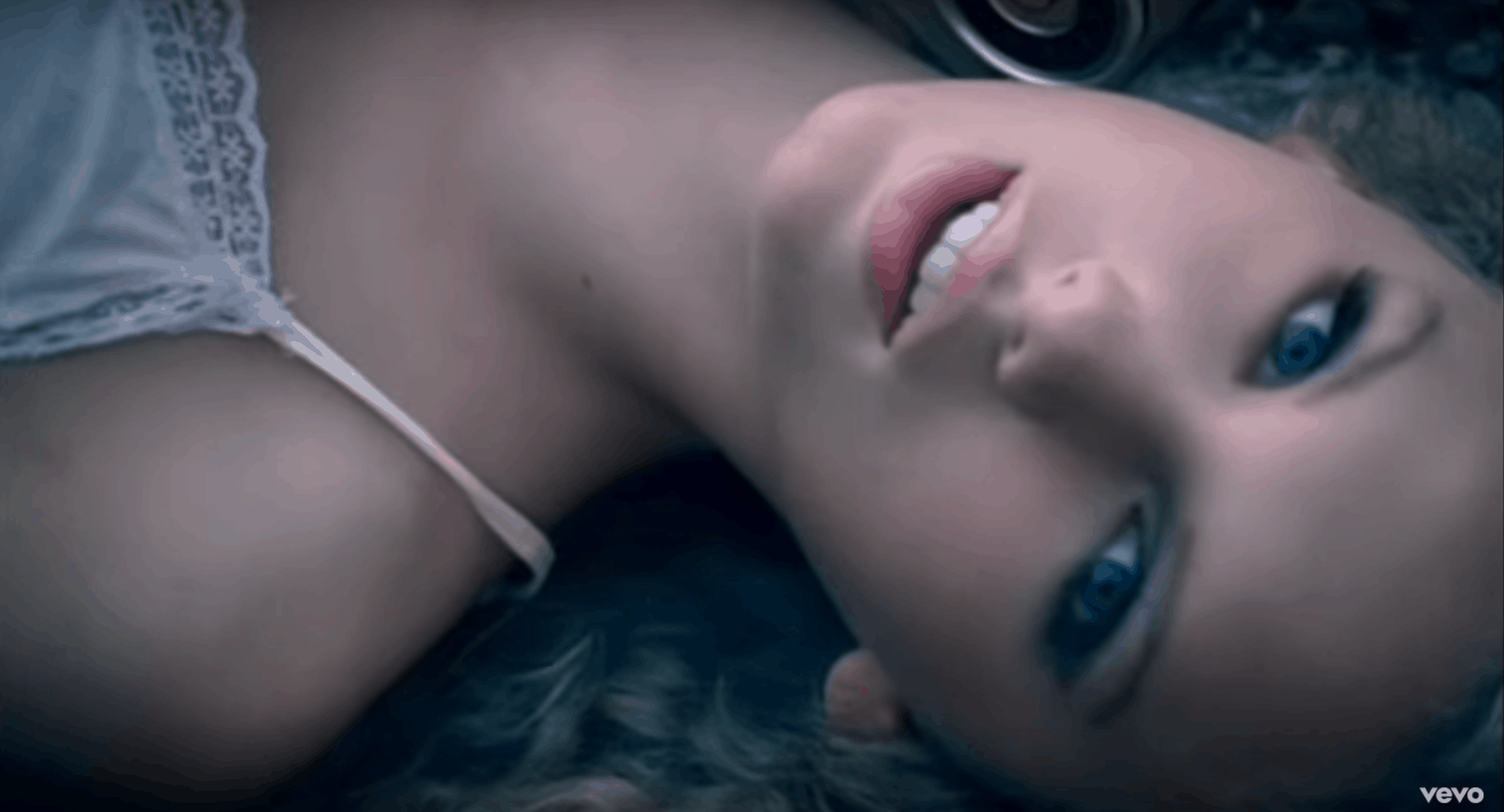 Taylor Swift might be the modern-day queen of catchy pop songs, but it wasn't too long ago that she was just starting out as a young country artist trying to make a name for herself.
"Tim McGraw" is Taylor's first single from her self-titled debut, and its video was the first music video that ever inspired me from a fashion perspective.
It's fun to go back and watch the video now, just to see how much Taylor's musical and personal styles have evolved since the early days of her career. (Also, can you believe that it's already been 11 years since "Tim McGraw" was released?! Time really does fly!)
If you haven't already, take a look at the video below, and then keep scrolling to see the "Tim McGraw"-inspired looks that I've put together.
Taylor Swift - Tim McGraw
Outfit #1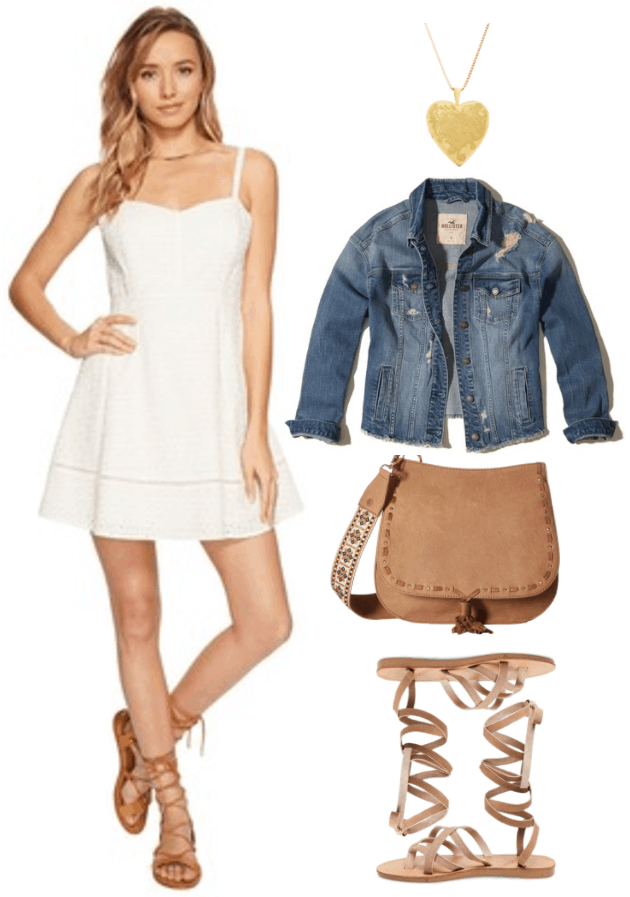 Products: Dress – Zappos.com, Locket – Kohl's, Jacket – Hollister, Cross-Body Bag – Zappos.com, Tie-Up Sandals – Target
This dreamy outfit would be perfect to wear on a date, or even just to class if you're craving a sweet, girly look.
Start by throwing on an adorable eyelet dress that's reminiscent of the one Taylor wears while lying in a field, listening to the radio.
While Taylor doesn't wear any shoes with her dress, they are obviously needed if you intend to do anything besides lay around in a field. These tie-up gladiator sandals do the trick, so put them on, along with a destroyed denim jacket if it's too cold to go out in a sleeveless dress.
I love this cool cross-body bag because of its guitar-strap-inspired handle, which reminds me of the guitar Taylor plays throughout the video.
Lastly, don a heart-shaped locket to add a romantic touch.
Outfit #2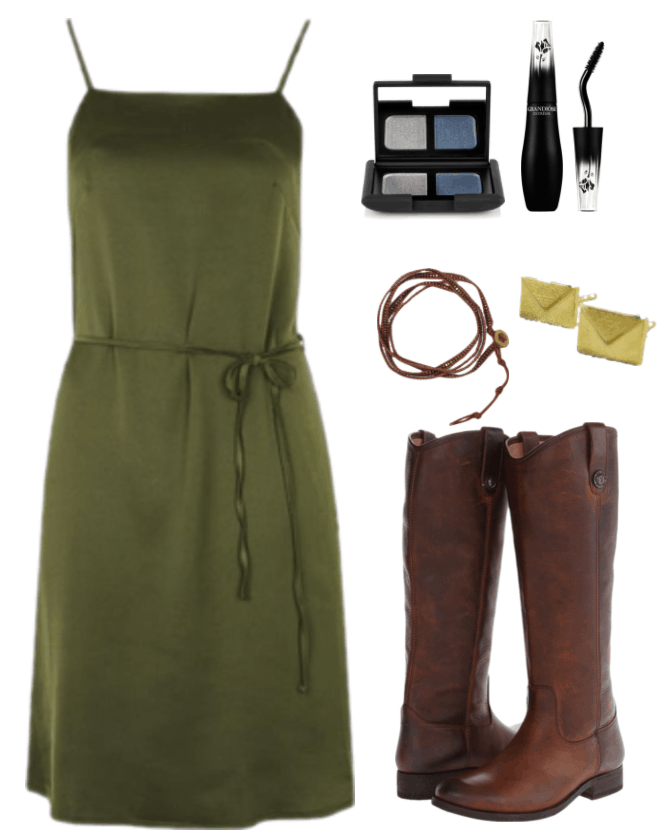 Products: Slip Dress – Topshop, Eyeshadow – Net-A-Porter, Mascara – Bloomingdale's, Bracelet – Club Monaco, Earrings – Notonthehighstreet, Boots – Zappos.com
If want to wear something that is really country, then this is your outfit!
Inspired by the green dress and cowboy boots Taylor wears in the video, this versatile outfit combines a feminine slip dress with tougher-looking cowboy boots for a look that is insanely wearable.
First, put on an olive green slip dress — I love the tie-waist detail on this one. Next, add some knee-high cowboy boots. While these ones are expensive, if you're a country girl at heart (or if you're just looking for a chic pair of boots to complete almost any casual outfit), you're sure to get your money's worth with this classic pair by Frye.
Accessorize with a cool wrap bracelet and a cute pair of envelope stud earrings (which are a reference to the letter that Taylor mentions in the lyrics "Tim McGraw").
Finally, if you really want to get Taylor's "Tim McGraw" video look, create a romantic silvery-blue smokey eye with this shadow duo by Nars, and volumize and lengthen your lashes with a multi-tasking mascara, like this one from Lancôme.
Outfit #3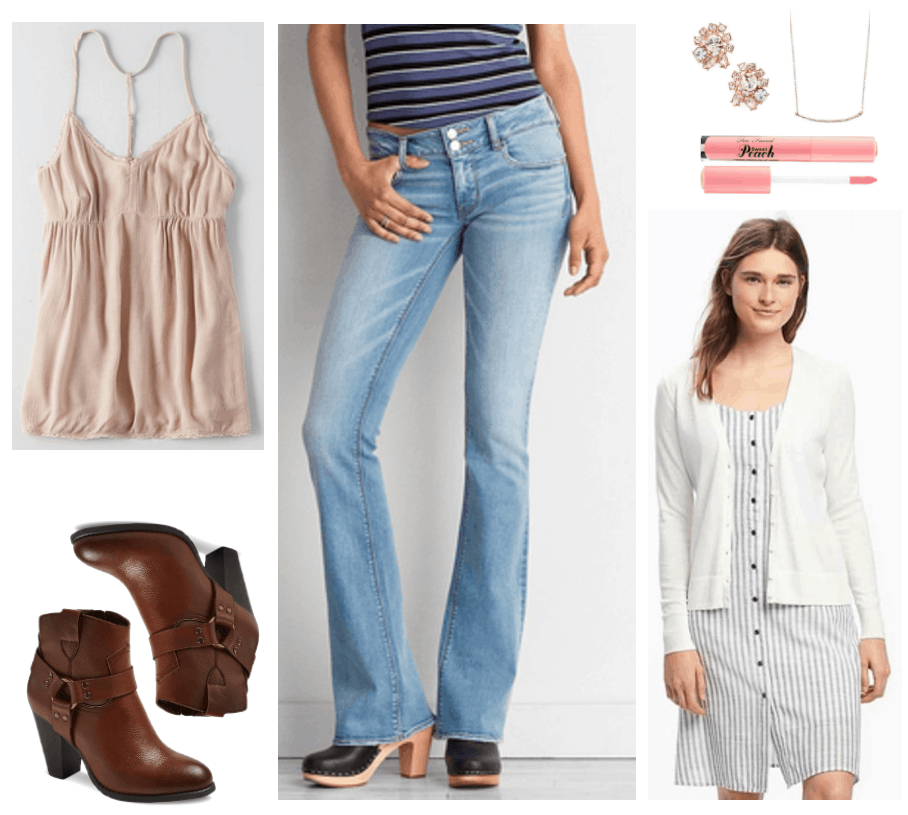 Products: Camisole – American Eagle, Ankle Boots – Target, Jeans – American Eagle, Earrings – Lord & Taylor, Necklace – Nordstrom, Lipgloss – Sephora, Cardigan – Old Navy
While in the field with her on-screen boyfriend, Taylor wears a perfectly casual ensemble consisting of a tank top, flared jeans, and, of course, a pair of cowboy boots.
To get a similar look, pair a blush pink babydoll camisole with light-wash faded flared jeans, and some Western-inspired ankle boots.
A simple cardigan makes a perfect cover-up for chillier days, while these gorgeous peach, pink, and white earrings and dainty rose gold necklace add sparkle to the look.
Swipe on some peachy-pink lipgloss for a natural look — or make it more dramatic by pairing it with the eye makeup from Outfit #2 — and you're ready to go!
Outfit #4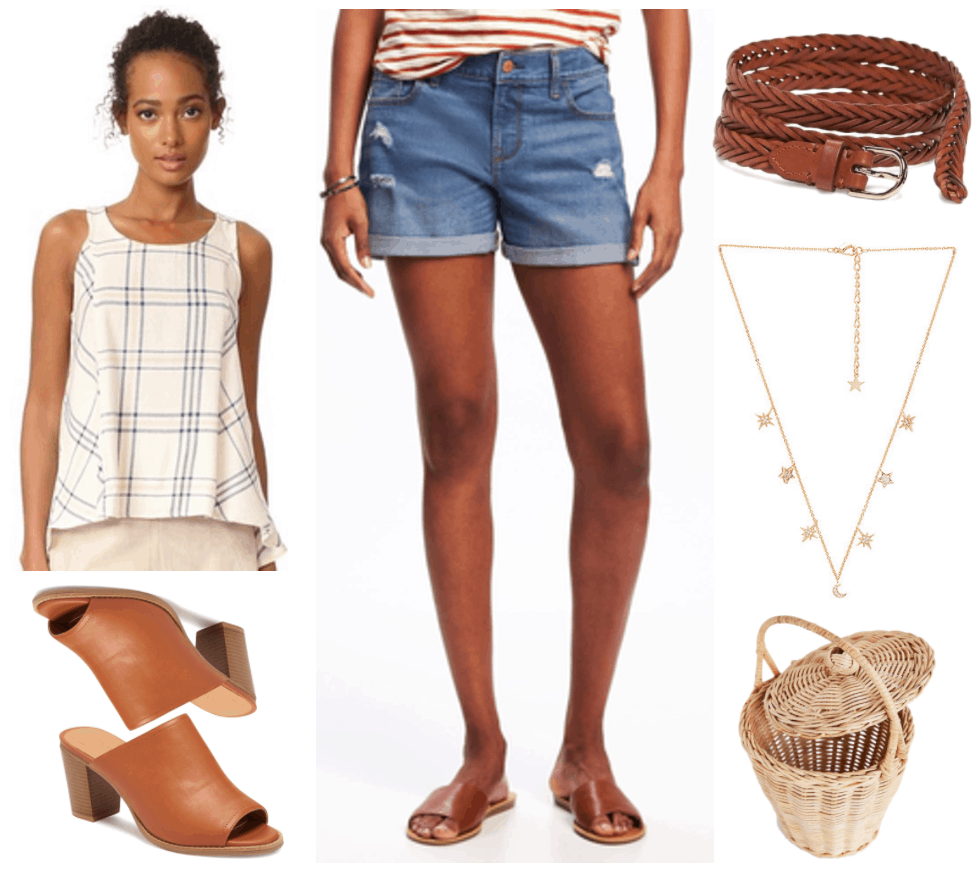 Products: Tank Top – Shopbop, Heeled Open-Toe Mules – Old Navy, Denim Shorts – Old Navy, Necklace – Revolve, Bucket Bag – Urban Outfitters
For the final outfit, I was inspired by the plaid-tank-top-and-jeans combo that Taylor wears while lying with her on-screen boyfriend in the back of his truck. However, I modified it to make it more trendy for Spring 2017.
This breezy plaid tank top will go perfectly with your favorite pair of denim shorts, while a timeless braided belt is a great addition to this casual-chic look. (Note: The tank has a slit in the back, so layer it with a white tank if you're looking to cover up.)
Slip on some of-the-moment mule sandals, and pick up a straw bucket bag for a unique touch.
Put on a beautiful moon-and-star necklace like this one from Revolve to reference the "Georgia stars" that Taylor sings about in "Tim McGraw," and you've got yourself a modern, country-inspired look that will take you through Spring and into Summer.
What do you think?
Which music video should I cover next? Do you like to dress "country"? Are you still a fan of country-era Taylor Swift? Which of Taylor's music video looks is your all-time favorite? Let me know in the comments!