In honor of the 50th anniversary of the Star Trek franchise, the newest installment, Star Trek Beyond, had an outdoor IMAX world premiere a few weeks ago at San Diego Comic-Con. My best friend Jacqueline (she's the one who got me into Star Trek) and I didn't get tickets to the premiere, although we watched the pre-movie fireworks show from our distant hotel room and then tried to lip-read the first five minutes of the film. We were unsuccessful.
We did catch an actual showing last week and I'm so glad we did! For long-time Trek fans, this film feels the most true to "Star Trek" out of the three reboot movies; for casual fans, it's just a ton of fun! (Although there are a couple scenes that made me weep.)
Know Your Geek: About Star Trek Beyond
Star Trek Beyond is directed by Justin Lin and written by Simon Pegg and Doug Jung (who also plays Sulu's husband in the movie!)
The movie stars John Cho, Simon Pegg, Chris Pine, Zachary Quinto, Zoe Saldana, Karl Urban, and Anton Yelchin. It also introduces Idris Elba as Krall and Sofia Boutella as Jaylah.
In Star Trek Beyond, the crew of the USS Enterprise is well into its five year mission. For adventure-loving Captain Kirk, things are getting stale. But be careful what you wish for…
The Enterprise faces a terrifying new enemy, Krall, who is determined to prove that unity is what weakens humanity. (Basically, the exact opposite of the ideals of the Federation.)
Along the way, we meet newcomer Jaylah, an alien who teams up with the crew to fight Krall. She's a savvy engineer and skilled fighter who also has great taste in music.
Outfits Inspired by Jaylah:
While I was a big fan of Michael Kaplan's costume design for the last two movies, I also really liked that Star Trek Beyond costume designer Sanja Hays dressed the crew in uniforms that felt more reminiscent of those from the original series.  Since I've already done several Star Trek posts, though, I decided to focus on the newest and most visually striking character, Jaylah.
Minor spoilers ahead if you haven't seen the movie yet!
Welcome To My House
Jaylah is handy with a staff and lives in the wreckage of an old Federation starship, which she refers to as her "house." While she's initially distrustful of the Starfleet strangers, she quickly brokers an alliance.
Like her, Jaylah's outfit is tough (but also really cool!). Snag her utilitarian layered look for yourself by sticking to a monochromatic palette. A black top, vest, and boots heighten the contrast of the pale gray jeans, while a leather cuff and studded backpack toughen up the ensemble. Finally, a pair of bar-shaped earrings allude to Jaylah's weapon of choice.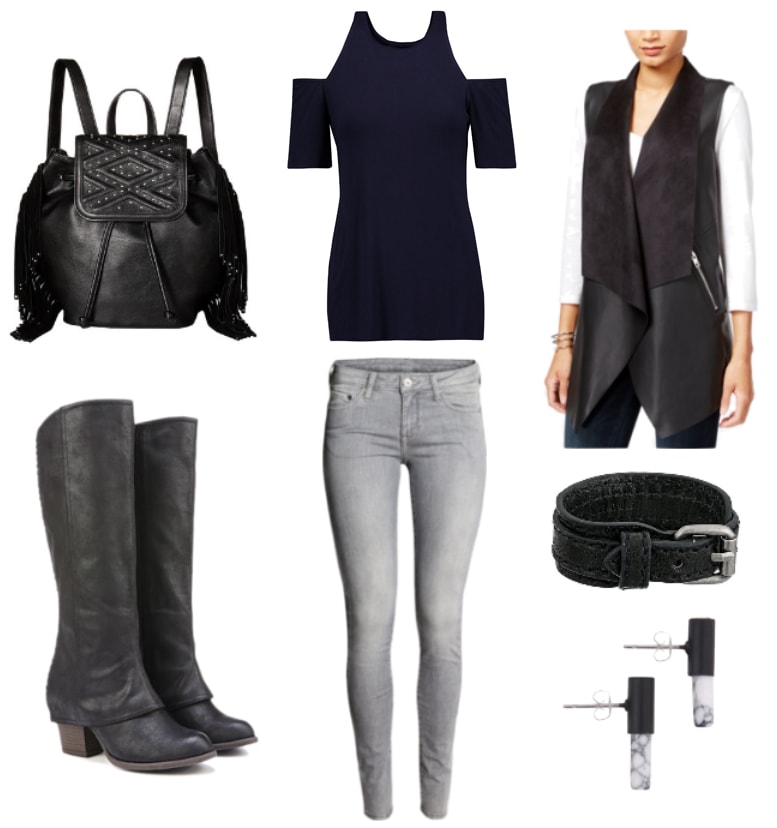 Products: Top, Vest, Jeans, Boots, Earrings, Cuff, Backpack
The Beats and Shouting
To undergo her transformation into Jaylah, Sofia Boutella had to sit in the makeup chair for 5 hours each day. It'll take much less time than that to put on an ensemble inspired by the geometric design of Jaylah's makeup.
Start with a graphic black-and-white dress, then add a pair of heels and a sleek tuxedo blazer. Accessorize with a metallic clutch and gleaming earrings reminiscent of Jaylah's eyes. Finally, try out a two-tone cat-eye with this black and white set. Perfect for a night spent dancing to your favorite music (aka the beats and the shouting!).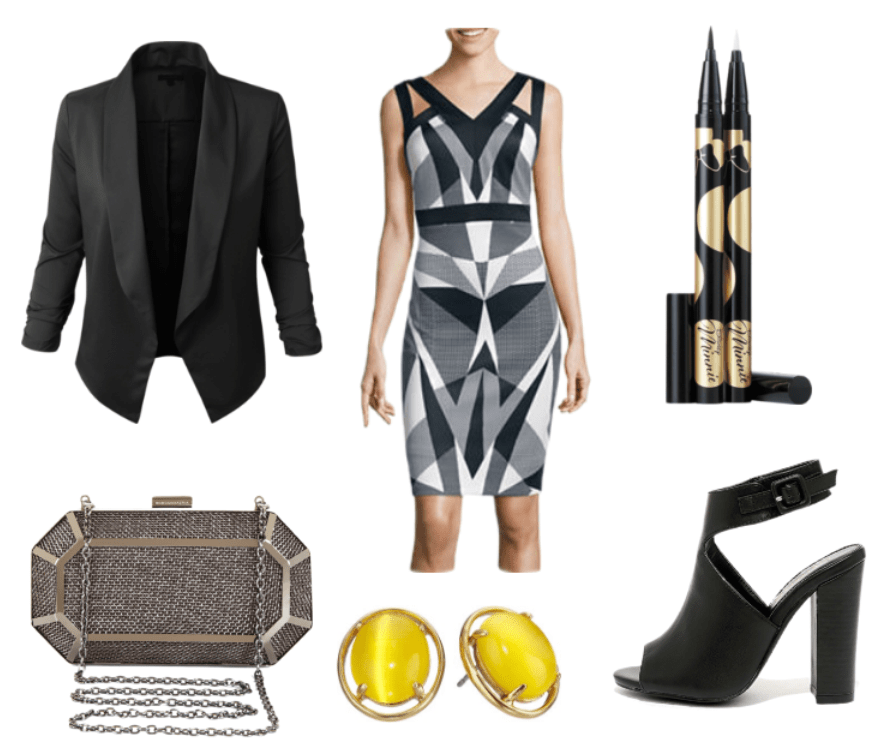 Products: Jacket, Dress, Heels, Clutch, Eyeliner Set, Earrings
Will I Have To Wear the Shirt?
At the end of the movie, we get to see the whole crew, along with Jaylah, in civilian clothing. I couldn't find a good photo of the scene, but Jaylah's outfit was on point.
I've put together a similar look: it's essentially a softer, toned-down version of her battle gear in a pale neutral palette. It's also a great fall outfit! Slip on a taupe waterfall jacket over a heathered tank and white jeans. Wedge ankle boots and a studded messenger bag add an edge to the outfit, while Starfleet earrings allude to Jaylah's future.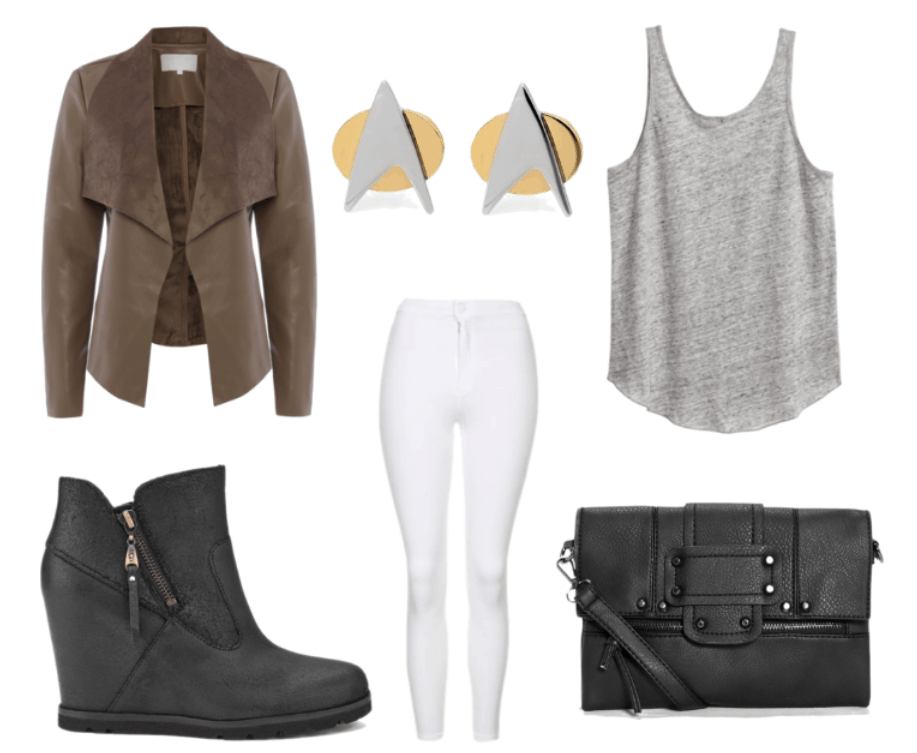 Products: Jacket, Top, Jeans, Boots, Earrings, Bag
What did you think?
Would you wear these outfits? Have you seen Star Trek Beyond? Did you love Jaylah as much as I did? Let us know in the comments!