As the weather starts to heat up, why not try rocking a cooler color palette? Our last Fashion Inspired by Art post leaned towards warmer, bolder colors, so if you're a fan of the cooler end of the color spectrum, this post is for you!
This week's Fashion Inspired by Art features "Asagao-zu Byoubu" ("Morning Glories") by Suzuki Kiitsu, a Japanese painter from the Edo era.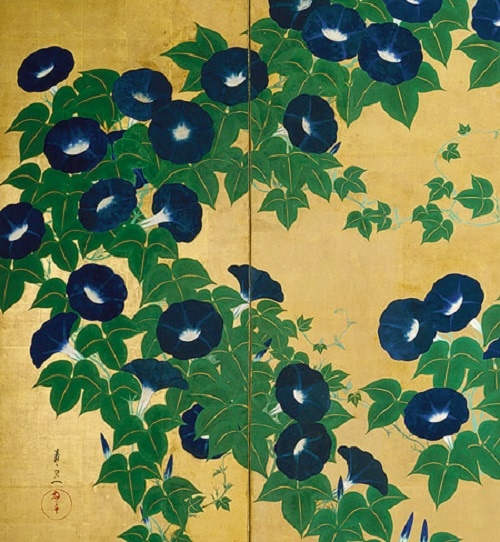 Suzuki Kiitsu's "Asagao-zu Byoubu" (Edo period, 1615–1868) via Wikimedia Commons. (Full version.)
Read on to learn more about Kiitsu, and to see three outfits inspired by his floral painting.
About Suzuki Kiitsu
Suzuki Kiitsu (1796-1858) is known as a painter from the latter Edo period, and studied the art of painting with Sakai Hoitsu.
Kiitsu was known for his techniques of employing bright colors – especially bright blue – and defined outlines. He is often regarded as a pioneer of modern Japanese painting styles, and he drew great influence from the style of textile design.
His painting, "Asagao-zu Byoubu," emphasizes the abundance of morning glories by omitting a specific background and setting. In this vein, I wanted to put together a series of outfits focusing on shades of blue and green.
Outfits Inspired by Suzuki Kiitsu's "Asagao-zu Byoubu"
Spring Blues (and Greens!)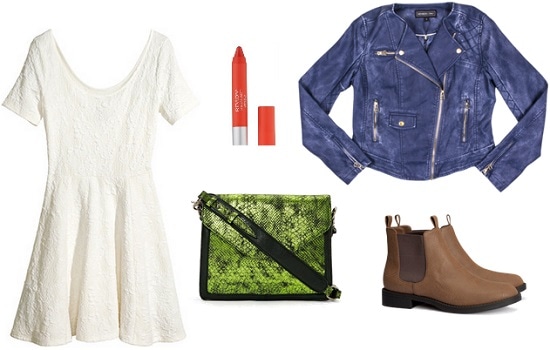 Dress, Lip Color, Bag, Boots, Jacket
Outfit one is perfect for checking out that hip new cafe by campus. You'll definitely make an entrance with this chic interpretation of the trendy moto jacket!
A flowy white dress balances the colorful structured bag and unique outerwear. If you want a sleeker look, try a bodycon dress. Though the frock might be on the fancier side, these brown Chelsea boots add a casual touch to even the most delicate of fabrics.
Lastly, add a pop of warm color with a coral lip. It'll look great on your nails, too!
Pastel Punch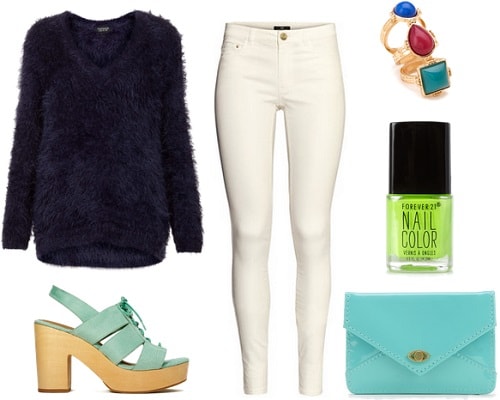 Sweater, Shoes, Pants, Rings, Nail Color, Wallet
Who says you can't be bold with pastels and light colors? White trousers are just as versatile as black pants, but the former stands out better against a textured sweater. Plus, the white ties the pastel shades together so nicely!
To channel the background in Kiiitsu's painting, I included pieces with neutral accents, such as the wood of the shoes, and subtle gold on the bag and rings. Just like the background in "Asagao-zu Byoubu," they help bring out the vibrant colors.
Not a fan of lime green nail polish? Try Essie's "Navigate Her" – it's a lovely soft green. And if jewelry's what you want to play up, swap out the small rings for a large jade ring. Better yet, rock both!
Office Blossom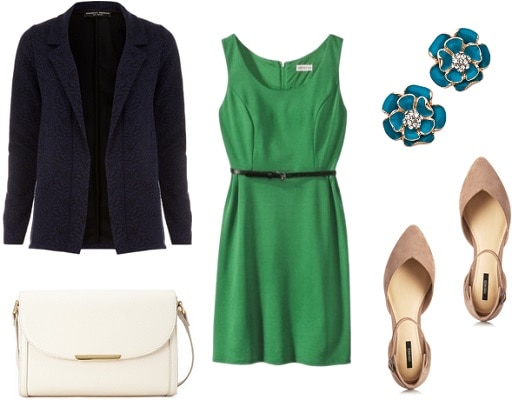 Blazer, Bag, Dress, Earrings, Shoes
If you want to look both fresh and elegant for spring, try wearing classic pieces in fun colors, like this green dress. It's a playful spin on formal, structured business wear, and it'll definitely make the morning commute a lot brighter!
The beige pointed-toe shoes are a cute alternative to your go-to loafers or ballet flats. Yet sometimes, small details – like the floral earrings and the rose pattern on the blazer (take a closer look!) – are all it takes to update your everyday look.
Another way to instantly change things up is by pairing your outfit with a white accessory, such as this bag. If you need more room for your things, try out a tote.
Craving more accessories? Put on a gold necklace to wear with the green dress – gold and green make for a great combination.
Final Thoughts:
When someone mentions "spring fashion," I immediately think of the pastels and floral patterns currently sweeping every rack of every store.
However, upon seeing Kiitsu's painting of morning glories – and the deep blues and rich greens it includes – it reminded me that not all spring garments have to be especially warm or bright.
Since colors like blue and green are on the cool end of the color spectrum, wearing cool colors in varying intensities is a more subtle way of easing into spring fashion fever than, say, wearing neon yellow or bright red. Give it a try and see what new looks you can come up with!
What do you think?
What are you favorite ways to wear cooler colors like blue and green? Has Kiitsu's work inspired you to try out anything new with your wardrobe? Which of these three outfits do you like the most?I'd love to hear your input in the comments section below!