Red and black is a color combination as daring as it is timeless. This duo made multiple appearances during Fashion Week, both on the runway and within its audience. Be it street style, work wear, or on the red carpet, this is a pairing that's here to stay!
When you throw in colors of the same family – such as white, pink, and grey – into the palette, you have even more outfit possibilities at your disposal. This week's Fashion Inspired by Art features Lyubov Popova's "Painterly architectonic au MoMA", a geometric painting sporting all of the aforementioned shades.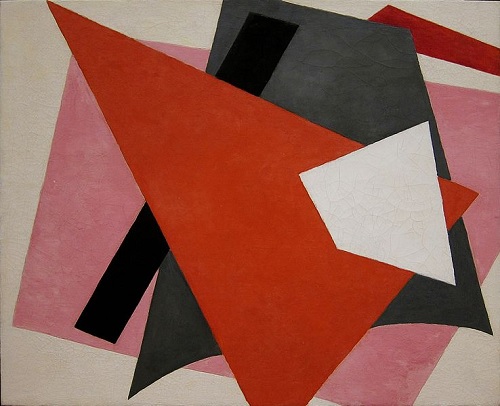 Lyubov Popova's "Painterly architectonic au MoMA" (1917) via Wikimedia Commons
Read on to learn more about Popova, and to see three outfits inspired by the color palette used in her painting.
About Lyubov Popova
Lyubov Popova was born on April 24, 1889 in Ivanovskoe, Russia. She was known for painting and designing works within various art disciplines, such as Cubism, Suprematism, and Constructivism. Popova's interest in art started at an early age, and she began taking lessons at the age of eleven. By eighteen she was studying with Impressionist painter Stanislav Zhukovsky.
She explored multiple art movements, such as Cubo-Futurism, abstract art, and avant-garde compositions. By blending together styles of distinct art traditions, her style approached what she came to refer to as painterly architectonics.
Popova died of scarlet fever on May 23 1924, and an exhibition of her work opened in Moscow later that year.
With Popova's experience in a wide breadth of art styles, and with the versatility of the red and black color combination, her "Painterly acrhitectonic au MoMA" serves as great grounds to draw fashion inspiration from.
Outfits Inspired by Lyubov Popova's "Painterly Architectonic au MoMA"
Radiant Retro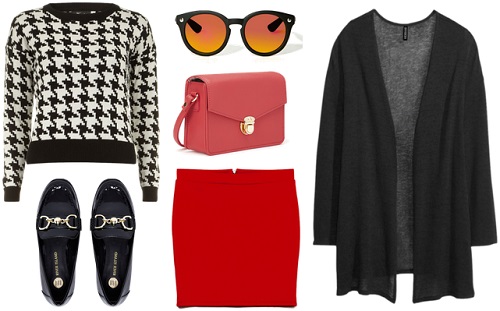 Sweater, Loafers, Sunglasses, Bag, Skirt, Cardigan
Whether you're more '60s mod, '70s glam rock, or '80s punk, red and black has made its appearances over the decades and continues to seamlessly blend into modern trends. The houndstooth sweater is a nod to eras past, but still channels current fashion forecasts. Pair the black-and-white top with a bright red miniskirt and pink purse to add pep to your outfit.
If you want to play up your retro look for that walk across campus, swap the black loafers for a white pair, or try some white boots. They'll provide great contrast against the cardigan and dark-rimmed sunglasses.
Boots, Brights, and Bands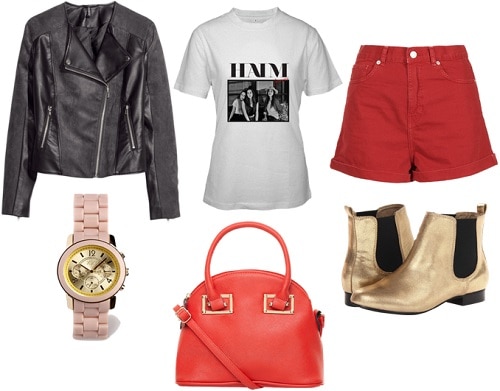 Jacket, Watch, Shirt, Bag, Shorts, Boots
Pumped up for that upcoming concert or music festival? Red and black are classics in the music scene.
Sure, leather jackets and denim never quite go out of style, but why not add a twist and opt for colorful denim? Pairing red high-waisted shorts with a biker jacket will have you hitting all the right notes. Plus, it'll match your bag! With all that bold color, you might just catch the lead singer's eye…
Don't want to be late for the next gig? These metallic gold Chelsea boots will get you to your next destination in style, while this cute watch will help you keep track of the time – you're going to want to save your phone's battery to take photos of (hopefully with!) the band later. Amp up your peace sign selfies with eye-catching silver nail polish.
Evenings in Elegance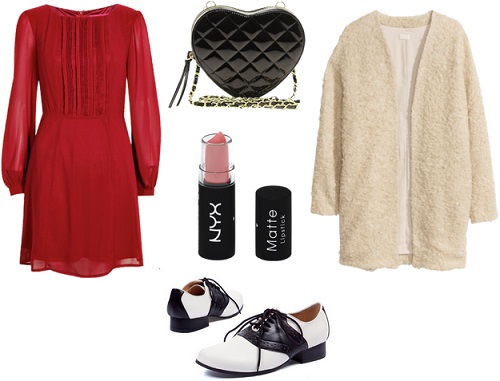 Dress, Bag, Lipstick, Shoes, Cardigan
For those who enjoy romantic looks, this last outfit set is for you. Red and black can be just as sweet as it is fierce! This little red dress is perfect for a nice dinner with your friends or special someone, and the heart-shaped bag adds extra charm for a wonderful evening. You can also take luxury to the next level and wear a red velvet dress instead.
If you're going to be walking to your destination, add some black tights or thigh highs to stay warm. The white of the saddle shoes will stand out alongside the dark fabric.
Want something a bit edgier than the playful pink lipstick? Swipe on a wine red shade.
Final Thoughts:
Red and black pieces have stayed in my wardrobe throughout the fashion phases I've gone through. The combination is capable of a multitude of looks and moods. Whether I feel like channeling those I watched on TV the night before, dressing for a fancy event, or referencing my favorite musicians, I never tire of wearing red and black together.
Pastels may be big this season, but when it comes to bold color pairings such as this, this partnership is year-round. Check out more of Popova's works, and surf through red and black fashion on Pinterest for more ideas!
What do you think?
What's your favorite way to wear the red and black color combo? Does Popova's painting inspire you to try out new looks? Which of these three outfits do you like best? I'd love to hear your input in the comments below!