I know what you're thinking: Florals? For summer? Groundbreaking. But think about how striking a floaty floral dress looks with a leather jacket or vest, or how cool a girl looks pairing a flowery shirt with combat boots. (I'm looking at you, Miley…)
This Fashion Inspired by Art post – based on "Still Life of Flowers, 1710" by Rachel Ruysch – will show you how to create edgy, summer-appropriate looks with a feminine twist, using accessories inspired by bugs, bones, butterflies, and other aspects of the natural world.
Rachel Ruysch is not your average flower painter. I've seen one of Ruysch's paintings at the Detroit Institute of Arts; it was breathtaking. Not only was each flower was painstakingly detailed and richly colored, but for every beautiful bloom there was a flower with a broken stem, or a delicate-winged moth, or the dark, shiny shell of a beetle.
Ruysch's compositions are all about contrast and truth: the natural state of flowers, some decaying, some broken, some covered in bugs, but still beautiful and captivating.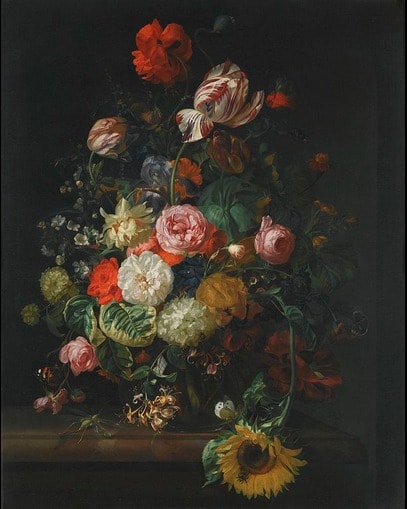 Rachel Ruysch's "Still Life of Flowers, 1710" (1710) via Wikimedia Commons (Click image to enlarge.)
About Rachel Ruysch
Born in 1664 in the Netherlands, Ruysch was one of the first female Dutch artists to achieve international recognition, and is still known today as one of the masters of flower painting from the Dutch Golden Age. Her father, a professor of botany and anatomy at the University of Amsterdam, fostered Ruysch's interest in insects and exotic flowers by allowing her to assist in the preparation and display of his specimens when she was young.
In a time when women were rarely allowed to learn painting unless they were taught by male family members, Ruysch was apprenticed to the still-life artist Willem Van Aelst in 1679. Ruysch's dynamic compositions of exotic flowers in bright colors, combined with fauna like beetles, bees, snakes, salamanders, and other creepy-crawlies, as well as flowers with broken stems or blooms in various states of decay, quickly earned her a reputation as a talented artist.
Ruysch and her husband, the portraitist Joriaen Pool, enjoyed much commercial success in Amsterdam, where Ruysch's considerable social circle and skill allowed her to sell her paintings despite a guild restriction that banned women from selling their paintings. They joined the painter's guild in The Hague in 1701, and in 1708 were both named painters to the court of Johann Wilhelm von Phalz-Neuberg in Düsseldorf. Ruysch and her husband raised ten children together, and she continued to paint until her death at the age of 83.
It is important to note that, during this time, women were not allowed to work with the male form or nude models as male artists were; this kept women from many subjects, such as historical and mythological painting, that would have allowed them to explore loftier concepts and ideas with their art.
Though it is unclear if Ruysch intended for her paintings to have symbolic or moral interpretations, some feminist interpretations of her work suggest that the unorthodox inclusion of insects, reptiles, and flowers in decay was the artist's way of accessing subjects that were barred from her as a woman: the exploration of death and decay; the true, wild, chaotic state of nature; the subversion of beauty and the feminine ideal.
Outfits Inspired by "Still Life of Flowers, 1710"
Nature and Chaos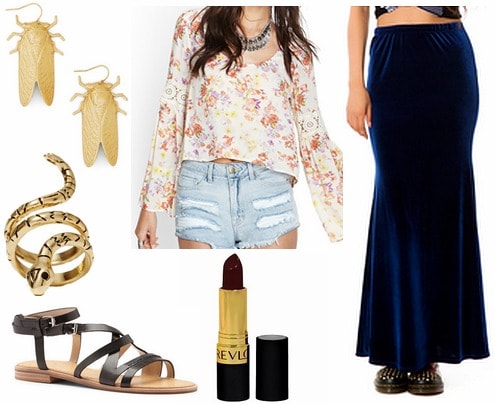 Earrings, Blouse, Skirt, Ring, Sandals, Lipstick
Start with your floral base – this cropped, bell-sleeved blouse is perfectly sweet and summery, with it's creamy crochet accents and feminine color scheme. Paired with a dark, midnight-blue velvet maxi skirt (which mirrors the dark, velvety background of Ruysch's painting) and black sandals, it becomes both edgy and free-spirited.
Gold or rose-gold jewelry glams up snake and cicada motifs, but if you wanted to take it even further, you could accessorize with jewelry made from natural materials, like porcupine quills or shark teeth. Wear with a dark red lipstick and, if you're having a frizzy hair day, a glam hat.
Feminine and Subversive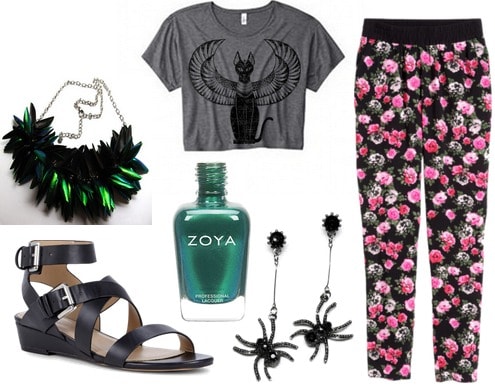 Necklace, Shirt, Pants, Sandals, Nail Polish, Earrings
This outfit is comfy, stylish, and perfect for your summer art history lecture. The bright pink and black print of these floral pants is bold, but also cool and feminine, thanks to their slouchy silhouette and high waist. Add a soft, cropped t-shirt and black sandals to keep with the flirty, cool-girl feel.
This outfit's edge truly comes from its accessories – a bold statement necklace made of beetle wings (!!!) adds a metallic pop of color that complements the pink flowers in the pants beautifully, and EVERYONE will want to know where you got it. An iridescent green on your toes mirrors the necklace nicely, and spider earrings (or these gorgeous butterfly earrings!) are another unique touch that would look great with a no-fuss top knot or a ponytail.
Not into wearing beetle wings? (Aww, why not?) Green feathers would work fabulously, too. Can't bear the thought of wearing pants in the summer? Try these adorable floral tap shorts.
Death and Decay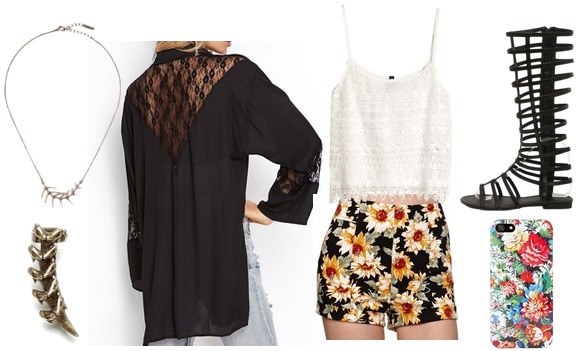 Necklace, Kimono, Top, Sandals, Ear Cuff, Shorts, iPhone Case
These cheerful sunflower shorts remind me of the sunflower with the broken stem in the painting, and when paired with the bright, graphic blooms on the iPhone case, the combination of colors and shapes perfectly evokes the painting's atmosphere. (Or you could get an iPhone case of a Ruysch painting, just saying…) Pair the shorts with an airy, lacy top, a black kimono, and strappy gladiator sandals for a look that's comfy, casual, and just a little bit sexy.
Oxidized brass accessories shaped like bones and teeth really elevate this look from sweet and comfy to edgy and fashion-forward, and you can wear these trendy ear cuffs even if you don't have pierced ears. This outfit would look fab at a party, a music festival, or just out running errands.
Final Thoughts
Like stripes and polka dots, florals are a classic print that never goes out of style. However, we see so many iterations of them on the runway and in stores, it can be really hard to make them seem fresh and interesting! This is why I think accessories are so important.
They really do make or break your outfit, and can help you bring something from one season into another. I believe accessories are worth investing a little in if you know you're going to wear them enough to make it worth it.
Of course, while accessories made of bones, bugs, and porcupine quills have been popular for a few seasons now, who knows how long they'll stay on trend? If the lasting power of Ruysch's paintings is any indicator of our collective interest in all things creepy, weird, and beautiful, they might be around for quite a while…
What do you think?
What do you think of Ruysch's paintings? Are you a fan of the accessories in this post? What do you think is more important in art – the artist's intentions, or the viewer's interpretation? Let me know in the comments below!