When we talk about wardrobe must-haves, what do you think of? A white button-down? A black blazer? A pair of dark blue skinny jeans? All of these pieces are great basics to build a wardrobe around, but I would like to humbly suggest we make an addition to this ubiquitous list – the floral maxi dress.
Maxi dresses aren't going away – they've been a spring and summer fashion staple for years now, and we've been seeing floral maxi dresses on the runways for several seasons that run the gamut from dainty to gothic. They're comfortable, highly versatile, and make getting ready in the morning easy; the only issue is, they're not exactly warm.
Whether you're dying to wear a new purchase or just want to pull out that old dress you love, let me show you how to wear a maxi dress now and later using Lawrence Alma-Tadema's "The Roses of Heliogabalus" as inspiration: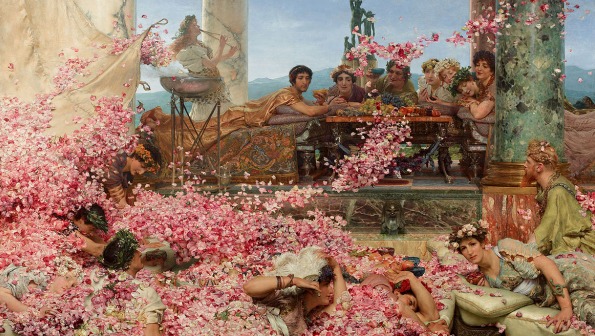 Lawrence Alma-Tadema's "The Roses of Heliogabalus" (1888) via Wikimedia Commons. (Click image to enlarge.)
About Victorian Art and "The Roses of Heliogabalus"
In sharp contrast to the stuffy morals and attitudes we often associate with the Victorian period, the popular art of the era shows a cultural obsession with aestheticism and excess. Colors are often sumptuous and luxurious, compositions are huge and sweeping, and subjects are exorbitantly beautiful. Every detail is rendered with excrutiating realism.
It's not surprising that one of the most popular subjects of the era is the story of the Roman Emperor Heliogabalus, who dedicated his life to lavish excess, luxury, and hedonism. He was said to have thrown an extravagant banquet and orgy, only to have his guests, many his enemies, smothered by literal tons of flower petals hidden in the ceiling.
This is the scene displayed Alma-Tadema's masterpiece. The disturbing violence of the scene is softened greatly by the beautiful waves of pink petals, while Heliogabalus looks on the background, amused by the scene. Though Heliogabalus is said to have used violet petals and other flowers, Alma-Tadema chose pink roses specifically for their significance in Victorian culture as a symbol of lust.
The painting is currently on display for the first time since 1913, as the focal point of an exhibition of a private collection of Victorian art in London. It is purportedly on display in its own rose-scented room.
Outfits Inspired by "The Roses of Heliogabalus"
Like "The Roses of Heliogabalus," floral maxi dresses make a huge, glamorous aesthetic statement without giving you a lot of substance, which in this case means warmth. To wear these gorgeous pieces now, when most of us are still trudging through snowbanks to get to class, requires a little sartorial MacGyvering.
Vintage-y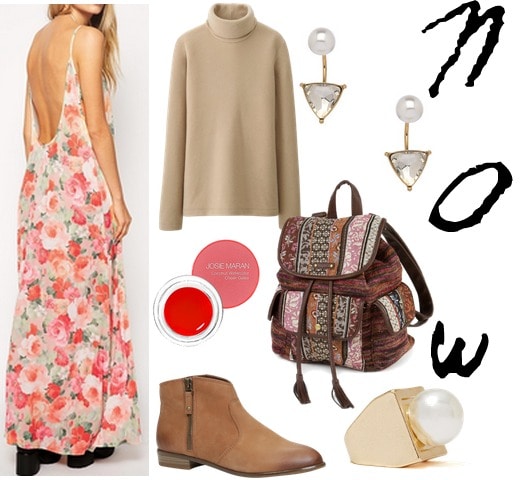 Dress, Turtleneck, Earrings, Blush (in Poppy Paradise), Bag, Booties, Ring
Want to look like you're drowning in roses, in the most glamorous way? Pick a drapey dress with large blooms in natural colors, but look for cutouts or a backless cut so your frame isn't overwhelmed. This dress is the best of both worlds – a gorgeous vintage-like pattern with a contemporary silhouette.
Play up the dress's contemporary-vintage feel in the winter by pairing it with a fawn-colored turtleneck – a piece that is both of-the-moment and reminiscent of the '70s. Add boho accessories, like a tapestry-inspired backpack and camel booties, to play up the hippie lit-professor vibe.
Pearl earring jackets and a funky pearl ring give the look a little extra polish, while a bright pink blush adds a youthful element to temper the sophisticated turtleneck.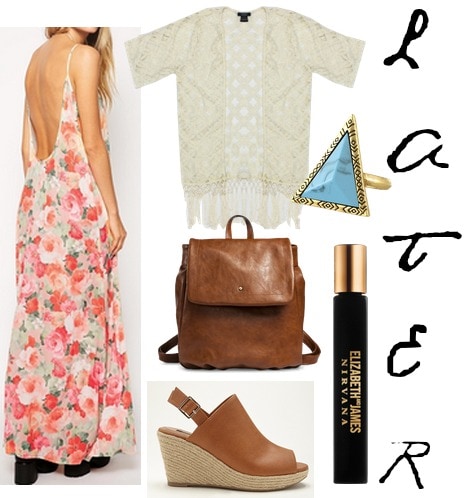 Dress, Kimono, Ring, Backpack, Wedges, Perfume
In warmer weather, this gorgeous dress can be worn on its own, but if backless isn't is your thing, cover up in a cream-colored cropped kimono jacket. Throw on a camel-hued backpack, slingback sandals, and a turquoise ring, and you have an outfit perfect for any outdoor summer adventure. A hint of a warm, sophisticated perfume will add a grown-up, mysterious element to this boho look.
Girly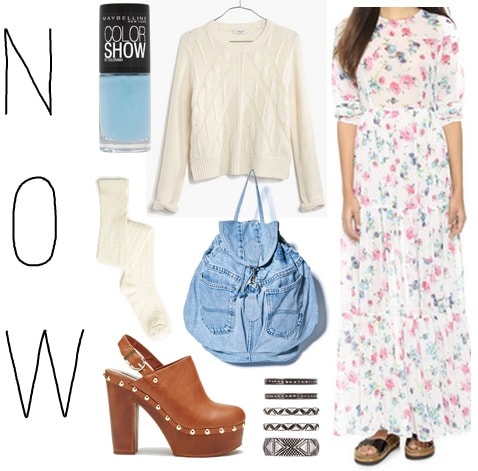 Nail Polish, Sweater, Socks, Backpack, Clogs, Rings, Dress
If you're worried you'll suffocate in large prints, no worries – pick a maxi dress with a smaller rose motif, and you can play with more interesting silhouettes, like collared necklines or long sleeves. This adorable floral maxi dress veers modern Victorian, with its high neck, long sleeves, and baby florals.
To wear this dress now, pair it with a cream-colored cropped sweater and an adorable jean backpack for a sweet, early '90s Babysitters Club look. A stack of geometric rings paired with an unexpected nail color, like sky blue, gives the look a bit of edge, while knee-high socks with camel clogs looks ultra trendy (and keeps you warm on those chilly March mornings.)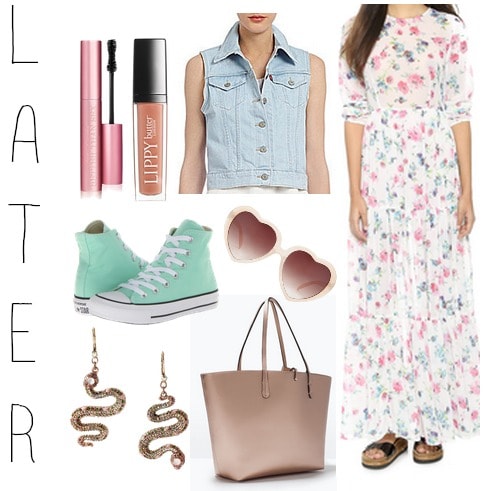 Mascara, Lip Gloss, Vest, Sneakers, Sunglasses, Earrings, Bag, Dress
Once springtime arrives, swap the chunky sweater for a cropped denim jacket and your socks-and-clogs combo for a pair of mint-colored sneakers to channel a tomboy-cute vibe.
Rose gold accessories, like this beautiful tote bag and heart-shaped sunglasses, give the outfit a contemporary update, while snake-shaped dangly earrings add a playful edge and nod back to details of our inspirational painting. Pair a lengthening mascara with a "your lips but better" lippie to make this look extra romantic and sweet.
Glam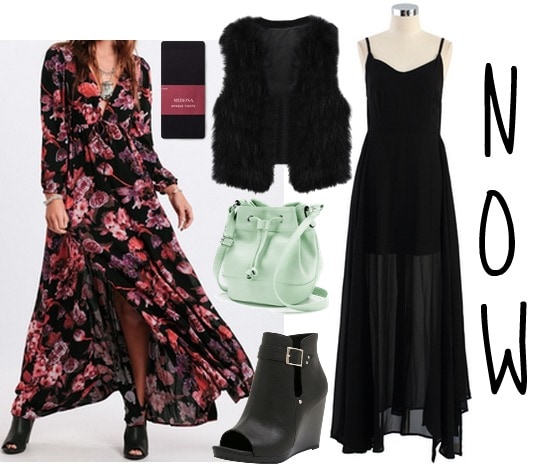 Dress, Tights, Vest, Bag, Booties, Slip
If you're looking for a showstopping dress that will slay your foes for you, look no further than this stunner, with its graphic, large-scale print, billowing sleeves, side slits and plunging neckline. This kind of dress is surprisingly easy to wear, whether you pile on accessories or wear it on its own for a simple but dramatic look.
For an extra cozy and glamorous ensemble during the colder months, wear a chiffon slip underneath your maxi dress. This will not only give your dress more movement, but it will give you some extra coverage in the dress's more exposed areas, like the neckline.
Add a pair of thick tights, wedge booties, and a faux fur vest for an extra dramatic look, then grab a mint bucket bag for an unexpected pop of color.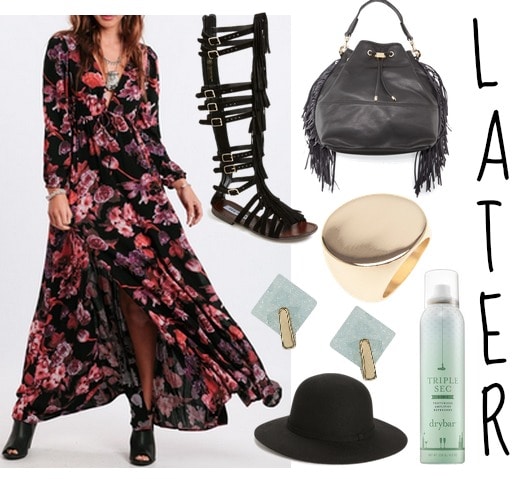 Dress, Sandals, Bag, Ring, Earrings, Hat, Texturizing Spray
Once temps are above freezing, skip the slip for a luxe, sultry, and romantic look. Play up this vibe with über-trendy accessories, like gladiator sandals and a fringed bag in a neutral color. Add chic jewelry, like a gold ring and a pair of mint-colored earrings, then spray a bit of texturizing spray into second-day hair for loose waves. Finish the outfit with a cool hat for a boho element.
What do you think?
What's your favorite way to wear a floral maxi dress? What do you think of "The Roses of Heliogabalus? What are you most excited to wear once the weather gets warm? Who was your favorite BSC member (Claudia 5ever)? Let me know in the comments below!