How do you guys feel about little black dresses? Have you found the one LBD to rule them all – one that's flawless for every occasion, always in style, and fits perfectly… even after you ate four pieces of pumpkin cheesecake at Thanksgiving? Or are you like me: half of your closet consists of black dresses, yet only a few of them would be work-appropriate if you threw on a blazer?
No shame here. The way I see it, the most important thing about LBDs isn't how versatile your dress is, but how you feel when you wear it. What makes me feel beautiful, stylish, and confident at work isn't what makes me feel beautiful, stylish and confident on a date. I don't think you need to have just one LBD that fits for every occasion.
In this installment of Fashion Inspired by Art, I'm going to show you how to style five awesome LBDs inspired by the baddest boss in the LBD game: Madame X, the subject of John Singer Sargent's masterpiece "Portrait of Madame X":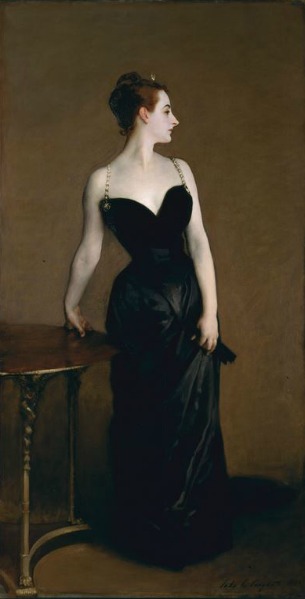 John Singer Sargent's "Portrait of Madame X" via Wikimedia Commons. (Click to enlarge.)
About John Singer Sargent and Madame X
Born in 1856 in Florence, Italy to American parents, John Singer Sargent was a prolific portraitist and painter who produced nearly 900 oil paintings and 2,000 watercolors between 1877 and his death in 1925. He toured Europe for most of his youth and studied under the French painter Carolus-Duran, eventually settling in Paris. He enjoyed moderate success in Parisian salons until he unveiled "Portrait of Madame X" in 1884.
"Portrait of Madame X" featured a controversial French socialite, Virginie Amélie Avegno Gautreau, the young wife of a wealthy French banker. Known for her unconventional but dazzling beauty, Madame Gautreau was rumored to have many extramarital affairs and made no secret of her use of lavender tinted powder and henna to enhance her beauty.
When the portrait was revealed, Paris was so scandalized that Madame Gautreau retired from society for a while, and Sargent moved his studio from Paris to England. While the salon had seen much more suggestive works depicting female sexuality within the confines of the male gaze, the depiction of a wealthy young woman who was powerful and in control of her own sexuality, combined with the 'vulgarity' of the dress (which was originally painted with one strap dangling off Madame X's shoulder), was incompatible with the expectations of a bourgeois woman in France.
Despite the portrait's lack of success, Sargent hung it proudly in his studio in England, and the scandal in France actually helped him gain commissions from wealthy British and American patrons. "Portrait of Madame X" is now considered one of the most important portraits by an American artist. Madame Gautreau would eventually pose for two more portraitswith other artists in hopes of repairing her reputation in the salon, and both were received well, though none caused as much stir as "Madame X."
Outfits inspired by "Portrait of Madame X"
Madame Gautreau chose her own attire for the portrait, down to the diamond tiara – she, like Anna Karenina, understood the mysterious power of the LBD. She looks classy, sexy, confident, and comfortable. The classic combination of black with gold accents highlights the paleness of her skin, while the sheen on the wood table mimics the luster of her auburn hair.
Her dress is what every girl should look for in any dress – one that perfectly reflects the personality of the wearer, but doesn't outshine it. Below are five stylish ways to wear five different types of LBDs:
The Slip Dress: Class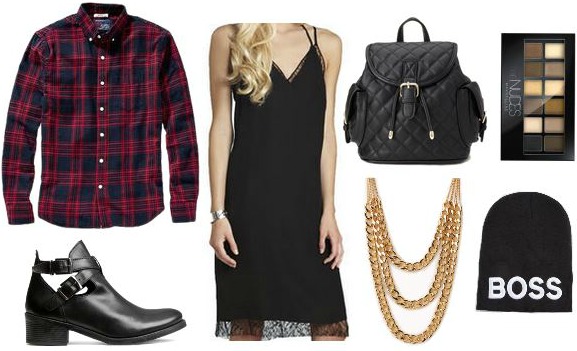 Flannel, Booties, Dress, Backpack, Necklace, Eyeshadow, Beanie
LBDs are a great way to try out trendy silhouettes or styles, like the slip dress shown here. This dress's plunging v-neck mimics the neckline of the dress in the painting, while a set of gold chains nods to its ornamental gold straps and gives the outfit a glam, urban edge. Tie an oversize flannel shirt around your waist, kick on cool cutout boots, and swipe on coppery eyeshadow for a trendy, grungy vibe.
Finish with a quilted backpack and a sassy beanie, and you have an edgy, urban, and cool look that will take you from class to coffee with friends to an impromptu jam session on the quad.
The Sheath Dress: Internship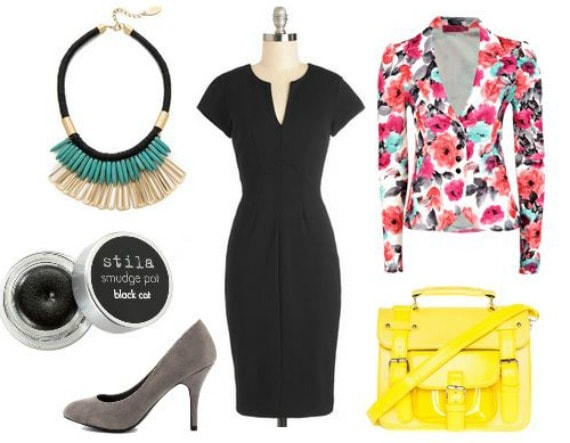 Necklace, Dress, Blazer, Eyeliner, Heels, Bag
Sad fact of life: we all have to buy clothes for work at some point, and sometimes those clothes are kind of boring. This sheath dress is not the most exciting thing in the world, but it's the perfect canvas for a few fun accessories that can make dressing for work one of the best parts of your morning.
Accent your black base with a fun floral blazer, then tone it down a bit with neutral heels. Small touches of gold, like the necklace and the buckles on the neon bag, tie this outfit back to Madame X's LBD. Finish with a swipe of gel eyeliner with staying power like the ladyboss you are.
If your workplace is more conservative, feel free to swap your floral blazer for something a little calmer, like a peach, off-white, or gray one.
The Strappy Mini: Date Night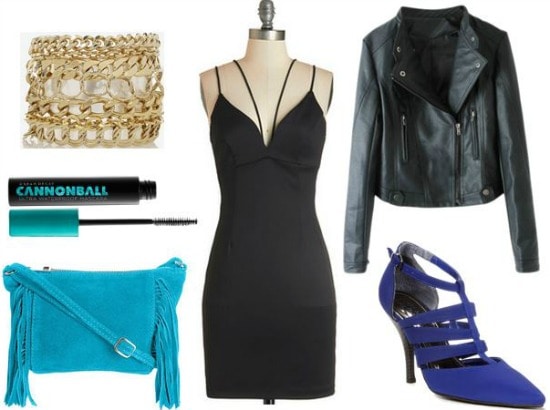 Bracelets, Mascara, Bag, Dress, Jacket, Heels
The strappy neckline of this LBD is the modern equivalent to Madame X's gown: sexy and confident, but subtle and classy – perfect for a fourth or fifth (or first!) date when you really want to step up your game.
Keep the focus on your dress with some simple but sexy heels, and keep your bag fun and hands-free with a crossbody bag in a similar color. A leather jacket will keep you covered and warm without distracting from your dress, while a stack of gold bangles adds a sparkly, glam element.
Finish with waterproof mascara, because better safe than sorry on a date, amirite?
The Cutout Dress: Girl's Night Out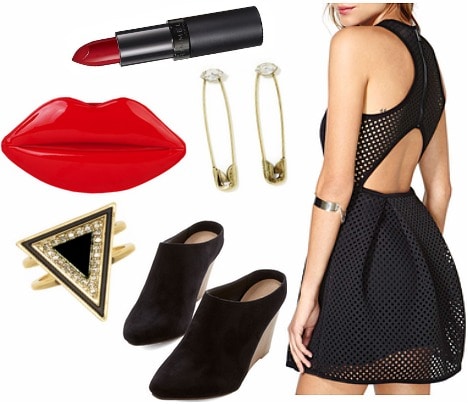 Lipstick, Clutch, Ring, Shoes, Earrings, Dress
Speaking of sexy, who doesn't want to look their best on a crazy night out with your girlfriends? With its short length, generous cutout, and mesh details, this LBD is the perfect going out dress (and it's on sale – you're welcome!) A few subtle but complementary baubles add some no-fuss, classy touches, while this graphic clutch has a fun, youthful vibe.
A pair of comfy black wedges provides height, but still allows you to dance 'til the end of the night, and a swipe of red lipstick evokes Madame X, with her crimson pout and auburn hair.
The Lacy Shift: Recruitment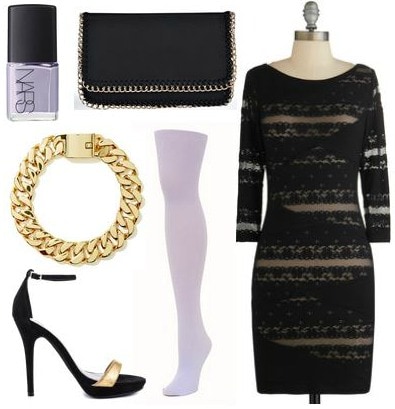 Nail Polish, Clutch, Necklace, Heels, Tights (in Lilac), Dress
I imagine some of you are feeling this in your bones at this point in the semester, yes? Full disclosure: I'm not in a social sorority, but a friend of mine who was recruitment chair of her sorority (and is an LBD ninja) had some awesome suggestions for anyone who is considering going through recruitment.*
She said to dress for each day like it was a personal interview – if you couldn't wear it to work, don't wear it to recruitment. LBD day is a little fancier and dressier, but it's important to not only dress conservatively, but also to stand out in a sea of black dresses. The details she remembered the most were things like unique accessories or unexpected color combos.
This particular LBD is covered-up enough to fit the bill for recruitment, but cute enough to wear to formals later. The gold chain choker adds an edgy, contrasting detail that works perfectly with the dress's neckline; this detail is repeated in the clutch and heels, which helps keep the look polished.
Tights are a good choice for recruitment because they provide extra coverage and help you incorporate color. Pastels are an unexpected choice in the fall, but this lilac hue is still über-trendy; plus, the color is subtly reminiscent of the tone of Madame X's skin against the black lace. A matching lilac nail color helps pull the whole look together.
*All schools are different: If you want to go through recruitment, do a little research on what is expected at your school. Also, when dressing for recruitment, don't just dress the way you think houses want you to dress; be yourself, too. That's the only way to find the sisters that are perfect for you!
What do you think?
What do you think of "Portrait of Madame X"? How often do you wear LBDs? Have you found your unicorn LBD? Do you have any suggestions for what to wear to recruitment? Let me know in the comments below!