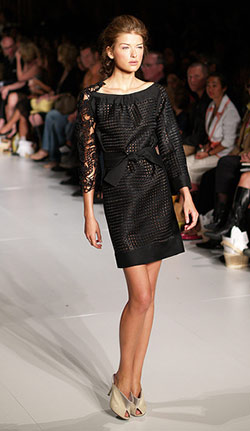 This week on Style Remix, we're featuring one of our favorite wardrobe essentials: the Little Black Dress.
While everyone loves an LBD, not every little black dress is as versatile as the true classic LBD. When shopping for a little black dress of your own, look for the following details if you want the most for your money:
Modesty: Your dress should fit comfortably at the bust. Whether you go with or without straps depends on your personal taste and style, but absolutely notugging or pulling should be required to help the dress stay up or in place. (Also, keep in mind that strapless dresses usually aren't appropriate for conservative settings.) A safe rule is to minimize cleavage, and aim for a dress that hits near the knee. Also, if you want to wear it in a business setting, your dress's hemline should hit at or just below the knee; dresses for class or going out can be a bit shorter.
Material: You will get the most use out of your dress if the material is figure-flattering and not too formal or informal. For example, a stretch-satin LBD may look great on the dance floor, but it's far too flashy for an interview. Look for a dress that flows naturally around your body, and check for any pinching or pulling fabric, telltale signs of a bad fit.
Silhouette: Yes, an LBD is a sort of neutral, but it should still fit your personality type! If you're a little more glam, try an exaggerated hourglass shape. If you rock classic feminine styles, A-line dresses will be your bread and butter. And if you're a little bohemian, a subtle version of a high-low or asymmetrical hem dress will work well. There are silhouettes available for every size, shape, and style. Be true to you!
That said, here are three ways to wear a little black dress — proof that an LBD is adaptable for class, work, or play.
1. For Class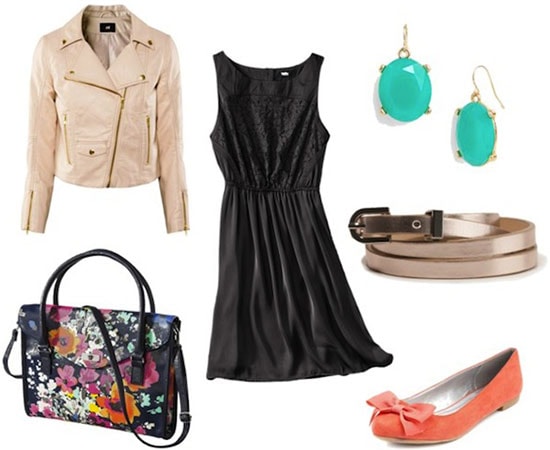 Product Details: Jacket, Dress, Earrings, Belt, Bag, Shoes
If you want to wear your LBD to class, pair it with a mix of lighter colors and textures to avoid looking too dark for daytime. A floral print tote can help tie it all together — it's an easy way to bridge the gap between light and dark hues. Dress down your frock by adding simple accessories with bright pops of color.
2. For Work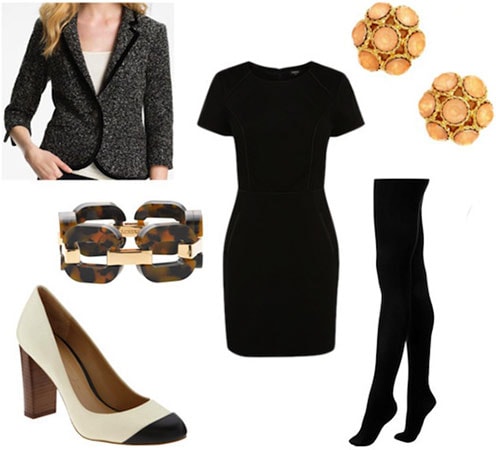 Product Details: Blazer, Dress, Earrings, Bracelet, Tights, Shoes
If you want to wear your LBD to work, looking polished is key. Try opaque tights underneath for a streamlined look with a trendy cap-toe shoe. For accessories, classic colors and prints are always a do — here, the warm browns of the tortoiseshell bracelet pull out the natural wood of the shoe's stacked heel.
3. For Play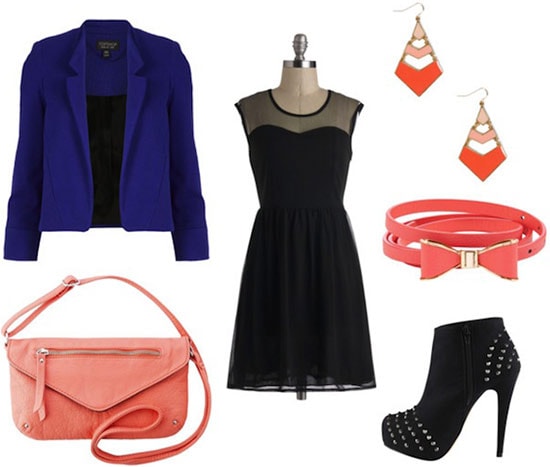 Product Details: Jacket, Dress, Earrings, Belt, Bag, Booties
Part of the LBD's charm is that it's so versatile: with just a few accessory swaps, it can take you from day to night. For going out, try pairing your LBD with a trendy bootie and some colorful extras. Luxe cobalt blue is super-trendy right now, and looks rich and dynamic when paired with black. Finish the look with coral pink accessories — not only is the color super flattering, it brings out a playful side to the dramatic cobalt-and-black ensemble.
What do you think?
An LBD is a timeless classic. What tricks do you use to get the most out of yours? What staples would you like to see in the next Style Remix? Tell us in the comments below!