This post may contain affiliate links, which means we may receive a commission if you purchase through our links. Please
read our full disclosure here
.
What Should I Wear…?! is a biweekly column that is here to answer that very question. If you have an event coming up that has you stumped fashion-wise, this is guaranteed to be your best source for outfit inspiration when you need it the most!

At dawn, all's calm on sorority row… until the sisters must awaken and decide what to wear. | Photo Credit
In my last article, CF reader Sara requested a post that would answer what she should wear as an elected officer for her sorority during the coming semester. More specifically, outfit ideas for events that occur during the first month of school.
While we do have a very helpful guide to sorority recruitment – a.k.a. Rush Week – we haven't covered what to wear after active members have settled into "the house."
As a sorority girl, you dress not just for yourself, but as a representative for an organization with rich history and tradition. An organization of women that know how to dress.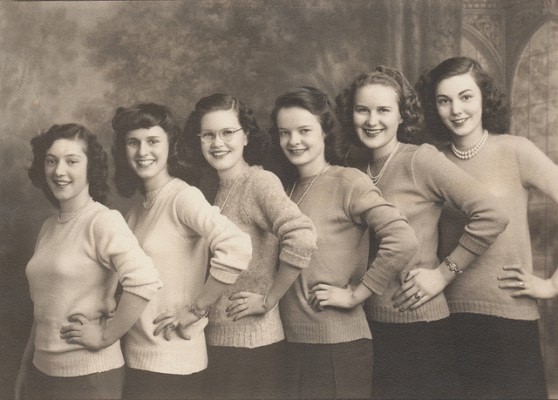 Practically prom posing, with matching outfits and pearl necklaces. So, nothing's changed, huh? | Photo Credit
For this post, I have created outfit sets that correspond to all of Sara's requests, and hope they help her and all of you other sorority girls out there. Even if you aren't in a sorority though, and maybe even cringed when you got a glimpse of the title, I encourage you to continue reading. These outfits work for other occasions, too!
As for all the Thetas, Betas and Zetas, each outfit is attributed to a specific sisterhood. If you don't belong to one of the sororities below though, don't feel discouraged! Certain elements from each look (colors, mascots, flowers, etc.) can and should be altered to fit your specific sorority.
Also, I am aware that not all of these organizations are referred to as sororities (many were founded before that term was popularized) and I apologize for the generalization, but I am just trying to reference that they are all for female-based Greek letter organizations. Lastly, I just wanted to mention the sororities mentioned here were chosen randomly – CF has no favoritism.
Let's get to it! From recruitment to stag outings, here is what you should wear as a sorority girl:
Campus Tours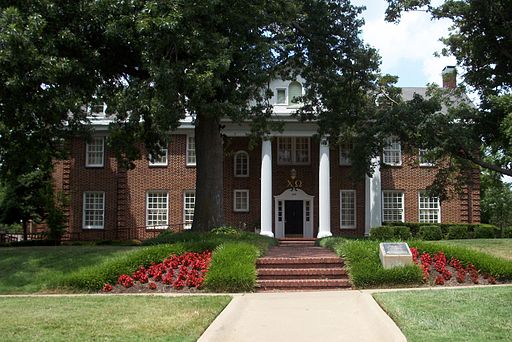 Chi Omega Chapter House at the University of Arkansas | Photo Credit
Often one of the many duties for sorority girls that are in appointed positions, the outfit you wear to give campus tours has to look presentable (since accompanying parents need to be assured that you are the best kid on campus for the job) yet still reflect that you are a student, and thus approachable to prospective ones.
Chi Omega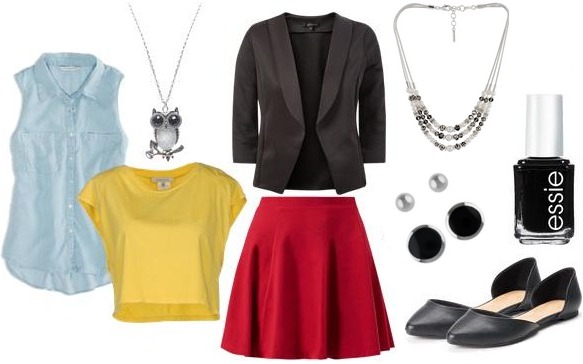 Product Information: Blouse, Shirt, Blazer, Skirt, Shoes, Pendant, Necklace, Earrings, Nail Polish
Look in-the-know when giving campus tours in the fall with this ensemble. Layer a basic tee over a sleeveless collared blouse, and tuck that combination into a skirt. Add a blazer, then accessorize with fun and character in mind.
Black flats not only match the blazer, but pull the whole outfit together. These LC Lauren Conrad shoes are a softer take on trendy d'Orsay flats, plus they're super-comfy if you'll be on your feet for a long period of time.
Chi Omega's symbols are, as you probably deduced, the owl and – get this – skull and bones. Needless to say, they have been able to keep themselves looking pretty on-trend the last couple years while modestly displaying their sisterhood.
Delta Zeta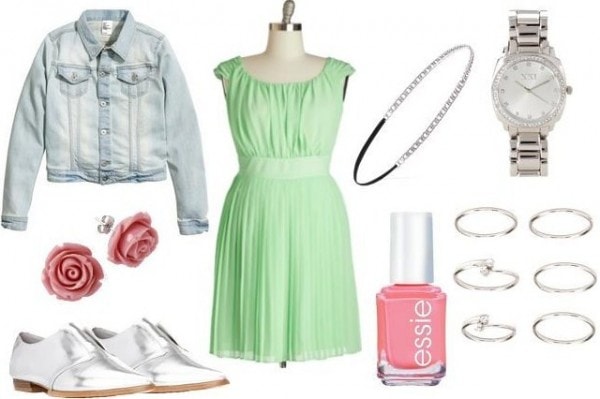 Product Information: Dress, Jacket, Shoes, Headband, Earrings, Watch, Rings, Nail Polish
When you are in a sorority, a lot of events (and photo-ops) require a nicer dress, and it's important to make that piece work for more than just one occasion… especially when you consider how valuable you closet space at school is! Throw a jean jacket over any dress and it becomes unrecognizable – no matter how many Instagram pictures are surfacing, I promise.
Continue that vibe by pairing the dress with edgier shoes. Now at this point, I know you've probably developed a habit of pairing pretty dresses with neutral pumps, but it's okay to give them a break every once in a while; they will still be in your closet when you need them. Again, I chose flats because you will be walking everywhere when giving tours.
Finish up with accessories that add polish, but are also sneakily practical: a watch, because you can't just keep whipping your phone out to check the time while giving a tour (you'll just look like some punk trying to sneak in a text or two), and a headband for windier days (we must never sacrifice our image to the unpredictability of weather).
Confession: I chose Delta Zeta for this look because their mascot is the turtle and, if you are giving a tour to people, you are bound to think they all move slower than the Dee Zee's green buddy!
First Meeting
How exciting! The first chapter meeting of the semester. If you, like our dear CF reader, Sara, are in a position of authority, you have to look reliable and remind others why they elected you in the first place. You need to dress for success, and I believe Zeta Phi Beta could help us here.
Zeta Phi Beta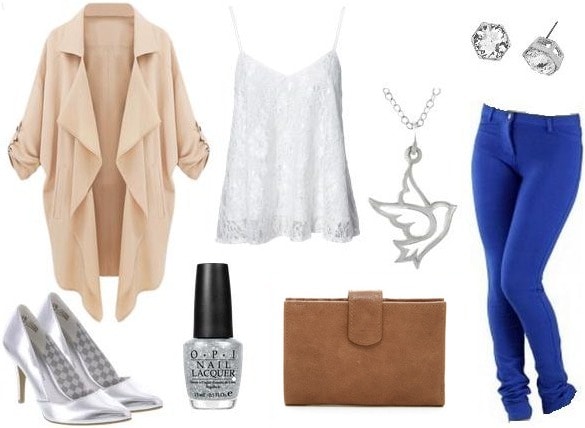 Product Information: Jacket, Top, Bottoms, Wallet, Shoes, Earrings, Necklace, Nail Polish
My first piece of advice? Wear pumps. Heels command the attention of the room, improve your posture and confidence, and are a must for any woman that is in a leadership role. Apply this when you enter the "big girl" world and get a "grown-up" job. No matter how cute and comfy those Tory Burch flats are, they are just not going to cut it in the board room.
Also, don't forget a jacket or blazer for a polished look that exudes authority. Tone down your inner dictator though with soft additions, like the white lace top and delicate jewelry. The colored trousers also add a fun and on-trend touch.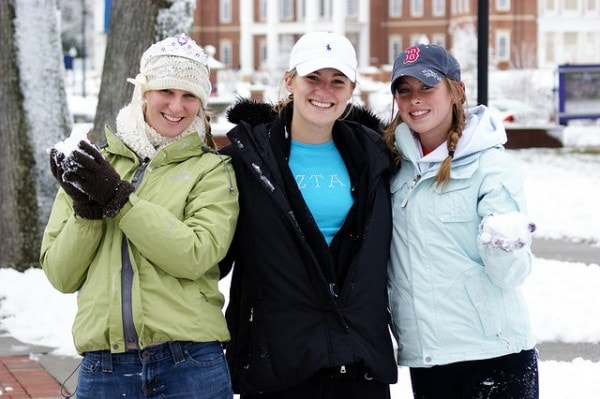 Female frat fun: return to the comforts of the lettered t-shirts as soon as you can, though! | Photo Credit
Recruitment
This time is also known as "Rush Week," and discussions about what to wear are always focused on those pledging. However, the actual active members have just as much stress when it comes to figuring out what to wear.
Yes, it is intimidating when you are putting yourself out there as an outsider, but the women already in the sorority also feel the pressure of having to look good. After all, they have to make their house look the most appealing, right?
Zeta Tau Alpha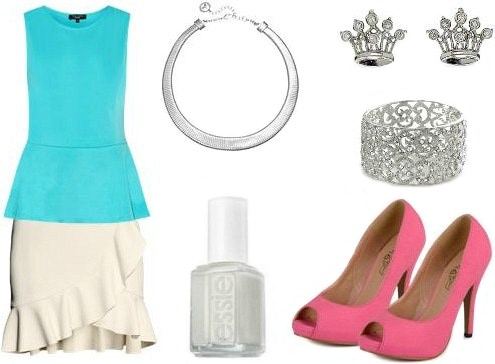 Product Information: Top, Skirt, Shoes, Necklace, Earrings, Bracelet, Nail Polish
When it comes to formalities of the sorority recruitment process, you want to be able to deck yourself out in your Greek gear (you never wake up thinking you picked the wrong sorority), but the T-shirts bearing your letters are just not dressy enough.
Wear your colors – just in a nicer outfit – and have fun with jewelry that incorporates your symbols. (Here: the 5-point crown earring.) Get creative with how you rep it, too. For example, since the official philanthropy of Zeta Tau Alpha is breast cancer education and awareness, I chose pink peep-toe pumps.
Delta Sigma Theta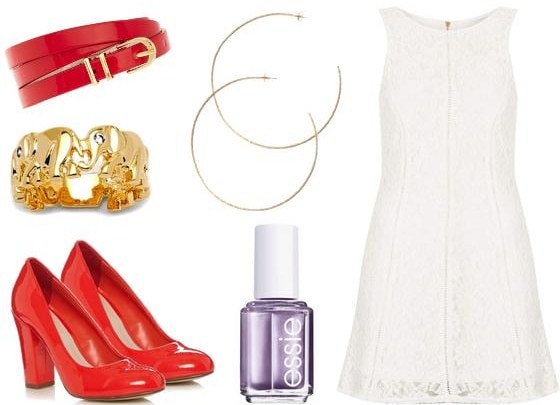 Product Information: Dress, Belt, Shoes, Earrings, Ring, Nail Polish
If you have sorority colors that are bolder (like red), sometimes you just don't want to deck yourself out in those hues head-to-toe. That's where adding color "pops" comes in: use accessories to incorporate those bright shades and keep the base of your outfit neutral.
Again, use accessories to creatively represent your sorority; Delta Sigma Theta's mascot is the elephant, so we picked this gorgeous gold ring. Also, you don't have to wear your sorority's flower as a floral crown on your head, so pick a nail polish color that matches those petals.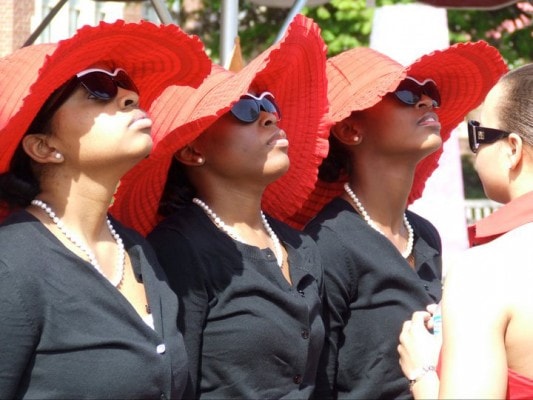 This is how you do it. Clearly, they don't need my fashion advice… pshh. | Photo Credit
The Parade
You could go all out in your Greek gear, but if you are a supporting spectator, why not get creative and go with a classically contemporary ensemble? You realize, of course, that you have to show up all those other houses, right…?
Delta Gamma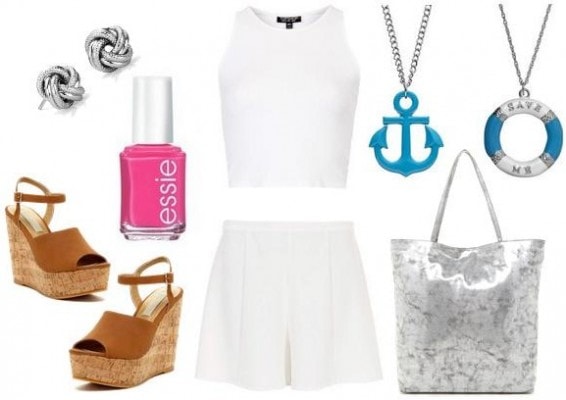 Product Information: Top, Bottoms, Shoes, Bag, Anchor Necklace, Lifesaver Necklace, Earrings, Nail Polish
This outfit perfectly encapsulates the nautical Delta Gamma style and would be a great choice to wear to the Greek or Homecoming parades. Remember the overall theme your sorority has – sometimes that alone is enough to create an identifiable outfit that incorporates various trends, which is what we did here.
Choose pieces that not only represent the spirit of your sorority, but can be worn again and again. What do I mean? Well, here I picked out sailor "love knot" earrings and a lifesaver pendant necklace that communicates exactly how everyone feels after the craziness of Rush Week/during first month of school: "SAVE ME"! Neither of those are directly part of the Delta Gamma branding, but they are related in concept.
Alpha Omicron Pi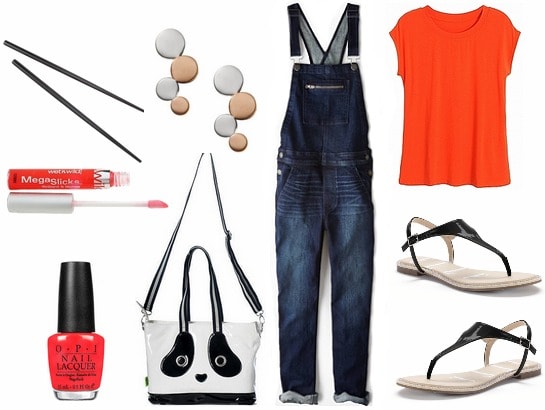 Product Information: Overalls, Shirt, Bag, Shoes, Earrings, Hair Accessories, Lipgloss, Nail Polish
Let's just address these overalls first: I'm making a case for them, because I think they should go from trend to a closet staple. Thought a dress was a no-brainer? These are even easier to throw on, plus they are just as versatile as any ol' pair of jeans. I think the pair pictured here is perfect for chiller weather, which makes it a unique choice for an evening parade this autumn.
Next, let's focus on that adorable bag. Bet you wish you pledged Alpha Omicron Pi now, since the panda is their (unofficial) mascot. To pay more homage to the little guy, I chose a nail polish named "Red My Fortune Cookie" and hair chopsticks. The '90s are back and everyone knows it; we have a feeling these hair accessories will be coming back in the near future, so get a jump on the trend revival now.
Alpha Omicron Pi is the only sorority with one color, which is why, to show our pride, we really painted the town red – I mean "cardinal" – with this ensemble.
Stag Outing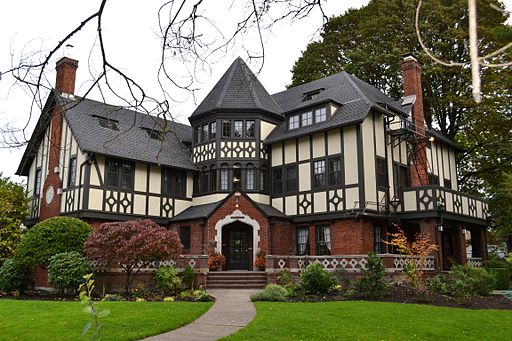 Gamma Phi Beta Chapter House at the University of Oregon | Photo Credit
The term "stag outing' means something different to every sorority chapter, but it typically depends on what region you live in. Historically, stag outings (which is also a term for bachelor parties) were an outing for all of the original frat boys to burn off some testosterone and bond. You know, rafting, fishing, camping. When women began to organize similar groups, they also wanted to have these events, and still do.
Some female Greek letter organizations have stag outings that are day of community service. Others are sort-of grown up versions of a sleepover, meant for bonding, complete with an overnight trip and lots of "trust exercises." Often, these will bring together different chapters of the same Greek letter organization.
The next three looks each represent one of the activities mentioned above: camping/outdoor activities, volunteer work, and sleepovers.
Gamma Phi Beta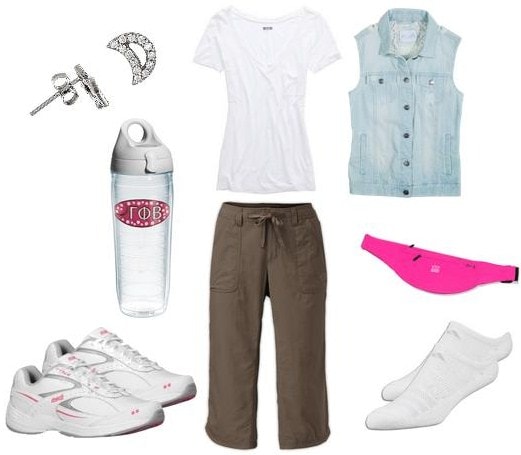 Product Information: Shirt, Pants, Vest, Hip Pack, Shoes, Socks, Earrings, Water Bottle
For a day spent in the wilderness, you will need to think out and plan your outfits based on the weather. This look serves as inspiration for some basic pieces you should bring with you, like comfy pants, basic tees, and sneakers. I chose Gamma Phi Beta for this category because their philanthropies all endorse youth fitness and camping.
I love the fanny hip pack for these type of activities, and you know they are back in when Victoria's Secret makes a version. Another must-have is a water bottle; the one pictured here is from my favorite brand, Tervis. Plus, it's already adorned with the Greek letters!
Kappa Alpha Theta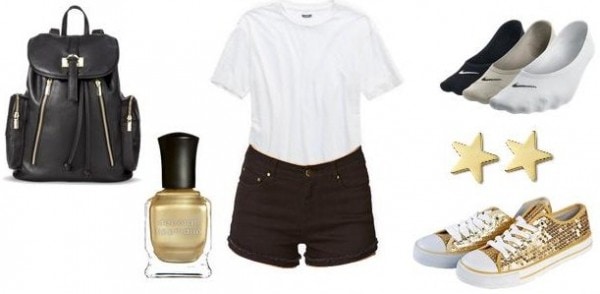 Product Information: Shirt, Bottoms, Backpack, Shoes, Socks, Earrings, Nail Polish
Sorority sparkly, but still perfect for volunteer work. Always wear shoes that cover your little toes (you never know what could happen) when doing more intensive work than usual. Also, make sure you still invest in a good pair of socks, like these no-show ones, to prevent blisters.
Pick your jewelry carefully. You don't want to wear rings or a necklace – have you ever gotten your necklace caught on something?! One word: ouch! Small studded earrings are okay (these are twin stars, just like one of Kappa Alpha Theta's symbols). You can also add some extra bling with nail polish.
Sigma Lambda Gamma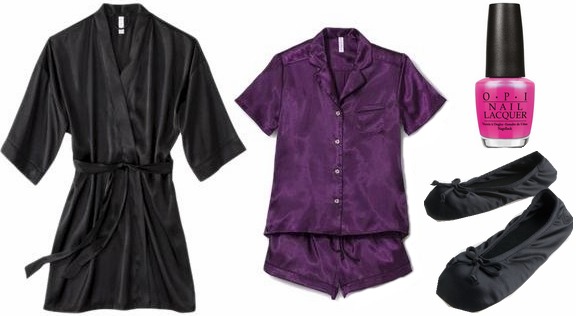 Product Information: Pajama Set, Robe, Slippers, Nail Polish
For overnight trips, especially when other chapters may be there (you have to dress to impress even as you rest!), a subtly sexy look is a good way to go. I chose Sigma Lambda Gamma for this category because they have the most classic and girly color combo for a sleepover: pink and purple. Plus, with a panther as their mascot, they know a little bit about that subtle sexiness I just mentioned…
Tell me what you think:
Are you in a sorority? If so, which one? Did yours appear in this post? Did these outfits help you? Did those of you not in a sorority still enjoy the article? Anyone pledging this year? For those planning to, CF wishes you all the best of luck!
Let me know in the comments if there are any special events or occasions you would like to see covered in "What Should I Wear…?!".