IT'S OCTOBER, GUYS.
I know I've told you all this before, but I love fall. Fall is my favorite. Fall is my boo. I love watching the leaves change, visiting cider mills, picking pumpkins, and Halloween; I love apple cider, pumpkin spice lattes, and Fireball Fridays; I love sweaters and booties and leggings. Fall is my happy place. If that makes me 'basic', so be it. I change for no one.
That being said, fall colors are so dark. Don't get me wrong, I love oxblood, cognac, and navy, but sometimes it feels like my entire fall wardrobe is like a watercolor washed with muddy water – everything is muted and blurs together. I can do moody, but I don't want to be drab.
Luckily, fall pastels – soft, feminine colors, like peach, mint, baby blue, and lilac – have been a thing for a few years now, and while head-to-toe pastels are as striking as ever, pairing deep fall colors with pastels is a fresh way to add contrast to any outfit. In today's Fashion Inspired by Art post, I'll show you how using examples from Jean-Honoré Fragonard's "The Swing":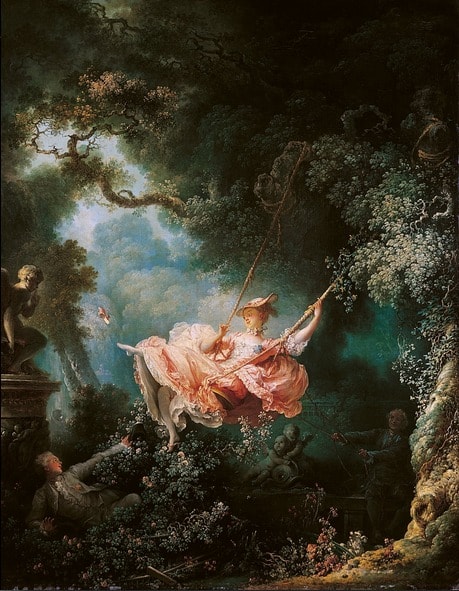 Jean-Honoré Fragonards's "The Swing" (1767-8) via Wikimedia Commons. (Click image to enlarge.)
Look familiar? If you're a Disneyphile (who isn't?) you might recognize it from a number in Frozen. It also played an important part in the development of Tangled; the animators modeled the movie's visual style after the painting, including Rapunzel's iconic dress.
Outside of our Disney obsessions, "The Swing" is one of the most recognizable paintings done in the Rococo style. It's also a perfect example of how pastel colors pop when juxtaposed with rich jewel colors and muted tones.
About Fragonard and "The Swing"
In 1767, a young French nobleman commissioned painter Gabriel Francis Doyen to paint a portrait of him and his mistress, who was married to another man. Doyen was concerned with the immorality and 'frivolity' of the painting, and passed the commission on to a younger painter – Jean-Honoré Fragonard.
Fragonard, born in 1732, studied painting with masters from the age of 18 and won a prestigious Prix de Rome scholarship at 30. When he returned to France, he found himself in demand with the wealthy and aristocratic members of King Louis XV's court. He was not one to shy away from potentially controversial and erotic topics; he famously painted for scandalous women, such as Madame Du Barry and the ballerina Marie-Madeleine Guimard.
Thus, the painting – though seemingly sweet and innocent at first glance – is very cheeky and erotic. The woman in the center is pushed on the swing by her husband, the older man on the right in the background, but she swings high enough that her lover, the man on the left, is able to glance up her skirt. The painting was embraced by the French court upon its reveal, but was later used as an example by Enlightenment aesthetes, who argued art should illustrate the morality and virtue of man.
Outfits inspired by "The Swing"
My favorite part of this painting is the heightened contrast created through Fragonard's use of color. The peachy hue of the woman's dress looks lush and suggestive against dark greens and navys, and the brightness of the sky creates a fabulous illusion of depth and openness against the lush foliage that frames the composition.
This high-contrast concept can easily be translated to fashion; rather than combining pieces with dissimilar styles, like edgy pieces with feminine pieces (looking at you, leather jacket and floral dress), unexpected color combinations are a fresh and chic way to branch out and experiment with your style.
Peach and Pine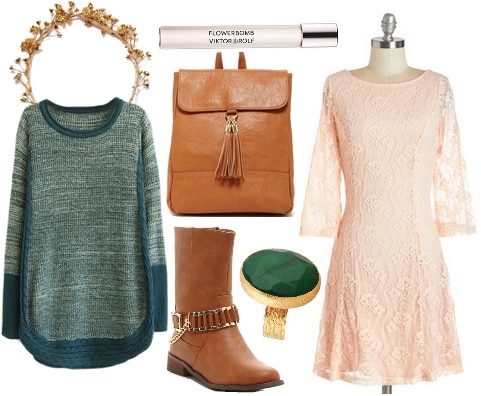 Flower Crown, Sweater, Perfume, Backpack, Boots, Ring, Dress
So, you guys know I'm all about spikes and leather and leopard, but I'm seeeeecretly a big girly-girl at heart. I pretty much swooned when I found this dress on Modcloth – how absolutely gorgeous is it? The lace, the color, the sleeves – I die. This is the peach-perfect base for our most faithful look, made even lovelier with the addition of warm cognac leather accessories.
The contrasting element is this distressed pine-green sweater, which can be worn over the dress on cooler days, but would look even cuter tied around your waist on that last sunny Saturday in October. Opulent, girly touches, like a golden flower crown and a jade ring, tie this look together, while a swipe of a sweet floral perfume will make you feel like you're floating through a French garden.
Mint and Sage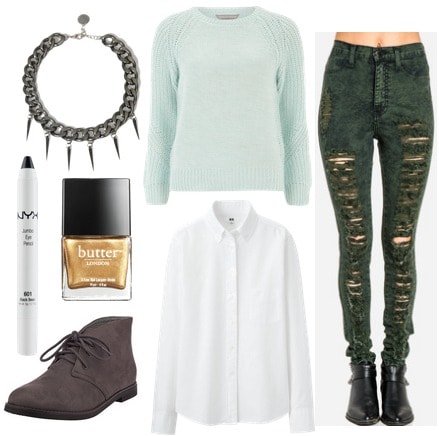 Necklace, Eyeliner, Nail Polish, Brogues, Sweater, Shirt, Jeans
Colors that are complementary (opposite each other on the color wheel) are great for creating dramatic and dynamic looks, but colors that are analogous (closer together on the color wheel) are great for creating subtler looks that are still unexpected and fresh. This outfit uses the analogous colors that make up the lush verdure that borders "The Swing" to create an ensemble that's equally polished, edgy, and cute.
The sweet, trendy mint color of this cropped sweater is amplified by dark and punky colored jeans. This outfit would be just fine without the white blouse underneath the sweater, but I love how cool collars look underneath comfy sweaters – especially when paired with a trendy statement necklace, like this spikey gunmetal chain. A smeared chubby liner on your lids, a neutral pair of brogues, and a swipe of a luxe metallic polish complete this comfy, class-worthy look.
Sky Blue and Oxblood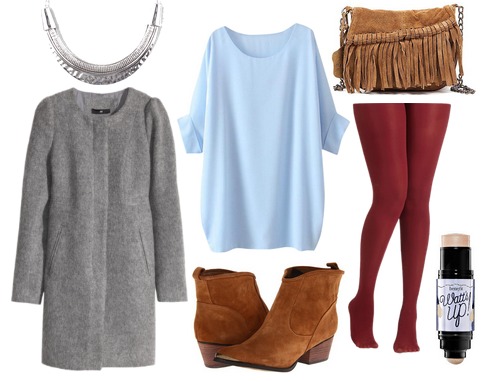 Necklace, Coat, Shirt, Boots, Bag, Tights, Highlighter
I love the color sky blue – to me, at least, it's the most prominent and vibrant color in "The Swing", and it plays an important part in creating the illusion of distance and space in the painting. I wish I wore this cool, sophisticated color more – especially because it looks so sharp with a fabulous, warm-toned fall color, like oxblood.
The clean, minimal silhouette of this shirtdress is swingy and flowy enough to be flattering on any shape, while a pair of opaque tights makes it fall-appropriate. A silver statement necklace perfectly complements the dress's neckline, while sophisticated neutral accessories add to the minimal vibe. A touch of strategic highlighter will give you a soft, glowy look.
If you're tall and worried the shirtdress won't be long enough (or you just want more coverage) a pair of oxblood, navy, or forest green leggings will look just as fab (bonus points for luxe textures, like velvet or brocade.) The coat could easily be replaced with a structured cardigan or blazer if it's not yet cold enough for heavy outerwear where you are.
What do you think?
How do you feel about "The Swing"? Would you wear pastels in the fall? How would you incorporate them with your personal style? Let me know in the comments below!