This week's Fashion Inspired by Art is based on Georges Seurat's The Circus. Seurat was the French Post-Impressionist artist that essentially invented the painting technique known as pointillism.
Below you'll find three spring outfits inspired by the characters in Seurat's painting and learn more about Seurat's impact on the art world!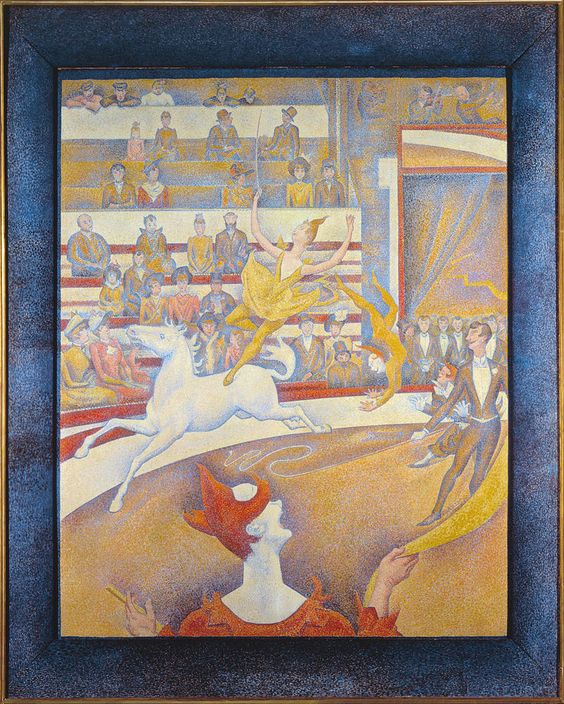 Georges Seurat
Georges Seurat was a French Post-Impressionist painter most known for devising painting techniques such as pointillism and chromoluminarism. Pointillism is the act of using small, individually colored dots placed close together to form a picture. Seurat used a combination of these solid-colored dots to create illusions of different colors and light when the work was viewed from a distance (chromoluminarism).
Some of Seurat's work was criticized for being too stiff and robotic, although some later art historians suggest it inspired Cubist artists. The Circus was one of the works deemed automaton-like. This work was the last piece painted by Seurat and remained unfinished at the time of his death.
Ring Leader
Products: Necklace, Lipstick, Dress, Bangles, Flats
This bold, red monochromatic outfit is inspired by the ring leader in Seurat's painting. This flowy cut-out dress mimics the energy and movement of the figures in The Circus. Pair this bold dress with red flats and lipstick (on sale) to create an eye-catching outfit that isn't too overwhelming. Add on some edgy accessories to break up the outfit and give it more of your personality.
Acrobat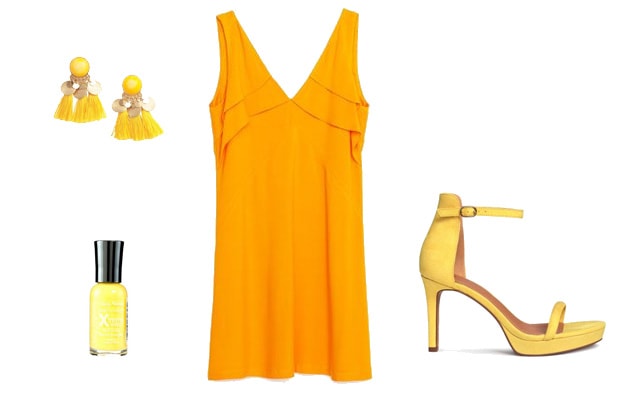 Products: Earrings, Nail Polish, Dress, Heels
This monochromatic yellow outfit is inspired by the acrobat. It would be great for all of your spring event needs. The layered dress gives an interesting texture and flow to the outfit, making it easy to just throw on some shoes and accessories. These yellow heels are classic but unique in their color. The tassel earrings have some circus-vibes but look great all on their own too. Finally, this yellow nail polish is a perfect springtime color.
The Horse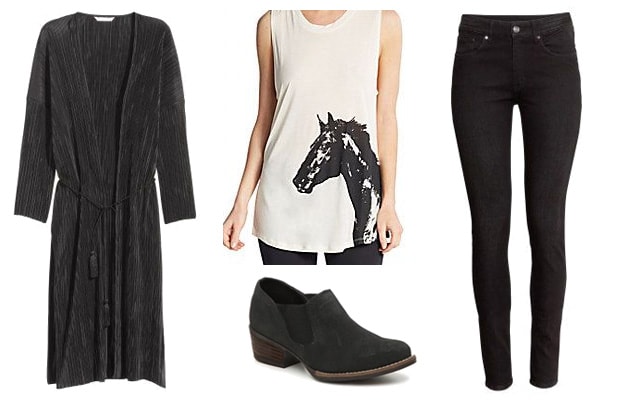 Products: Kimono, Tank, Booties, Jeans
Finally, this outfit is inspired by the horse — who honestly seems like the star of the show! This outfit is great if you're not one for the bright colors of the last two outfits. This easy outfit can be created by matching the horse print top with some black jeans. To switch things up, this long black kimono is a great springtime addition that isn't overflowing with color. Finish with some booties (even though these aren't quite the kind of shoe you'd go horse riding in).
What are your thoughts?
Have you ever been to the circus? Which outfit is your favorite? What do you think of Seurat's work? Let me know what you think in the comments below! If you're interested in more Outfits Inspired by Art, check out this article inspired by another one of Georges Seurat's paintings.