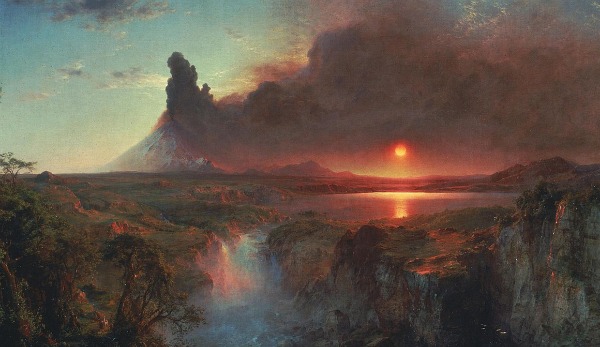 In my adventures to wear more color, I've discovered some colors are easier to wear than others. I've mastered neutrals, like olive green and burgundy, and moved on to jewel tones, like cobalt and purple. But there is one color group that still strikes fear in my heart like a vampire at sunrise – pastels.
I think, for me, it's a style disconnect – I associate pastels with Easter dresses, tennis outfits, and charm bracelets – not the edgy, witchy, boho style I aspire to have. Yet, as a fashion enthusiast, I know fashion and style are both versatile enough that any color can be incorporated into any girl's wardrobe.
So, in this Fashion Inspired by Art post, I pushed myself to create edgy outfits using pastel colors inspired by an edgy painting which uses pastels, brights, and neutrals beautifully and cohesively. I couldn't think of a better painting for this than Frederic Edwin Church's "Cotopaxi."
About "Cotopaxi"
"Cotopaxi" is not only the most recognizable painting by painter Frederic Edwin Church, but it is also considered to be one of the most skillfully executed paintings in the American Sublime school. It is often referred to as a masterpiece.
Unlike many other American Sublime paintings, this painting does not depict a landscape in the United States, but the Cotopaxi volcano in Ecuador. (Cotopaxi means "shining peak" in Quechuan, and is located in the Andes mountains.) Cotopaxi is one of the most unpredictable volcanoes on the planet, but the surrounding natural beauty of area drew Church to paint the volcano several times.
Due to the time it was unveiled to the public, many art historians believe that the juxtaposition of the natural beauty with impending disaster suggests a societal awareness of the growing tensions between the North and the South in the United States at the time, but it is unclear if this was intentional on Church's part.
Outfits Inspired by "Cotopaxi"
"Cotopaxi" is mind-blowingly beautiful in its use of color. It's so euphoria-inducing, in fact, that many viewers don't even notice that the painting depicts a devastating natural disaster. If "Cotopaxi" can be that metal while using pastels, so can I (and you)!
Blush Pink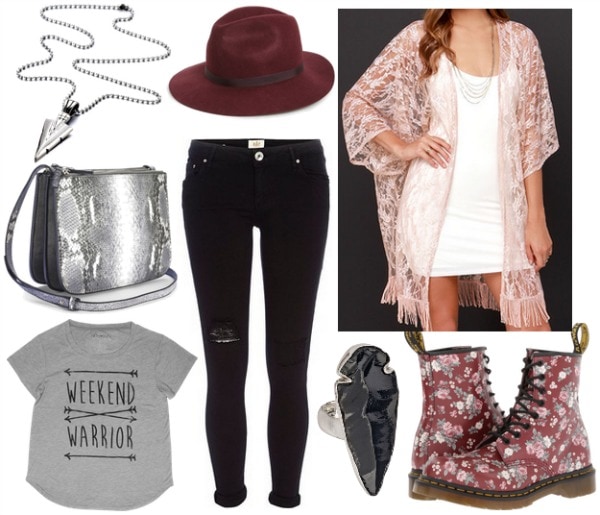 Necklace, Hat, Kimono, Bag, Jeans, T-Shirt, Ring, Boots
If you pick a pastel version of something you already wear, like the lacy, fringe kimono shown here in blush pink, you'll already have an idea of how to style it with the pieces you already own. This way, you'll be more likely to reach for it in the morning.
In addition, blush pink is an extremely wearable pastel and can almost be treated like a neutral. It also looks fabulous paired with burgundy, as you can see from the skyline in "Cotopaxi," so pair it with edgy burgundy accessories, like floral combat boots and a cute hat.
Finish the look with edgy staples: ripped black jeans, a witty gray t-shirt, and arrowhead jewelry. Grab an animal print bag and you're pulling off pastels like a boss!
Baby Blue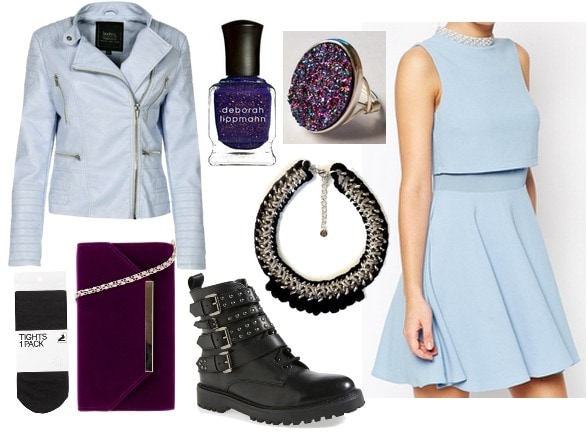 Leather Jacket, Nail Polish, Ring, Tights, Clutch, Necklace, Combat Boots, Dress
Baby blue is a little trickier to pull off for edgier looks. It's difficult to pair with blue jeans, but plays well with a lot of colors and lends itself well textured fabrics, like leather and mesh.
For a modern and edgy look, pair a baby blue skater dress with mesh inserts with a matching moto jacket. A black chain necklace, sheer black tights, and moto boots give the look some iconic edge, while a velvety purple clutch adds some contrast.
Finish with a large druzy ring that is reminiscent of the colors in "Cotopaxi" and a similar sparkly nail polish for a final girly touch to this feminine but edgy look.
Canary Yellow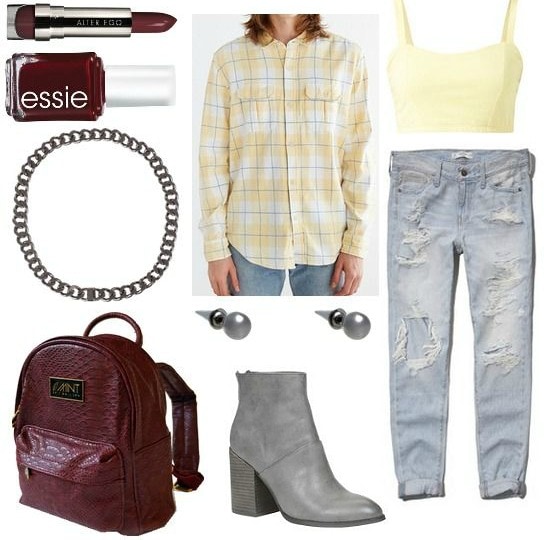 Lipstick (in Dominatrix), Nail Polish, Necklace, Backpack, Flannel, Earrings, Boots, Crop Top, Jeans
Yellow is my color Waterloo. Literally nothing in my closet is yellow, unless it's in a print. Yet yellow is an iconic color of the '90s, thanks to Cher's outfit in Clueless, which still inspires fashionistas today.
So, for this edgy, '90s-inspired outfit, start with a cute yellow crop top and boyfriend jeans, then throw on an oversized flannel shirt. Add a few gunmetal gray accessories– like booties, spike earrings, and a chain choker– for an edgy but subtle touch.
Finish the look with a burgundy backpack and matching nails. Apply a swipe of a Marsala-colored lipstick for a final '90s element, and you're wearing pastels like a true riot grrrl. Weaving daisies into your hair is optional!
What do you think?
What colors do you have a difficult time wearing? How do you style pastels to fit your wardrobe? Would you wear any of these looks? Let me know in the comments below!