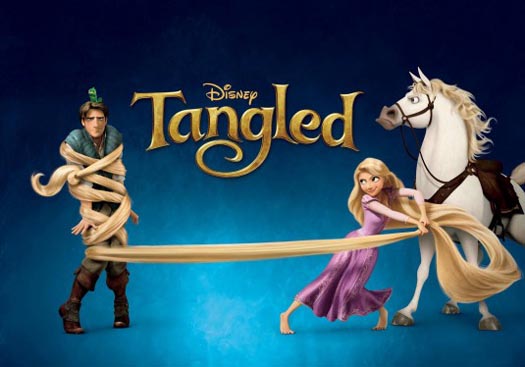 After the great response our first post on fashion inspired by Walt Disney's Tangled received, I've decided to extend the post to include inspiration from a few more of the characters in the newest Disney princess classic.
For those of you who haven't seen the movie, Tangled follows the adventures of soon-to-be eighteen-year-old Rapunzel who, up until now, has been locked away in a tower by evil Mother Gothel. The story adds a new twist to the classic Rapunzel fairy tale and is sure to be yet another Disney movie favorite for all ages.
Below, I have created a series of looks inspired by some of the characters from Tangled: Pascal, Flynn Rider, Maximus, and Mother Gothel. Scroll down to view them all!
Pascal Outfit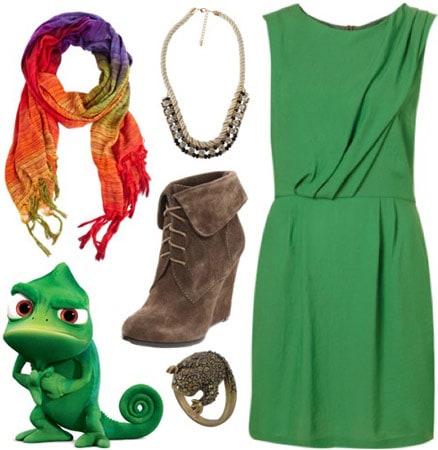 Photo Credit | Dress, Ankle Booties, Necklace, Ring
Rapunzel's loyal sidekick is an adorable little chameleon named Pascal, but don't let his cuteness fool you! He's known to be a little mischievous every now and then.
Channel his character by wearing a dress in his signature green color and pairing it with edgy lace-up ankle booties. Add some color with a multicolored scarf to continue the chameleon-inspired appeal. Finish off the look by layering the scarf with a twisted rope necklace and a cute little lizard ring for an outfit inspired by Rapunzel's favorite reptile.
Flynn Rider Outfit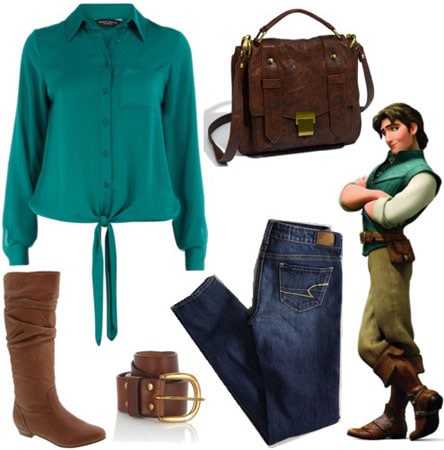 Photo Credit | Top, Jeans, Boots, Bag, Belt
Flynn Rider is charming and adventurous…and also a fugitive. However, he agrees to take Rapunzel on a journey to the kingdom to see the lights on her birthday.
Capture Flynn's edgy look by pairing a green button-up blouse with some skinny jeans. Tuck the jeans into a pair of tan riding boots and add a faux leather belt. Grab a faux leather crossbody bag to finish off the look!
Maximus Outfit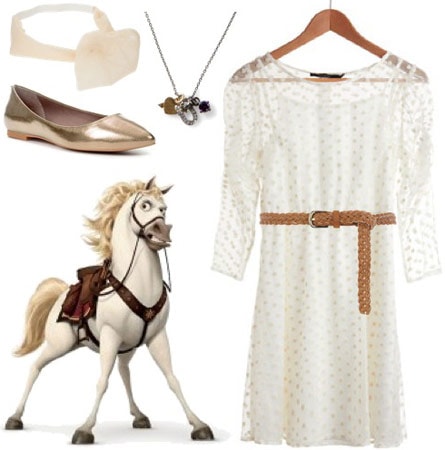 Photo Credit | Dress, Flats, Belt, Necklace, Headband
Maximus is the best horse in the kingdom, making him a favorite of the Palace Guard. He's determined to do whatever it takes to get the job done, especially if that means catching Flynn Rider.
Channel this equine's polished appeal by pairing a simple cream dress with metallic flats. Belt the dress with a braided faux leather belt for extra flair, and add a knotted headband and a horseshoe necklace to complete the ensemble.
Mother Gothel Outfit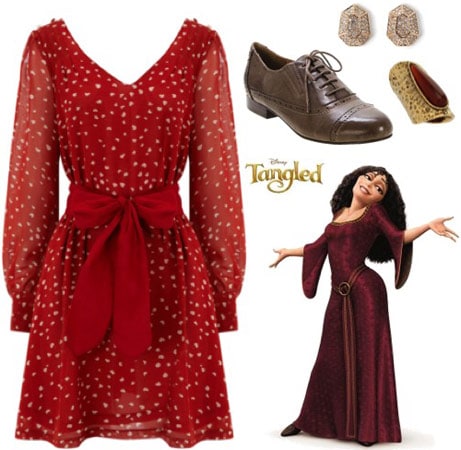 Photo Credit | Dress, Oxfords, Earrings, Ring
The evil Mother Gothel is guilty of locking Rapunzel away in a tower for eighteen years, but she isn't your typical Disney villain!
Wear this red, flowing dress with a pair of dark brown oxfords to capture a look inspired by her attire. Add a pair of jeweled earrings for a bit of sparkle, and slip on a long stone ring to finish off this outfit.
What do you think?
Have you seen Tangled? Would you wear any of the looks above? Which one is your favorite? Would you like to see more posts like these in the future? Let me know in the comments!