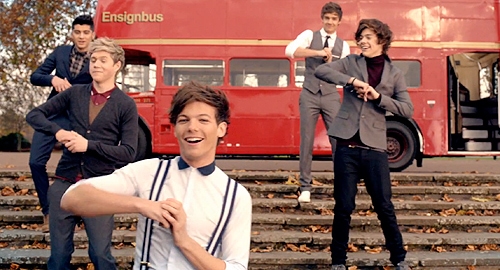 Continuing with our series of 3 posts inspired by the massively popular British boy band, One Direction's music video for "One Thing" is one you cannot miss! (In case you missed them, see past posts Fashion Inspired by One Direction and Fashion Inspired by One Direction's "What Makes You Beautiful.")
In the video for "One Thing," the boys are at it again, singing their catchy lyrics to the song, another track off their number one album Up All Night, and venturing through London. Unlike their other videos, "One Thing" definitely has more of a playful feel with less acting and more of the boys just having fun… and, of course, being totally adorable, too! The lighthearted feel is contrasted by their super snazzy outfits; they're dressed up a bit in suits and button-ups, but can somehow manage to rock the look whether they're on a bus traveling through the city or goofing off in a park.
Because of the preppy, put-together aesthetic it pictures, the "One Thing" music video is a perfect source for fashion inspiration for times when you want to dress a little more formally. Below, I've created a series of outfits based on the music video and the song. Scroll down to view all the looks!
Red All Over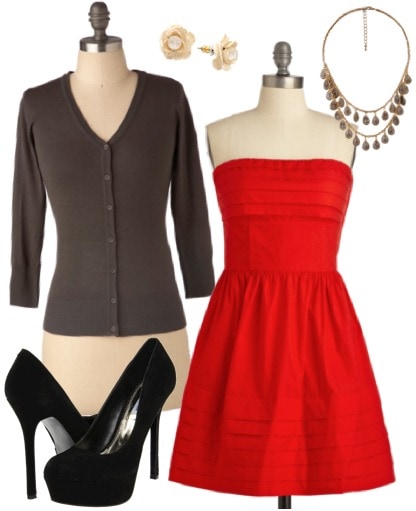 Dress, Cardigan, Pumps, Necklace, Earrings
Step out for a night out in style with this outfit inspired by the music video. Wear a red strapless dress with a pair of black suede pumps. Keep things classic by adding a charcoal-colored cardigan over the dress, but add a hint of flair with a teardrop layered necklace and flower stud earrings.
Pep Talk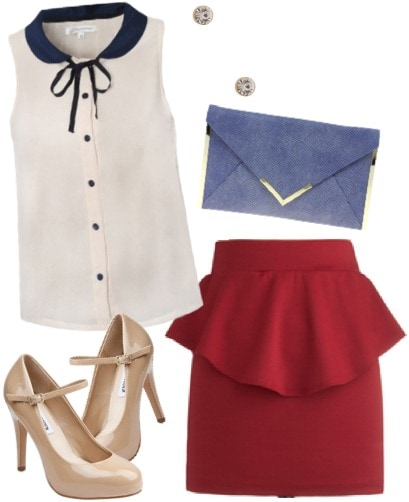 Blouse, Skirt, Pumps, Clutch, Earrings
You've certainly got that One Thing in this trendy look. (Couldn't resist the pun.) Put on a pretty button-up peterpan collar blouse and tuck it into a fun red peplum skirt. Wear with classic patent leather Mary-Jane pumps in a neutral color and rhinestone stud earrings. Grab an envelope clutch before heading out the door to complete the ensemble!
Bow-tied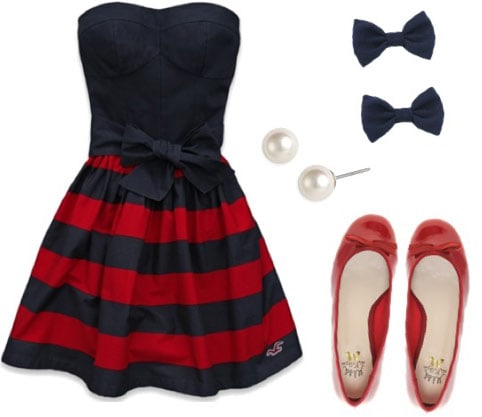 Dress, Shoes, Earrings, Bow Clips
This outfit will give you a cute and girly aesthetic that's simply charming! Slip on a navy and red striped strapless dress and wear with a pair of red ballerina shoes that have a bit of a heel for a dressier look. For accessories, wear pearl stud earrings and bow hair clips to finish the look!
Effortlessly Timeless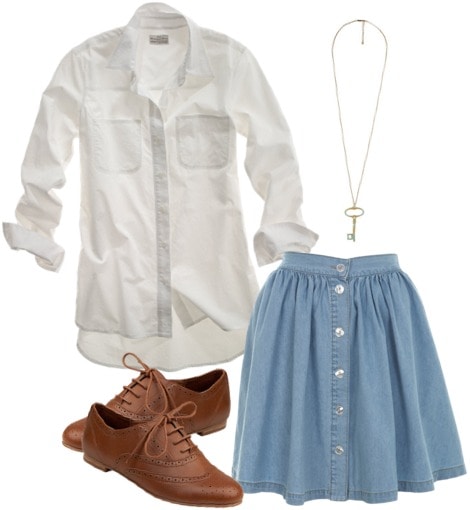 Shirt, Skirt, Oxfords, Necklace
Stay with a classic aesthetic with a classic button-up shirt tucked into a light-wash denim skirt. A sleek pair of oxfords and an oversized key charm necklace are the perfect accents to this ultra-preppy outfit.
What do you think?
Are you a One Direction fan? Have you seen the "One Thing" music video? Would you wear any of the looks above? Which outfit is your favorite? Would you like to see more posts like these in the future? Let me know in the comments!