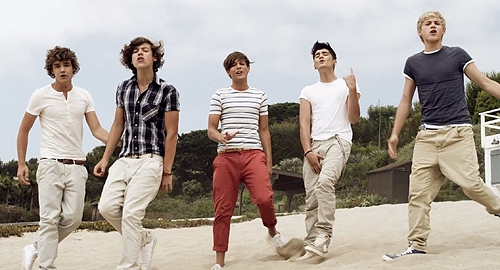 After the overwhelming popularity of our post on fashion inspired by One Direction, we're bringing you yet another post on fashion inspired by the british boy band.
One Direction's first single "What Makes You Beautiful" has been a smash hit across the globe, and the music video, which still remains number one on the iTunes charts, is just as successful. The video, shot on a sunny beach in California, shows the boys frolicking around on the shoreline while belting out the song's adorable lyrics. It's the perfect video to get you in the mood for summertime and spending days relaxing in the sand.
Because of its summery aesthetic, "What Makes You Beautiful" is perfect to use as a source for fashion inspiration. Below, I've created several looks inspired by the song and its music video. Scroll down to see all the looks!
Oceanside Princess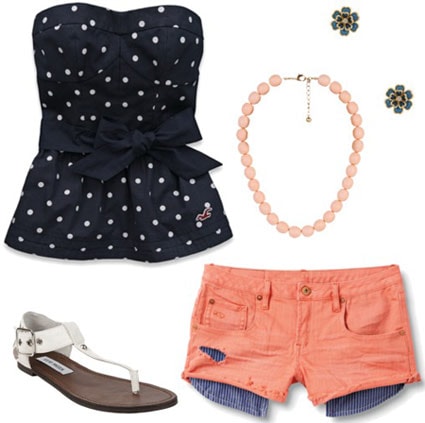 Top, Shorts, Sandals, Necklace, Earrings
Welcome summer's arrival in style with this cute and simple look! Wear a strapless polka-dotted top in a deep navy hue with a pair of bright coral denim shorts. Add gladiator sandals, a beaded necklace, and flower earrings to complete the ensemble.
High Style, Low Key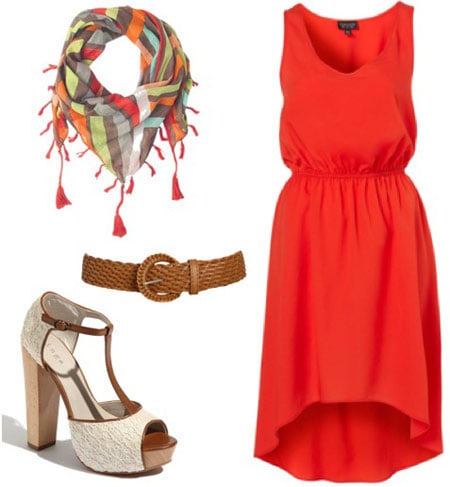 For a look that's trendy but low-key, wear a trendy high-low tank dress in a bold red tone with a pair of lace platform sandals. Keep accessories simple with a woven belt and a printed scarf, perfect for a day spent in the sun!
Tan Lines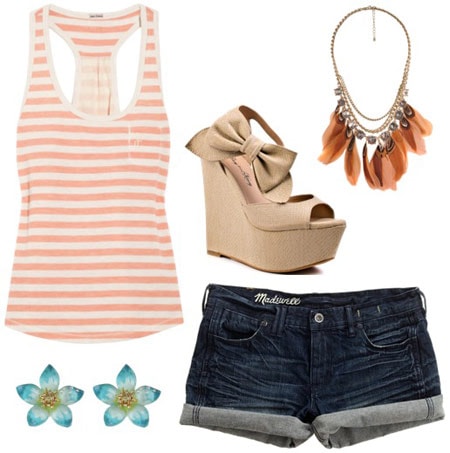 Tank, Shorts, Wedges, Necklace, Earrings
If you have a more relaxed style, try this classic summer look with a twist! Wear a striped tank as tribute to Louis's obsession with denim shorts. Neutral-colored wedges with bow accents dress the outfit up a bit while still keeping a chill vibe. Put in a set of flower stud earrings and wear a fun feather necklace for added flair.
Brighter Than The Sun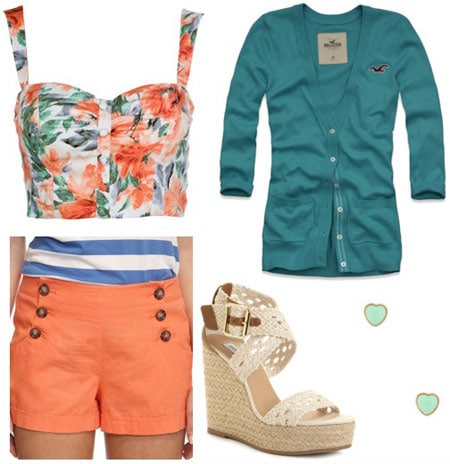 Top, Cardigan, Shorts, Wedges, Earrings
This look is all about bright colors combined with a carefree feel. Slip on a pair of sailor-inspired matelot shorts in coral with a floral print bustier top. Classic wedge sandals add fashion points to the look, and heart stud earrings give a cute little touch. If you decide to go to a bonfire later in the evening like the boys do, grab a simple cardigan in teal to stay warm!
Simple By The Sea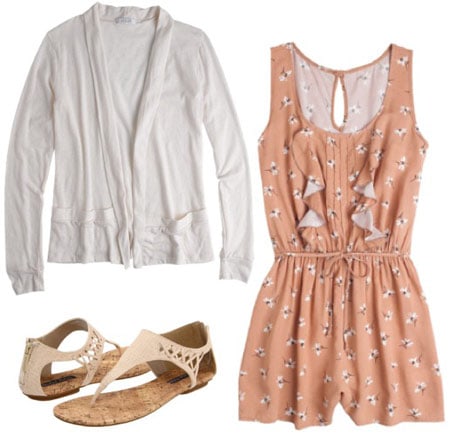 After a long day catching waves and rays, put on a pretty floral-print romper for a comfy but cute aesthetic. Wear with a cream-colored cardigan and a pair of gladiator sandals for a look that's perfect for relaxing on the porch and listening to the ocean.
What do you think?
Are you a fan of One Direction? Have you seen the music video? Would you wear any of the looks above? Which one is your favorite? Would you like to see more posts like these in the future? Let me know in the comments!