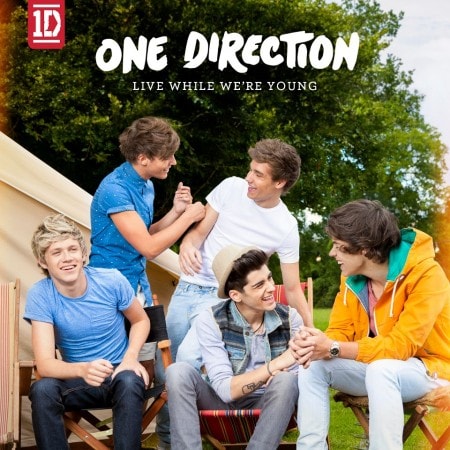 By now, you guys probably know (thanks to my posts on fashion inspired by One Direction, fashion inspired by "What Makes You Beautiful," and fashion inspired by "One Thing") that I'm a fan of One Direction. And based on the comments those posts received, many of you guys are, too!
This won't be news to die-hard fans, but in case you haven't heard, 1D just released yet another soon-to-be-hit song. "Live While We're Young," off their new album Take Me Home, out later this year, has that same upbeat pop sound that Directioners across the globe love so much. It's literally been stuck in my head since I first listened to it!
If you haven't seen the video yet, check it out below:
One Direction - Live While We're Young
Completely adorable, right? I kind of want to just jump into the video and never ever leave.
Even if you don't share my love of One Direction, you can use their newest video to inspire your everyday looks! Below, I've created a few different outfits inspired by the video for "Live While We're Young."Scroll down to view them all!
Just Pretending That We're Cool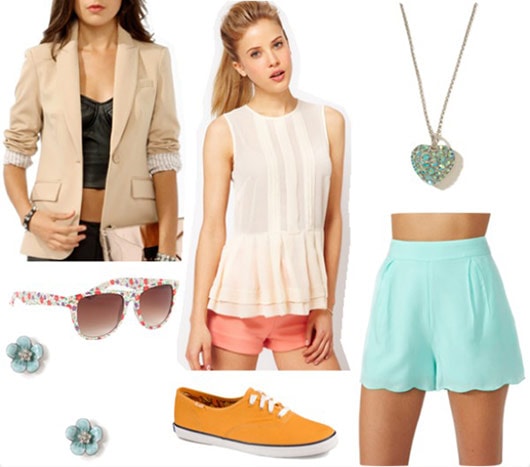 Product Information: Blouse – ASOS, Shorts – Nasty Gal, Blazer – Forever21, Shoes – Keds, Sunglasses – PacSun, Necklace – Forever21, Earrings – Forever21
This outfit combines polished and playful pieces to create a super cool look. Wear a sheer peplum top over a pair of mint colored high-waisted shorts. Next, throw on a blazer for a chic twist, and add bright sneakers for a fun pop of color. Floral sunglasses, stud earrings, and a charm necklace finish off this adorable ensemble.
Music Up, Windows Down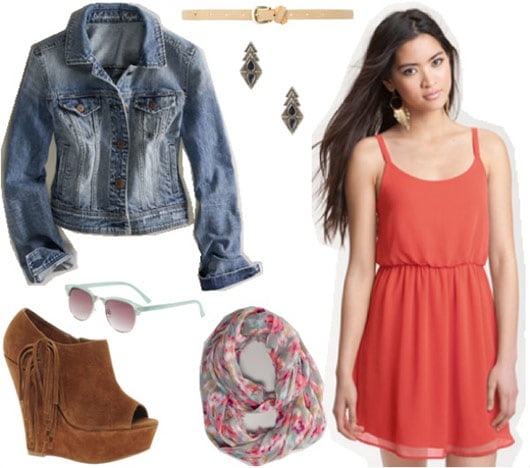 Product Information: Dress – Nordstrom, Jacket – American Eagle Outfitters, Shoes – ASOS, Belt – Dorothy Perkins, Scarf – American Eagle Outfitters, Sunglasses – Modcloth, Earrings – Forever21
Ideal for a day on campus or even a night out, a coral tank dress and a denim jacket form the perfect casual-cute outfit. Belt the dress for a sweet accent, then step it up with suede fringe wedges and a printed scarf. Grab a pair of retro sunglasses and eclectic earrings to complete the look!
It's Now Or Never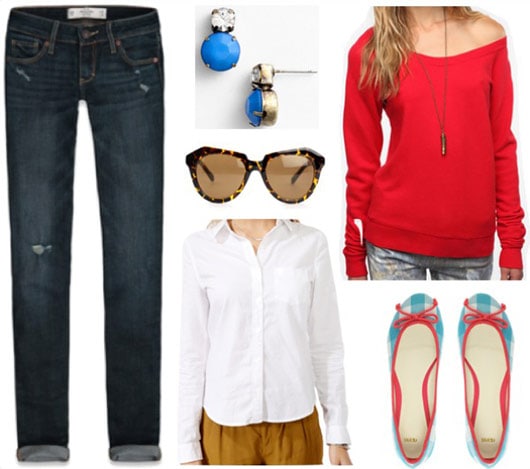 Product Information: Shirt – Forever21, Sweatshirt – Urban Outfitters, Jeans – Abercrombie & Fitch, Shoes – ASOS, Sunglasses – Chicwish, Earrings – Nordstrom
For an effortlessly chic look, pair an oxford button-up shirt with skinny jeans. Pull a bright red sweatshirt over the button-up for a more casual vibe. Cuff the bottom of the jeans to show off a cute pair of printed ballet flats, complete with girly bow accents. Trendy sunglasses and neon stud earrings put the finishing touches on this youthful and fun ensemble.
What do you think?
Are you a fan of One Direction? Did you like their latest music video? Would you wear any of the outfits in this post? Which one is your favorite? Would you like to see more posts like this one in the future? Let me know in the comments!