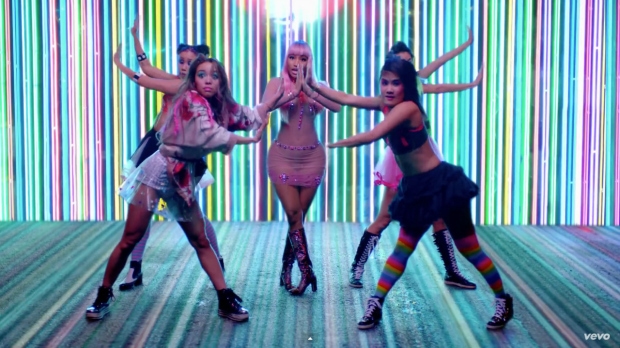 Nicki Minaj seems to be taking over the world right now: Her killer talent, endless collaborations with other artists, and instantly recognizable fierce, Barbie-chic look make her an artist who's not easy to forget.
Her most recently released music video, "The Night Is Still Young", from her album The Pinkprint, demonstrates her unbelievable rapping, showcases some crazy intense dance moves, and, of course, presents a total pink overload in the best possible way.
If you haven't already seen it, check out the music video:
Nicki Minaj - The Night Is Still Young
Here are three (wearable!) looks inspired by the on-trend fashion in Ms. Minaj's video:
1. This Is What You Came For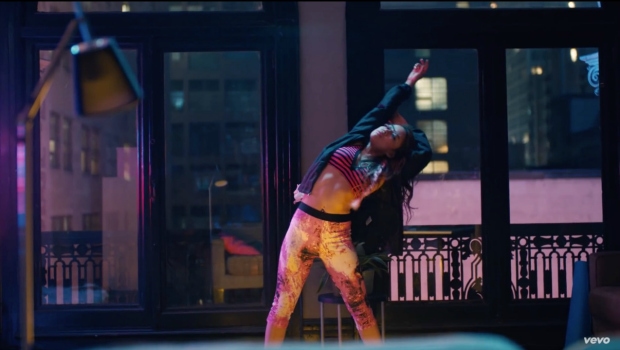 If you haven't watched the video, the premise is that the moon is really big and bright and all of these people who are in the city abandon what they're doing to go look at it together.
This woman's cute workout fashion makes me want to get up and start doing squats! Add some fun to your exercise routine with this bright and poppy ensemble.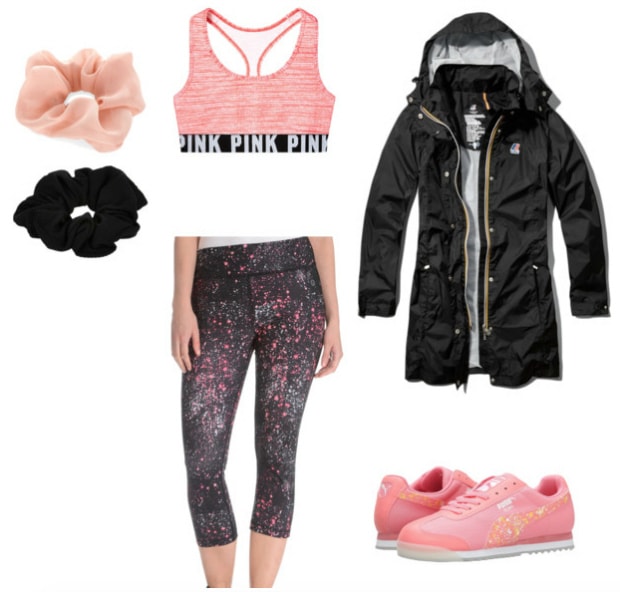 Product Information: Capri Leggings, Bra Top, Windbreaker, Sneakers, Pink Scrunchie, Black Scrunchie
Mix up your routine with this punchy workout outfit. These pink sneakers make me so happy– and let's face it, your feet will thank you for buying a new pair of athletic shoes for the first time since middle school P.E… Oh wait, that's just me? Okay.
Throw on a pair of galaxy-print capri leggings and a sports bra that accentuates the pops of color in the shoes and pants. Don't forget to keep your hair out of your face! I love these retro-inspired pink and black scrunchies, but a regular ol' hair tie would also do the trick.
Make sure to grab a light windbreaker on your way out the door to stow away any gym essentials: phone, earbuds, ID, and anything else you may need (I love bringing facial wipes to use after a sweaty workout!).
2. This Is What You Paid For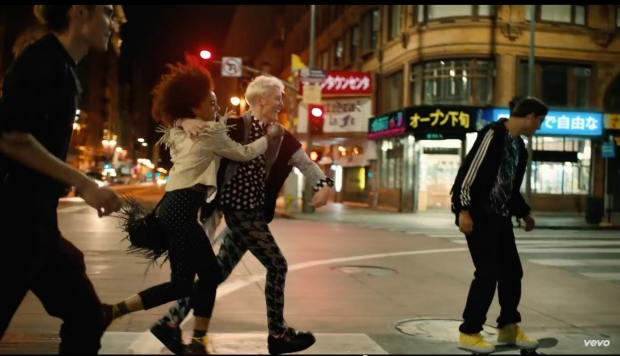 I love examining the style of the extras in the background. As these people were running out to look at the moon, I couldn't help but notice this chic and trendy ensemble that features fringe and polka dots.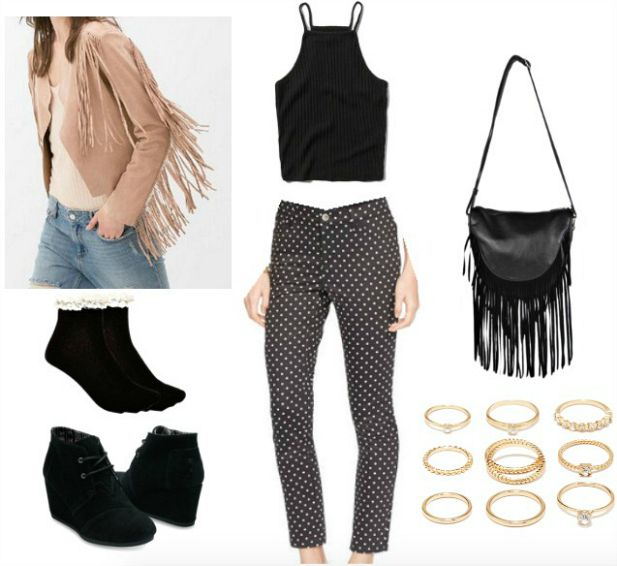 Product Information: Jacket, Trousers, Tank Top, Crossbody Bag, Booties, Socks, Rings
On-trend fringe takes center stage in this outfit. Go all out with a tan fringed jacket and accessorize with this adorable fringe-embellished crossbody bag.
These skinny polka dot trousers are super-versatile. Wear them now with a cropped tank, as pictured above, and with a sweater or thermal in the fall. Fit in a bit of dainty sparkle with these precious stackable rings. To balance this crazy trendy look, slip on black ruffle-top socks and a pair of wedge booties.
3. Wanna Enjoy the Ride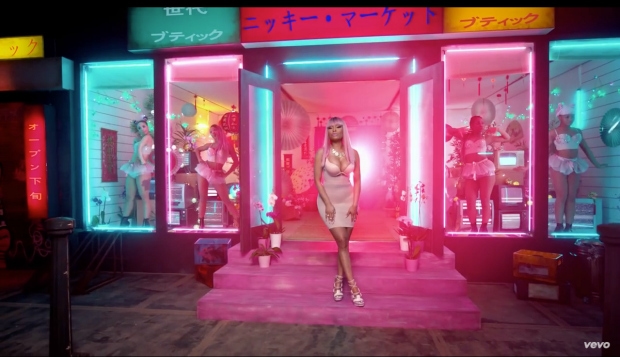 Ah yes, the scene we've all been waiting for! Nicki looks like a sparkly rapper superhero as she shines in one of her truly iconic outfits, full of lots of pink and a tight bodycon silhouette.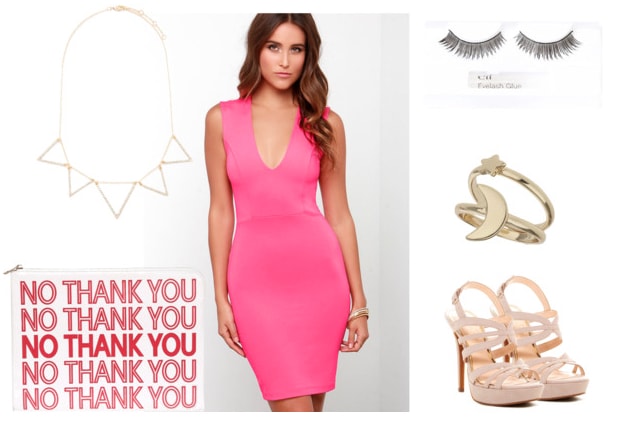 Product Information: Dress, Sandals, Necklace, Clutch, Rings, Eyelashes
Channel Nicki's bold and girly stage persona with this plunge-neck dress as the centerpiece of your look. Add drama with a gold geometric statement necklace and a pair of stiletto sandals.
These fluttery false lashes are my favorites and will help you add some flirty boldness to your look. Make Nicki proud with a moon and star ring set that alludes to the title of her song, as well as an adorable sassy clutch.
What Do You Think?
Are you a fan of The Pinkprint? What's your fave song from the album? Which look is your favorite? Be sure to scroll down to leave a comment and let me know!