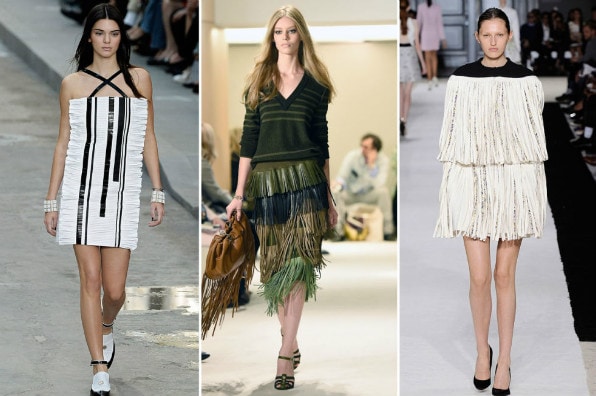 Photos: ELLE
Throughout 2014, we saw designers like Valentino and Michael Kors flirt with the idea of fringe. However, now that we've fully acclimated ourselves to 2015, fringe has been all over the runways and blogs.
Usually associated with boho-chic style, fringe adds a dash of casual sophistication to any look. Though fringe doesn't necessarily go with every single outfit in your closet, it can come pretty close (well, at least with mine).
It's always exciting to see all of the different takes on a trend, and for this post, I was inspired by the unique fringe looks on the Spring 2015 runway. Below are three stylish ways to wear three different fringed pieces. The best part? All three looks cost less than $100 each!
Casual Boots — $77.60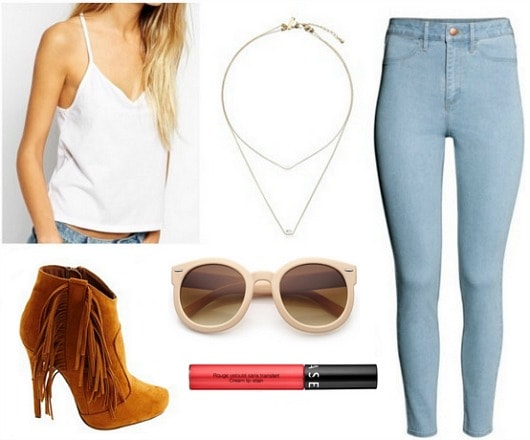 Product Info: Top- ASOS, Jeans- H&M, Shoes- Charlotte Russe, Necklace- Topshop, Sunglasses- zeroUV, Lip Stain (in "Watermelon Slice")- Sephora
Use an awesome pair of fringed, heeled booties to amp up the otherwise casual outfit combo of your fave jeans and a flowy, white tank. Add a dainty necklace and cool shades to accessorize, then swipe on a bright, coral-colored lip stain to complete the look.
Fab Dress — $81.84
Product Info: Dress- H&M, Shoes- Boohoo, Ring Set- Accessorize, Earrings- NastyGal, Bag- Forever 21, Eyeshadow (in "Silver Spark")- Maybelline
This dress is probably my favorite way to wear fringe — it's totally unexpected and 100% playful. Choose chunky boots and silver jewelry with cool turquoise detailing. Finish the look with silver eyeshadow and a red crossbody bag.
Edgy Bag — $92.65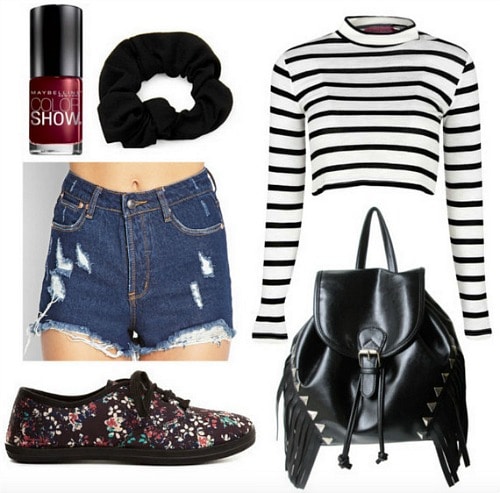 Product Info: Top- Boohoo, Shorts- Forever 21, Shoes- Charlotte Russe, Bag- Overstock, Scrunchie- Forever 21, Nail Polish (in "Rich in Ruby")- Walmart
A slightly edgier take on fringe, this faux leather bag features studded detailing. Continue the edgy vibe with dark, high-waisted shorts, a striped top, and a deep red nail polish. Mix patterns with floral sneakers, then use a scrunchie to keep your hair out of the way in order to showcase your fab backpack.
What do you think of this trend?
Would you wear anything fringed? Which one of these looks is your fave? Let us know your thoughts on this hot trend!